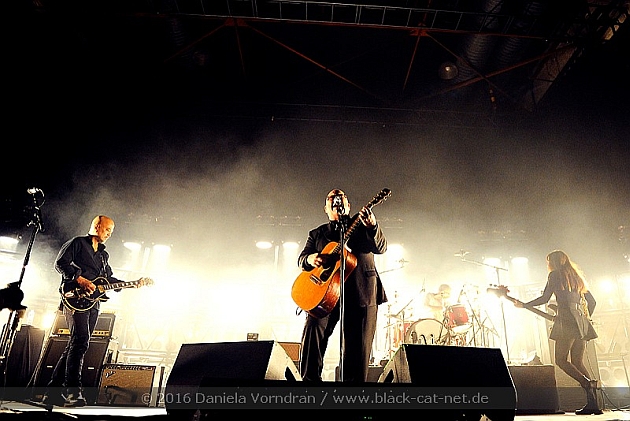 Palladium, Cologne, Germany
24th November 2016
Pixies & Fews

Sometimes, a short sharp shock is all that's required to get the adrenalin flowing. PIXIES came to Cologne presenting their acclaimed sixth studio album 'Head Carrier' taking us back to the roots with songs of visceral brilliance. FEWS played as guest band on a glimpse of freshness.
Fews

FEWS is a London-based Swedish Post Punk Alternative band. Hailing from all corners of the globe - Sweden, America and the UK - this foursome was formed around 2012. Singer and guitarist Frederick Rundqvist met fellow guitarist "Swedish David" Alexander through a mutual love of the same bands via social media. Recruiting drummer Rasmus Andersson soon after along with a succession of bass players, the embryonic FEWS' first recordings dates back to around 2013. Their debut album 'Means' was released this year. Produced by the experienced technical genius Dan Carey, 'Means' is an excellent debut they can be proud of.
http://www.fewsmusic.com
/
https://www.facebook.com/fewsmusic/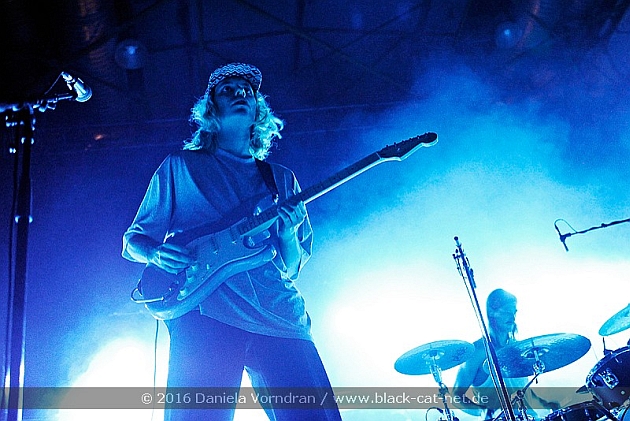 Music & Performance

It was show of ferocious intensity. Their performance took an incendiary mood as the lights were flashing to their rhythmic sound which could perhaps be best imagined as an hypnotic, icy guitar band that play a whirlpool strain of repetitive, spacey psych rock. There are elements of… a bit of… a dab of… a splash of… There may be the odd detractor only too happy to point out the obvious references to other artists here. But as I read somewhere and heard many times "talent borrows whereas genius steals". And while this is only just the beginning for FEWS, their future possibilities are endless. "We'll be back in February" said Frederick.
Setlist

01. La Guardia
02. 100 Goosebumps
03. The Queen
04. Drinking Games
05. Keep On Telling Myself
06. The Zoo
07. ILL
Rating

Music: 9
Performance: 7
Sound: 9
Light: 8
Total: 8.3 / 10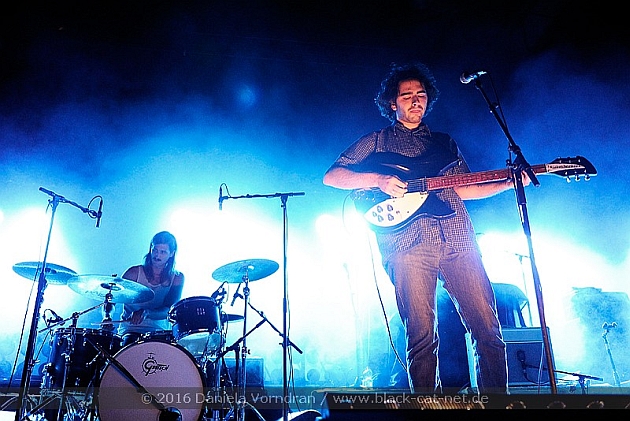 Pixies

This legendary band should not require an introduction but... although PIXIES was only able to achieve a modest success in his country, they obtained much greater recognition in Europe, especially in the UK and although none of its albums had a great commercial success, they were one of the most influential bands of alternative rock. PIXIES is an alternative rock band formed in 1986 in the city of Boston, United States. The group disintegrated in 1993 due to internal tensions, but met again in 2004. Since its inception, PIXIES has been formed by Black Francis, Joey Santiago, Kim Deal and David Lovering; However Deal left the band in 2013 replaced by bassist and Argentine violinist Paz Lenchantin. Their music contains elements including psychedelia, noise pop, hard rock, surf pop, and surf rock. Black Francis is the PIXIES' primary songwriter and singer; his lyrics cover offbeat subjects such as extra-terrestrials, surrealism, incest, and biblical violence. The group is often seen as the immediate predecessor of the alternative rock boom of the early 1990s, although its dissolution took place before they could reap any benefits from it. Kurt Cobain, a confessed fan of PIXIES, great influence that the group exerted in NIRVANA. This would ensure the legacy of PIXIES and would make its influence grow substantially in the years after its separation.
http://www.pixiesmusic.com
/
https://www.facebook.com/pixiesofficial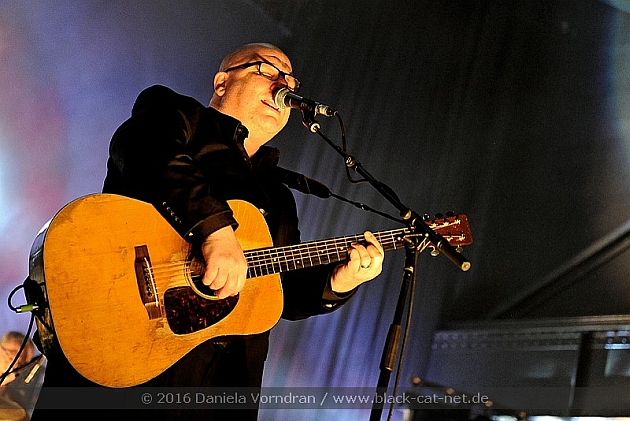 Music & Performance

When looking for the definition of "legend" in its purest term, you can't look much further than the PIXIES. Fresh from dropping their new album 'Head Carrier', PIXIES stormed into the Palladium Cologne to give us a rush of brilliance. There's often a temptation for bands to play new material in their live shows, especially with an imminent new album. However, those fears were quickly put away that night. They opened the show with 'Where Is My Mind?' from their first album 'Surfer Rosa' (1988). Although never entered in charts, the song is a favourite between the followers of the band and a habitual one in their concerts. That being said, the connection with the audience was immediate. Rarely will you see those of an age over thirty get fully stuck into a mosh pit, but clearly the nostalgia of youth was too much for some to resist. Another three goodies from the past were to follow, and the Pixies hit machine was now fully up and running. There were two blocks of three and four new songs (7-9 and 18-21 from the setlist) which were perhaps the trough of the evening, drawing many blank expressions from the assembled crowd, but clearly Pixies got the message quickly, pumping up the energy with some of their classics.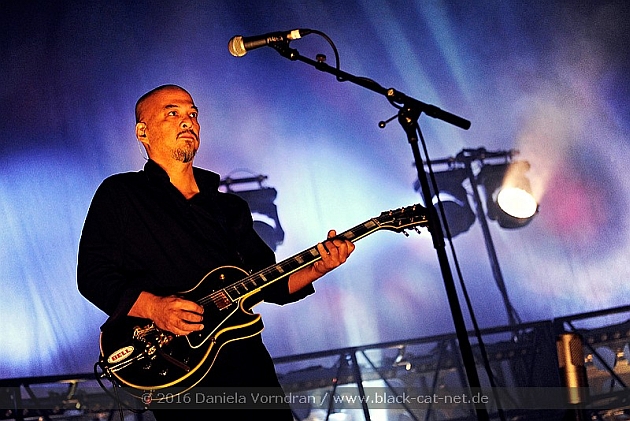 From then on, the songs seem to skip on at a rollercoaster rate, so as the energy that the band was expelling from the stage. The end came with the big load of smoke making the stage disappear. The band came out of the fog to goodbye and played two more songs, 'Vamos' from their first 1987 4AD 'Come on Pilgrim' EP and 'Into the White'. Although Francis hasn't interacted with the fans - with songs of such a visceral charge, it's best to let the music say it all.
Setlist

01. Where Is My Mind?
02. The Holiday Song
03. Nimrod's Son
04. Winterlong (Neil Young cover)
05. Motorway to Roswell
06. Gouge Away
07. Oona
08. Baal's Back
09. Talent
10. Dead
11. Subbacultcha
12. Ana
13. I've Been Tired
14. Hey
15. Debaser
16. Head On (The Jesus and Mary Chain cover)
17. U-Mass
18. Tenement Song
19. Classic Masher
20. Um Chagga Lagga
21. Might as Well Be Gone
22. Bone Machine
23. All I Think About Now
24. All the Saints
25. Broken Face
26. Wave of Mutilation
27. Caribou
---
28. Vamos
29. Into the White
Rating

Music: 9
Performance: 10
Sound: 9
Light: 10
Total: 9.5 / 10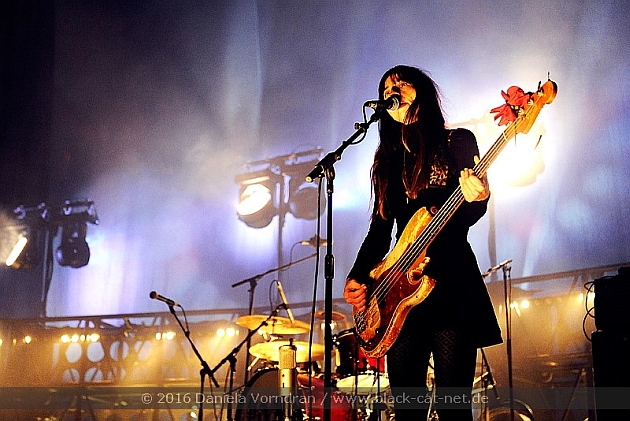 All Pictures by Daniela Vorndran (
http://www.vorndranphotography.com
/
http://www.facebook.com/blackcatnet
)