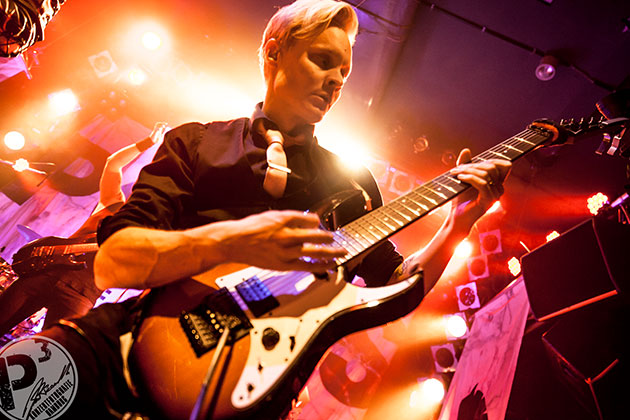 Knust, Hamburg, Germany
29th November 2016
Poets of the Fall & Flight Brigade

Another cold, dark evening when I went to the next concert on my list, POETS OF THE FALL in Knust, Hamburg. It would be my first concert with POETS OF THE FALL and I was excited for what I should expect. I listened through their albums, especially 'Clearview', and read some reviews of the new album which said that there's nothing really adventurous, new things. I wanted to experience it for myself. My first challenge was to get rid of my backpack because many other people had the same idea. FLIGHT BRIGADE began to play when I still was in line and waited for service. Then I tried to enter the crowd and realized that the concert surely was sold out. Although it was very full I caught a good place to view.
Flight Brigade

FLIGHT BRIGADE started the night. It's a seven-strong band which is extremely familiar; Ollie and Miriam are married and Miriam and Dorry (vocalist and violinist) are sisters. The parents of them were also friends. This powerful connections can be heard through their music which is somewhat between rock with deep sounds, crossed by sounds of the violin and softer tones. Their new album, released 14th October 2016 is called 'Our Friends Our Enemies' and they played some songs out of it. The audience was longing but I think more for POETS OF THE FALL. But I also think that FLIGHT BRIGADE did a good job as support. One can be excited what they will do in future!
https://www.facebook.com/flightbrigademusic/
/
https://flightbrigade.com
Rating
Music: 7
Performance: 8
Sound: 7
Light: 7
Total: 7.3 / 10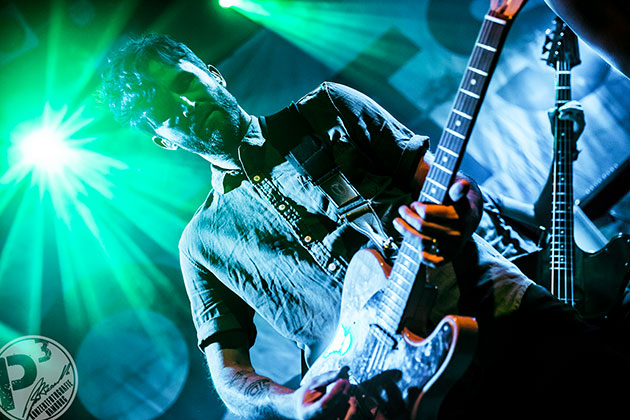 Poets of the Fall
After a little pause for changing instruments, POETS OF THE FALL began their stage performance on this evening. After releasing their seventh studio album 'Clearview' they of course wanted to present their newest release live on tour. They were in Hamburg two years ago so it was awesome that they play in Knust, Hamburg again after two years. POETS OF THE FALL are six awesome people from Finland making alternative rock music since 2003. Their texts are like their name, poetical and with sense.
https://www.facebook.com/poetsofthefall/
/
https://poetsofthefall.com
Music & Performance

Even when the support band did a good job, but as we know the audience of Hamburg is really challenging, when POETS OF THE FALL, especially vocalist and front man Marko Saaresto, entered the stage, the crowd was losing control of itself. I heard yelling, saw arms in the air and Marko, who was dressed in leather with a hat out of leather. The first song on this night was 'Drama for life' ('Clearview', 2016), followed by 'Daze'. The audience hadn't any time to breathe, heads banged and arms were in the air. It was clear, like clear view, that many real, long-time fans were on this concert, enjoying the show of Marko and band. 'The child in me' came next and Marko's voice ranged from a soft thing like a kiss to something nude, adventurous.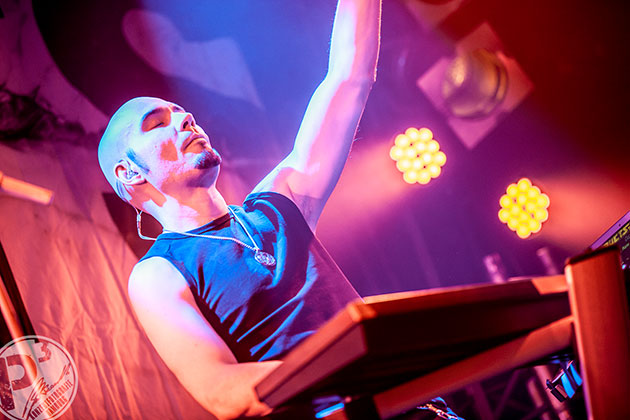 The atmosphere was bombastic, 'Dreaming wide awake' was the next song on the setlist, followed by 'Diamonds for Tears' and 'The Game'. After 'The Game', Marko began to strip a bit while the guitar was played. He took off his jacket and hat which caused yelling especially from female fans. Afterwards he thanked the audience for this kind of allegiance, that they came back to concert after two years of pause. While the crowd really freaked out, POETS OF THE FALL threw a lot of plectrums into the audience and many people looked where those goodies flew to. During the next song, 'Stay', the audience was instructed to use their smartphones as alternative for lighter. This song started in acoustic which showed the changeableness of this great band from Finland. The crowd sang with the band, surely safe in text and melody. 'Someone special' was also in acoustic at the beginning but then there was a change to the normal sound of the POETS for a good transition to other songs. 'Sleep' was with some acoustic and normal elements which underlined this changeableness of the band. 'Running out of time' came next and I noticed that the light show was perfectly harmonizing with what Marko sang and did on stage. It wasn't just light as usual on concerts; the light on this evening underlined this good combination of band, sound and performance.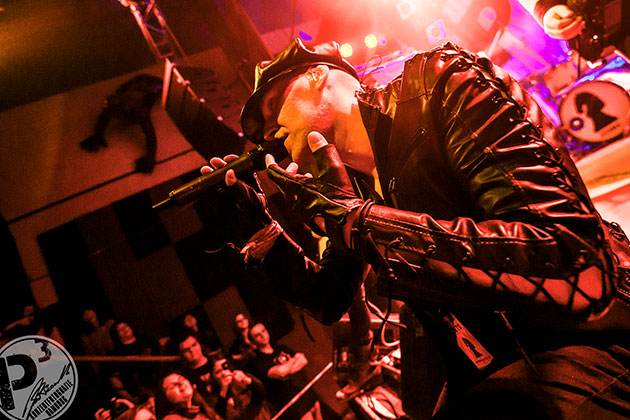 'Once upon a playground rainy' and 'Locking up the sun' were played next. Marko showed a sign with "Who the fuck is Tony" because Tony always is the person of interest in that song. While they played 'Locking up the sun', the guitarist tried to play drums which was clear and showed the openness of the band according to use other instruments as usual to be flexible. After another big intro, my personal favourite song came next as preliminary end: 'Carnival of Rust'. There was one more time both of it, immense energy and tragic in Marko's voice which lead the crowd to dance and sing. A little pause was given, POETS OF THE FALL entered the stage again and played 'War', 'Lift' and last but not least 'Children of the Sun' which ended this awesome concert. It was my first concert of POETS OF THE FALL and I think it wasn't the last one. Hope they'll come back soon again, not just in two or more years!
Setlist

01. Drama for Life
02. Daze
03. The Child in me
04. Dreaming wide awake
05. Diamonds for Tears
06. The Game
07. Stay
08. Someone Special
09. Sleep
10. Running out of Time
11. Once upon a Playground rainy
12. Locking up the Sun
13. Carnival of Rust
---
14. War
15. Lift
16. Children of the sun
Rating

Music: 10
Performance: 10
Sound: 9
Light: 10
Total: 9.8 / 10
Gallery

All Pictures by Jan Termath (
http://www.profound-passion.com/
)