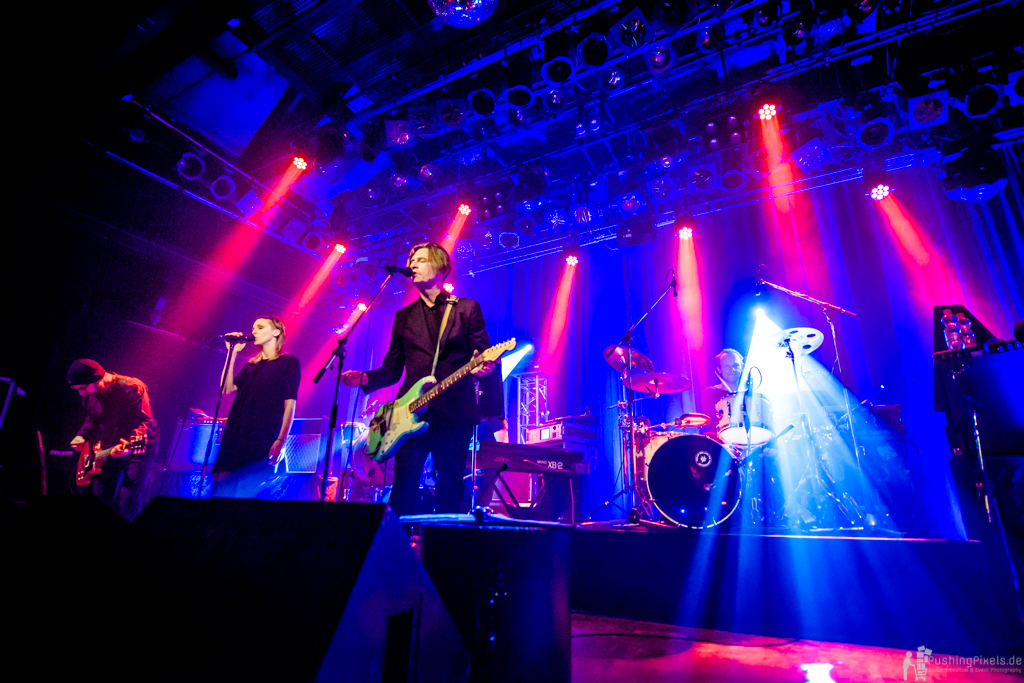 Zeche, Bochum, Germany
10th December 2016
Phillip Boa and the Voodooclub & Emilys Giant

Pop, Rock, Avant-Garde, high energy and music from the heart, these are the themes for tonight as PHILLIP BOA AND THE VOODOOCLUB invite their fans to the Zeche Bochum, by the way one of my favourite clubs. The concert is sold out and I am expecting a terrific night at a packed venue. The German musician and his band are accompanied by EMILYS GIANT who are going to add some indie vibes. Drizzling rain follows me on my way to the club but inside the Zeche, it is comfortably warm and the stage is set up for the band. Red lights shine down on me as more people arrive and the small venue gets crowded.
Emilys Giant

EMILYS GIANT is fresh folk with an indie vibe and layers of blues. In 2014, singer-songwriter Robert Groos starts concentrating on his music, touring Germany with his guitar. In 2015, the self-titled album 'Emilys Giant' is released. This year, Robert Groos has recorded 'The Golden Ticket Session', an acoustic set that features EMILYS GIANT on guitar and Jörg Blumenstein on violin. Learn more about the artist on his Facebook page
https://www.facebook.com/emilysgiant
and check the website
http://www.emilysgiant.com
.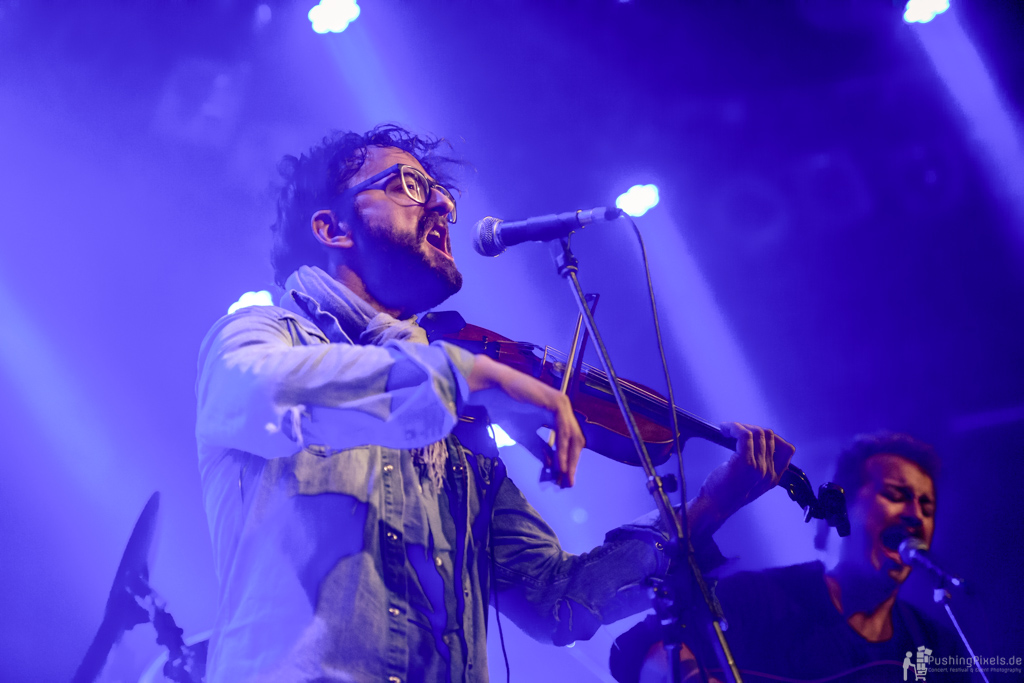 Music & Performance

It is getting cosy in the club as EMILYS GIANT starts to play around half past seven. On stage, there is Robert Groos with an acoustic guitar and Jörg Blumenstein with a violin. The music is slow and melodic, indie ballads with a touch of folk and blues. The violin provides for a sweet melancholic atmosphere while Robert Groos' remarkably rough and passionate voice carries and delivers deep emotions as this acoustic set unfolds. Songs like 'Funny How' and 'Lilly Hands' tell stories the audience might be able to relate to. unfortunately, people are not too engaged, often chatting while EMILYS GIANT performs. The music is good, performance and sound are decent, but a thirty-minute set of acoustic ballads is probably not what the audience has been waiting for. I, personally, would have wished for a non-acoustic performance to get to enjoy the more powerful interpretation of the album I have been listening to.
Rating

Music: 7
Performance: 6
Sound: 7
Light: 6
Total: 6.5 / 10
Phillip Boa and the Voodooclub

PHILLIP BOA AND THE VOODOOCLUB have been founded by German musician Phillip Boa in 1985. They play independent pop, rock, and avant-garde, mixing in various styles and genres, influenced by British post punk and indie. So far, they have released nineteen regular albums as well as many samplers and live records. PHILLIP BOA AND THE VOODOOCLUB are currently touring Germany with their newest release 'Blank Expressions – A History Of Singles 1986-2016'. On stage, genres and performances may vary, yet the shows are centred around Phillip Boa's use of the guitar and the remarkable vocal presentation of the lyrics. Check on news, updates, and tour dates here
http://www.phillipboa.de/
or keep in touch with PHILLIP BOA AND THE VOODOOCLUB through their Facebook page
https://www.facebook.com/phillipboaandthevoodooclub/
.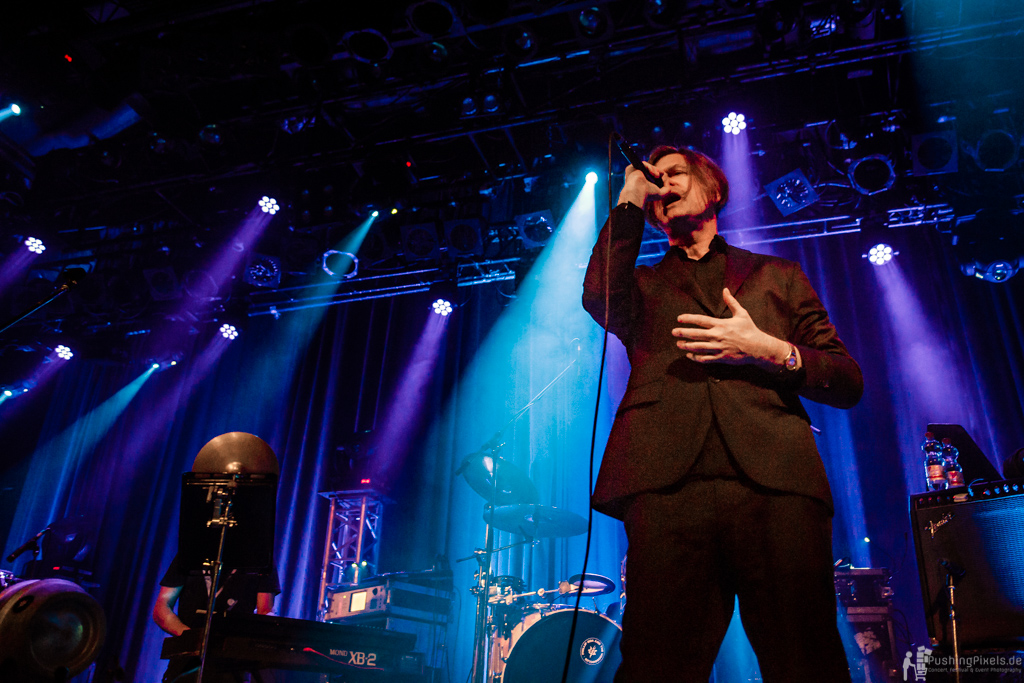 Music & Performance

It is a quarter past eight when the intro starts and PHILLIP BOA AND THE VOODOOCLUB enter the stage, greeted with loud applause and cheers. The crowd has been waiting for this with obvious excitement and when the band begins playing 'Kill the Future', people start dancing and singing along at once. It takes the band barely a few seconds to capture the crowd. The venue is packed and it is getting hot soon. On stage, we have a close to perfect setup of drums, a combined percussion and keyboard section, a lead guitar, a remarkably livid bass, a female singer, and – of course – Phillip Boa himself who covers the lead vocals and plays the guitar oftentimes.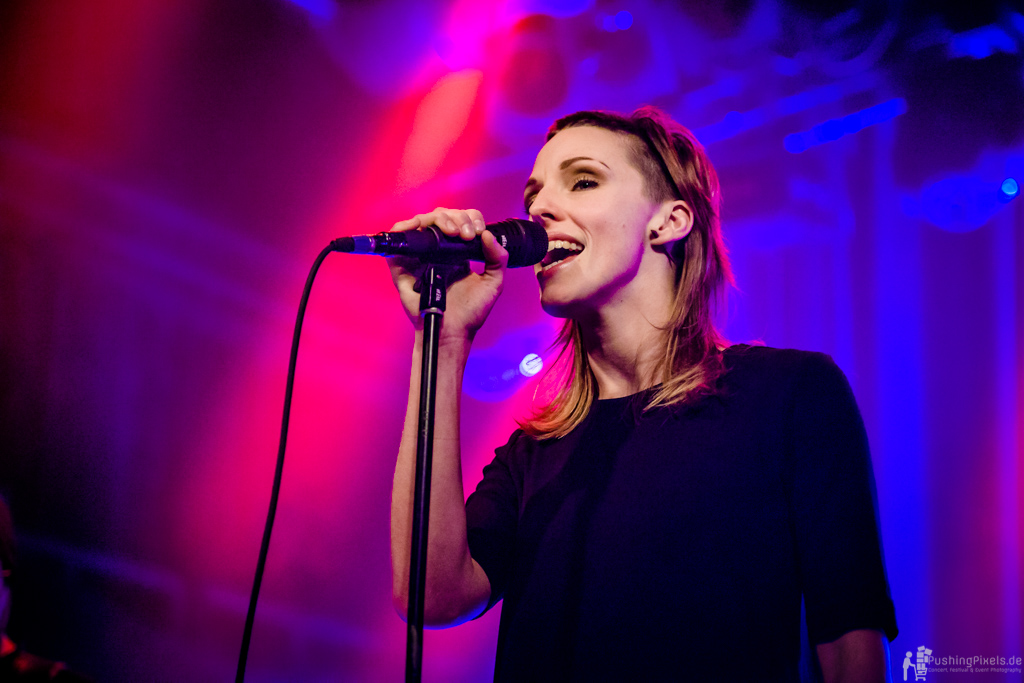 PHILLIP BOA AND THE VOODOOCLUB play a seventy-minute set with seventeen songs, covering thirty years of band history and versatile music. The performance moves from the faster 'Annie Flies the Love Bomber' to the softer 'This Pain' and makes the people dance and enjoy themselves much during 'Love on Sale' with a very cool percussion and drum interjection. The result: loud applause, screams, whistles. I feel my insides melt and burn during the intense and almost desperate guitar solo in 'Deep in Velvet' but the tension releases soon as PHILLIP BOA AND THE VOODOOCLUB play 'Bells of Sweetness', a driving up-tempo song to have fun with. At this point, the crowd is frenetic and the applause after each performance hits the small club like a storm. The beautiful 'Rome in the Rain' gets stuck in my head but I cannot linger. 'Albert Is a Headbanger' begins and it is heavy, its poem-like chorus driving the crowd ecstatic as people bang their heads. The regular set ends with 'And Then She Kissed Her' with many clapping hands in the air. I am amazed; what a show!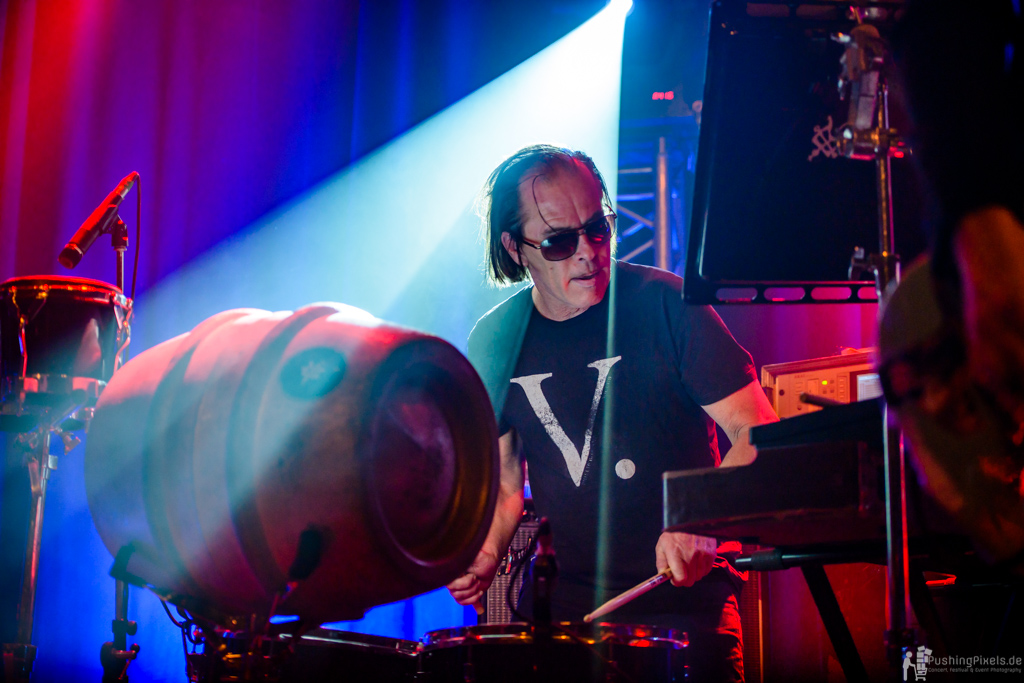 Five minutes later, PHILLIP BOA AND THE VOODOOCLUB return with the first encore, giving their fans four more songs, among them 'I Dedicate My Soul to You', complete with a bass and drum solo and an energetic Phillip Boa on guitar, and 'Diana' with a groovy, jazzy outro in dim light. To top it off, the band concludes the encore with the famous 'Container Love' that has the crowd singing, dancing, screaming, simply going wild with joy. But it is not the end yet. PHILLIP BOA AND THE VOODOOCLUB return for a second encore with two more songs, ending their show with 'Kill Your Ideals'. People are having a blast, jumping and dancing, and the vibes are so good it feels like a perfect night is going to end. And it has been a perfect show in many aspects. Phillip Boa in black, laid back and yet passionate during his performances, great musicians, and a versatile mix of pop and rock are just the right ingredients for a pleasant show. Yet the sound has not been perfect.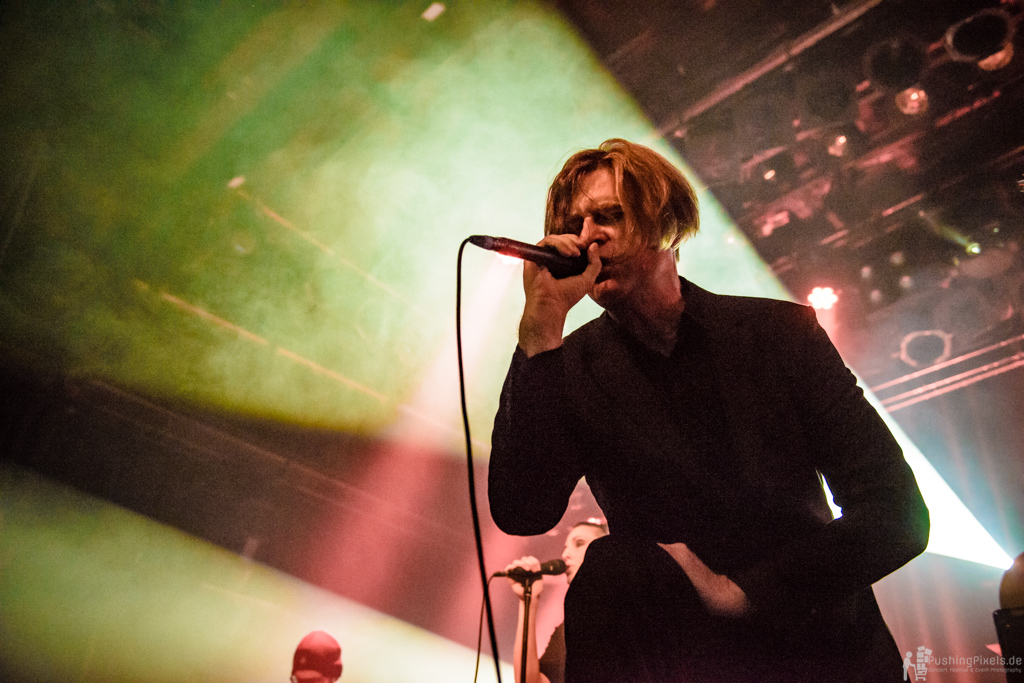 While the drums are on point and the bass prances and twangs just perfectly, the vocals are too low sometimes and hard to catch. Apart from this, it is a fantastic show I am certainly going to enjoy thinking of for a while.
Setlist

01. Kill the Future
02. Fine Art in Silver
03. Annie Flies the Love Bomber
04. Get Terminated
05. This Pain
06. Til the Day We Are Both Forgotten
07. Love on Sale
08. Kill Your Vacation
09. Deep in Velvet
10. Bells of Sweetness
11. Rome in the Rain
12. Twisted Star
13. Albert Is a Headbanger
14. Standing Blinded on the Rooftops
15. Atlantic Claire
16. Against the Sun
17. And Then She Kissed Her
---
18. Death Is a Woman
19. I Dedicate My Soul to You
20. Diana
21. Container Love
---
22. This Is Michael
23. Kill Your Ideals
Rating

Music: 8
Performance: 9
Sound: 7
Light: 8
Total: 8 / 10
All pictures by Markus Felix