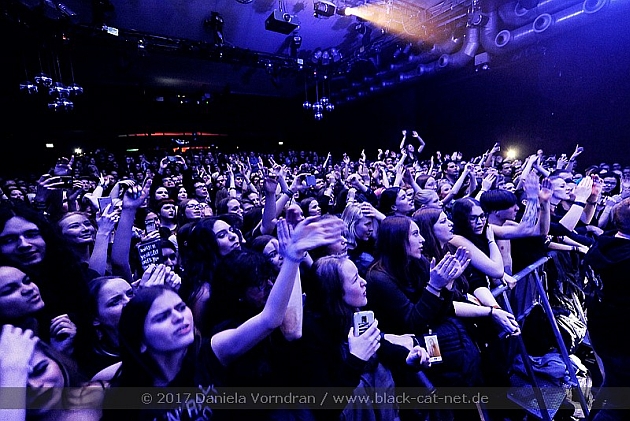 Gloria, Cologne, Germany
30th January 2017
The Pretty Reckless & The Cruel Knives

Just a few months after the release of their third album, 'Who You Selling For', THE PRETTY RECKLESS roared into Cologne for a sold-out gig at Gloria Theatre. Opening band THE CRUEL KNIVES took care of warming up that cold night.
The Cruel Knives

The British hard rock band was formed by Sid Glover (guitar) and Rob Ellershaw (bass), formerly HEAVEN'S BASEMENT, Tom Harris (voice) and Al Junior (drums). Currently writing and recording their debut EP entitled, 'The World We Were Sold', they're currently asking their fans to be involved right at the start of their journey. Their project on pledgemusic.com invites their supporters to pre-order their EP scheduled for release later in 2017, and to become part of the process for what they call "some exciting new music", and as usual in pledgemusic.com to get access to some exclusive merchandise and experiences.
https://www.facebook.com/thecruelknives
/
http://www.pledgemusic.com/artists/thecruelknives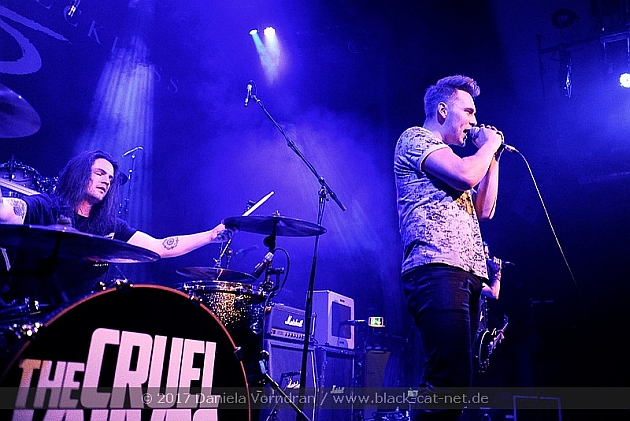 Music & Performance

The Cruel Knives came up on stage with contagious enthusiasm. Lead singer Tom Harris and guitarist Sid Glover managed to lift up the energy with some good stage moves. The high tones sang by Sid take the rough hard rock sound of the band to a pretty original dimension. With an excellent response from public who raised their hands, sang and screamed on demand. this young band set the stage on fire.
Setlist

01. The World We Were Sold
02. On A Fucking Leash
03. Kill The Messenger
04. Squeeze
05. Maybe I Should Know
06. Itch
07. The Promised Land
08. Crawl
Rating

Music: 6
Performance: 8
Sound: 7
Light: 7
Total: 7 / 10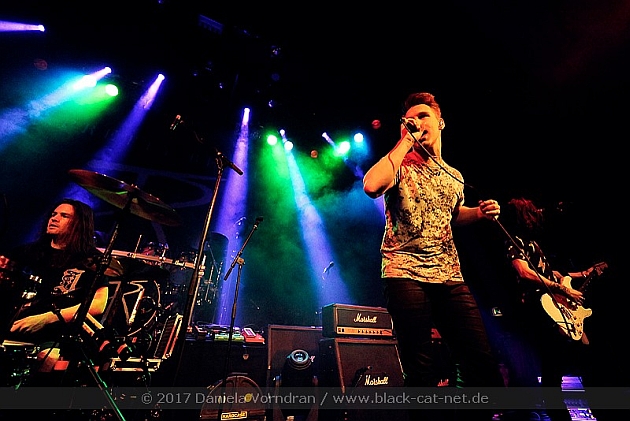 The Pretty Reckless

This American hard rock band with roots in New York, currently formed by Taylor Momsen (vocals and rhythm guitar), Ben Phillips (lead guitar and backing vocals), Mark Damon (bass) and Jamie Perkins (drums). In 2010, is signed with Interscope Records and released their debut album entitled 'Light Me Up', which entered at number six in the UK and resulted in the top-100 in several countries; three singles came out of this album, among them the most relevant one was 'Make Me Wanna Die' that topped the UK Rock Chart. In 2010, they embarked on a two year worldwide tour promoting their debut album, which concluded in March 2012. They also featured as support for MARILYN MANSON, EVANESCENCE and NICKELBACK. Their second album, entitled 'Going to Hell', was released on March 18, 2014. The release marked the band's largest sales week to date and landed at number five on the Billboard 200 with over 35,000 copies sold in its first week. Much of the inspiration for the album came from Momsen's Catholic background, noting that "heaven and hell is a metaphor that's been used in music since the beginning of time". THE PRETTY RECKLESS are currently on tour presenting their third album, 'Who You Selling For', produced by their long-time collaborator Kato Khandwala.
http://theprettyreckless.com
/
https://www.facebook.com/theprettyreckless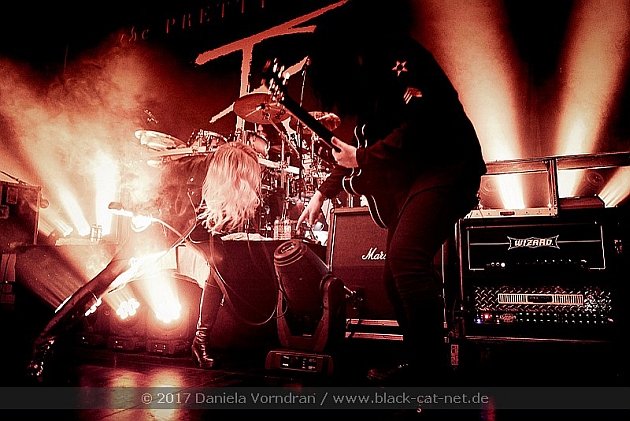 Music & Performance

This is the first time I see THE PRETTY RECKLESS live. Actually I didn't know much about them, so I did my homework on hearing all their music, watching all their videos and reading as much as I could about them. I'm a fan of glamorous rock. Therefore I was expecting some more aesthetic from this band. Never mind; the glamorous days of the former face of MADONNA's "Material Girl" teenage fashion collection are far behind, at least on stage. Taylor Momsen dressed in a long leather jacket, t-shirt and trademark black boots hit note after note without fail. Supported by Ben Phillips on the leads, bassist Mark Damon, and drummer Jamie Perkins, this was a great chance to see this band this up close and personal. Lights went out and bells started knelling, just like 'Hell's Bells' from AC/CD. Right when the lights came on, everyone in the theatre screamed at the top of their lungs when they saw this women walk on stage. The opening song is 'Follow Me Down' off 2014's 'Going to Hell'. Taylor, with her long blonde hair, tall slim built and black attire is adored by her fans, especially the female base. She brings out the fire in her followers and enjoys every moment on stage. The second number, 'Since Your Gone', ignited the crowd as the cheers and screams reached a higher pitch... but it got louder as the show moved on!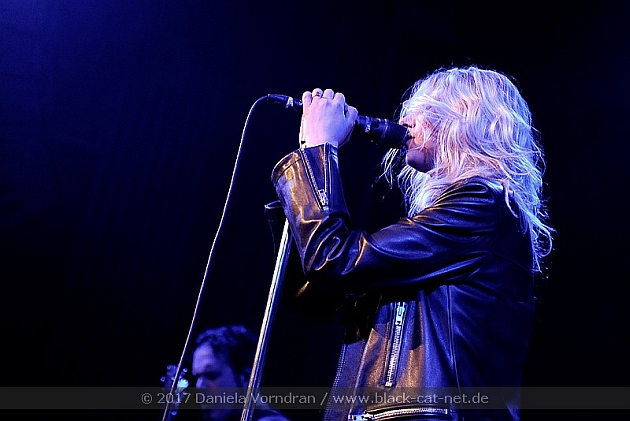 Impressive band! Jamie Perkins, Ben Phillips and Mark Damon are some talented musicians and with a powerhouse vocalist like Taylor Momsen makes this group stand out a bit more than the rest. On Tour and supporting their recent 2016 release, 'Who You Selling For', the band has reached a new level that places them in a comfortable spot and it shows in their performance. Momsen rocked the room with her powerful vocals and in-trance body moves. The sixteen song, nearly 90 minute set was painted with classics like 'Fucked Up World', 'Going to Hell', and 'Heaven Knows'. But it was 'Living in the Storm' and chart topper 'Take Me Down' that showed that this band is capable of good hard rock. The fans deserve a special chapter. Most of the times in my reviews I refer to the audience as 'the public' but not this time. The fans sang all the songs. They cheered and screamed at the top of their lungs and they got what they deserved. I usually arrive the earliest I can to be as close as possible to the stage and most of the times I get somehow the setlist. This time I couldn't because the fans were queuing up much earlier than expected. I couldn't get a photo of the setlist. Therefore I had to explore their previous concerts and I discovered that they have been playing the same setlist since they went on tour.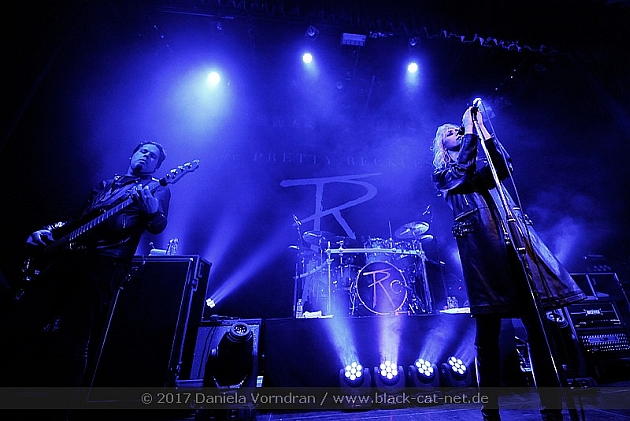 Now; back to the fans. After finishing 'Going to Hell' the fans started singing 'Just Tonight' with such a passion that convinced the band to play it. That was a victory for the fans and a generous gift from the band. They left the stage after performing 'Take me down'. That's when the chanting started… "ENCORE, ENCORE, ENCORE!" (in German, of course). For a good solid five minutes the crowd was screaming that until Jamie Perkins (drums), Mark Damon (bassist) and Ben Phillips (guitarist) returned to the stage, then Taylor. They finished with a full stopper 'Fucked Up World' which very well describes THE PRETTY RECKLESS style... loud & heavy.
Setlist

01. Follow Me Down
02. Since You're Gone
03. Oh My God
04. Hangman
05. Make Me Wanna Die
06. My Medicine
07. Prisoner
08. Sweet Things
09. Light Me Up
10. Who You Selling For
11. Living in the Storm
12. Heaven Knows
13. Going to Hell
14. Just Tonight
15. Take Me Down
---
16. Fucked Up World
Rating

Music: 9
Performance: 8
Sound: 8
Light: 7
Total: 8 / 10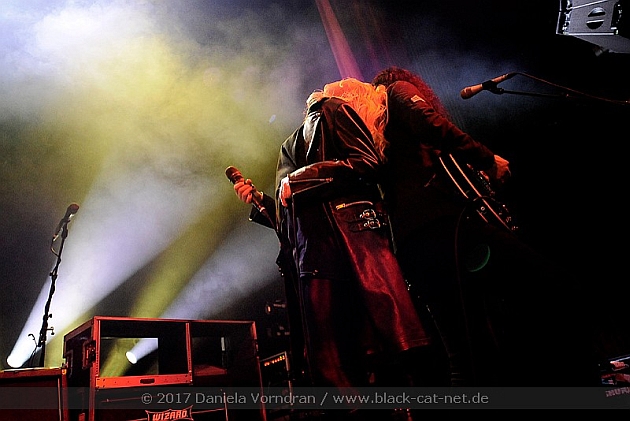 All pictures by Daniela Vorndran (
http://www.vorndranphotography.com
/
http://www.facebook.com/blackcatnet
)