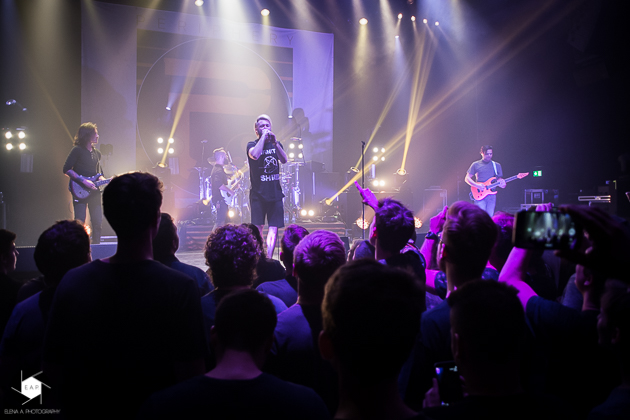 Rockhal, Esch sur Alzette, Luxembourg
26th May 2017
Periphery, The Contortionist, Destrage

After their last gig in February 2012, supporting DREAM THEATER, PERIPHERY were back and they made the Rockhal move from the front until the back! The "European Unrest Tour" was supported by DESTRANGE and THE CONTORTIONIST.
Destrage
The opener act was DESTRANGE, an Italian progressive metal band from Milan. They already have released four studio albums and are signed to Metal Blade Records. The warming up to the main act was a success. Although they were quite unknown in Luxembourg, after the first songs people banged their head and moved a little bit more. Maybe because their performance was very strong and also professional. All in one, a great opener act and great warm up for the evening!
Setlist

01. Don't Stare at the Edge
02. Destroy Create Transform Sublimate
03. The Flight
04. My Green Neighbour
05. Symphony of the Ego
06. Blah Blah
07. Purania
Rating

Music: 7
Performance: 8
Sound: 7
Light: 8
Total: 7.5 / 10
The Contortionist
After a quick change of the set,
THE CONTORTIONIST
showed up. THE CONTORTIONIST is an American progressive band from Indianapolis, Indiana. They already shared the stage with bands like TESSERACT, AFTER THE BURIAL, BETWEEN THE BURIED AND ME and so they have a lot of experience and they showed that too. Because of their awareness, there were a few fans of the band present enjoying the show.
Setlist

01. Language I: Intuition
02. Language II: Conspire
03. Thrive
04. Solipsis
05. Primordial Sound
06. Oscillator
07. The Parable
Rating

Music: 7
Performance: 7
Sound: 7
Light: 5
Total: 6 / 10
Periphery

The fans were a bit nervous, for many of them it was the first time seeing
PERIPHERY
live. When they came on stage, the public cheered to their favourite band and was very excited. With their opening song, 'A black Minute', they showed the Grand-Duchy how much energy and talent they have. And indeed, with a powerful setlist and much of energy on stage they satisfied a lot of fans. The crowd sang every single song with Spencer and had lots of fun. The focus of the setlist were 'Periphery III: Select Difficulty' and 'Juggernaut: Alpha'. The atmosphere was great, the audience sang and danced around and the band enjoyed playing. There were moments where Misha and Mark fooled around and this made the band even more sympathetic. Unfortunately, they didn't play songs like 'Alpha' and 'Make Total Destroy', the latter the fans yelled for the encore. Also a little con was, that they only played one song of their album 'Periphery II: The Time It's Personal'.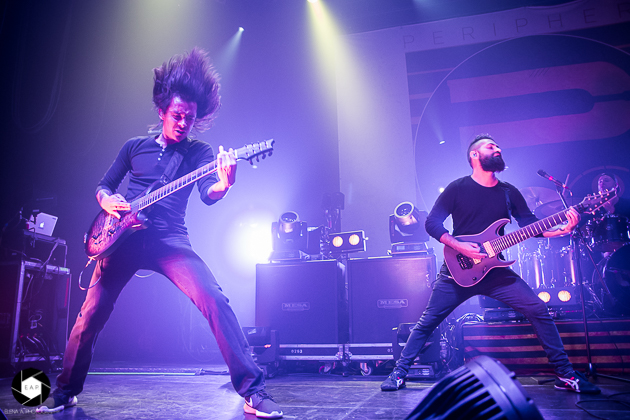 To sum up, it was a great evening with many of talented musicians and happy fans. The first act welcomed the people with a really impressive show, while the second act prepared the people to Periphery and the latter delivered a great show.
Setlist

01. A Black Minute
02. Stranger Things
03. The Way the News Goes…
04. Marigold
05. Remain Indoors
06. Prayer Position
07. The Bad Thing
08. Flatline
09. Memento
10. Psychosphere
11. Masamune
---
12. Lune
Rating

Music: 8
Performance: 9
Sound: 9
Light: 10
Total: 9 / 10
All pictures by Elena Arens (https://www.facebook.com/ElenaA.Photography/)