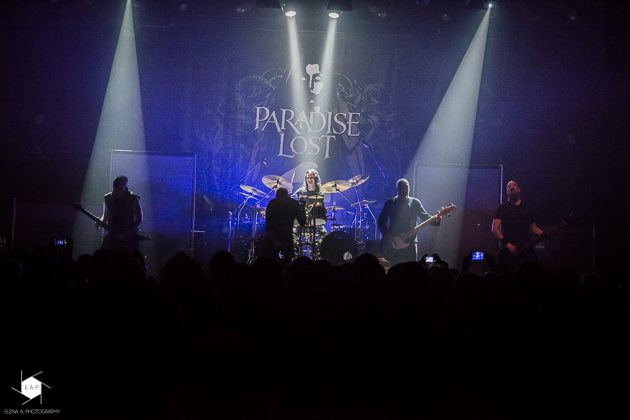 Kulturfabrik, Esch sur Alzette, Luxembourg
27th September 2017
Paradise Lost, Pallbearer, Sinistro

After they released 'Medusa' this month, PARADISE LOST are currently on Europe tour to promote their brand new record. The tour started Wednesday in Luxembourg at the Kulturfabrik and will end in November in France. Supporting the tour are PALLBEARER from the United Stated and SINISTRO from Portugal.
Sinistro

SINSITRO
is an Ambient Doom Rock band from Portugal. Unfortunately, there weren't a lot of people present for this great opener band. The songs of SINSITRO were atmospheric and heavy. The band was also very present on stage which completed the package of a good gig. Front woman Patricia Andrade performed a bit unlikely but fitting to their music.
Rating

Music 8
Performance 8
Light 7
Sound 8
Total 7.8 / 10
Pallbearer
PALLBEARER
is an American doom metal band from Little Rock, Arkansas. They were formed in 2008. The band released their first full length album 'Sorrow and Extinction' in 2012. This record was awarded Best New Music status by 'Pitchfork' and cited amongst the best albums of the year by 'Spin' and 'NPR'. In 2014, their album 'Foundations of Burden' was also awarded Best New Music status by 'Pitchfork'. Their actual album 'Heartless' was #98 in the German Album Charts. Their show was quite good. The presence on the stage wasn't as good as the former band but that fact, the American band could compensate with their songs. The crowd seemed to like the songs because the atmosphere was already a bit better after the first few songs.
Setlist

01. Thorns
02. The Ghost I Used to Be
03. Fear and Fury
04. Dancing in Madness
05. Worlds Apart
06. Devoid of Redemption
07. A Plea for Understanding
08. Foreigner
Rating

Music 7
Performance 6
Light 7
Sound 8
Total 7 / 10
Paradise Lost

PARADISE LOST
appeared on the stage after an atmospheric and strong intro. The crowd was already on fire and sang every song with front man Nick Holmes. For that reason the atmosphere was great. The songs were cool but sometimes a bit monotone for my taste. Unfortunately, the sound wasn't very good. It was very muddy and there were not really a lot of details.
Setlist

01. Blood and Chaos
02. Remembrance
03. One Second
04. From the Gallows
05. Tragic Idol
06. Medusa
07. No Hope In Sight
08. Shadowkings
09. Gods of Ancient
10. Praise Lamented Shade
11. Faith Divides Us
12. Beneath Broken Earth
13. Embers Fire
---
14. Eternity of Lies
15. Longest Winter
16. Say Just Words
Rating
Music 8
Performance 8
Light 7
Sound 6
Total 7.3 / 10
All in one, the evening was quite good. SINISTRO was surprisingly one of the best bands of the evening according to some statements I heard from visitors between the breaks and after the whole concert. PALLBEARER warmed the crowd up for a last time before the headliner PARADISE LOST came on stage. These delivered a good gig but the sound was for many visitors disappointing.
All pictures by Elena Arens (https://www.facebook.com/ElenaA.Photography/)
See also (all categories):