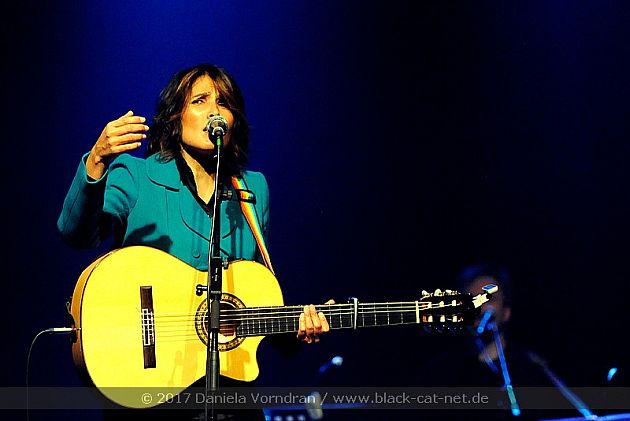 Kulturkirche, Cologne, Germany
18th October 2017
Tanita Tikaram & Sarah Walk

I didn't know what to expect that Wednesday night at the Kulturkirche in Cologne. That probably happened to everyone who just went to hear TANITA TIKARAM's beautiful voice singing 'Twist in my Sobriety'. But that's a hit from 1988! Every song became a piece in a puzzle of a repertoire of a nearly 30 year career. SARAH WALK took care the opening with bitter-sweet songs of her debut album.
Sarah Walk

Original from Minneapolis, USA, endowed with a distinct androgynous voice and a unique rhythmic piano playing style,
Sarah
's music has been said to be "cynically optimistic and in your face lyrics with rock music, every bit as raw and passionate as one could hope." [Extracted from her Facebook fan page] http://www.sarahwalkmusic.com / https://www.facebook.com/sarahwalkmusic/
Music & Performance

Sarah came on stage with guitarist Joe Harrison and successfully performed pieces of her debut album behind the piano. 'Little Black Book' is according her own words "an insight into the layers of the human heart; the turbulence of relationships as they rise and fall..." The public reacted with moderate enthusiasm considering that everyone was sit in a church.
Rating

Music: 6
Performance: 4
Sound: 7
Light: 7
Total: 6 / 10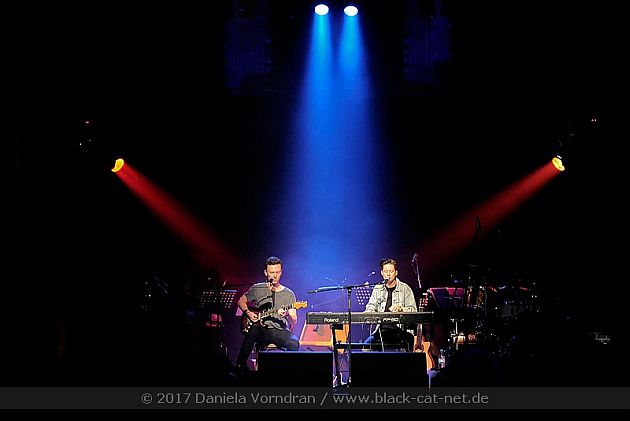 Tanita Tikaram

TANITA TIKARAM
(48) was born in Münster, Germany and lived there before moving to England and USA until finally returning to the UK and settling in London. She achieved chart success with the singles 'Twist in my Sobriety' and 'Good Tradition' from her 1988 debut album, 'Ancient Heart'. She is known for her powerful, husky voice, and poetic and somewhat obscure lyrics. Tanita started singing in nightclubs while she was still a teenager and came to the attention of WEA Records. Her debut album, 'Ancient Heart' sold around 4 million copies worldwide but it was followed by albums that, in most cases, sold less than the previous one. Her nine albums reflect a journey towards the independent and self-produced career with several breaks and hiatuses of up to seven years. Since 2013, she has been touring the UK and Europe. Tikaram's new album, 'Closer to the People', was released on 11 March 2016. http://www.tanita-tikaram.com / https://www.facebook.com/tanitatikaramofficial/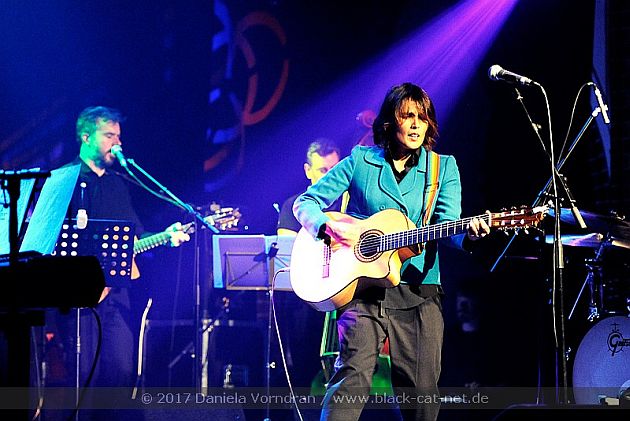 Music & Performance

TANITA TIKARAM and her band came on stage at 20:45. She is now 48 years old, and she is beautiful. Almost three decades after the release of her debut and so far most successful album she is musically engaged as ever. The night got promising as soon this interesting ensemble of instruments started playing. Winds, accordion, viola, guitar and double bass got expanded under the high roofs of the always mystical Kulturkirche. Her incomparably melancholic voice started singing 'My love tonight', the only song from the 1995 album 'Lovers in the city' she would sing that evening. TANITA TIKARAM, as always on sober dark suit drew people in front of the stage with her incomparably dark, slightly melancholic voice. Her repertoire covered almost all her albums but mostly her debut and latest release. Emotions were pulled from dramatic songs like 'Glass Love Train' to more tender ones like 'All things to you'. Suddenly we were at the thirteenth song, the mostly expected 'Twist in my Sobriety'.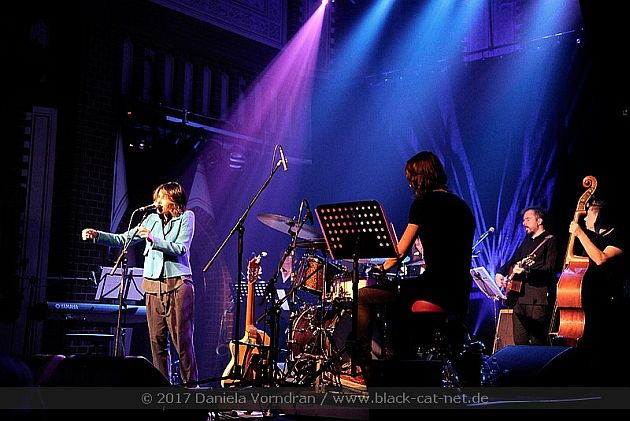 Of course the singer-songwriter also presented some of the well-known titles that are deeply rooted in many listeners: 'Good Tradition' and, of course, 'Twist in my Sobriety'. It was a time travel into songs that are more actual than ever. "I'm a rock fan", confessed Tikaram once. She announced each of her songs with a few words which were mostly about love experiences. In fact, there are songs with sweeping passages inspired by rock. But the ballads dominate, slightly jazzy, slightly bluesy. The band left the stage after 'I think of you'. The song titles of the setlist seemed to write a message which was understood by the fans that stand up and cheered for more. And she came back, and because she was 'thinking of us' she sang a song in German, 'In dieser Stadt', a 1966 classic by Hildegard Knef. The girl from Münster didn't forget her roots! 'Rock'N Roll' was to close the official encore… but when Tanita and the band left the stage the lights didn't really turned on, which gave the audience the hope that there was more. And there was more indeed. Tikaram returned to stage on a big applause and closed the evening with 'Free Falling', in homage to the recently gone Tom Petty.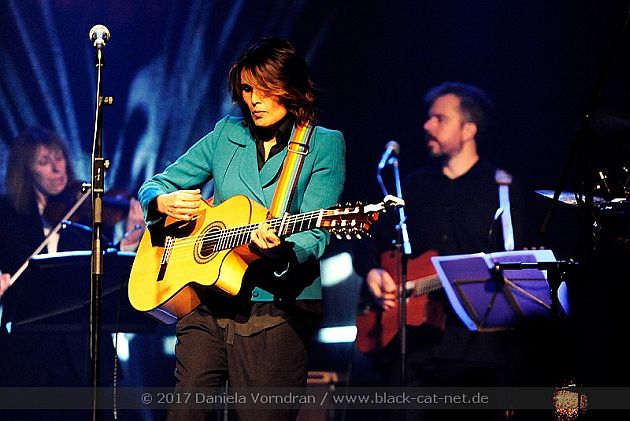 Setlist

01. My love tonight
02. To drink the rainbow
03. Dust on my shoes
04. Trouble
05. World outside your window
06. All things to you
07. Valentine heart
08. Cathedral song
09. Glass love train
10. I don't wanna lose at love
11. Night is a bird
12. Make the day
13. Twist in my sobriety
14. Food on my table
15. Good tradition
16. The way you move
17. Everyday is new
18. I think of you
---
19. In dieser Stadt (Hildegard Knef song)
20. Rock'n roll
---
21. Free falling (Tom Petty song)
Rating

Music: 8
Performance: 7
Sound: 8
Light: 7
Total: 7.5 / 10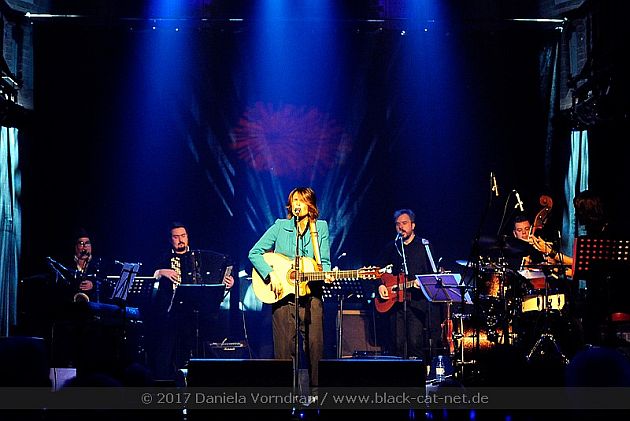 All pictures by Daniela Vorndran (
http://www.vorndranphotography.com
/
http://www.facebook.com/blackcatnet
)