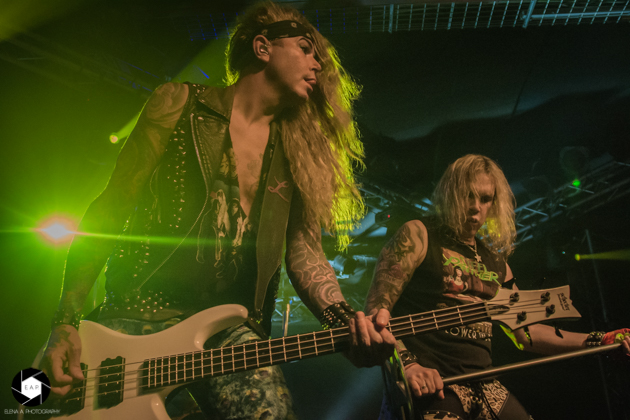 Den Atelier, Luxembourg City, Luxembourg
7th February 2018
Steel Panther & Fozzy

STEEL PANTHER is now known as the greatest neo-metal, glam throwback parody band, have four full length albums, platinum level YouTube status, high profile television appearances, tour across the world and are notorious. Ultimately though, this fearsome four just hopes heavy metal can bring about world peace. Currently the band is touring in support of their latest effort, 'Lower the Bar', which was released in March 2017. FOZZY and STEEL PANTHER entertained us with their hilarious songs last night, the 7th of February 2018 at the "den Atelier".
Fozzy

FOZZY
is an American heavy metal band formed in Atlanta, Georgia, in 1999 by lead singer Chris Jericho and guitarist Rich Ward. The band is signed to Century Media Records and has released two studio albums through this label. The band's current line-up consists of Chris Jericho, Rich Ward, Frank Fontsere, Billy Grey and Paul Di Leo. The band FOZZY has really always been about one thing: having fun. What started out for guitarist Rich Ward as a weekend cover band soon became an internationally signed act with the biggest star in professional wrestling, Chris Jericho, as its lead singer. As of October 2017, the band has released seven studio albums and one live album. Their first two albums consist of primarily cover songs with some original material, while their albums since have made original material the primary focus.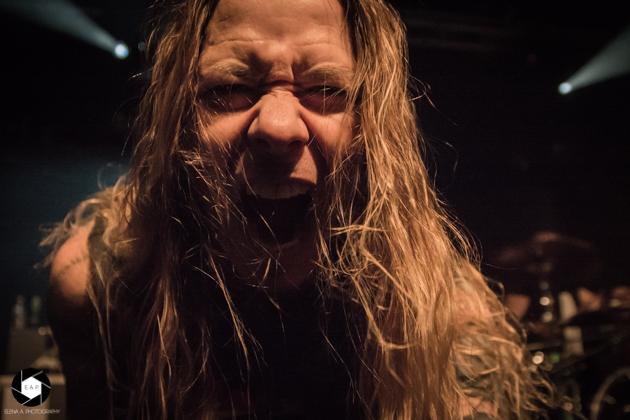 Music & Performance

The "Den Atelier" was already well filled and when at exactly 7.45pm, FOZZY came on stage and began instantly to roar. For a lot of people in the crowd, FOZZY weren't unknown. The band around Chris Jericho had a really good presence on stage and entertained the audience quite well. After the first few songs, these who didn't know the band before became warmer and head-banged powerful to the songs. FOZZY really had fun on stage, even if they were surprised of the size of it, but they did their best. After their show, you felt that the crowd is ready for the glam rockers STEEL PANTHER.
Setlist

01. Judas
02. Drinkin with Jesus
03. Sin and Bones
04. Painless
05. Spider in my Mouth
06. SOS
07. Lights go out
08. Bad Tattoo
09. Sandpaper
Rating

Music: 7
Performance: 8
Sound: 7
Light: 7
Total: 7.3 / 10
Steel Panther

STEEL PANTHER
has established themselves as the world's premier party band, melding hard rock virtuosity with parody and criminally good looks. Made up of Michael Starr (lead singer), Satchel (guitarist), Lexxi Foxx (bass), and Stix Zadinia (drums), the Los Angeles hair metal group does it again. They look good, they sound good and they're in it for the pussy.
Music & Performance

9pm: The lights dimmed and VAN HALEN's song 'Everybody Wants Some!!!' sounded thought the "Den Atelier" and the crowd erupted with screams and cheers. It was the start signal, in a few moments STEEL PANTHER will finally hit the stage after their last show in Luxembourg 2016. With 'Eyes of a Panther', they began the hilarious evening. STEEL PANTHER shows are known for being half '80s heavy metal heaven and half stand-up comedy shows. Typical for STEEL PANTHER is that they call up some girls from the crowd on stage for their song '17 Girls in a Row'.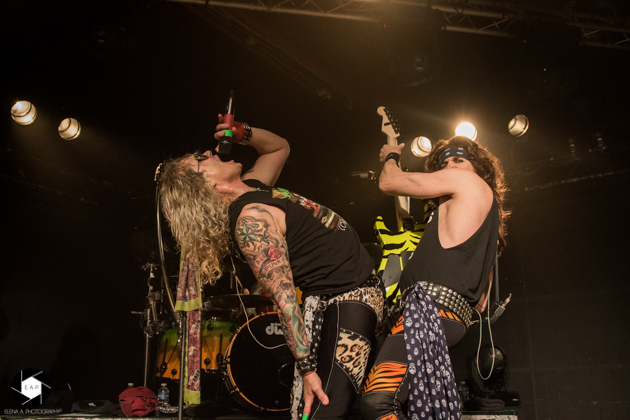 Setlist

01. Eyes of a Panther
02. Goin' in the Backdoor
03. Asian Hooker
04. Tomorrow Night
05. Wasted Too Much Time
06. Pootang Boomerang
07. Guitar Solo
08. That's When You Came In
09. Weenie Ride
10. 17 Girls
11. Gloryholes
12. Death To All But Metal
---
13. Community Property
14. Party All Day (Fuck All Night)
Rating
Music: 8
Performance: 10
Sound: 9
Light: 8
Total 8.8 / 10
The evening was really nice! The support act FOZZY warmed up the people well with songs which are ideal to head band. And STEEL PANTHER delivered a great show, but this was quite expectable.
All pictures by Elena Arens