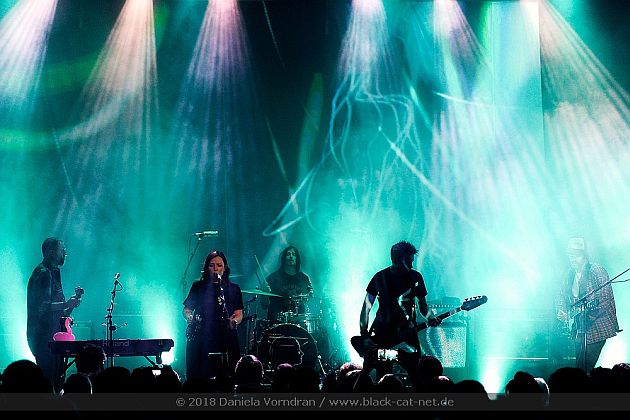 Gloria, Cologne, Germany
26th February 2018
Slowdive & Dead Sea

After playing four impressive shows in Berlin, Hamburg at the Maifeld Derby Mannheim and the Way Back When-Festival in Dortmund in 2017, Shoegaze trailblazers SLOWDIVE decided to come back to Germany for two exclusive gigs in Cologne and Munich. The concert at the Gloria theatre was sold out weeks before - and the audience would be rewarded for their patience. Before the quintet from Reading (England) started their show people in the full-packed room got a sight at an interesting newcomer.
Dead Sea

A brand new four-piece band from Paris, France, playing "Turbo Chillwave" as they call their type of music. They have just released two singles called 'Lotion' and '8.50' (you can find both on Bandcamp) and are working on their debut album at the moment. wearedeadsea.com / facebook.com/wearedeadsea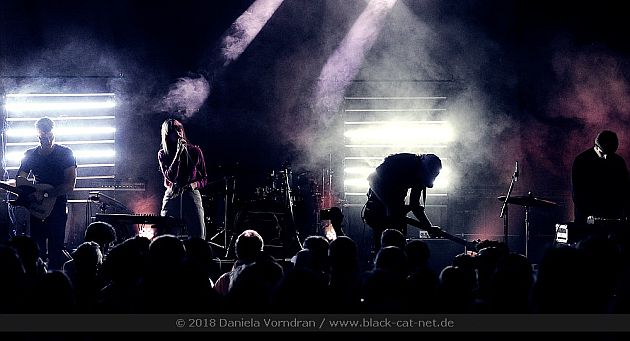 Music & Performance

At Gloria, the young quartet played their first gig in Germany. Homelike synthies, typical wave guitars und female vocals were supplemented by pre-produced beats between down-tempo and APHEX TWIN-like-wriggling. It was not a spectacular, but really solid performance that was well rewarded by a bigger part of the audience. And the sympathetic band seemed to be positively surprised because of that. If you're into Ambient, Shoegaze and Intelligent Dance Music, make sure you'll check them out when they finalize their upcoming debut album, probably in later 2018.
Rating

Music: 7
Performance: 6
Sound: 8
Light: 5
Total: 6.5 / 10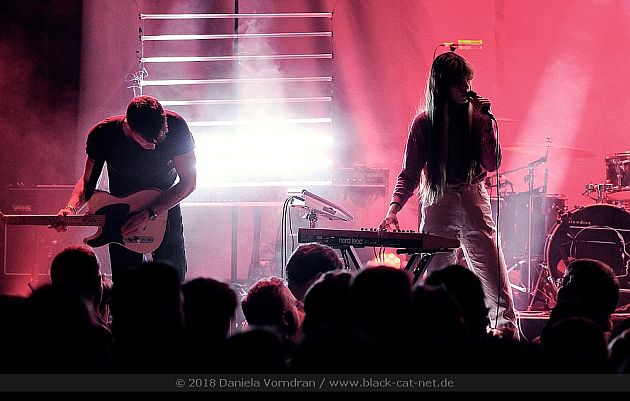 Slowdive

Founded in 1989 in Bristol, England,
SLOWDIVE
became legends of Shoegaze, especially with their 1993 album 'Souvlaki'. In 1995, after the third full length-LP 'Pygmalion', the quintet around the singing duo Rachel Goswell and Neil Halstead (both also playing guitar and/or keyboard) disbanded but eventually reunited in 2014. After performing at some festivals all over the planet they wrote another album that came out in early 2017. The self-titled release was critically acclaimed, SLOWDIVE are now touring around the world. slowdiveofficial.com / facebook.com/slowdive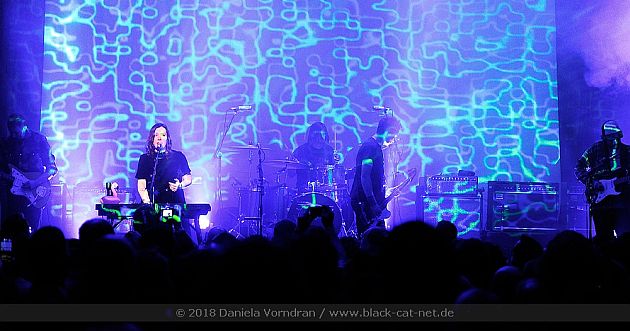 Music & Performance

The changeover took quite some time. But it was worth the wait. Everything became fine when SLOWDIVE started their show with the opening tune of their self-titled album. 'Slomo' delivered a great foretaste for what was next to come. Crystal clear sound combined with fitting vocals from singer Neil Halstead, in addition there was an atmospheric, colourful video projection - the perfect set-up to wallow in dreams. Euphoric cheers came up when SLOWDIVE continued with the old classics 'Slowdive' and 'Crazy For You', just followed by the current Post-Punk-infected single 'Star Roving'.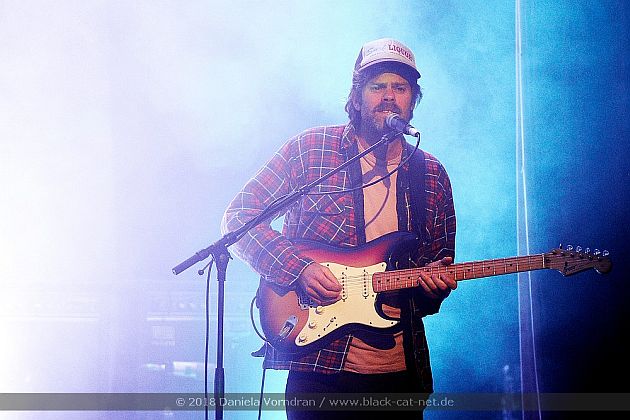 The quintet succeeded in finding a good mix of new tunes and old gems, the epic cover 'Golden Hair' (the original was written and composed by former PINK FLOYD-frontman Syd Barrett) concluded the main set after 80 great minutes of music. Two more songs from the legendary 'Souvlaki' album, 'Dagger' and '40 Days' sent the audience home in a happy mood. A drop of bitterness: the outstanding 'Don't Know Why' became a last-minute-scratch from the setlist, maybe due to the sickness of Rachel Goswell who fought herself throughout the show bravely while coughing numerous times. Fortunately there was enough citron tea on stage to keep her beautiful voice up for at least one and a half hour.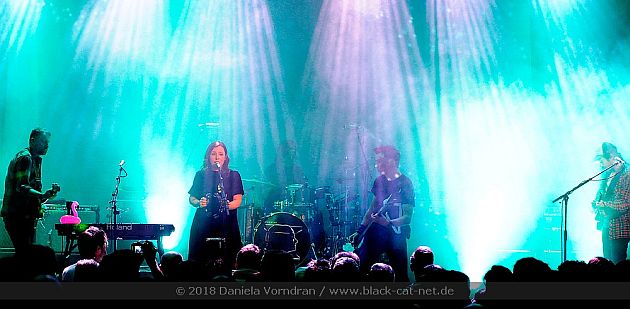 Setlist

01. Slomo
02. Slowdive
03. Crazy For You
04. Star Roving
05. Avalyn
06. Catch The Breeze
07. No Longer Making Time
08. Souvlaki Space Station
09. Blue Skied An' Clear
10. When The Sun Hits
11. Alison
12. Sugar For The Pill
13. Golden Hair
---
14. Dagger
15. 40 Days
Rating

Music: 9
Performance: 8
Sound: 9
Light: 8
Total: 8.5 / 10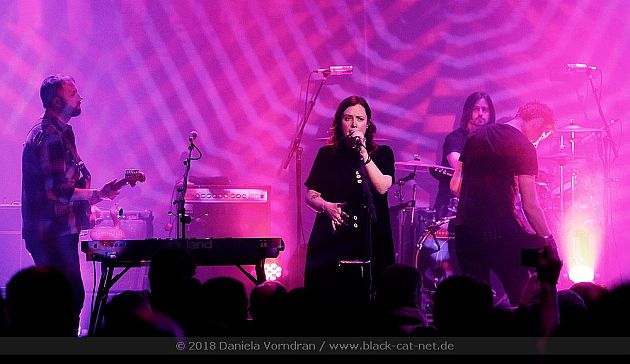 All pictures by Daniela Vorndran (
http://www.vorndranphotography.com
/
http://www.facebook.com/blackcatnet
)