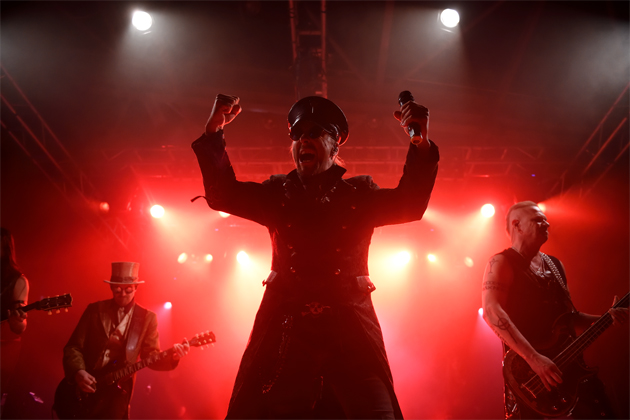 Nosturi, Helsinki, Finland
23th March 2018
Therion presenting the new Metal Opera "Beloved Antichrist" + Guests: Enemy of Reality, Null Positiv, Imperial Age

When 15-year-old prodigy Christofer Johnsson launched THERION as a Death Metal band in 1987, he had no idea that exactly 30 years later, he would be putting a finishing touch to a project that would go down in history as the most ambitious symphonic metal release of all time. Although "metal operas" are no longer a rare term for the scene, but on January 26 this designation will receive a new definition once the curtain has opened for Johnson's life's work: 'Beloved Antichrist' is the title of the spectacular creation of THERION, whose length extends to three full CDs and is not just a concept album, but a completely staged rock opera with various acts. It presents a compelling story, which was roughly inspired by Vladímir Soloviov's 'Short Story of Antichrist'.
Enemy of Reality

A Greek Metal band with lead singer Iliana Tsakiraki, who has a soprano voice, was the opening act. As usual, there were not so many listeners - in Finland, you normally expect that. Unfortunately, I was not able to attend the full gig, but the band has a very attractive lyric video, 'In Hiding', available on YouTube and is well worth checking. They also distributed for free their debut record and based on that, while the band still have to develop further, they have great energy and great potential as well as some hit songs.
Rating

Music: 6
Performance: 6
Sound: 7
Light: 7
Total: 6.5 / 10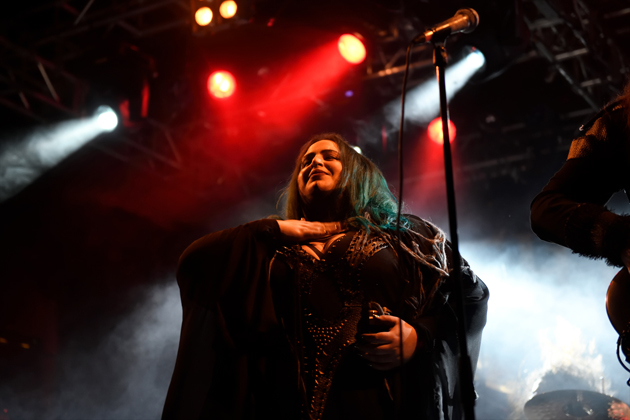 Null Positiv
When I was about to send the accreditation request, an online radio was broadcasting one of the band's attractive ballads, and it was a beautiful surprise to discover that I will be seeing the band live in about a week. What happens on the most gigs: you let music in slowly, so somewhere towards the end of gig you'd start digging what's going on. Not the case here. The lead singer Elli Berlin performs with no holds barred; the music "penetrates" your ears, hits your brain and just makes you head-bang in rhythm, and the gig was just raw and fierce. This is the kind that makes you "feel" something true and metal. Also no wonder that photography part of the report is heavily dominated by the very expressive band members. I have to say: the best part of the concert to me.
Setlist (incomplete)

Götter
Unvergessen
Labyrinth
Amok
Trauma
Unschlagbar
Rating

Music: 8
Performance: 10
Sound: 10
Light: 8
Total: 9 / 10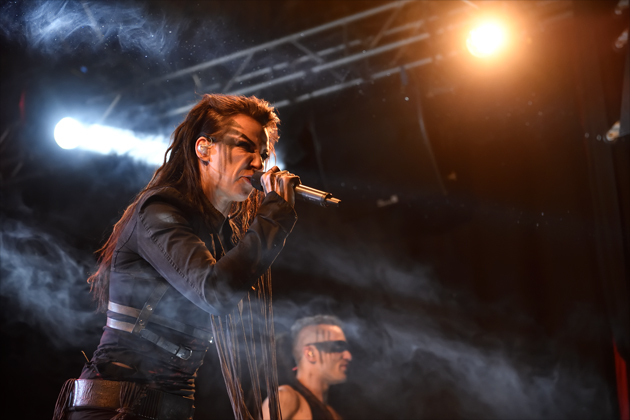 Imperial Age

A Russian band with export-oriented "heroic" metal and CD covers similar to battle metal groups from couple decades ago. Sports folk-inspired costumes (that, however, revealing enough of the model beauty of Jane, the soprano lead singer). This band may have more followers online than the previous one, but it was just simply impossible to leave a mark similar to NULL POSITIV - that I would compare to a trace of a ballistic rocket on your mind. Nevertheless, the Russian metal heads in ornate stage clothes, singing some battle hymns in Latin, crept in mind slowly but steady, and especially towards the end became quite likable. The vocal part consists of a male frontman Alexander "Aor" Osipov and two ladies - and our conclusion was that Anna "Kiara" Moiseeva (the one with red hair) was certainly stealing the vocal attention and simply would beg to be an actual front-woman - at least based on the impression from this specific gig. Classic long-haired metal guitarists in seemingly "folk" outfit looked cute.
Setlist
01. The Awakening
02. The Legacy of Atlantis
03. The Escape
04. Domini Canes (March of the Holy Inquisition)
05. The Monastery
06. Death Guard
07. Anthem of Valour
08. Aryavarta
09. And I Shall Find My Home
Rating

Music: 6
Performance: 6
Sound: 7
Light: 7
Total: 6.5 / 10
Therion

It is very risky to have three warm-up acts. Chances are, some of these might be more appealing. Of course, THERION saw the biggest crowd and had delivered a very length show, but, to be honest, it appeared a little dull after energetic warm-up acts - that, perhaps, already made some of the listeners tired. Again, perhaps more symphonic-oriented folk, as well as those who came just to witness the last set, would not entirely agree. The band looks good and having Elli Berlin with them on one of the songs was a pleasant surprise, but somehow the program did not catch attention as much. It is very much likely just because of the rock-opera format of the current "Beloved Antichrist" program that has more to do with "Jesus Christ Superstar"-like music than with all things hard and heavy. Something to examine in right setting, with your favourite acoustics, and in the right mood... and not a perfect fit to rock club setting, in my opinion, but maybe something more classic. The album itself does not contain large changes in mood and rhythm, which might be difficult to listen for two hours (unless you are a die-hard THERION fan).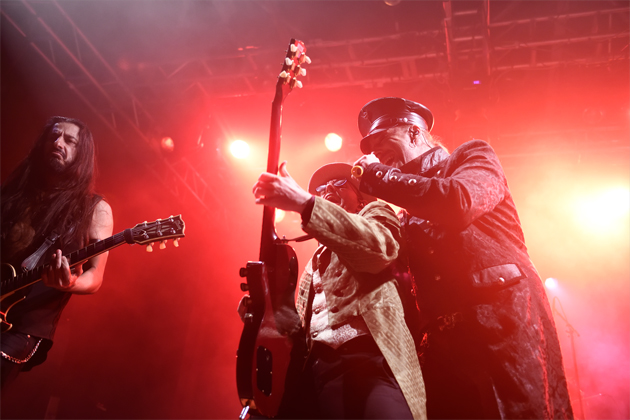 Setlist

01. Theme of Antichrist
02. The Blood of Kingu
03. Din (with Elli Berlin)
04. Bring Her Home
05. Night Reborn
06. Nifelheim
07. Ginnungagap
08. Typhon
09. Temple of New Jerusalem
10. An Arrow from the Sun
11. Wine of Aluqah
12. Lemuria
13. Cults of the Shadow
14. The Khlysti Evangelist
15. My Voyage Carries On
16. The Invincible
17. Der Mitternachtslöwe
18. Son of the Staves of Time
---
19. The Rise of Sodom and Gomorrah
20. To Mega Therion
Rating

Music: 7
Performance: 7
Sound: 6
Light: 6
Total: 6.5 / 10
All pictures by Askar Ibragimov