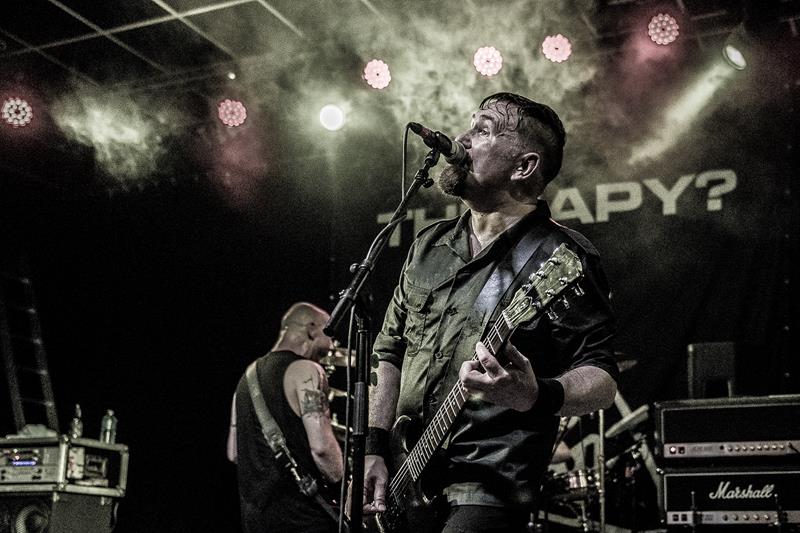 JAB Haus der Jugend, Düsseldorf, Germany
8th June 2018
Therapy? - European Tour 2018 - Special guests: Ondt Blod

Now that's a trip down memory lane. THERAPY? certainly epitomized Alternative Rock with an edge back in the 90ies. Founded in Northern Ireland three decades ago, the band had their spot in the sun during the early to mid-Nineties with the release of their album 'Nurse', and the follow-up 'Troublegum'. After that, the band's upward trajectory slightly derailed, fuelled by band line-up changes and a longer hiatus. However, THERAPY? have recently pulled their act together and hit the road with renewed strength.
Ondt Blod

ONDT BLOD
is a Norwegian Hardcore Punk quintet from Kirkenes. They have formed in 2017 and have a recently released their second LP called 'Natur'. www.ondtblod.com /
https://www.facebook.com/ondtblodband
Music & Performance

A little earlier than scheduled at 8:15pm, ONDT BLOD went on stage and started to perform their version of Hardcore infused version of Punk. Singer Aslak Heika Hætta Bjørn got rid of his traditional Norwegian robe pretty soon, as it was already quite hot inside the small venue. Initially, the band seemed a little off their tracks, but further into the set, they found their groove. Although the Norwegian lyrics clearly prevented anyone from understanding anything, more and more people chose to leave the fresh air of the patio outside and join the crowd inside watching the 30-minute set.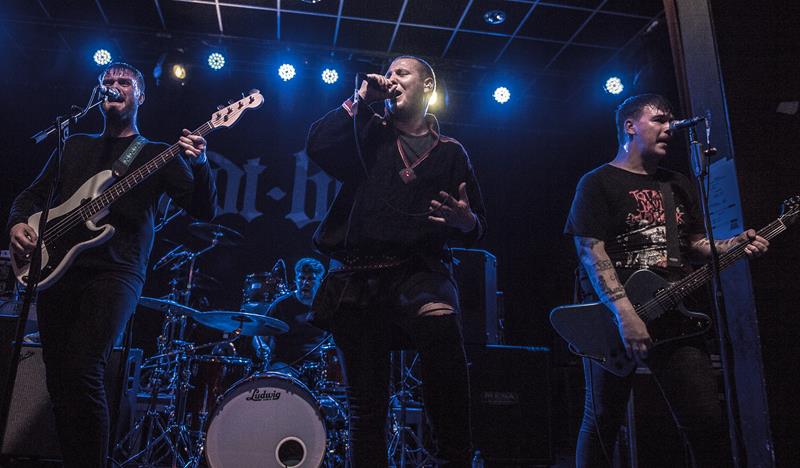 Aslak and his crew did their best to entertain the crowd quite well and encouraged everyone to come over after the show and bolster up the band's broke financial situation by buying some of the band's merchandise.
Setlist

01. Natur
02. Store Ord
03. Ulver
04. Lydspor
05. Storma
06. Giftige Tunga
07. Start han opp
08. Unga Kniva
09. Andre Liv
10. Giron
Rating

Music: 6
Performance: 7
Sound: 6
Light: 5
Total: 6 / 10
Therapy?

In the introduction I already mentioned that I was incredibly happy to see
THERAPY?
have picked up the gavel again and are about to release their fifteenth album called 'Cleeve' somewhere in summer. To find out more about the band, check out www.therapyquestionmark.co.uk or https://www.facebook.com/Therapyofficial.
Music & Performance

It has been really fascinating to see the trio THERAPY? again after more than two decades. Singer Andy Cairns seems to have aged well, as he and his crew entered the stage of the now completely packed venue around 9:20pm. They did not waste any second and opened up with the JOY DIVISION Cover 'Isolation' from their 1994 album 'Troublegum'. This album proved to be the main source for the setlist of that evening, much to the delight of the audience, which celebrated every song they knew with frenetic cheering and the occasional stage dive, which was easy as there was no barrier between the band and the audience. Andy made his dislike for the British government known in his comments between the songs and encouraged everyone to have a great time. He also incited chants in the audience encouraging drummer Neil Cooper "to drum/ drink like a Motherfucker", and Neil obliged to everyone's delight.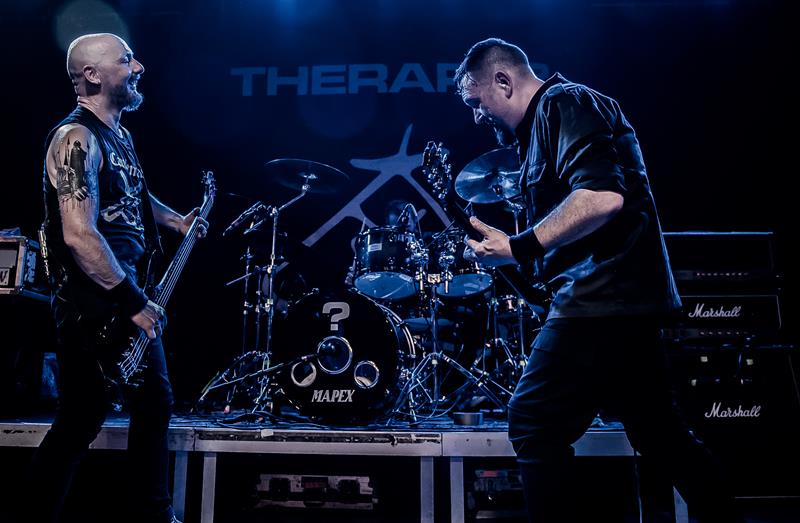 Around an hour into their set the band also played their new single 'Callow', which certainly raised the level of curiosity about their new album. In the meantime, the temperature inside the JAB rose to almost levels (someone called it "Sauna-Club", but most members of the audience fortunately kept their clothes on), and everyone in the mosh pit was covered in sweat and beer. Props go out to our photographer Andy, who stayed right in the middle of the action for most of the time, risking his equipment's life to take some good photos. After an encore of five (!) more songs and a good 90 minutes of playtime, THERAPY? called it a day and the virtual curtain fell. For fans of the band this concert definitely showed that the three guys from Northern Ireland are still very much alive and kicking. Plus, it's been a good while since I left a concert completely soaked like that. Thus, it is going to be interesting what the future holds for THERAPY?. They really deserve all the best.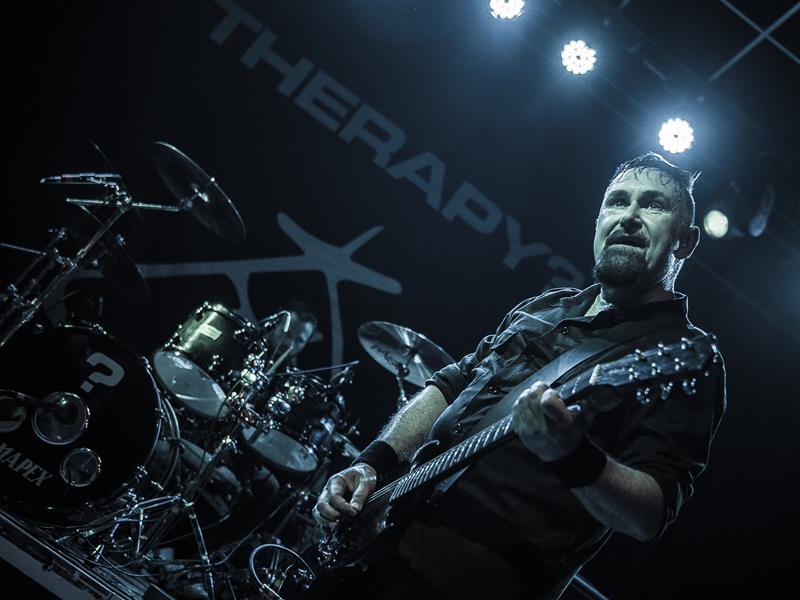 Setlist

01. Isolation (JOY DIVISION cover)
02. Die Laughing
03. Nausea
04. Stories
05. Innocent X
06. Unbeliever
07. Misery
08. Wreck it like Beckett
09. Turn
10. Trigger Inside
11. Tides
12. Rust
13. Insecurity
14. Diane (HÜSKER DÜ cover)
15. Callow
16. Teethgrinder
---
17. Still Hurts
18. Potato Junkie
19. Knives
20. Nowhere
21. Screamager
Rating

Music: 8
Performance: 8
Sound: 8
Light: 7
Total: 8 / 10
All pictures by Andreas Gey (Kommodore Johnsen)
See also (all categories):