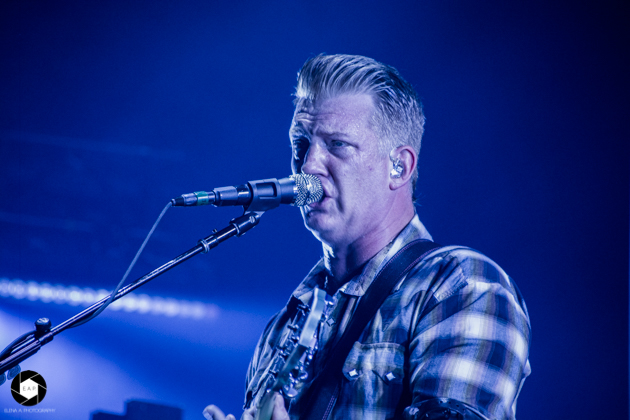 Rockhal, Esch sur Alzette, Luxembourg
15th June 2018
Queens of the Stone Age

Josh Homme and his band were back in the territory of Luxembourg for the first time after a memorable gig at the Rock-A-Field festival in 2013. In support of the album release of 'Villains' in August 2017, the Grammy-Award nominees extended their world tour and presented brand new music alongside a fantastic rock show with irresistible hooks and riffs. Luxembourg was pleased!
QUEENS OF THE STONE AGE are an American Rock band formed in 1996 in Palm Desert, California. The band's line-up includes founder Josh Homme (lead vocals, guitar, piano), alongside band members Troy Van Leeuwen (guitar, lap steel, keyboard, percussion, backing vocals), Michael Shuman (bass guitar, keyboard, backing vocals), Dean Fertita (keyboards, guitar, percussion, backing vocals), and Jon Theodore (drums, percussion). Formed after the dissolution of Homme's previous band, KYUSS, QOTSA developed a style of riff-oriented, heavy Rock music. Their sound has since evolved to incorporate a variety of different styles and influences, including working with ZZ TOP member Billy Gibbons, NIRVANA drummer and FOO FIGHTERS front man Dave Grohl, and SCREAMING TREES front man Mark Lanegan who has been a steady contributor to the band.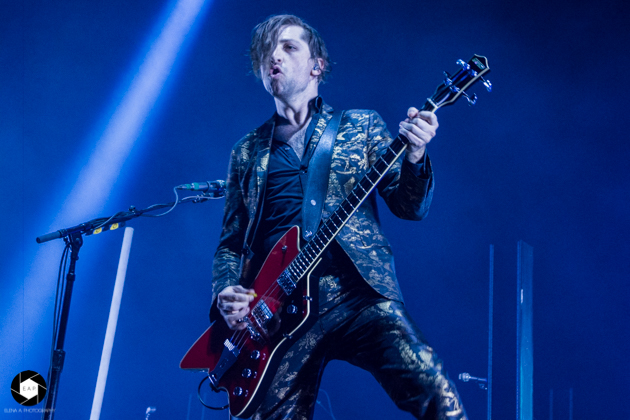 Music & Performance

The Rockhal was well-visited on that quite friendly Friday night. The stage was filled by wiggling LED posts. The mood was excellent and the crowd was ready to give all their energy they had. Supporting that energy were older Italian famous songs. After 20 minutes of delay, the legendary song of Gene Kelly, 'Singing in the rain' sounded through the Rockhal. After that song, where the crowd have lovingly sung along, QOTSA finally came on stage and body-slammed the Rockhal with a phenomenal setlist. Opening with 'Keep Your Eyes Peeled' they delivered a great entrance and the crowd was out of bounds. All in all it was a really great show and the performance was really energetic. The atmosphere was phenomenal and the sympathy of Josh and his band also dissolved feelings of happiness among many fans.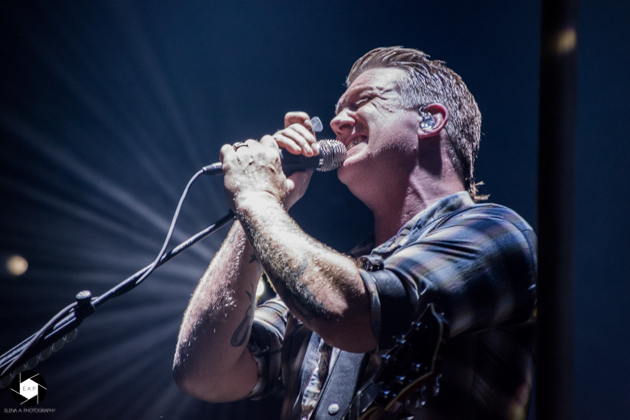 Setlist

01. Keep Your Eyes Peeled
02. The Lost Art of Keeping a Secret
03. Feet Don't Fail Me
04. The Way You Used to Do
05. You Can't Quit Me Baby
06. No One Knows
07. I Sat by the Ocean
08. Domesticated Animals
09. My God Is the Sun
10. The Evil Has Landed
11. Villains of Circumstance
12. If I Had A Tail
13. Mexicola
14. Little Sister
15. Sick, Sick, Sick
16. Go with the Flow
---
17. Make it Wit Chu
18. A Song for the Dead
Rating

Music: 7
Performance: 8
Sound: 7
Lights: 7
Total: 7.3 / 10
All pictures by Elena Arens