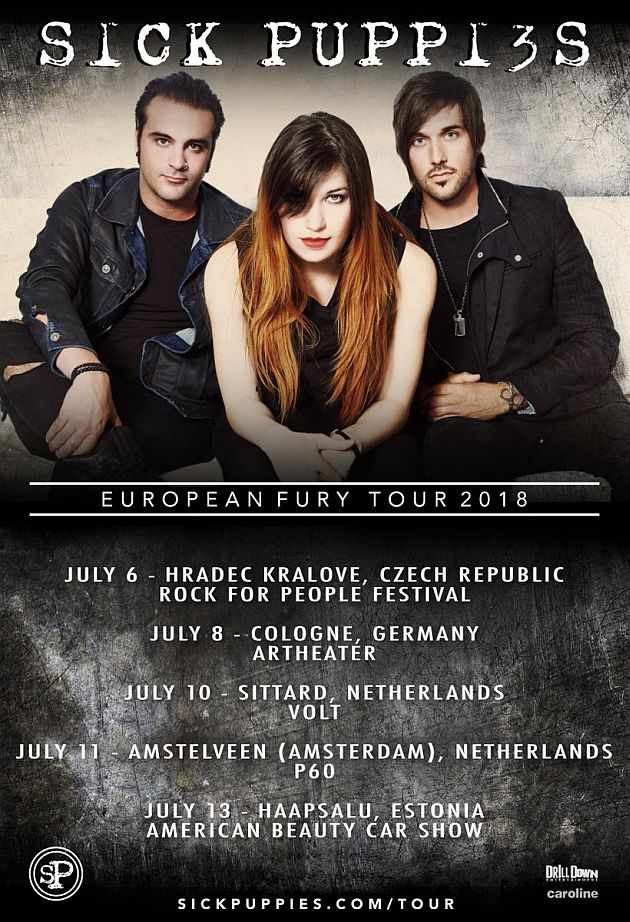 ARTheater, Cologne, Germany
8th July 2018
Sick Puppies - "European Fury Tour" 2018 - Special guest: Psycho Village

Australia's hottest Alternative Metal band SICK PUPPIES are back from the (almost) dead to play a singular German gig this summer in the wonderful Cologne ARTheater. SICK PUPPIES formed back in 1997 and rose to sudden YouTube-fame in 2006 (yeah, these things existed already back then) with their song 'All the same'. After releasing three immensely successful albums after having moved to Los Angeles, they lost their singer and guitarist Shimon Moore, who decided to leave the band to pursue different interests. The two remaining band members decided to continue without him and auditioned for a new singer. In 2016 they revealed that they had found a new vocalist with Bryan Scott, and they released a new album named Fury in spring 2016.
Psycho Village

For the European part of the tour, three guys from Austria named
PSYCHO VILLAGE
were named as the support act. They describe their music as "Post Grunge", and since the 2014 release of their debut EP 'Selfmade Fairytale - Part 1', they spent most of their time touring. www.facebook.com/PsychoVillage / www.psychovillage.com
Music & Performance

PSYCHO VILLAGE's set started at sharp 8 pm. Taking up the rather confined stage space were two projection screens with accompanying videos throughout the set list, which visually underscored the song lyrics, and contributed to a quite captivating experience. The three musicians did their best to entertain the crowd and played a nice relatable set of songs. After 30 minutes playtime, singer Daniel Kremsner bid farewell to the audience, but not without inviting them to the merchandise stand to share a drink or two.
Rating

Music: 5
Performance: 6
Sound: 6
Light: 5
Total: 5.5 / 10
Sick Puppies
What a difference a few years make. Five years back
SICK PUPPIES
would have sold out larger venues, such as the Cologne Palladium in a heartbeat. However, with the line-up change and the subsequent struggle to get a record company to release the 2016 album 'Fury' in Europe, SICK PUPPIES have to focus on their core strengths and rebuild their fan base again. www.sickpuppies.com / https://www.facebook.com/sickpuppies
Music & Performance

Last Sunday in Cologne seemed like a very good start to do just that. With the beautiful sunny weather shining, and the intimate venue ARTheater offering an excellent outdoor area, it was bit of a shame that not more than the roughly 200 people showed up for the SICK PUPPIES gig, which commenced at 9pm. SICK PUPPIES opened with 'War' from their best-selling 'Tri-Polar' album. Singer Bryan handled the inherited package of singing duties of his predecessor pretty well, although the tone of their voices is quite different. Bass player Emma Anzai, who was introduced by Bryan as "the baddest Rock N' Roll chick in town", chipped in and supported Bryan for certain vocal parts, which made the band sound much more complete. Emma also offered a very personal introduction of the song 'Odd one', saying she wrote this song to sweat out her experience of getting picked on during high school just for being different.
The setlist featured a solid mix of songs from the current album 'Fury', as well as a best-of collection of hits from their previous albums, such as 'My World', or 'All the Same'. Lead singer Bryan oozed positive energy, and amped up audience participation by encouraging screaming battles, fist-pumping sections, and good ol' sing-a-longs, and used every opportunity to thank everyone for coming out and supporting the band. A true highlight was performed as the very but last song of the evening: a captivating and on-point cover version of RAGE AGAINST THE MACHINE's 'Guerrilla Radio'. Then, after 70 minutes of playtime, the band played their No.1 hit 'You're Going Down' of the 2009 album 'Tri-Polar' as a send-off to the crowd. For some reason the band decided not to do an encore, but instead they invited everyone to have a drink with them at the bar near the merch stand.
All in all, it was a very gratifying experience, witnessing SICK PUPPIES live after all these years, albeit the playing time was a little short. I just hope that the band will be able to clinch a global record deal again soon to record new material and resume touring, so more people have the chance to see this incredibly talented band live, as this is what they do best.
Setlist

01. War
02. Cancer
03. Stick to Your Guns
04. Gunfight
05. Riptide
06. Odd one
07. Earth 2 U
08. My World
09. Just the Beginning
10. Walls
11. Maybe
12. All the same
13- Black & Blue
14. Guerilla Radio (Rage Against the Machine Cover)
15. You're Going Down
Rating

Music: 8
Performance: 8
Sound: 8
Light: 7
Total: 7.8 / 10
See also (all categories):