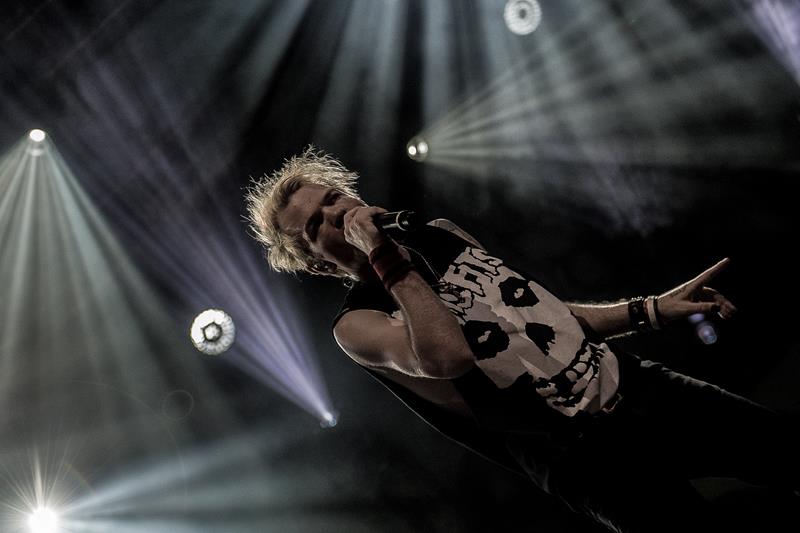 Turbinenhalle, Oberhausen, Germany
28th August 2018
Sum41 - European Tour 2018 - Special guests: Waterparks

Punk icons SUM41 from Ajax, Canada were returning to Europe after their successful tour last year for three more shows in Germany. The band around front man Deryck Whibley, that brought you those brilliant songs such as 'Fat Lip', 'In Too Deep', or 'Pieces', is certainly one of the most fascinating live acts, and thousands of people went to see them in the sold-out Turbinenhalle in Oberhausen.
Waterparks
Support act WATERPARKS were up first up on the bill. WATERPARKS exist since 2011 and are an American pop punk band from Houston, Texas. They have released two albums - 'Double Dare' in 2016 and 'Entertainment' beginning of this year. www.waterparksband.com / https://www.facebook.com/Waterparks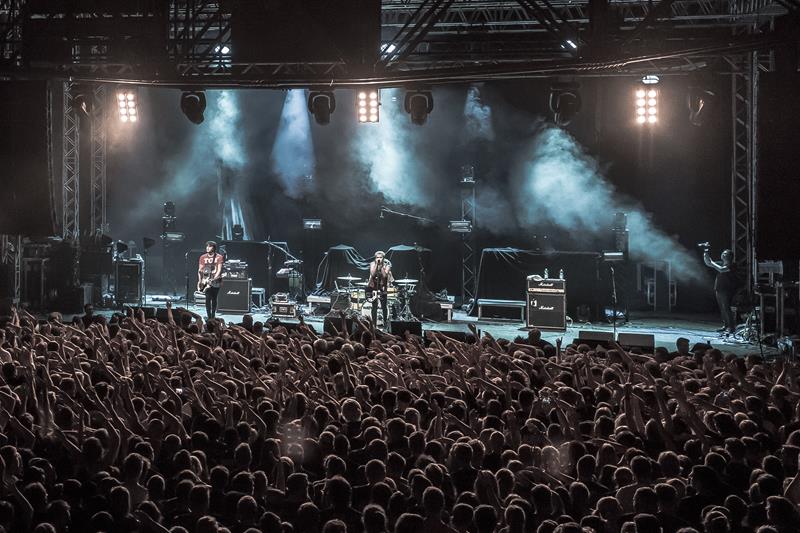 Music & Performance

At 8pm sharp, the three members of WATERPARKS went on-stage. The set-up was a little unusual, with two guitarists (one of which also took care of the singing duties) and a drummer. The bass lines, as well as different electronic effects were played from tape. The music they played sounded like pretty college pop with kinda cute melodies. Singer Otto Wood's voice came across pretty creaky, and at times it felt like he was singing in frequency bands where he was not completely comfortable. Additionally, bass and electronic effects played from record lent some kind of playback feel to the gig, which felt a little off. This translated in little enthusiasm transpiring to the rather young audience in the front stage area, so when Otto demanded a large circle pit for the song 'Sleep Alone', only a few people in the side areas returned the favour, and it seemed not many people were really sad when WATERPARK's gig ended after forty minutes.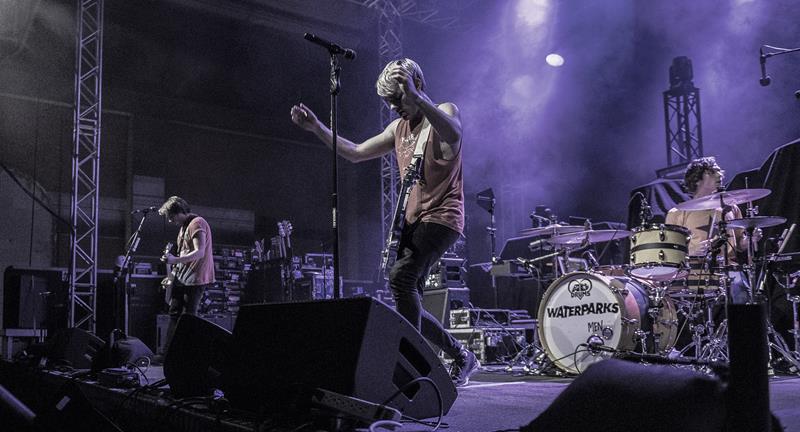 Setlist

01. Blonde
02. Crave
03. Not Warriors
04. Made in America
05. 11:11
06. Rare
07. Royal
08. Sleep Alone
09. Stupid For You
10. TANTRUM
Rating

Music: 5
Performance: 4
Sound: 5
Light: 5
Total: 4.8 / 10
Sum41

It all began back in 1996, when Deryck and some of his high school friends decided to form a band. The band's debut album, 'All Killer No Filler' from 2001, instantly went platinum and established SUM41 in the same league as BLINK182 and THE OFFSPRING. Their second album, 'Does This Look Infected?', one year later cemented their status as one of the most popular bands of their genre. Their latest release is called '13 voices', and it was released in 2016. It is also worth mentioning that SUM41 combine their energetic music with a distinct political attitude and humanitarian effort. To find out more about the band, go to. www.Sum41.com / https://www.facebook.com/Sum41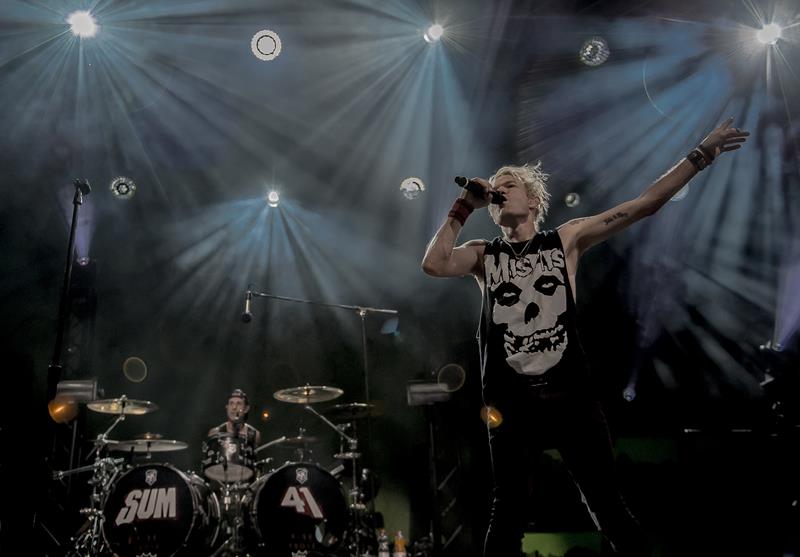 Music & Performance
During the stage break of a good 30 minutes, you could feel the oxygen levels inside the packed Turbinenhalle go down, and the anticipation as well as the temperature levels rise by the minute. Fortunately enough, the sound crew played a nice selection of Metal and Punk Rock songs to keep the crowd entertained, while a white curtain was put up in front to shield the stage from curious gazes of the audience. This culminated around 9:15pm, when the lights went out, and a nice light show illuminated the stage, while a wild mash-up containing AC/DC riffs, James Brown vocals, and Rockabilly was played. After a few moments the curtain fell, and SUM41 kicked it off with 'The Hell Song' in a fulminant way with big loads of confetti.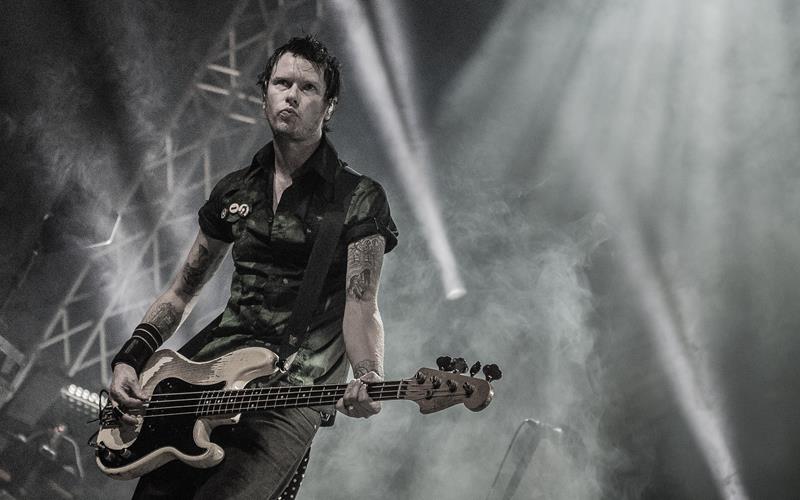 The crowd in the whole main area in front of the stage went nuts within seconds, and by the time SUM41 played their second song, 'Motivation', security had their hands full in pulling people out from the crowd, who clearly had not expected this kind of insanity. It seemed like the name of SUM41's debut would be the motto of the evening, as there was literally 'All Killer No Filler' in the band's set list. But SUM41 did not only play their hits. Additionally, they paid tributes by teasing all kinds of cover songs. So, before playing 'Mr. Amsterdam' Singer Deryck stated that "it wouldn't be a SUM41 show if there was not some f*cking Metal in it", and the band went on to play a few notes of BLACK SABBATH's 'Paranoid' and 'War Pigs', which sent the crowd through the roof. Drummer Frank Zummo had his time to shine about an hour into the set, when he played a remarkable drum solo, artfully teasing RAGE AGAINST THE MACHINE's 'Killing in the name'.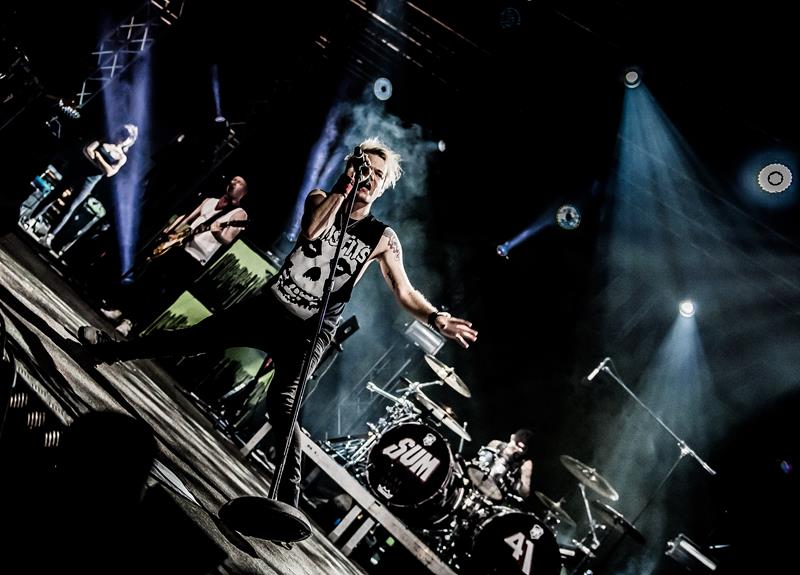 After 'Fake My Own Death', SUM41 went on to play their rendition of QUEEN's 'We Will Rock You', and it worked perfectly. After 16 songs and a good 80 minutes of playtime the lights went out and the band left the stage. Fortunately, SUM41 were not done yet. Steady screaming and clapping brought Deryck back onto the stage, where he jokingly performed the guitar riff of the first song every guitarist learns: 'Smoke on the Water' from DEEP PURPLE. He then went on to show off his skills by playing the "f*cking best bass riff ever" (this would be 'Seven Nation Army' by THE WHITE STRIPES), which got everyone in the audience singing along, before changing over into 'Pieces'. What followed was a nice encore with two more SUM41 songs, so around 10:45pm the show ended, and everyone could go and breathe in some fresh air of the warm summer night with their ears ringing.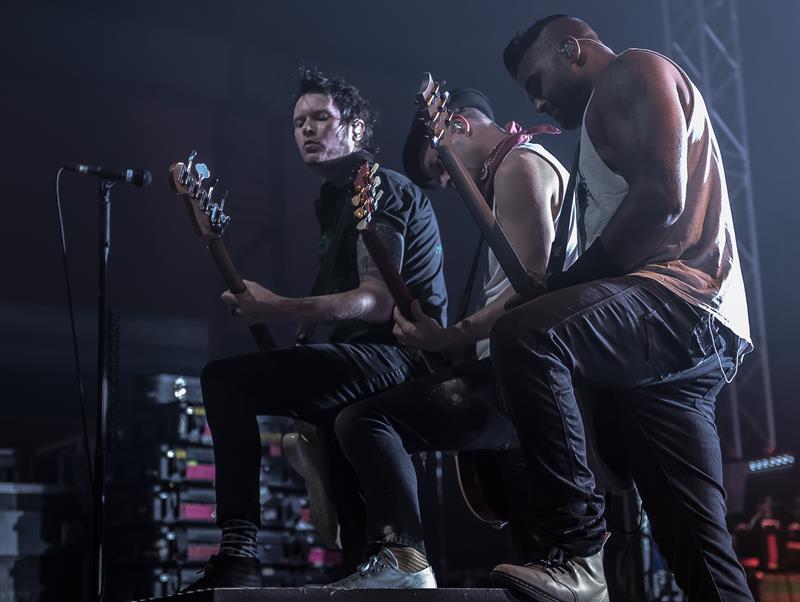 Setlist

01. The Hell Song
02. Motivation
03. We're All to Blame
04. Goddamn I'm Dead Again
05. Thanks for Nothing
06. Underclass Hero
07. Over My Head (Better Off Dead)
08. Mr. Amsterdam
09. Walking Disaster
10. Screaming Bloody Murder
11. Makes No Difference
12. Drum Solo (Killing in the Name)
13. Fake My Own Death (+ Another Brick in the Wall Intro)
14. We Will Rock You (Queen cover)
15. In Too Deep
16. Still Waiting
---
17. Pieces (+ Smoke on the Water/Seven Nation Army Riffs)
18. Skumfuk
19. Fat Lip
Rating

Music: 9
Performance: 9
Sound: 8
Light: 9
Total: 9 / 10
All pictures by Andreas Gey (Kommodore Johnsen)