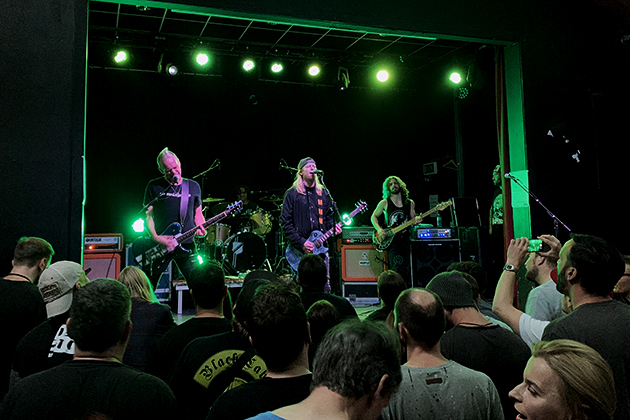 JAB Haus der Jugend, Düsseldorf, Germany
27th September 2018
Puddle Of Mudd & Special guests: Rev Kiddo, Psycho Village

American Hard Rock formation PUDDLE OF MUDD were celebrating their resurrection with a tour through Europe's cellars and small clubs. This was the first time ever for the band to play in Düsseldorf, and a once-in-a-lifetime chance to come close with a band that sold over 8 million copies of their major debut album 'Come Clean' since 2001 alone.
Rev Kiddo
Local Heroes REV KIDDO from Düsseldorf were up as the second of a total of three (!) support acts on stage. The quartet has released their first EP 'Decrypt to Evolve' in May this year. https://www.facebook.com/revkiddoofficial / www.revkiddo.com
Music & Performance

At a quarter to 8pm, the three members of REV KIDDO went on-stage, accompanied by Maxi, bass player of PSYCHO VILLAGE, who took over the guitar playing duties. Singer Laura greeted the crowd in an optimistic, outgoing way, and the band kicked off their set of Alternative Rock. Front woman Laura won over the crowd with her way of interaction, and the band exuded a certain juvenile charm. Especially their single 'Hazed & Confused', which reflects a nod to the iconic LED ZEPPELIN, has some catchy tune potential, and a cover of BLUR's 'Song 2' brought out the fond memories in everyone, when music was not yet dominated by auto-tune and trap beats. REV KIDDO's 30 minutes in the spotlight were well-earned, and the support slot for PUDDLE OF MUDD certainly presents an extraordinary chance for the band.
Rating

Music: 7
Performance: 7
Sound: 7
Light: 5
Total: 6.5 / 10
Psycho Village
A trio from Austria named PSYCHO VILLAGE served as the third support act for the day. They describe their music as "Post Grunge", and since the 2014 release of their debut EP 'Selfmade Fairytale - Part 1', they spent most of their time touring, supporting diverse bands such as NOTHING MORE, RAVENEYE, or FATES WARNING. The release of a new single titled 'What Was That' in August this year serves as a prelude to an upcoming album with new material. www.facebook.com/PsychoVillage / www.psychovillage.com
Music & Performance

PSYCHO VILLAGE's set started at 8:45pm. Taking up the quite confined stage space were two projections with accompanying video material throughout the set list, which was surprisingly in synch with the musical presentation, and added a nice tight feel to the whole gig. The three musicians have certainly progressed in their musical prowess and played a nice relatable set of songs. At the end of their 30 minutes of playtime, singer Daniel Kremsner decided to take his mic stand and guitar off-stage and into the crowd for the last song, prompting several in the crowd to hold up their smartphones to capture this on video.
Rating

Music: 7
Performance: 7
Sound: 7
Light: 7
Total: 7 / 10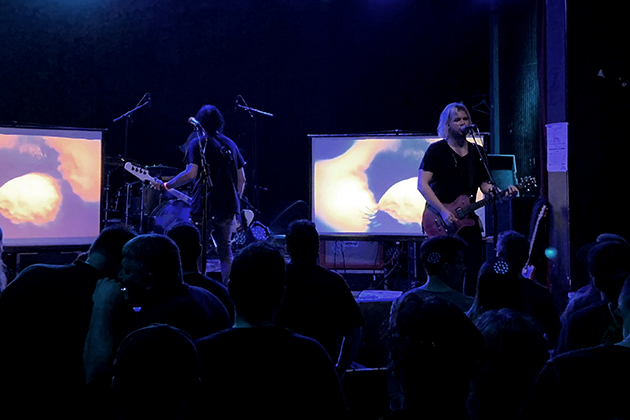 Puddle Of Mudd

PUDDLE OF MUDD were formed around lead singer Wes Scantlin back in 1991. It took the band 10 years to grab a record deal, after the band attracted the attention of LIMP BIZKIT singer Fred Durst, who signed them for his label Flawless Records. This paved the way for their chart-topping release 'Come Clean', which contained some songs for the ages, such as 'Control', 'Blurry', and first and foremost 'She hates me'. Four more albums followed over the years, which became more of a rocky road in terms of personal issues surrounding the front man of the band. However, it seems like these have been mainly resolved, as the band celebrated one year of sobriety for Wes on their Facebook page. To find out more about the band, go to www.puddleofmudd.com / https://www.facebook.com/puddleofmudd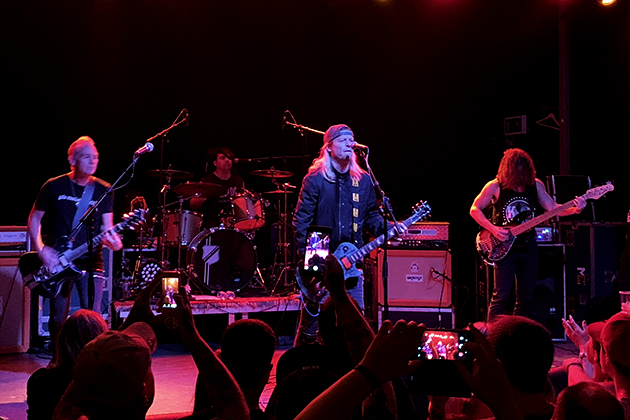 Music & Performance

PUDDLE OF MUDD took to the stage of the JAB around 9:45pm, opening up their set with their hit single 'Control', which then elegantly morphed into the BLACK SABBATH classic 'War Pigs'. By then end of this passage, PUDDLE OF MUDD had taken firm control of the audience and raised the temperature in the packed hall. What followed was essentially a collection of the greatest hits of the band from their glorious times of early 2000s. The crowd did not mind, as the fans fiercely celebrated all-time faves, such as 'Famous', 'Away From Me', 'Psycho' and - of course - 'She Hates Me'. The band also threw in an AC/DC cover and performed 'TNT', which was well received by the people in the crowd. PUDDLE OF MUDD thankfully avoided the theatrics of an encore, and played their set straight for 80 minutes, ending with their hit 'Blurry', which got everyone in the audience singing along, before everyone got their send-off into the clear autumn night with their ears ringing.
Setlist

01. Control / War Pigs
02. Out of My Head
03. Stoned
04. Abrasive
05. Famous
06. Drift & Die
07. Livin' on Borrowed Time
08. Away From Me
09. Bring Me Down
10. Nothing Left to Lose
11. Psycho
12. T.N.T. (AC/DC cover)
13. Keep It Together
14. She Hates Me
15. Already Gone
16. Spaceship
17. Blurry
Rating

Music: 9
Performance: 9
Sound: 8
Light: 9
Total: 9 / 10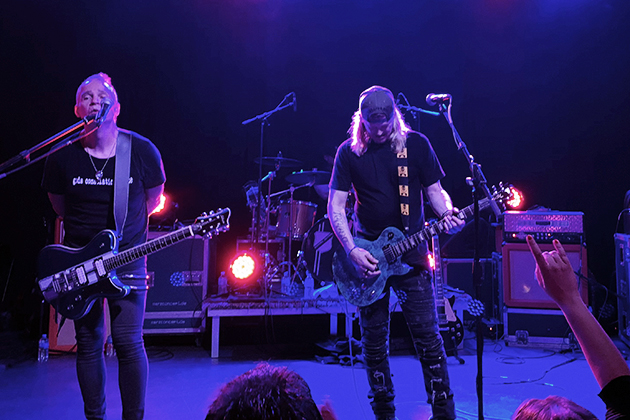 All pictures by Christian Beyermann
Written by Christian Beyermann