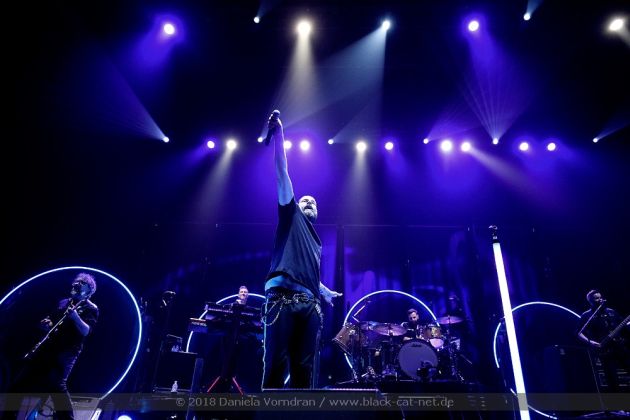 König-Pilsener-Arena, Oberhausen, Germany
26th September 2018
Rea Garvey & Ryan Sheridan

REA GARVEY has released a new album, called 'Neon'; so this next arena tour must be in a special light. Though he stayed loyal to himself you can hear that he used different sounds than before. There is an "urbane / streetlike" atmosphere in the focus. REA GARVEY has always searched new challenges over and over again and has also found them. He has this special feeling about melody, rhythm, rhyme and also know to tell and put into words what is on his mind and in his heart. We were curious how he will bring his new songs to life on stage and for sure to hear some of the other successful songs from the past.
Ryan Sheridan

Ryan, a multi-instrumentalist, came from the busking streets to a centre stage headline act in less than a year. A gifted and inventive guitarist, he has combined his six-string skills with percussive attack to create a unique sound that has thrilled packed houses worldwide. A born entertainer, this passionate singer with a gift for storytelling is a commanding stage presence; and his acoustic-driven, anthemic songs, connects with audiences wherever he is seen and heard. In 2015, RYAN SHERIDAN's second album, 'Here And Now', went straight to No.1 in the Irish charts. Now he is on tour as support for REA GARVEY. http://ryansheridanmusic.com / https://www.facebook.com/ryansheridanlive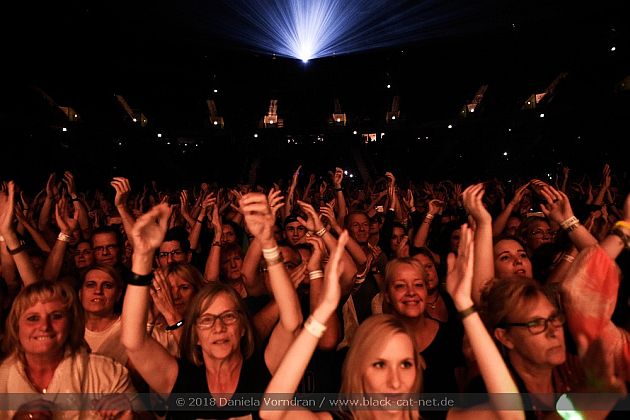 Music & Performance

There was a small stage in the middle of the arena near the mixing desk. This was the place for Ryan and his band mate Ronan Nolan. All they needed were an acoustic guitar and drums/ percussions. Ryan knew how to get the people and it didn't take long that everyone was clapping and singing along with him. Sometimes it just needed the right beats. Together with his exceptional percussionist Ronan he created something huge. The Irish drummer is going crazy from the beginning to the end of every song and is playing his drum set with his whole body. To see this unbelievable energy output that Ronan is giving song for song is just impressive. Near the end of his set, REA GARVEY and his band came up on the main stage and in the middle of Ryan's last song 'I'll follow' they joined in and played and sang it together. Without a break, Rea started with his set and asked: 'Is it love?'.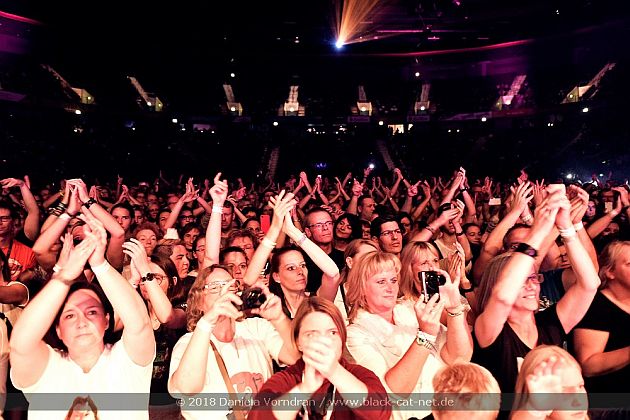 Rea Garvey

Raymond Michael "Rea" Garvey is an Irish singer-songwriter, guitarist and solo artist. In 1999, REA GARVEY formed the band REAMONN. Over the eleven years that REA GARVEY was their front man, chart-topping success with a number of gold and platinum selling albums. 'Tuesday', 'Dream No. 7', 'Beautiful Sky', 'Wish' and 'Eleven' and several sold out European tours. In 2011, after the release of the band's best-of album/DVD, 'Eleven', and a best-of tour, the band parted ways. Garvey took this time to pursue a solo career, which gave birth to his first solo album, 'Can't Stand the Silence'. As a solo artist, Garvey has written songs for a variety of acts, including PAUL VAN DYK, JAM AND SPOON, ROGER CICERO and THE BOSSHOSS.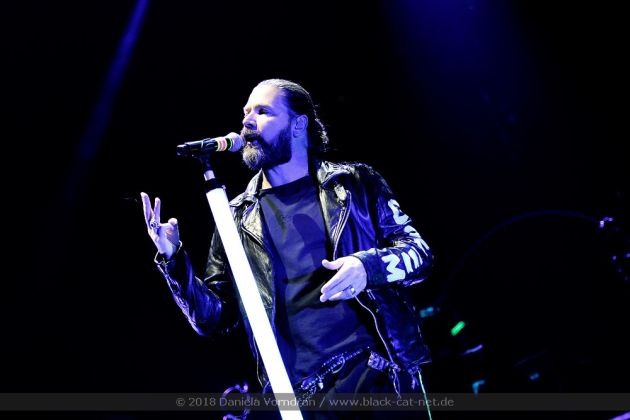 Rea has also collaborated with APOCALYPTICA, IN EXTREMO, NELLY FURTADO, MARY J BLIGE and ATB. In 2005, Rea collaborated with NELLY FURTADO on the track 'All Good Things (Come to an End)' for her 2006 album 'Loose'. The two also toured together in France and the Netherlands during 2007. Garvey was also one of the four coaches on the German version of "The Voice", "The Voice of Germany" for four seasons. The winner of the second season was British singer-songwriter Nick Howard, who was on Garvey's team. In 2005, Garvey paid tribute with XAVIER NAIDOO, SASHA and comedian MICHAEL MITTERMEIER to the "Rat Pack" in a live performance called "Alive & Swingin". http://www.reagarvey.com / https://www.facebook.com/ReaGarvey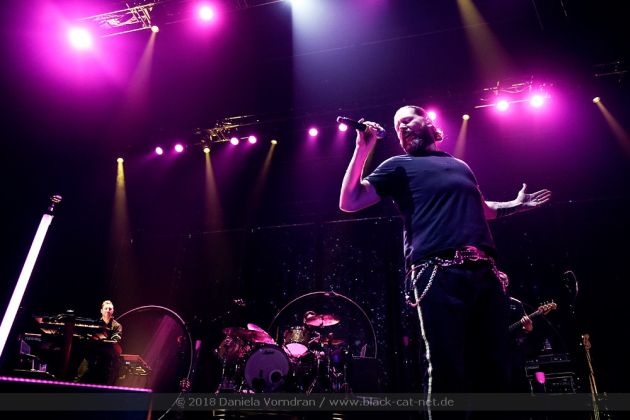 Music & Performance

Just like the name of his new album, 'Neon', were the lights and stage in many different colours. What followed were so many songs about love, positive thinking and the message how beautiful life is. The biggest message of this evening: Life is good! Life is wonderful! Don't let fear rule your life. There are better than bad people in this world. Between the songs, Rea was talking about his life and family. If it was his first kiss or the WhatsApp group with his family (remember he has seven sisters, a wife, daughter... so many women around him) and about 4,000 messages each day. Also about the changing of his 'Hometown' in Ireland, which changed so much since he left there. He didn't like it and was sad but had to recognize that he also changed in all these years. In the middle of the concert, Rea changed from the big stage to the small stage where RYAN SHERIDAN performed at the beginning to sing and play now together with Ryan and Ronan.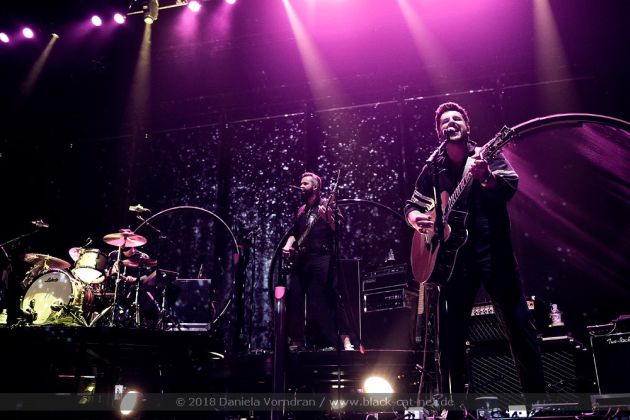 Three Irishmen in the house, so there was no other way. He was telling the funny story that the favourite song of all time now of his mother is the song 'Stay Stay', but she thought it was Rea's song. But it is a song from Ryan who is also singing it with Rea. After their performance was a black and white projection on the screen to tell the story and thoughts behind his new single 'Kiss me' and Rea used the time to go back to the main stage. As you may know, Rea was also part of this year's version of the TV show "Sing my song" where he was also singing 'Guten Tag'' from the band WIR SIND HELDEN. He was singing it in German in the TV show and because to learn these lyrics and the song was so tough he wanted to play it more than just once for the television. So it became part of the setlist. The first part ended with the great and danceable 'Wild Love'.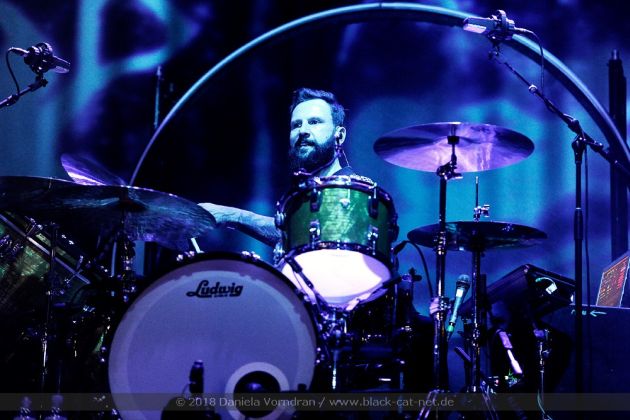 Just two extras followed with 'Can't Stay The Silence' and one important advice from Rea's father: 'Never Giving Up' what we all never should do.
Setlist

01. Is It Love?
02. Armour
03. Sorry Days
04. Water
05. Beautiful Life
06. Hometown
07. Can't Say No
08. Oh My Love
09. Darkness
10. It's A Good Life (with Ryan Sheridan on small stage)
11. Hold My Heart (with Ryan Sheridan on small stage)
12. Stay Stay (with Ryan Sheridan on small stage)
13. Kiss Me
14. Colour Me In
15. Catch Me When I Fall
16. Lions In Cages
17. Guten Tag (Wir Sind Helden Cover)
18. Wild Love
---
19. Can't Stand The Silence
20. Never Giving Up
Rating

Music: 10
Performance: 10
Sound: 8
Light: 9
Total: 9.2 / 10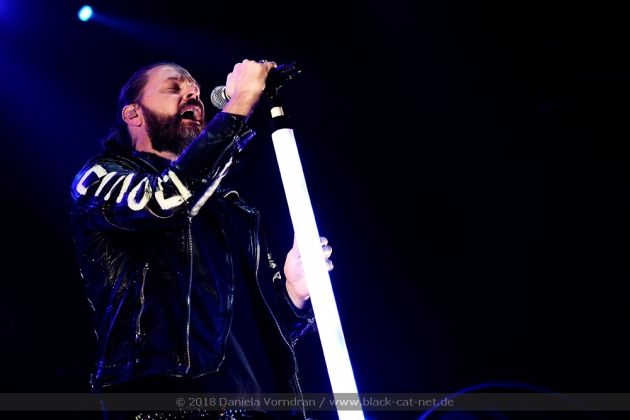 All pictures by Daniela Vorndran (
http://www.vorndranphotography.com
/
http://www.facebook.com/blackcatnet
)