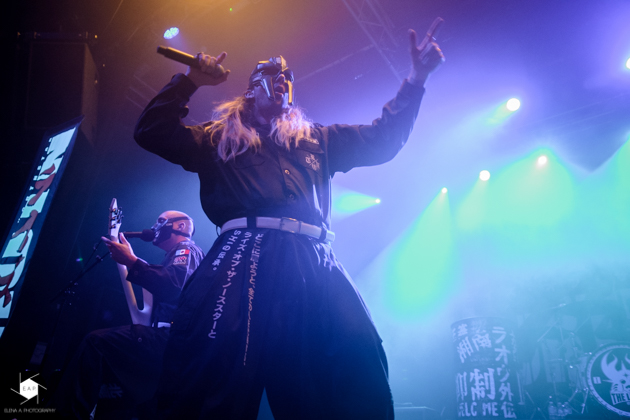 Kulturfabrik, Esch sur Alzette, Luxembourg
4th December 2018
Rise of the Northstar, Dope D.O.D.

The Grand-Duchy was pleased to welcome the crossover legends at the Kulturfabrik on Tuesday night. Part of the programmatically titled "This Is Crossover" co-headliner tour are RISE OF THE NORTHSTAR and the Dutch Aggro rapper DOPE D.O.D. - the tour takes the bands through France, Italy, Switzerland, Holland and as already said to our little country Luxembourg. What's the similarity between those two bands? An obvious Punk attitude! And if RISE OF THE NORTHSTAR plays a dirty and powerful mix of metal and Hardcore, Dope D.O.D. can easily hit the spot with its destructive beats and a completely crazy world.
Dope D.O.D.
DOPE D.O.D. is a regular visitor at the Kulturfabrik. They already played there in 2015 and in 2016 and continue to release tracks, EPs and albums at the speed of light. Live, JayReaper and Skits Vicious know how to take an audience and bring it to their own world; a world full of dark Hip Hop vibes caught in a suffocating atmosphere.
Rise of the Northstar
Even if RISE OF THE NORTHSTAR is coming from France, its universe is more to be found in the US (for the crossover between Metal, Hardcore and Rap) and Japan, for the whole manga image. ROTN is the kind of band that can play at the Hellfest or at a pure Hip Hop festival with the same facility. Live, they are just killing it! The Parisian are now back with a new album under their arms! The 'Legacy of Shi' is now available and comes four years after the acclaimed 'Welcame', their first album released in 2014. Vithia and his bandmates had already built a strong live reputation, which was clearly noticeable that night at the Kulturfabrik, which only grew as the concerts followed one another after the release of 'Welcame'. This time the audience was overwhelmed with more typically Hardcore riffs and more references to the manga universe. But this seemed to please them. Once again a successful evening at the Kulturfabrik for everyone!
All pictures by Elena Arens