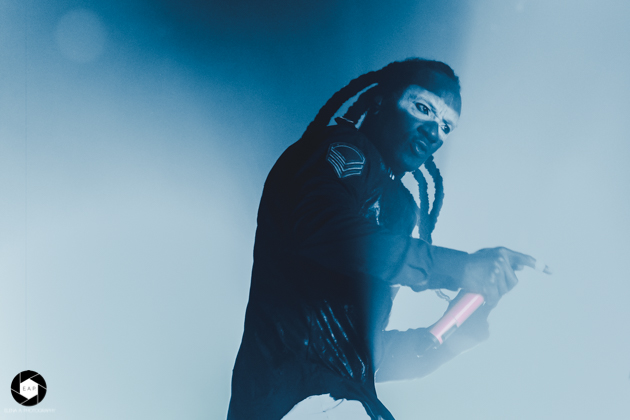 Rockhal, Esch sur Alzette, Luxembourg
8th December 2018
The Prodigy

THE PRODIGY were back! They were the first band ever to hit the stage of the Rockhal for the grand opening back in 2005. Now they were back for a fourth time and it's for sure they refused to get nostalgic, nor reduced the energy levels. Always uncompromising, THE PRODIGY's influence can be seen across generations, turning metal kids onto raving and ravers into metal heads. The band put out genre destroying record after genre defying record and from the very start, THE PRODIGY were renegade revolutionaries. Put simply, THE PRODIGY are no tourists and never were.
Music & Performance

There's a storm raging outside and a crowd raging inside the Rockhal. The Brits of THE PRODIGY were performing at the Rockhal to present their new album, 'No Tourists', with a great concert. The Rockhal is filled to the brim with eager fans and the mood is so good even before THE PRODIGY's performance. After a relatively long break, during which people are already busy dancing, it finally gets dark in the hall. The name-giving piece of the new album, 'No Tourists', is only briefly hinted at, the real start is with 'Breathe'. After that we get a taste of the new album with 'Resonate' and are spurred on with 'Nasty' until finally at 'Omen' the whole hall dances and roars along. Rarely has an audience been as fast and as far-reaching on its feet as on this evening. Keith Flint and Maxim Reality jump restlessly back and forth on stage, thousands of flickering lamps make the photographers swear, but they fit perfectly to the booming beats. The bass massages the whole body, and if you can stand still, you can't help it anymore.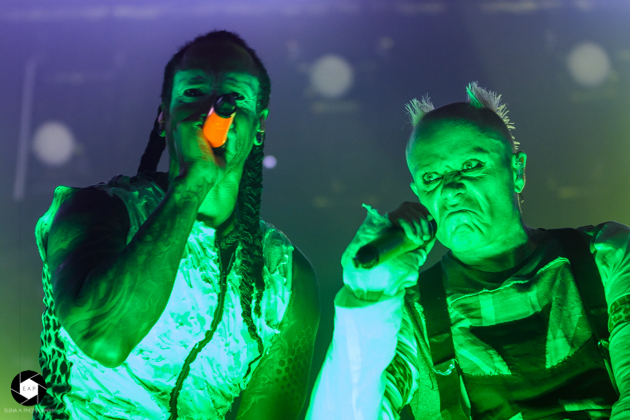 The setlist is a very good compilation of the hits from 28 years of band history and the very live-suitable tracks of 'No Tourists'. As expected, 'Voodoo People', 'Firestarter' and 'No Good' set new and old fans on fire. Many people make exceptions, dance as if they were 20 years younger and as if nobody could see them. Then it's dancing and jumping on until the British get off the stage after 'Smack My Bitch Up'. Clearly, the fans loudly demand an encore in which everyone gives everything once more. And so THE PRODIGY come back to the stage a short time later to thunderous applause, to play 'Take Me To The Hospital' and 'Timebomb Zone', among others, before they are finally said goodbye from Luxembourg. Just like at the gig three years ago, there is no room for cloudy thoughts today - so the almost two hours flew by fast. THE PRODIGY stand for pure adrenaline and a fat party. And this time it was also felt at the Rockhal.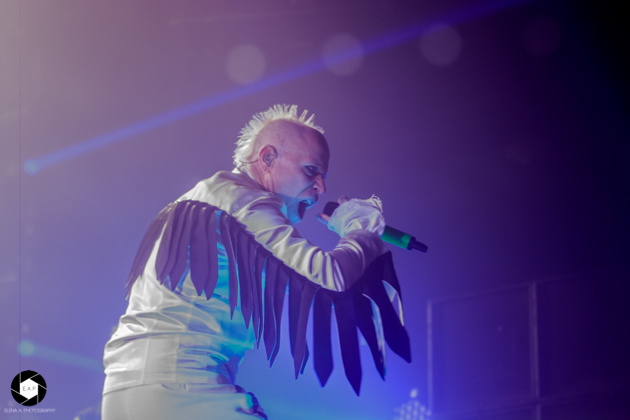 Setlist

01. Breathe
02. Resonate
03. Nasty
04. Omen
05. Champions of London
06. Voodoo People
07. Run With the Wolves
08. Need Some1
09. Poison
10. Everbody in the Place
11. Firestarter
12. Roadblox
13. Light Up the Sky
14. No Good
15. Smack My Bitch Up
---
16. We Live Forever
17. Fire
18. Take Me To The Hospital
19. Timebomb Zone
20. Out of Space
Rating

Music: 9
Performance: 9
Sound: 8
Light: 7
Total: 8.3 / 10
All pictures by Elena Arens