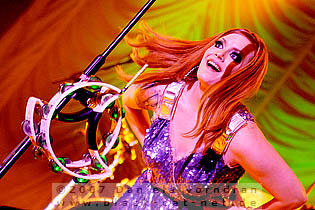 Palladium, Cologne, Germany
13th April 2007
Scissor Sisters, Snax
Latest since their performance in the German game show "Wetten dass?" they are well known for a million-public and the hit single 'I don't feel like dancin'', the song that brought them straight to No.1 of the charts. Even STING said: "If Elton John would write songs like the SCISSOR SISTERS, then he could also be found at the top of the charts worldwide again". The SCISSOR SISTERS started with innumerable gigs in gay-clubs in New York before they became more and more famous and received also three Brit-Awards in 2006. Also the songs of their 2nd album 'Ta-Dah' let you beg for more. So in the Palladium we expected an evening with many colorful people and a band who should bring the disco feeling back into our lives.

Before the support act started DJ Sammy Joe from NYC played some music for the people to warm up a little bit. He played some fantastic electronic and dance music and the Palladium could have been just like a big party and not only with a waiting crowd for a concert to begin. But unfortunately the audience didn't seem to be in the mood for dancing and partying yet. Just some people moved to the beat.

Snax
Born in the suburbs of Maryland, SNAX grew up listening to Washington DC Go-Go music and toiling over a 4-track tape machine in his parents' basement. Subsequent moves around the country resulted in various bands and collaborations. While living in New York, SNAX began collaborating with electronic producer and performer Khan. The eventual result of this was their group CAPTAIN COMATOSE. A European tour in 2001 as keyboardist in Jim Thirlwell's band FOETUS cemented SNAX' decision to relocate once again; this time to Berlin. CAPTAIN COMATOSE toured relentlessly in the following years and released several 12inches, remixes and two full-length LP's on the Playhouse label. SNAX released his solo full-length, 'From the rocking chair to the Stage' on Mental Groove Records in 2004.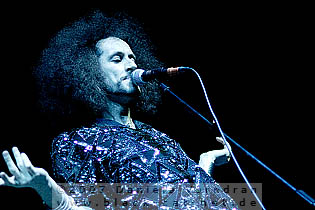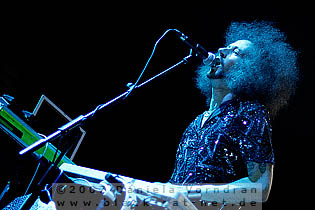 Glowing reviews followed; IDJ calling SNAX "an intuitive songwriter with a scalpel sharp sense of humor" while Vice raved "an awesome sing-a-long spectacular…A+ production and next level crooning." A seven-month, one-man-show tour through Europe followed that winter. Along the way, SNAX collaborated with such artists as Jamie Lidell, Kaos, Shapemod, Ianeq, Mocky, Peaches and Soffy O. Using his body, rhythm and soul, SNAX is a natural born performer, challenging his audience to interact with him completely. Last fall, SNAX released his latest album entitled 'Love Pollution' (TNT/Four Music). He is now touring the album with a new live band. According to SNAX, his current appearances are "A relationship between attitude, energy and sensation."
http://www.myspace.com/givemesnax
/
http://www.snaxonline.org/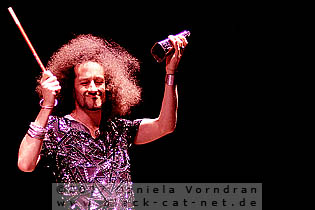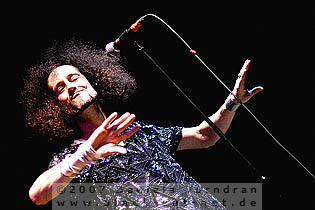 Music
Dance, soul, glamour, 70ies, groove, party, fun, good feeling… all these things are parts of SNAX' music. His voice reminded me at once of PRINCE. There's no band playing for him, it's just a keyboard on which every beat and melody is programmed, but he is also playing some parts live. Vocals were sung live as well.
Performance
It's a one man show. The first surprise we got was his hair. No one has expected so much hair under his cap. SNAX has his self-willed dance style and when he said: "Let's get this party started" you just wanted to follow him. The music and his aura caught you. During his performance he was also changing some clothes. I'm sure there were much more people who had enjoyed the music than the ones who had shown their enthusiasm, because I've seen many smiling faces around me. SNAX was the perfect opener for the SCISSOR SISTERS.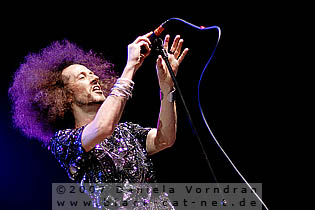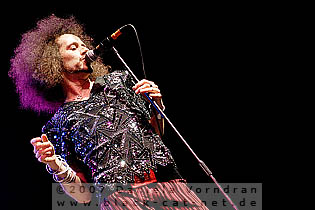 Setlist
01. Love Pollution (intro)
02. Love's Too Much
03. Beautiful
04. Immer So
05. No Dancing
06. Blow My Cover
07. Honeymoon's Over
08. Hat Trick
Rating
Music 8
Performance 8
Light 7
Sound 8
Total 7.9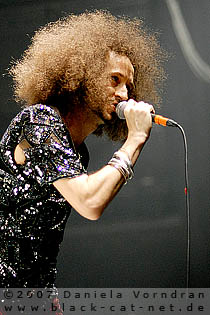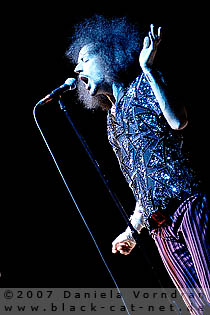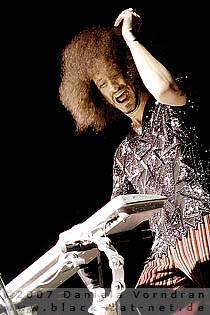 Scissor Sisters
SCISSOR SISTERS began 2004 as a little-known act, and ended it as a pop phenomenon. Their eponymous debut album was the biggest-selling album in the UK that year. The album has gone almost ten times platinum there. In the US, they were featured in countless magazines and programs including Saturday Night Live, Live with Regis and Kelly, The Tonight Show, Late Night with Conan O'Brien, and the Late Late Show. They've been playing to sell out crowds across the world ever since culminating with a primetime slot at Live 8 and a headlining stadium tour in Europe. SCISSOR SISTERS are Jake Shears (vocals / front man), Ana Matronic (female vocals), Babydaddy (bass, guitar, banjo, keyboards), Del Marquis (guitar) and Paddy Boom (drums).
http://www.scissorsisters.com/
/
http://www.myspace.com/scissorsisters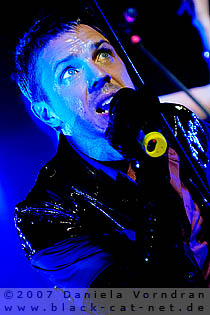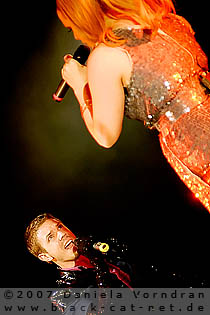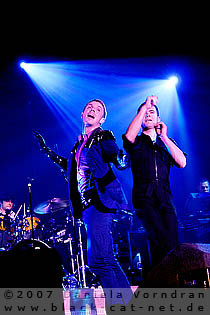 Music
Do you miss the BEE GEES? Do you miss some disco feeling these days? Why don't you take a journey with the SCISSOR SISTERS? They have started the set with their latest single 'She's my man' which made sure that this concert will become a big great party. Singer Jake Shears showed more than once all the facets of his voice. He can sing simple every tone from the highest high to the lowest low. Ana never sang that high as Jake, but nevertheless she impressed as well with a brilliant and sexy voice. There was no other way than dancing and jumping during 10 songs.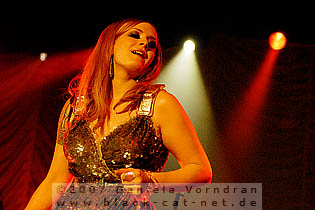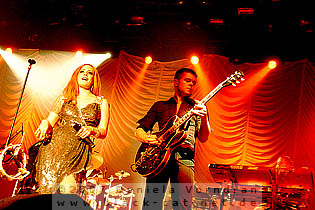 A wonderful mix of their two albums 'Scissor Sisters' and 'Ta-Dah' with songs like 'I Can't Decide', 'Tits On The Radio', 'Kiss You Off', 'Filthy / Gorgeous' - to name a few. The first really break we got to calm down was during 'Land Of The Thousands Words'. This song was dedicated to Paddy Boom. Paddy couldn't be with them, because his mum was very ill. So the whole Palladium was singing for Paddy and his mum. With the PINK FLOYD Cover 'Comfortably Numb' the first part of the show was finished. After only two encores 'Take your mama' and 'I don't feel like Dancin'' the show was over much too soon and I'm sure it was not only me who still wanted to keep on dancing with the sisters.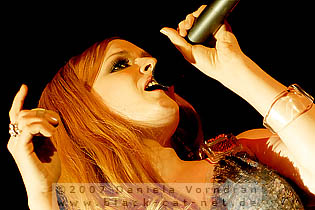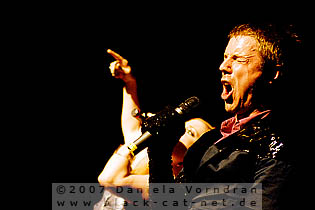 Performance
Sexy and glamorous the whole show through! America and prudish? No way! Jake and Ana looked fantastic in a black suit with a violet shirt and a silver dress. Ana was telling us about the show in Stuttgart which must have been quite boring because she called the people "Spießer". They heard Cologne is a dirty, creaky and freaky place and the reaction of the audience let them know that they were at the right place. Ana's favorite German sentence was: "Spritz mir auf die Titten" (Splash on my tits). She wanted us to open our ears, eyes and bodies and just wanted to "rock your fucking ass off".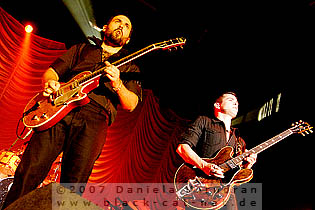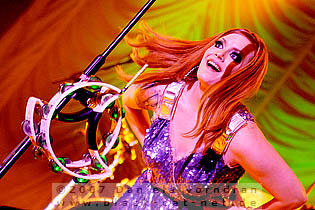 Ana was hot and Jake was simply pure sex on legs. He took some clothes off and the moves he made let everyone dream, no matter if man or woman. He was also dancing on the speaker boxes. Ana "took" Jake from behind and he was down on his knees in front of her and took the micro in his mouth imagined it as a penis. Do you think there is something wrong? Ana described it as: "We are different. We are the SCISSOR SISTERS." Sisters you are not really filthy, but absolutely gorgeous!!!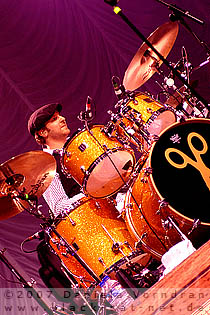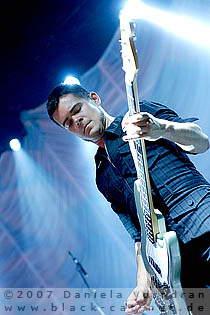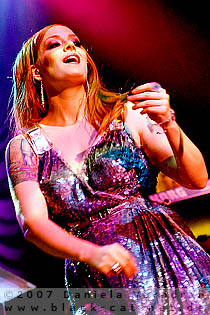 Setlist
01. She's my man
02. Laura
03. I can't decide
04. Tits on the radio
05. The Skins
06. Lights
07. Paul McCartney
08. Kiss you off
09. Filthy/Gorgeous
10. Music is the victim
11. Land of a thousand words
12. Transistor
13. Comfortably Numb
---
14. Take your mama
15. I don't feel like dancin'
Rating
Music 10
Performance 10
Light 9
Sound 8
Total 9.6