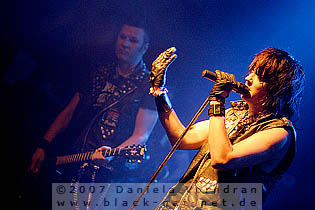 Zeche, Bochum, Germany
2nd April 2007
The 69 Eyes, Wednesday 13, Maryslim


On a sunny Sunday in April, we went to the concert of THE 69 EYES, WEDENESDAY 13 and MARYSLIM. This evening was promised to be a good one with all those great bands. This evening, the Zeche Bochum was completely sold out and you had problems to even have room to just stand to enjoy the concert. A lot of fans were waiting to see one of their favourite bands: THE 69 EYES. And a lot of people were also there to see WEDNESDAY 13 perform.



MARYSLIM
MARYSLIM has been around since 1999. MARYSLIM is a constantly touring band. If they are not making the festivals into infernos and a battlefield, or hi-jacking some vehicle to take them to some stages and bars elsewhere in Scandinavia, they are probably rocking their butts off at the CBGB's in New York, the Red Room in Texas, or conquering Spain, Italy, Germany, England or some other little European country you hardly have heard of before. On their own, or together with their friends in bands like the Hanoi Rocks, 69 Eyes, Backyard Babies, Hybrid Children, Nomads, Sahara Hotnights, Wonderfools, Psychopunch, Marky Ramone, Black Halos or Mustasch!
http://www.maryslim.com/
/
http://www.myspace.com/maryslim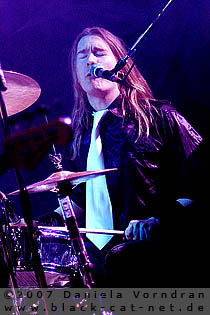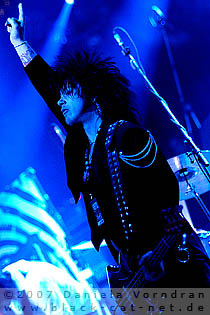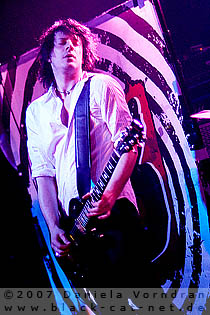 Music
MARYSLIM play Rock´n´roll, cover songs and have fun on stage. This evening, their music was quiet good, though I wasn't assured by them. The guitars were dominating that night and the drums were good. You could see that they played with all of their heart and delivered a really nice mood performing on stage.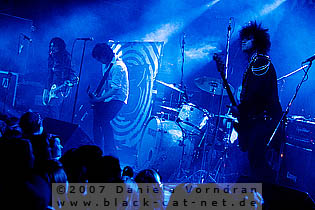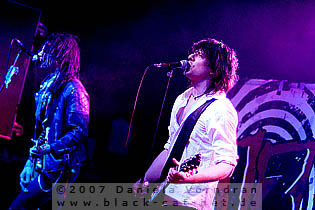 Performance
Looking a bit like an old rock band, they showed a performance that was quite interesting to watch. Although the audience wasn't really excited about them, they still did their thing by performing a pretty good show. They didn't jump all around the stage but still had energy on stage. So, it was pretty good for a band I've never heard of before.
Rating
Music 7
Performance 7
Sound 7
Lights 7
Total 7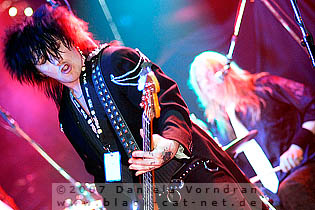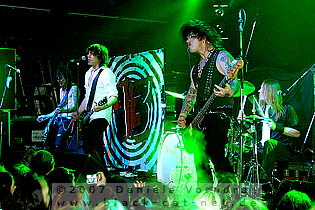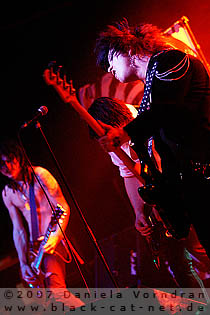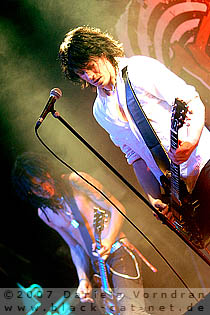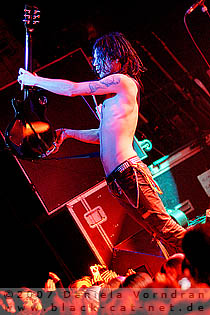 WEDNESDAY 13
WEDNESDAY 13 is a horror punk band, fronted by the MURDERDOLLS front man of the same name. The group was formed in 2004 and still they continue playing. After WEDNESDAY 13's primary band the MURDERDOLLS went on hiatus, he went on a solo tour of the United Kingdom in March 2004, called the "GRAVEYARD A GO-GO" tour. For his live performances he was joined by members of Florida horror punk band DEATH BECOMES YOU, though this was not meant to be permanent. When WEDNESDAY 13 returned to North Carolina in June 2004 he began to put together a more permanent band, with whom he would perform with under the WEDNESDAY 13 name. He brought in a former FRANKENSTEIN DRAG QUEENS member Ikky on guitar. In September 2004 Ikky was replaced with Matt Montgomery also known as Piggy D., who had recently departed from the band AMEN.
http://www.wednesday13.com/
/
http://www.myspace.com/officialwednesday13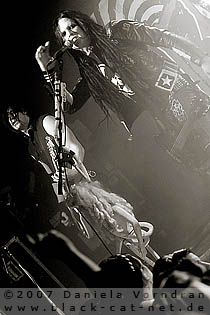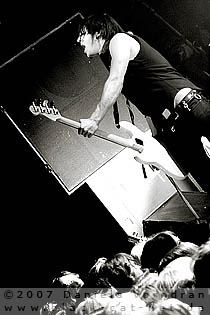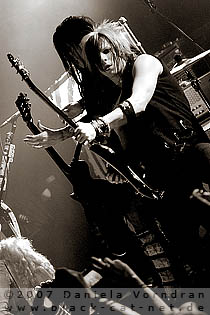 Music
Playing soon afterwards, they tried to persuade the mostly teenage audience by playing a mix of Rock´n´Roll, Horrorpunk, Glam Rock and they even had some slide influences of Metal. After playing a couple of songs, the front man thought it was more fun to complete every song with the word "fuck". And that's what he did. Although most of the people in the audience came to see THE 69 EYES, they still played good music and you could see that especially the young teenagers in the audience really enjoyed the music.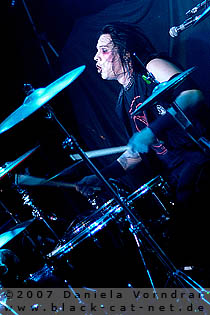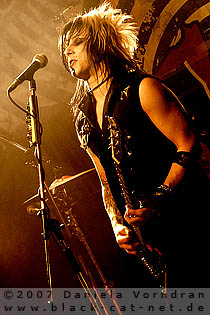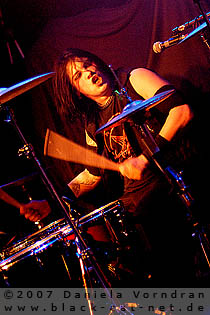 Performance
WEDNESDAY 13 is famous for their really special look on stage. All the members wore make-up that night and had matched up clothing. They did a pretty good show. They showed a lot more action than MARYSLIM did before. After all, they had a nice performance, showing what they are able to do on stage.
Rating
Music 7
Performance 8
Sound 7
Lights 7
Total 7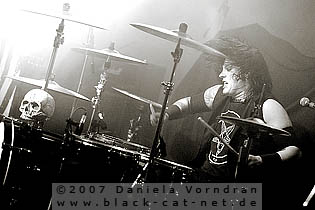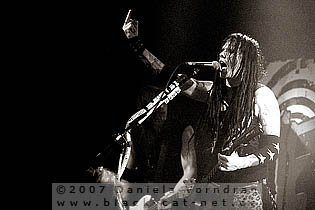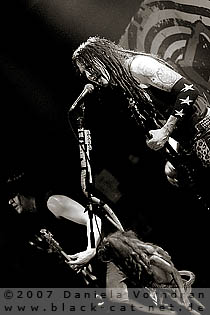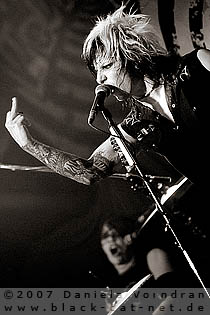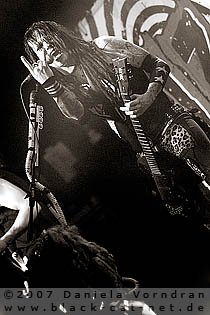 THE 69 EYES
THE 69 EYES are a Finnish rock band, formed in Helsinki during the early 1990s. Originally the band played garage rock inspired music and were self-described as "garage glam". They were also described by the music press as "Helsinki sleaze". By the latter part of the 1990s, the band began to take more influence from gothic rock, horror punk and glam metal. Along with their change in musical direction, the band became more popular internationally.
http://www.69eyes.com/
/
http://www.myspace.com/theofficial69eyes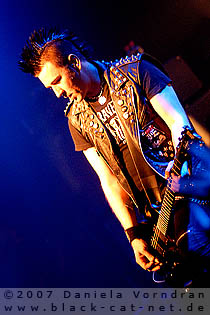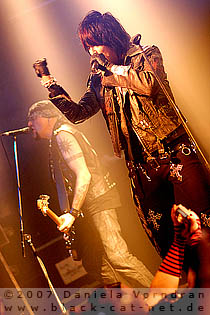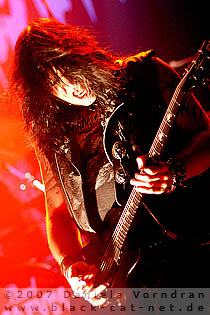 Music
First, they played the "Lost Boys" soundtrack song 'Cry Little Sister' as an intro. As main person on stage you recognized the singer Jyrki 69 with his really special voice. Then, the drummer Jussi 69 was the next one who showed what he can do. He played the drums at its best and really got the show going. This night, they played a lot of songs of their fewer albums and also some new pieces. Looking into the audience, you could see that now there was way more energy going on.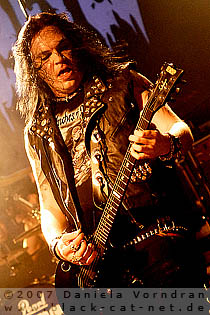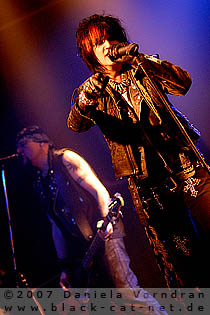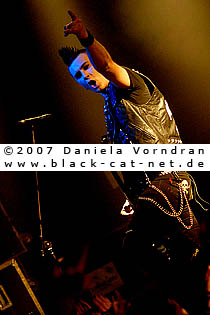 The guitars played by Timo-Timo and Bazie were really great and delivered a great mood. Some of the songs they played were 'Angels', 'Perfect Skin', 'Rocker' (with a tribute to the Norwegian guitarist Urge of the opening band MARYSLIM), 'Feel Berlin' (with a tribute to Bochum), 'Gothic Girl' and 'Brandon Lee'. They completed the show with one of their most famous songs, 'Lost Boys'.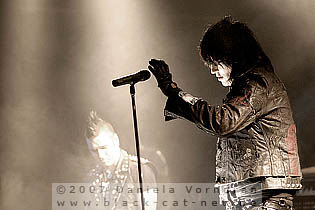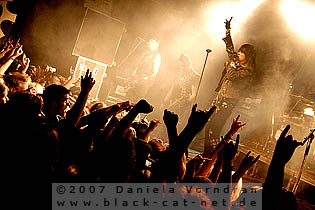 Performance
The bassist Archzie, more the biker type of guy, the guitarist Timo-Timo, more the punk rock kind of guy and the second guitarist Bazie were jumping and turning all over the stage. They had an awesome energy on stage. And in the middle of the stage, you had the front man Jyrki 69 singing as best as ever.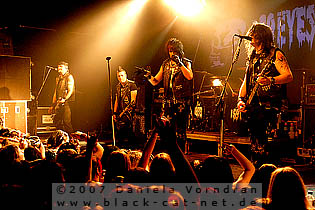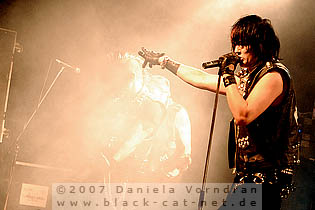 Jyrki 69 sometimes stands in front of the drummer, showing the audience, how good he can move his butt, other times he moves around or lays on the ground, moving his hips to the music. And don't forget the perfect BILLY IDOL fist and the handling of the microphone stand. After all, this show was 1.5hs of great music with a great performance.
Rating
Music 8
Performance 8
Sound 7
Lights 7
Total 7.5