Page 1 of 2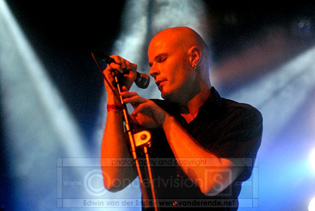 P60, Amstelveen, The Netherlands
25th May 2007
Pride & Fall, Rotersand, Seabound, Dismantled
It was the day when almost all the gothic people had left the Netherlands to go to Leizip and Wave Gotik Treffen. The few that stayed had a great chance to see some very interesting bands at the Dependent festival during Underground Frequencies in the nice P60 venue. Some 60 people turned up and there was a nice relaxed atmosphere amongst the audience. When looking at the line-up there was nice diverse line-up provided by the German label Dependent, so nobody should leave unsatisfied.
Dismantled
This band is basically the works of Gary Zon who when playing live is joined by Jon Siren on drums and Brian DiDomenico on keys. All the way from the USA and their first time ever in Europe after 5 albums, and all of this was taking place in Amstelveen, not WGT (they came only second), the people present got a really treat whn it comes to special moments today. The latest release of Dismantled is 'Standard Issue' which is of course released by Dependent records.
Music
How annoying can it be that you do your soundchecks and everything is working fine and once you start your first concert in Europe your mic isn't working at all. While the band keeps playing on Gary struggles with his microphone and it takes sometime before the technicians have resolved the situation. By then Gary has already taken the mic that was standing in front Jon so he could finish his first song 'The March'. From this moment on there were no more technical problems but it seemed like Gary had some vocal problems tonight, a crowd can keep a better tune. Having a cold and maybe the stress from the problems at the beginning of the show his voice wasn't in tune at many times. Really sad because it seemed that during the soundcheck earlier in the day he was in much better shape. With live drums and live keys the sound became richer and had a more 'live'- feel to it. With all the balance and effects mixed up due to the mic failure it is hard to value the sound, it sure could have been better, but that might just have been so if everything had worked fine from the start.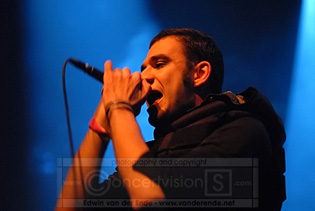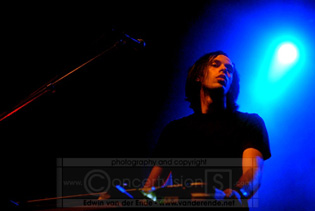 Performance
Starting out with a gasmask it was sad that the whole purpose and accompanying show was all gone when the technical problems reared its ugly head. In order to see how the problems could be solved he threw it aside and never really got it back on. Jon was enthusiastically moving his keyboard around on the stands and Brian just kept on hitting beats from the right side of the stage. Maybe the band should have stopped, solved the problems and start over again, maybe it would have been better for the performance and music. But in retrospect everything remains a guess. Not the best performance but it was very clear they kept trying and that's something the audience must have admired, at least those that were left in the main hall. The lights were there, many from the back and the frontlights just had a pale beam of dark yellow light on the stage. Lots of smoke gave the laser lots of opportunity to play around, though it was a bit too much at times. Better luck next time for this band, they sure deserve a second chance!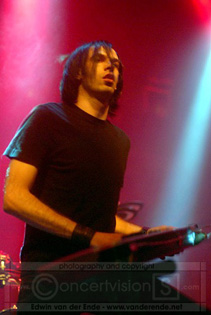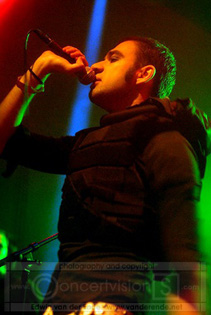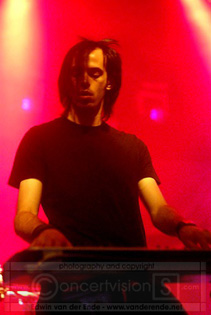 Setlist
01. The March
02. Anthem
03. Get It Through
04. Swarm
05. Exit
06. Thanks For Everything
07. Purity
Rating
Music: 5
Performance: 6
Sound: 6
Light: 5
Total: 5.5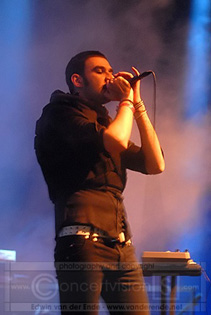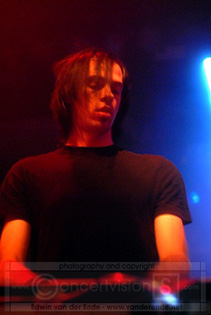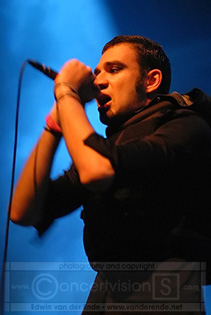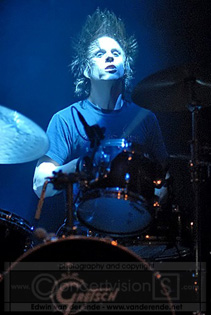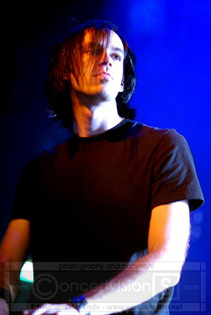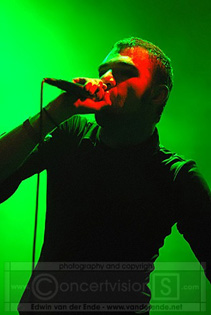 Seabound
Some one and a half year ago the band was last seen on stage, and so they must have been nervous for today's show. With a new album 'Double-Crosser' just released it was time for the audience to have a chance to hear these new pieces live. With 3 full length CDs and 3 other released dating back to 2001 the band of Martin Vorbrodt (music) and Frank Spinath (lyrics, vocals) has been around for a while but are now ready to storm the Netherlands and the rest of the world.
Music
Even when you don't know their music the subtle melodies of Martin combined with the gentle voice of Frank gives a familiar feeling. It's unlike other bands yet it sounds like the CD has been in your stereo for a while. It's easy to get lost in the music which is quite an achievement really. No technical gadgets in this music, no solos or screaming lyrics, distorted voices or overdone efforts to impress. Just a piece of great music brought in a very natural way, like it was all around you and life was supposed to be that way. The mix of the music and vocals was good, enough attention for both the musical melodies as well as the warm voice of Frank, so no complaints there at all. Gladly they returned for an encore, and what an encore it was. It was only an experiment they said, well a very successful one: keep 'Breathe' on the setlist, it was very nice indeed.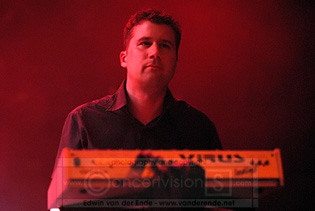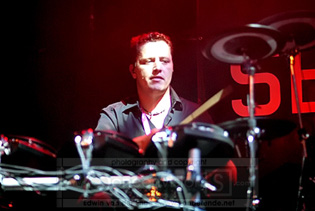 Performance
This is no band to go around and make a lot of fuss about their show. It fitted the music very well, the guys on stage looked friendly and seemed to enjoy getting close to the audience, to touch their souls. Of course the band takes it slowly here too, almost like Frank is your psychologist trying to earn your trust: just relax, let go, feel free and enjoy. Unfortunately the light was very dim during Seabound's show, just like before. It almost seemed like all power was saved for the laser which actually didn't fit too well into the music with too many random patterns not linked to the music that was playing at the time. So keep the laser but get it to work in sync with the music, better luck next time! For the rest get plenty of lights and get everybody to focus on the music and Dr Frank.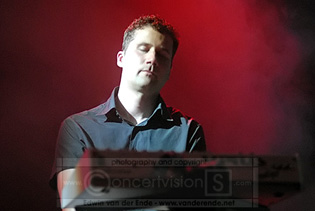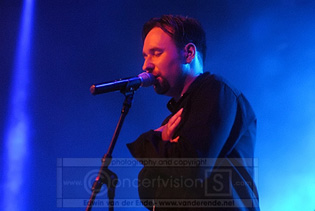 Setlist
00. Intro
01. Scorch The Ground
02. Exorcize
03. Poisonous Friend
04. Avalost
05. Contact
06. Domination
07. The Promise
08. Hooked
--
09. Breathe
Rating
Music: 10
Performance: 8
Sound: 8
Light: 5
Total: 9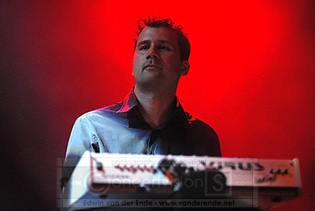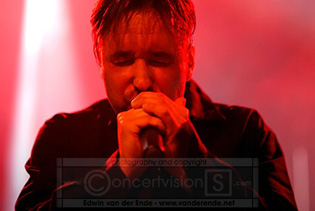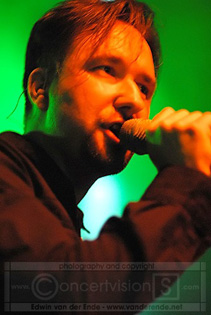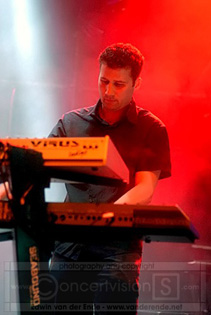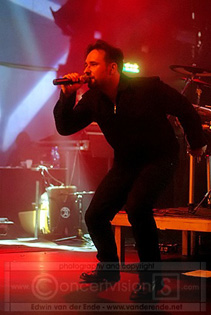 Rotersand
From Gelsenkirchen, Germany a band that has been to the Netherlands before. Rotersand has been working on their new album and they were ready to promote it at the show in Amstelveen. The stage decoration was already referring to their new album '10 23' and the moment Rasc, Gun and Krischan entered the stage it was clear that this was going to be very different from the other bands that night. Most people in the venue already knew the band because of their clubhit 'Merging Oceans' of their 2003 EP.
Music
Danceable music, strong beats, energy flowing around a good recipe for some heavy duty EBM. And Rotersand has just the right people to bring it to the stage. Rasc's voice is loud enough and persuading enough to almost force you to move your body while Gun and Krischan provide excellent backing vocals, although both did not get into the mix as loud as they should have. Gun in the mean time changed between keyboards and guitars while Krischan did something with turntables and other things as Rasc tried to explain to the audience. But the combination was good, very good even, this band has certainly grown since their last show in the Netherlands and most certainly must be on the wish list of quite a few labels.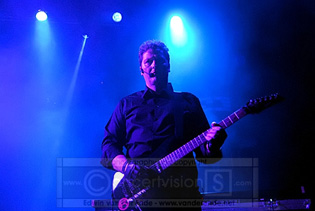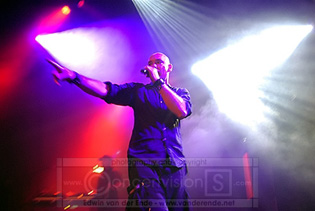 Performance
If there was one band today that really made a true effort into doing their performance it was Rotersand. Rasc was constantly trying to interact with the audience not even allowing photographers to do their job. Of course all of this didn't matter at all, it was a big party that only grew once Rasc got off the stage and wandered around in the audience, like he does every show. Immediately jumped upon by many fans who wanted to get their picture taken by them. This band was clearly having fun on (and off) stage and their enthusiasm transferred to the audience. Not just interaction with the audience but the band had quite a lot of interaction amongst themselves as well, they looked like a couple of friends having a ball at the pub. Singing at each other, cheering up the audience and all of this in a cast of blue purple light with of course the inevitable laser from time to time. Rotersand has become a great band, one that should get bells ringing and make you cancel other appointments.
Rating
Music: 10
Performance: 9
Sound: 8
Light: 7
Total: 9.5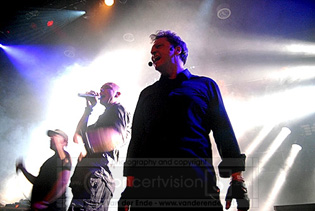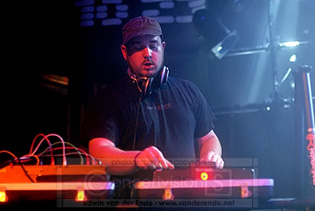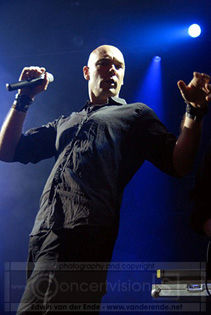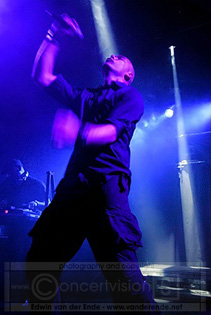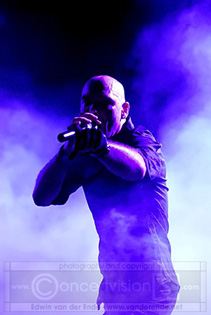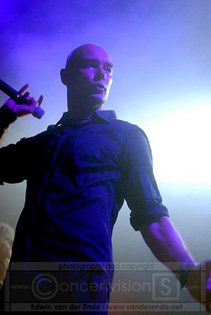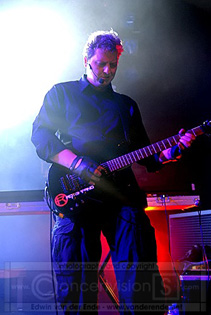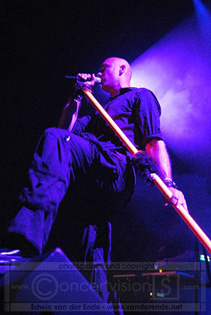 Pride and Fall
The Norwegians from Stavanger are not in the Netherlands that often and so it was an excellent opportunity to see the band live in Amstelveen. They started out combining metal, gothic and progressive trance into their idea of futurepop. This resulted in their much acclaimed debut album 'Nephesh' released in 2003 and in 2005 they added a new album to their discography called 'Elements of Silence' with a different sound, with these releases they engaged themselves in a more electronic, EBM style of music In 2006 they released a digital-only single 'Border', five years after the band hit the stage for the first time.
Music
Sigve Monsen (vocals), Per Waagen (synths) and Svein Joar Auglaend Johnsen (guitar) were on stage in order to play a nice setlist full of songs mainly from their 'Elements of Silence' album. Contrary to the other bands the sound of Pride and Fall is heavier, more rock than electro. The band struggles to get the audience to follow their music, which was a big change from the heavy dancing they did at Rotersand. With his nice deep voice Sigve sounded well but somehow the words got lost in the music at times. The guitar of Svein was quite loud in the mix giving the music a more gothic rock sound. However well they tried they seemed to suffer from the running order of the day, It wasn't bad, not at all, in fact it would have been a great concert if only they had played for their own audience because it seemed they weren't appreciated by all of the audience. and everyone was completely tired from Rotersand- the music was just fine, but you know, 4 bands in a row is quite a lot, so in the end most people just lost attention which P&F failed to regain after the highly energetic rotersand show. Also there seemes to be a serious lack of P&F fans, as the 'proper' answers did not come when he tried to address the audience several times (e.g. song titles….)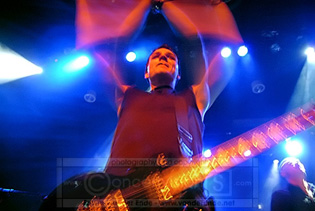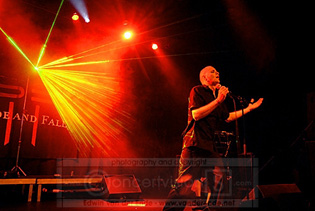 Performance

If anybody wants to have a course 'what do do with your microphone stand'? Contact Sigve, during the concert he curled around it in any thinkable way, as if he was desperately trying to make it love him. But it also boosted the intensity of his performance. Yes of course it was different from the other bands, more introvert and small, yet those in front of the stage could see him live the music. At the same time Svein was busy playing his guitar like a rock star, moving around on stage, quickly returning to do some backing vocals and then he went on again. As always with synth players, there's only so much you can do and Per's performance was just simple, but after all he was playing music and the others caught enough attention already. Unfortunately there wasn't much interaction between the band and the audience, but the members didn't have much contact amongst each other either. The lighting was much better than the other shows, yet it was still rather dim – a bit more light on Sigve's face would have helped people further in the back to enjoy his performance better.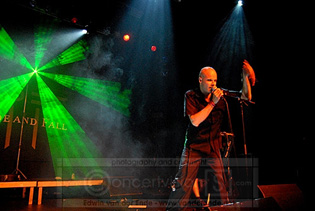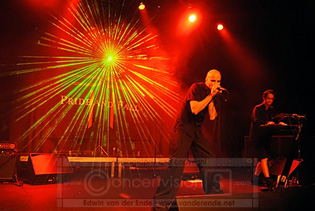 Setlist

01. Elements of silence
02. Inside
03. Border
04. Violence in me
05. I Wither
06. Ego
07. Construct
08. Sacrament
09. Omniscient
Rating
Music: 8
Performance: 7
Sound: 7
Light: 7
Total: 7.5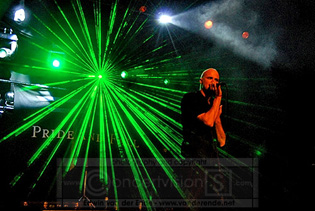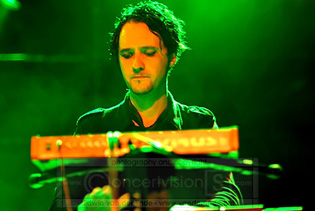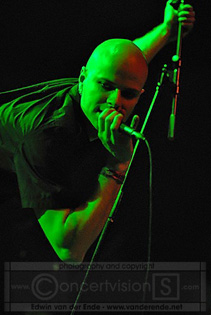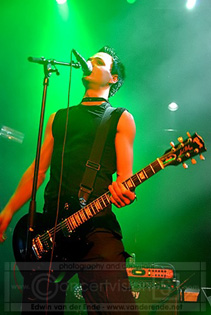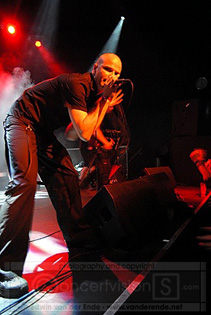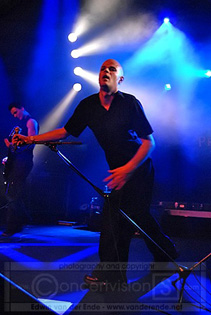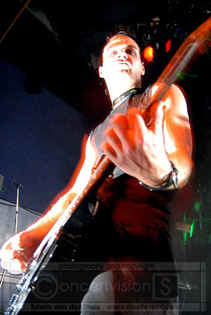 Dependent
Dependent will close their business later this year. As stated in our news before, the label will no longer be able to be in business due to illegal downloading of the music they promote. The 4 bands on stage decided it was time to give their label's manager a big round of applause on stage. Always nice to see artists being happy with their label of course, just too bad the label will cease to exist by the end of this year.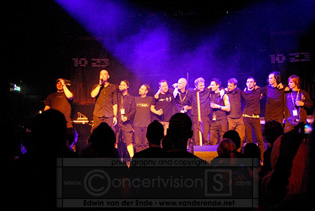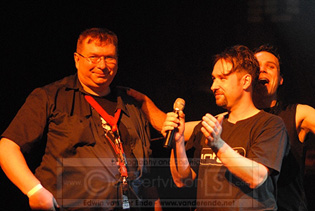 More photos on page 2
{jos_sb_discuss:17}