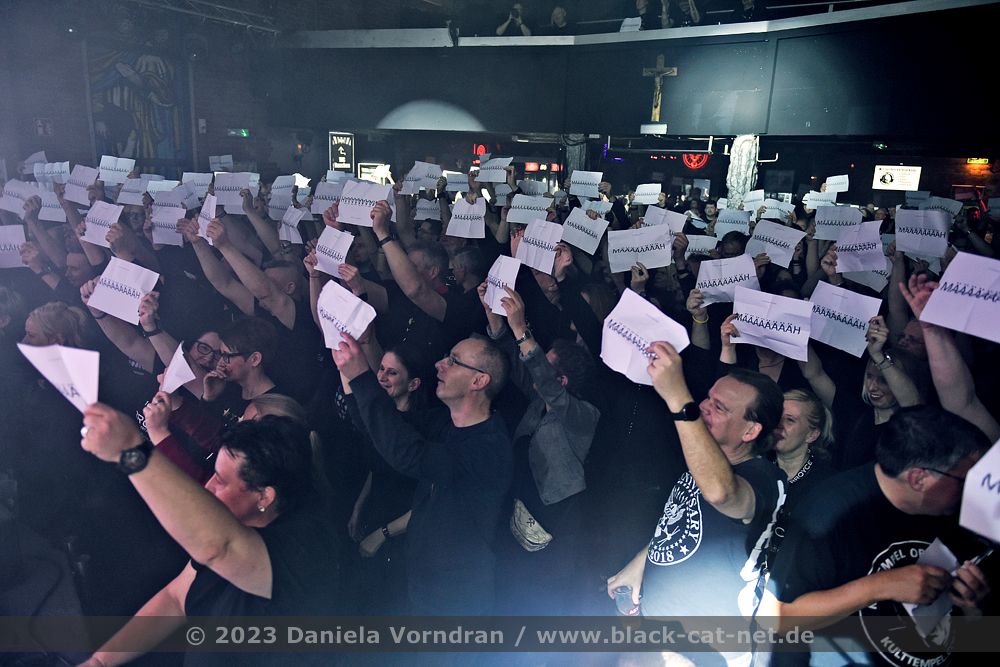 Kulttempel, Oberhausen, Germany
12th and 13th January 2023
Rroyce - "10 Jahre Rroyce" anniversary concerts - Support: Wiegand

The Dortmund trio appeared live for the first time on the occasion of the underground band contest "UNBACO" in January 2013, in which RROYCE emerged victorious from 64 bands. During the past few years, the band has faced regular criticism - not "black enough" for the scene. And especially the Run-Run-Run dance, which is a tradition at every concert, is sometimes smiled at as embarrassing. Is that still Gothic? Honestly, I do not know. But does that even matter? RROYCE obviously love what they do and bring it to the stage with such passion and enthusiasm that it's hard to resist. At least if you enjoy well-done Synth Pop and are not one of those goths who go down to the basement for laughing.
I have to admit that although I had RROYCE on my list for some time, I really discovered them for myself not until the beginning of last year. The sound of RROYCE is dedicated to the electric 80s and "saves the wield influences of the wonder years of Wave-Electro-Synth-Pop" and it hit me like an arrow in the heart. Once discovered, I fell in love with it on point. Accordingly, RROYCE ran in heavy rotation last year. Now the band is celebrating its 10th stage anniversary with two very different concert evenings. And I finally have the opportunity to be with them for celebration. I've tried to be brief, but have to tell, I may not succeed. I just can't jump out of my skin. So, take a seat and take your time as you read on.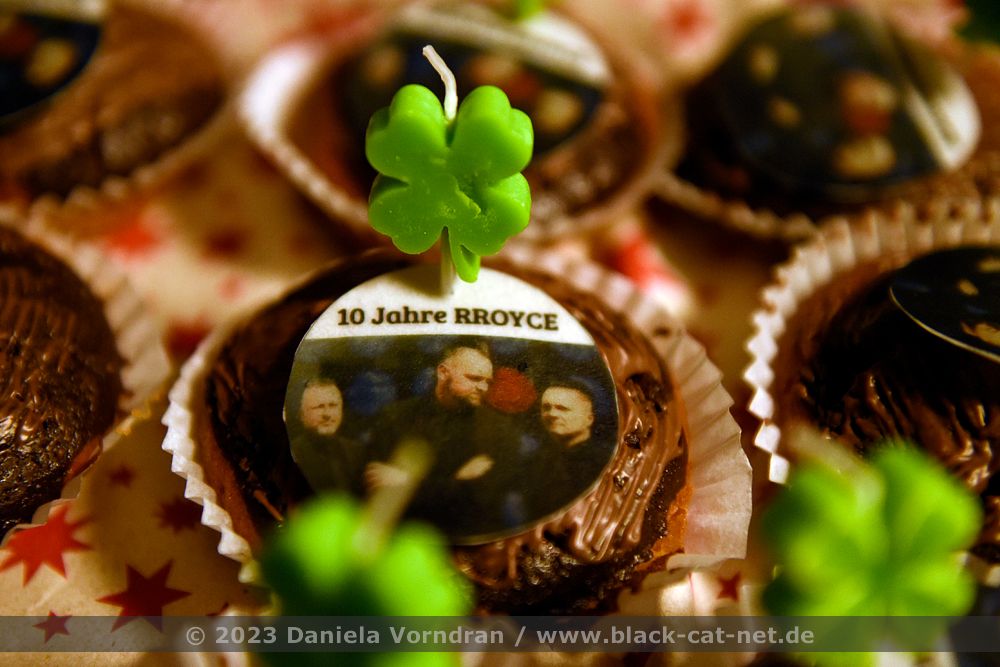 Day one: Rroyce (unplugged, 12th January 2023)

Despite the criticism, the band from Dortmund can look back on a number of awards, countless performances and four studio albums in ten years of band history. The current album 'RROARR' has made it into the top 10 of the annual charts of Poponaut, Synthpop Fanatic and Synth Heaven. In the GEW album charts, the record was number one for several weeks. Nevertheless, the trio had to deal with a few setbacks in the last year and the roller coaster ride of emotions did not leave the musicians untouched. For example, the "RROARR club tour", planned for September / October, had to be cancelled. That was exceedingly painful for band and fans. Especially, because the guys wanted to present the new album to a live audience on their first headliner tour.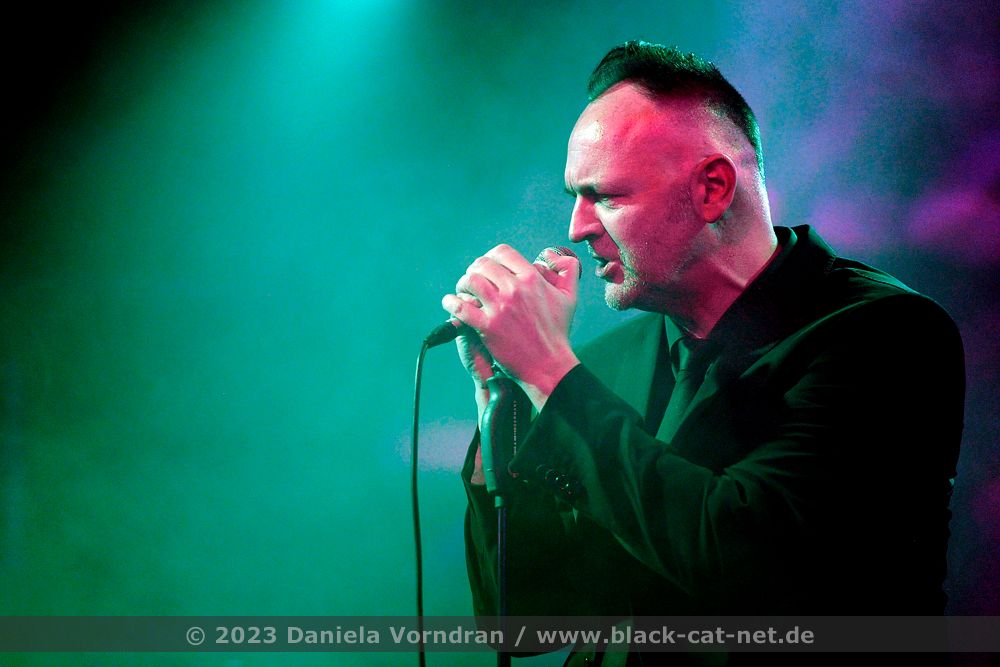 After festival performances (e.g., on the main stage at Amphi), RROYCE at least were able to fulfil a big dream with their successful appearance with ALPHAVILLE at the Oelde Open Air in September. But shortly afterwards they had to cancel their show at E-Tropolis Festival 2022 too. Singer Casi in particular was in such poor health that performing was unthinkable for the time being. Meanwhile the vocalist is on the mend and RROYCE will be back on the concert stages in 2023. It starts with the concerts for the band's anniversary, which hopefully many more will follow.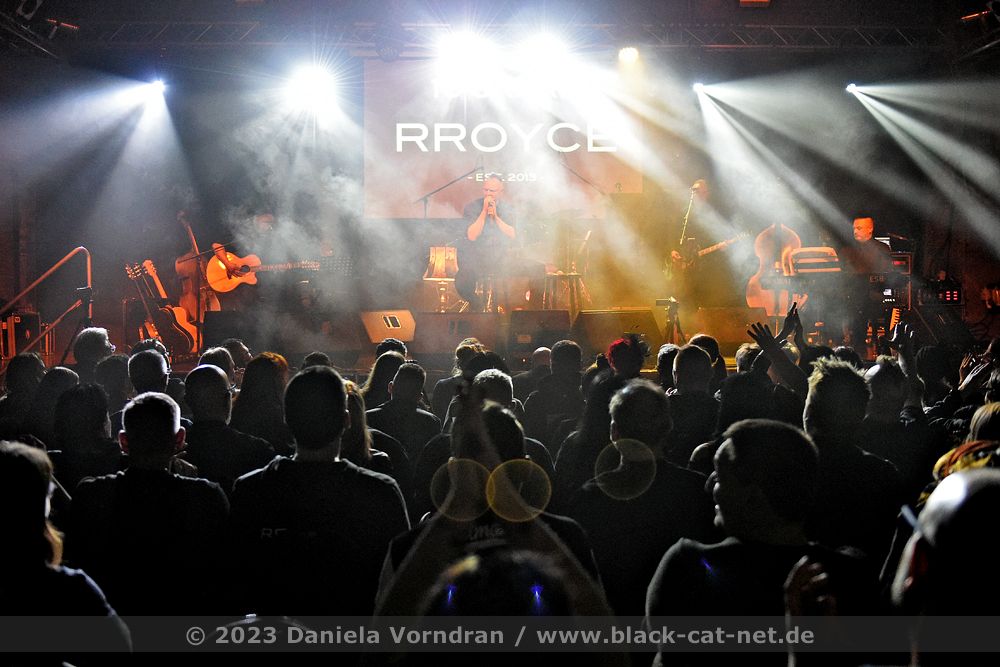 Today, RROYCE take us on a very special kind of musical journey through time and space in over two and a half hours. The best of from 10 years of band history was arranged purely acoustically for this evening. Even the number and selection of the instruments set up suggesting something unusual. With the "colourful bouquet of melodies" the Dortmunders dare a little experiment tonight, which gives me some surprises and lots of goosebump moments. An extremely successful start, that I would not have wanted to miss under any circumstances. www.rroyce.de / www.facebook.com/RROYCE.official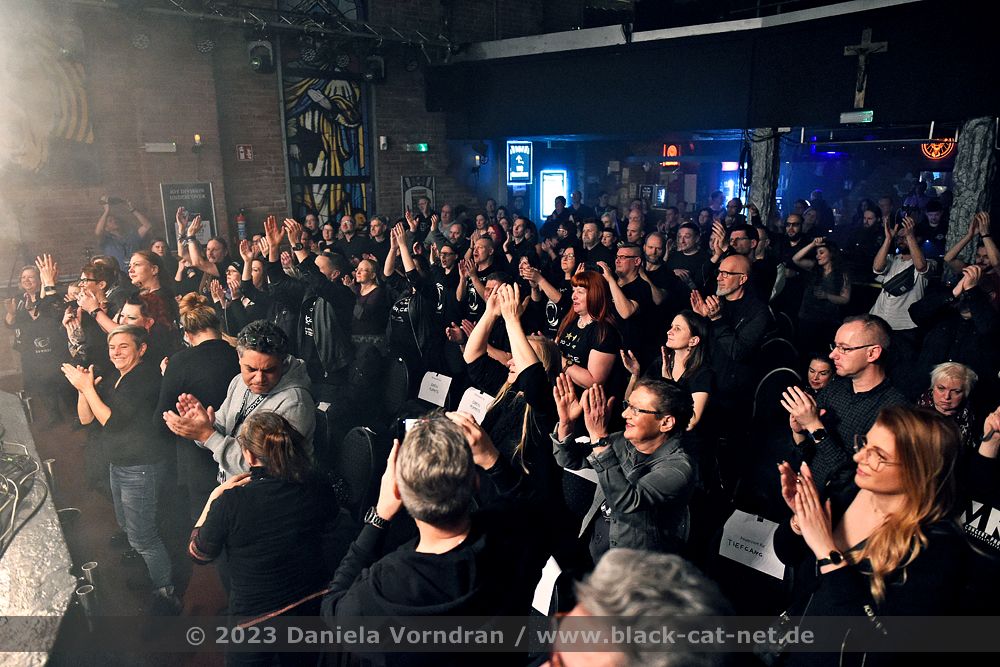 Music & Performance
But first things first: The Kulttempel has been run by Peter Jurjahn with a lot of passion for several years and has developed into one of the most popular trendy locations in the Ruhrgebiet. Because it's an almost five hours ride from my homeplace, this is only my second visit here. But I already felt extremely comfortable here at the first time and would love to come back if the opportunity arises. The club is cosy, the staff nice, well organized and attentive. For today's "seated concert" the cult temple places lots of chairs, which gives the location an additional festive ambience. The chairs are even upholstered, which I have not seen before at similar events elsewhere.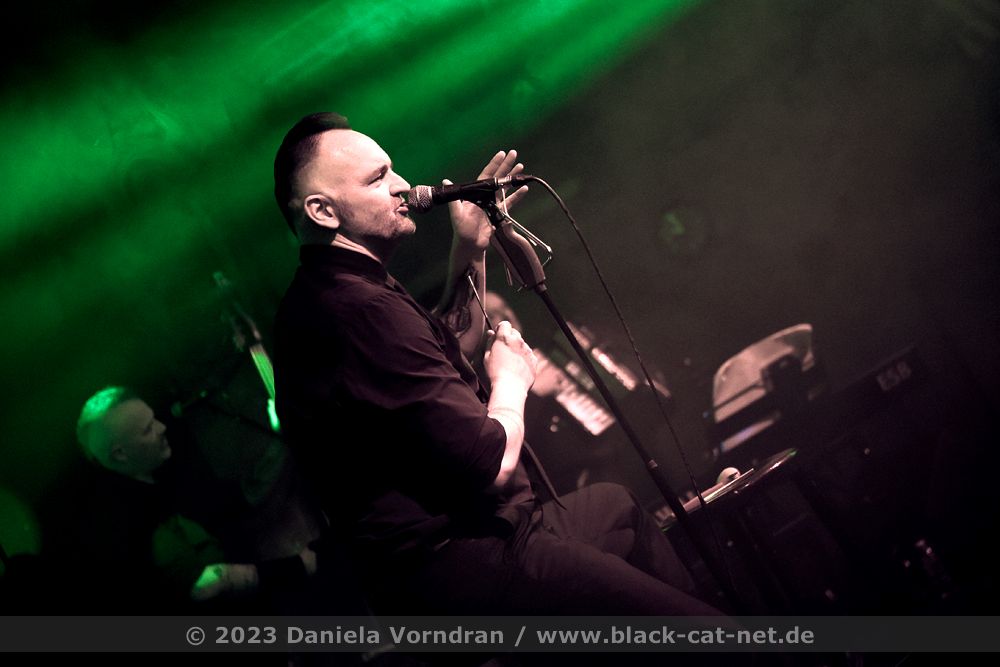 The doors open right at seven. Although there are still tickets at the entry, it seems to me that it will be quite full. Of the 200 chairs set up, most are already occupied half an hour later. Since today is a special concert, the first two rows have largely been reserved for families and good friends of the musicians, who of course cannot be absent this evening. Black is the dominant colour in the audience tonight. Many have stocked up on the band shirt for the anniversary in advance and are wearing this thing. A few (mainly female) fans dressed up appropriately for the festive occasion. For me today it is also the "little black dress".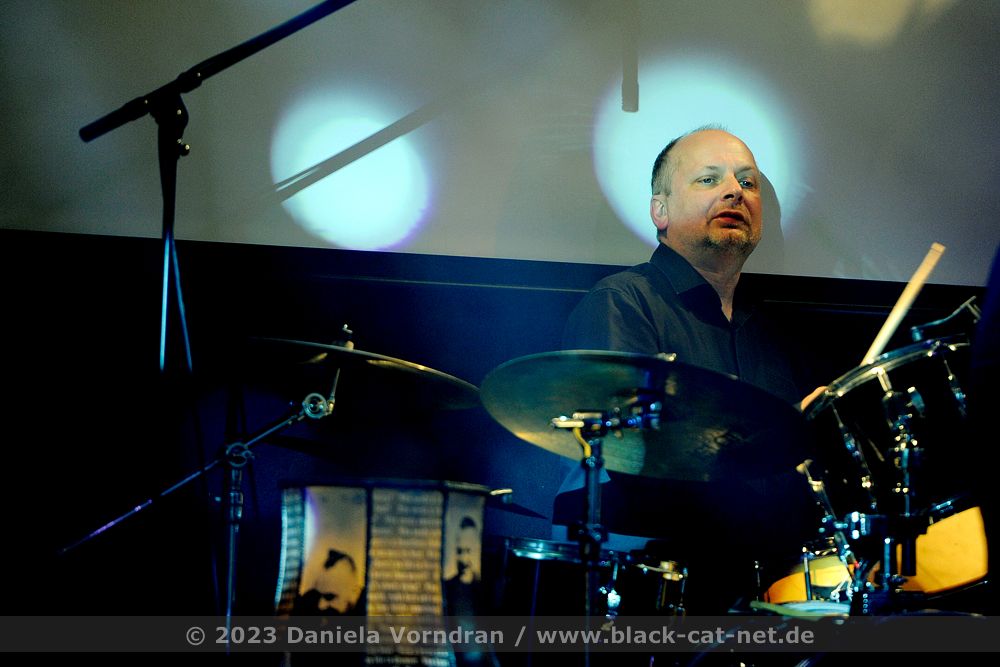 At 8 o'clock the time has come, the lights go out and the intro starts: Tiefgang Film Produktion, which has accompanied RROYCE on film for many years, have worked through their shared past for the anniversary. They produced a video for 'Full Speed Half Sight', that opens the evening. The intro already causes the first cheering storms. Casi Kriegler (lyrics, voice), André "AL" Lelittko (guitar) and Kay Lippka (keys) "multiplied by cell division" for tonight. Their "clones" Andreas Schmitz (HEIMATERDE, J:DEAD), Gerald Manns (CLOX, MUTANT PROOF) and Michael Kamp (LEOPATH) enter the stage first and start while Gerald welcomes us. But three musicians are not enough for this evening, and Gerald asks Al and Kay to come on stage.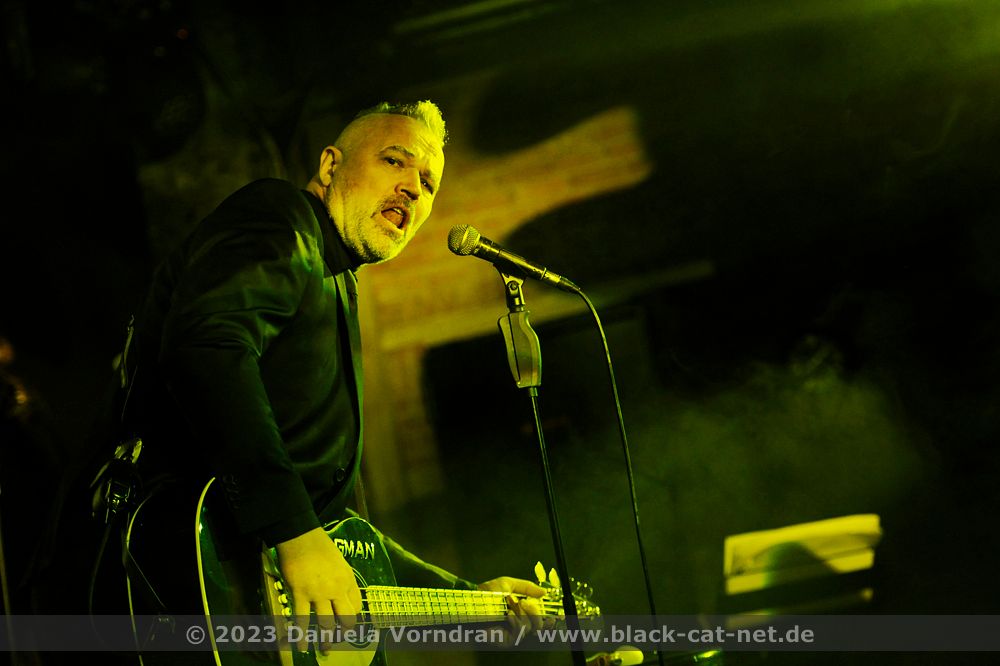 So now we can really start and Gerald starts to sing - "too deep". Someone is probably still missing. Casi takes over from Gerald on the mic and starts today's acoustic set with 'Who needs'. The song creates sheer enthusiasm right from the start and is clearly audibly sung along by the audience. "It's a seated concert, but maybe we'll throw the seats away in half an hour". That's the end of the sitting. Standing ovations in front of the stage before we take our seats again for 'Thank You I'm Scared Now'. The "colourful bouquet of melodies" mentioned above not only refers to the song selection for this evening, but also to the selected music styles. So, today it may seem to us "something Spanish, or Hungarian or East Frisian". At this point I'll anticipate: The three guest musicians fit seamlessly into the band structure. Gerald in particular looks like he's been part of the inventory for years. His background vocals harmonize extremely well with Casi's voice. And Al and Kay can prove their versatility on the instruments.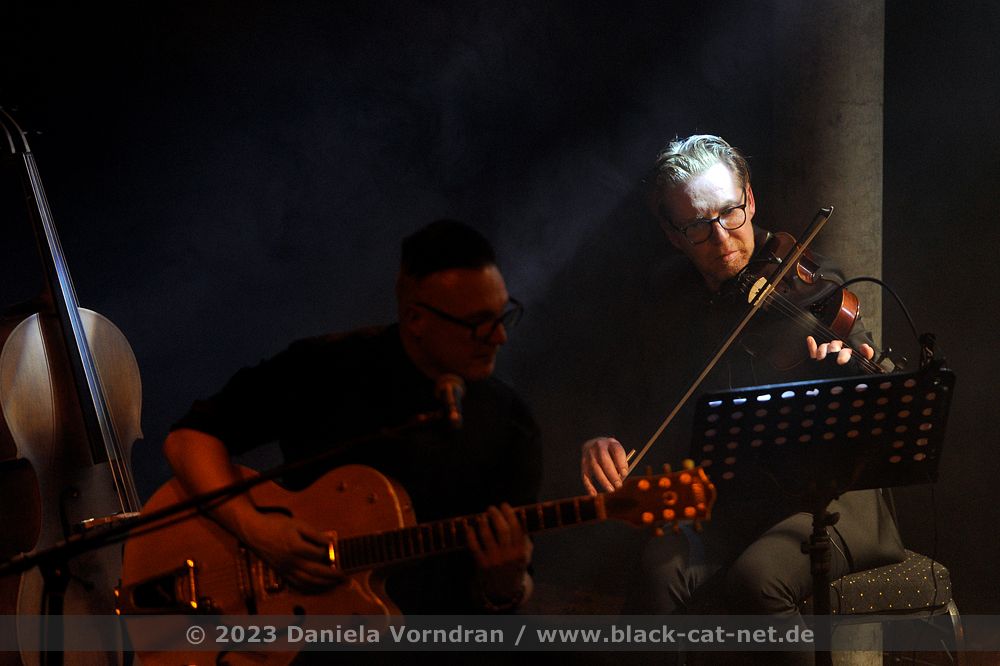 So today we get to hear a tango ('Hide Behind') among other things. For me, the arrangement somehow fits like ass on bucket. Even if Casi says "That's what happens when six musicians play three different songs." The audience is obviously enthusiastic about the arrangement. Same with 'Full Speed Half Sight' and 'It Smells Like (War)'. The latter is one of my absolute favourite songs anyway and today makes me blink away a few tears right away. With 'Another' from the current album RROARR, the six gentlemen pick up the pace and the entire hall claps and sings along loudly. This is followed by 'Parallel Worlds' and 'Pause For Thought', one highlight of the evening. Mandolin and viola paired with Al playing cello and Kay on the piano - pure goosebumps. Casi's vocals get right under your skin and Gerald's second voice during the chorus gives the song additional depth. The extremely emotional execution literally rips the audience off their seats and at the end gets standing ovations again.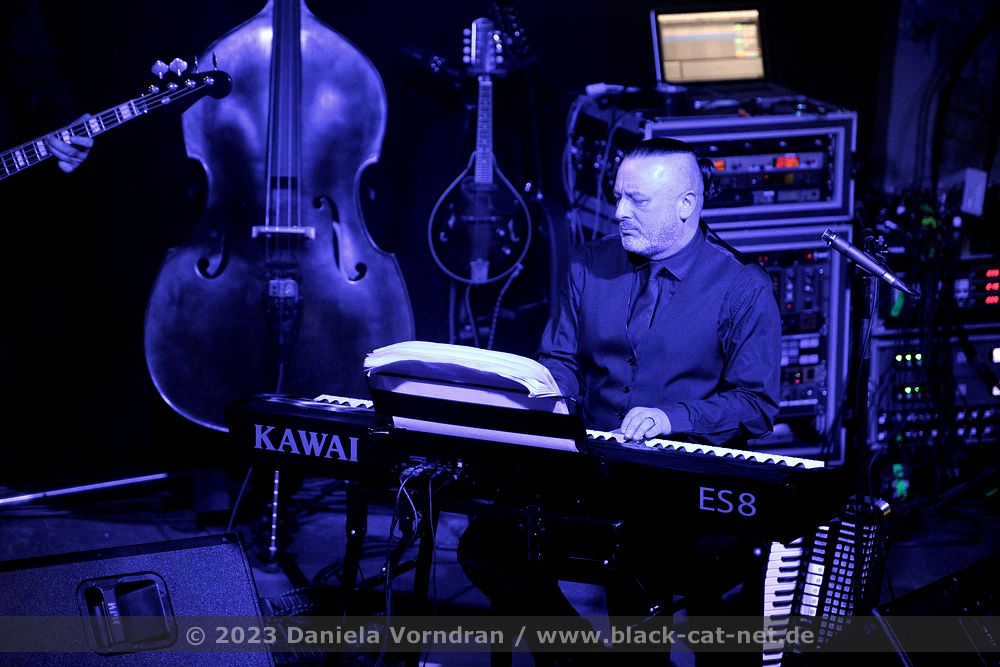 Is that still Gothic... or "is that already Jazz?" 'Call Of The Void' comes in a jazzy version, while 'I Like It When You Lie' presents itself in country style and then we switch to a folky 'Whipping Boy'. How RROYCE managed to find the right kind of music for each song and to arrange the songs in such a way that they fit naturally into this style, I can't emerge. I'm kind of stunned and excited about how well this musical experiment works. For the next song ('Principal Of Grace') all musicians leave the stage. Only Kay on the piano and Casi on the vocal cords remain. It's getting dark on the stage. But Kay would need "a little light". Which is then very atmospheric and underlines the very calmly performed title excellently. Goosebumps one more time. And that it stays that way, the gentlemen (now complete again) go one better with 'Nimmermehr'. The performance, this time with Kay on the accordion, gets right under my skin.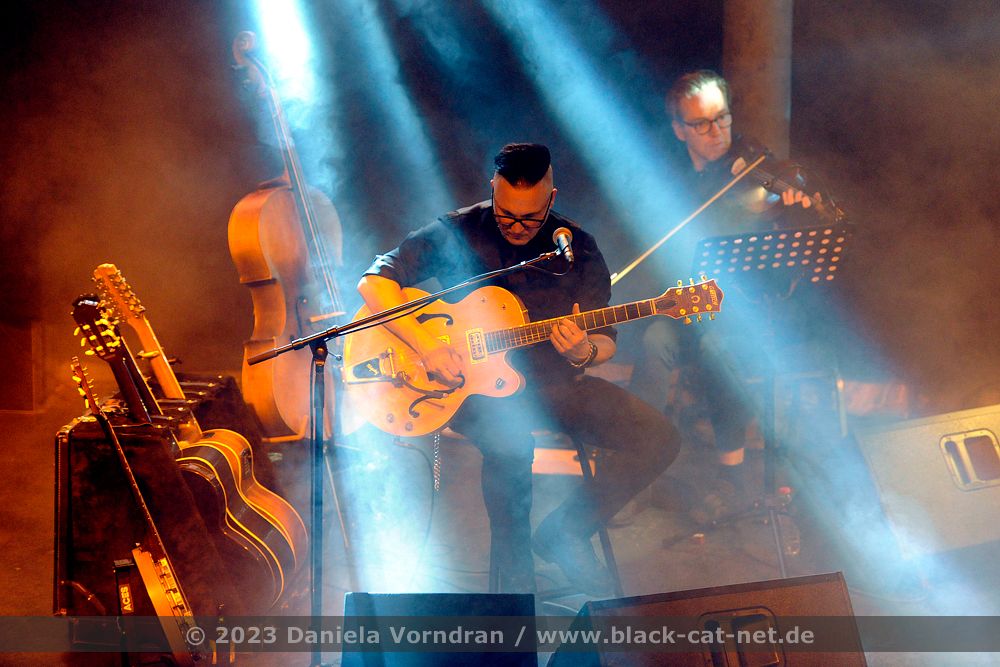 And that's how I feel about 'Sky Is The Limit' as well, what RROYCE are playing for the first time today. This song also hits my core and gives me goosebumps all over. But before that, there is still something to sway along to ('Over And Over') and the following 'Bohemian Life' is also sung and teetered along. For 'You Don't Belong Here', Gerald and Andreas leave the stage and Al's daughter Anna takes her place at the microphone. Accompanied by viola, piano and cello, she sings in duet with Casi. The girl has a great voice and does it like a pro. With her performance she reaps standing ovations. The following 'One, Two, Three, Four' only works with our support. The light Rock'n'Roll variant seduces most people to dance and of course the counting at the chorus works.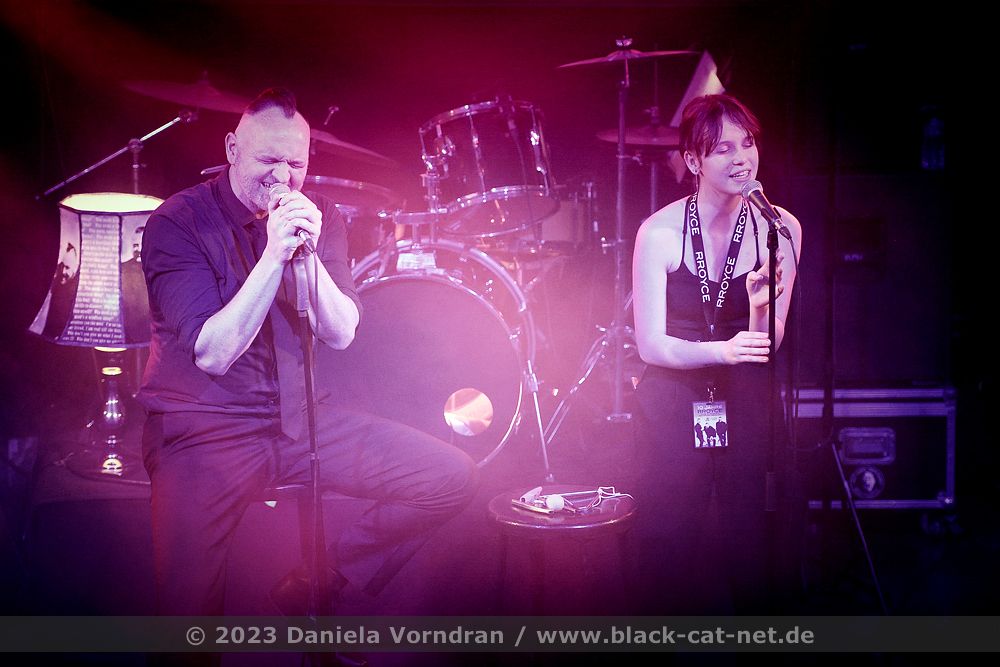 Because we're on our feet already, Casi announces "a little cringe, what's coming now. Nothing for the scene and stuff. Let's do it again tomorrow, because I think it's awesome." It's clear to everyone what has to come next: 'Run Run Run'. The seating leaves no room for the actual dance. So today we snap. This is briefly rehearsed and off we go. Only the first row, takes the half a meter in front of the stage for doing a proper "run run run". With 'Malacoda' there now follows a see shanty and 'Social Media Fake Friend' (the "last song") gives us an a cappella performance before gazing up again towards the end. Someone had fun of throwing a bra and panties onto the stage. Casi can't resist checking how the pink thing suits him and is cheered on with shouts of "put on, put on". But that's going too far. And he takes the underwear with him leaving the stage together with the others.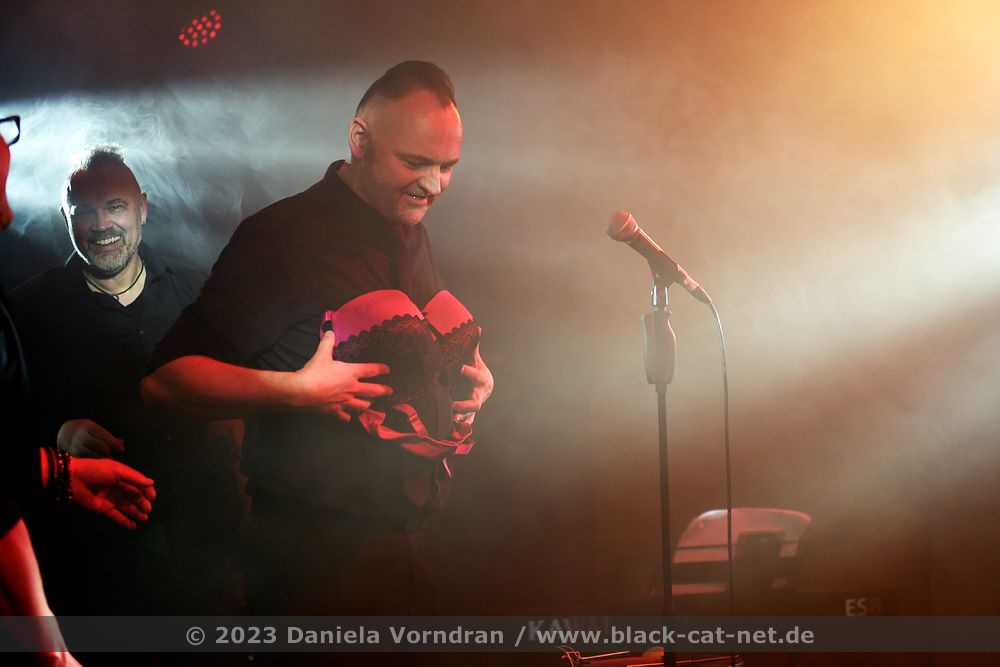 Casi opens the block of encores with the words "do you feel like freaking out?" What a question. Some jump straight out of their seats and start stadium chants of "stand up if you're Rroycies." I was expecting a lot and after the set so far, I thought nothing could surprise me. Wrong thought. 'Where The Morons Walk' is coming in a Ska version! And what can I say, even that works. So much for the topic "seated concert". We stay on our feet for the rest of the encore block. 'Running With The Sheep', 'Rebuilt.Reborn' follow and, at the end of our musical journey, the little polka 'Paranoiac SL'. Casi thinks "it's great that you took part in the experiment with us." We thought it was "great" too and before the Dortmunders say goodbye shortly after half past ten, the audience responds with stadium-ready fan chants. Most of us will be here for tomorrow's show again. So, we'll see each other again in a few hours for the second part of the party.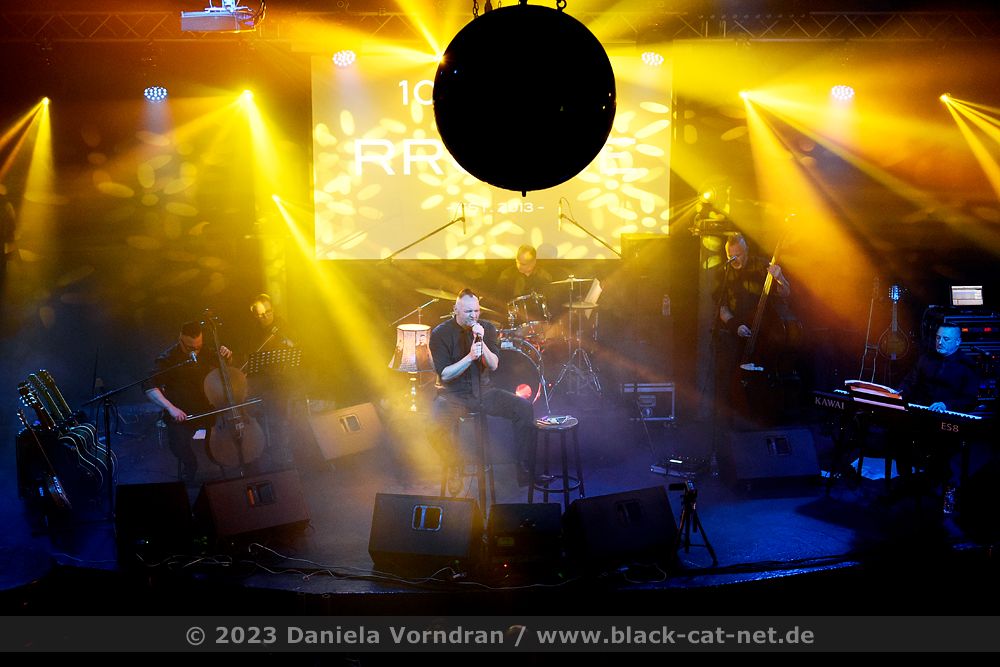 But before we continue with that, a few general words about the light tonight: The musicians are staged very harmoniously and the lighting underlines the songs (almost) perfectly. A small downer for me: I probably sit a bit unfavourably, so that a mockery regularly blinds me. You might say, it's my own fault. Finally, I chose this seat. But still a small point deduction in the B grade.
Setlist

01. Who Needs
02. Thank You I'm Scared Now
03. Hide Behind
04. Full Speed Half Sight
05. (It Smells Like) War
06. Another
07. Parallel Worlds
08. Pause For Thought
09. Call Of The Void
10. I Like It When You Lie
11. Whipping Boy
12. Principal Of Grace
13. Nimmermehr
14. Over And Over
15. Sky Is The Limit
16. Bohemian Life
17. You Don't Belong Here
18. One, Two, Three, Four
19. Run Run Run
20. Malacoda
21. Socialmedia Fakefriend
---
22. Where The Morons Walk
23. Running With The Sheep
24. Rebuilt.Reborn
25. Paranoiac SL
Rating

Music: 10
Performance: 10
Light: 9
Sound: 10
Total: 9.8 / 10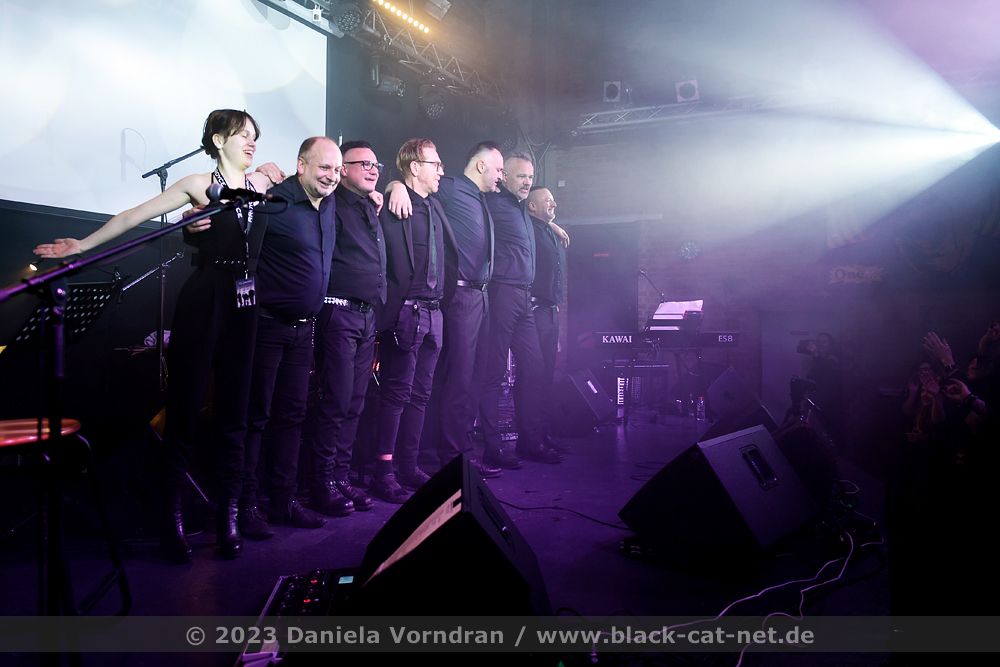 Day two: Rroyce (unleashed with special guest Wiegand, 13th January 2023)

After the exigent acoustic set yesterday, we get RROYCE tonight electric and full speed. I hope Casi's voice has recovered from yesterday and is holding out. After all, we start an hour later this night and the doors of the Kulttempel open punctually at eight p.m. The room gradually fills up and just before nine o'clock, it's pretty full with around 400 party-goers. Most of them appear on time, so as not to miss the announced special guest WIEGAND. First of all: As was the case yesterday, the light is very harmonious overall and underlines the performances of this evening's artists very well. Lighting man Frank gets the best out of the available equipment. But even today there is a small deduction in the B grade. This time there´s a bit too much fog on the stage from time to time. At least in the first rows from time to time it takes your breath and there's nothing to see on stage till the smoke is gone a bit. Now that that's settled, I can focus on the music and performances of both acts.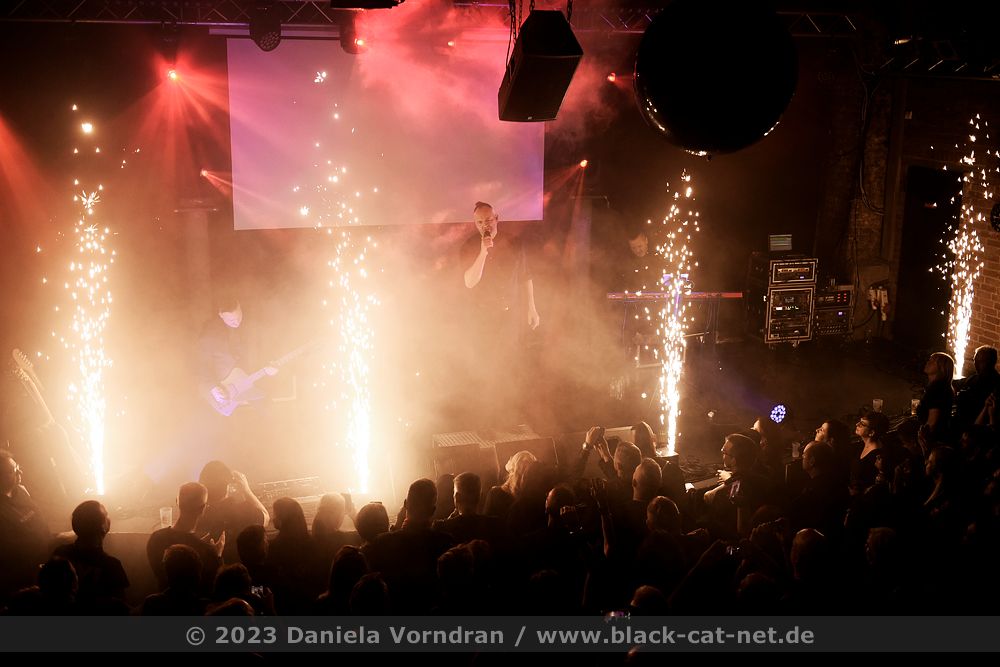 Wiegand


The Synth Pop project from Cologne is newcomer only in this constellation. Helge Wiegand (songwriting & vocals) has been writing music since he was 14 years of age. His potential was recognized by Torben Wendt (DIORAMA) after both met in 2013. So, Helge was hired to contribute keyboard work and backing vocals for DIORAMA from time to time. After a show in Leipzig 2017, Helge received the offer from Volker Lutz (T.O.Y.) to become a full band member, playing keyboard and doing backing vocals. Jens Domgörgen (live keys & management) is no stranger to the scene too. As live keyboard player, manager and second voice of X-DIVIDE (founded in 2005) and moderator of numerous scene festivals, he should be known to most of you.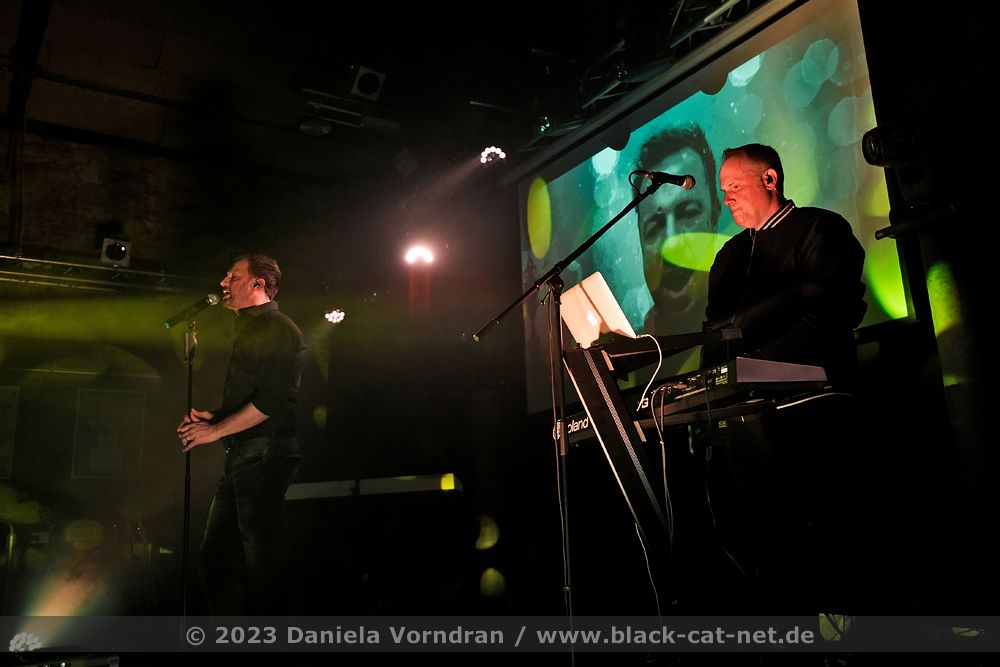 WIEGAND's debut album 'Released' was launched in December 2018. The first single 'Floating Away' with a number of renowned mixes found its way into the German Alternative Charts (DAC) in the very same month. Helge and Jens made their first and only appearance at last year's In Darkness Festival in Duisburg. Today the duo is on stage together for the second time. The performance of the two musicians seems very confident, as if they have been doing this together for ages - after all they are two old hands. www.wiegand-music.com / www.facebook.com/wgndmusic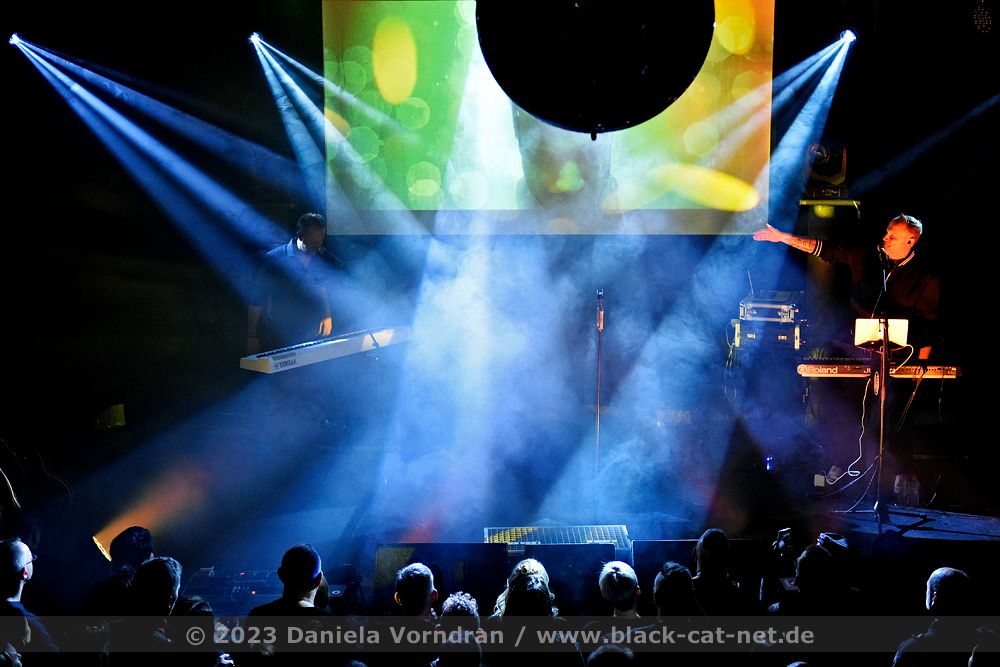 Music & Performance
On the stroke of nine the fog machine goes on and the lights go out. Jens was allowed to announce RROYCE at their first festival appearance at the Blackfield Festival 2013. Today Casi returns the favour. He introduces the newcomers and invites Helge and Jens onto the stage, who are welcomed with heavy applause during the intro. The opener 'The Room' is celebrated properly, people dance and applaud right away. Afterwards, Helge first thanks Casi for the introduction and announces the current single 'Get informed'. It's about the matter of conspiracy theories or conspiracy tales that we had to deal with during the pandemic. With 'Pied Pipers' an unreleased song from the upcoming album follows, which should be released in April. In that Helge settles accounts with live coaches, who are springing up like mushrooms on the Internet and tell you at the age of 23, how you have to shape your life and don't get burned out.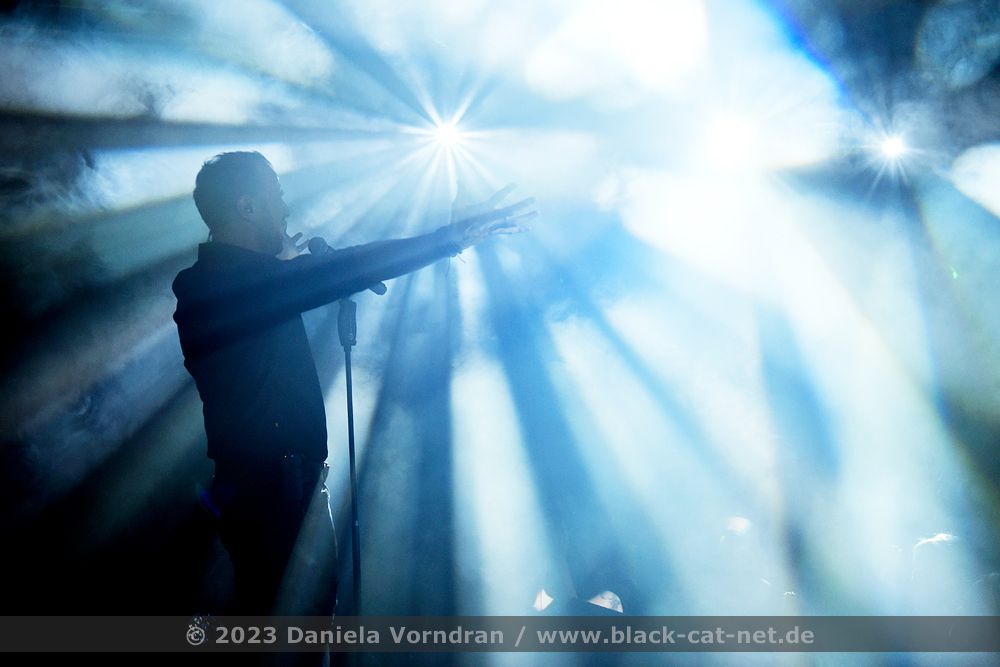 With 'Falling' and 'Wenn Der Schmerz Vergeht', WIEGAND present "something for heart and soul" and "a little tearjerker in German". This is, when I notice how well Helge's singing and Jens' second voice harmonize. It just sounds perfect and really hits the heart. As previously mentioned, it doesn't give the impression that this is only the duo's second performance. With these two quieter songs, WIEGAND "pulled us down enough" and are now stepping on the gas again. To do this, Jens takes off his jacket, which triggers a déjà vu in me. Because this is directly accompanied by shouts of "undress" from the audience, to be immediately answered with shouts of "put on". Somehow, we had something similar yesterday. Now "let's make good party and bass again" and WIEGAND really heat us up again with another new song ('Then came you'). 'Time' also gets us moving and 'Floating Away' turns things up a notch at the end.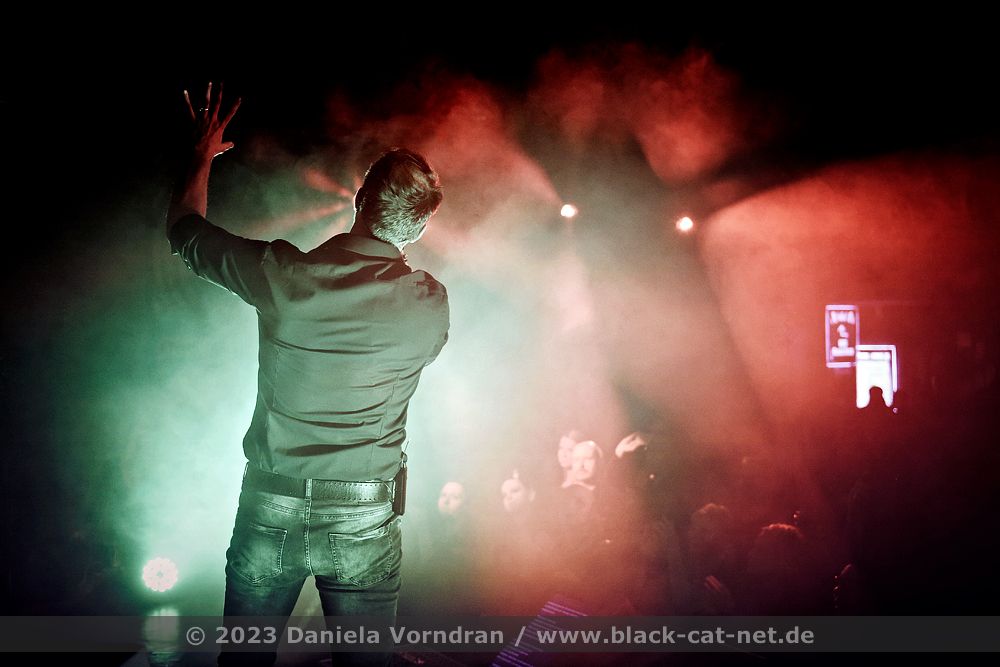 After almost 50 minutes we are not only "informed", but also excited about the upcoming album - at least I am. I also hope that we will see WIEGAND on stage more often in the near future. As Helge and Jens reveal, there will soon be an opportunity here in the Kulttempel.

Setlist

01. The Room / Intro
02. Get Informed
03. Pied Pipers
04. Falling
05. Wenn Der Schmerz Vergeht
06. Then Came You
07. Time
08. Floating Away
Rating

Music: 9
Performance: 10
Light: 9
Sound: 10
Total: 9.5 / 10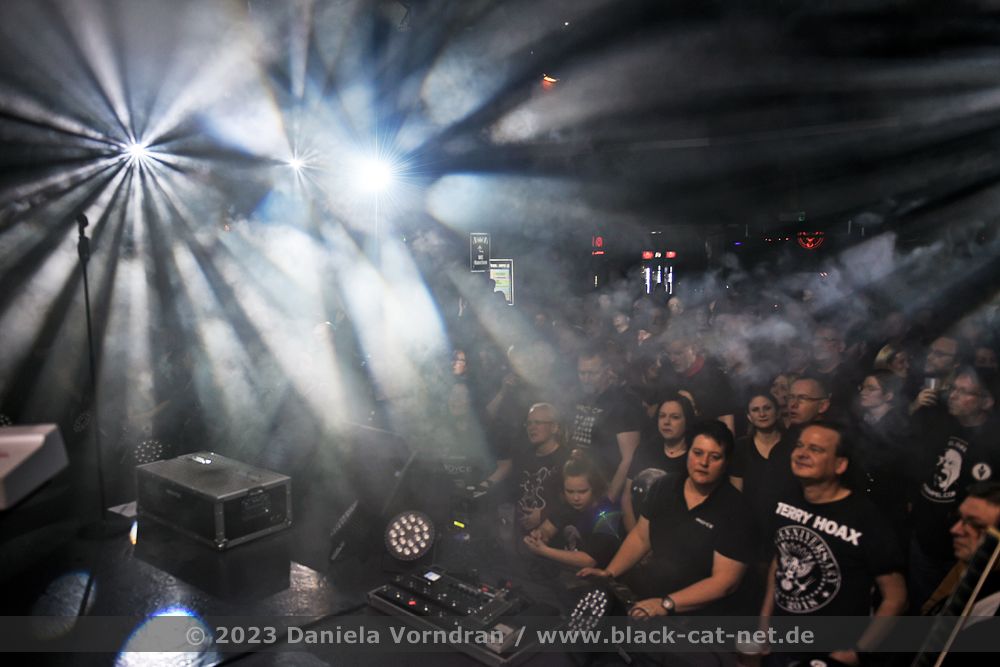 Rroyce


After a short break we start again today with the intro incl. video 'Full Speed Half Sight'. And if you have already invited an experienced presenter as a special guest, he can also announce the "main act" right away. So, Jens comes back on stage and introduces RROYCE before handing the mic over to Casi.
Music & Performance
RROYCE kick off with the classics 'Principal Of Grace', 'Parallel Worlds', 'Who Needs', 'Thank You I'm Scared' and '(It Smells Like) War'. Casi notices that we seem to have "brought a good mood with us". So have he, Kay and Al. No wonder, "it's absolutely amazing how many people are there for RROYCE today". The party guests celebrate properly right from the start. Casi may have had breakfast with a clown this morning. In any case, he seems to be in the mood for joking: "For the 35th anniversary of RROYCE, we haven't played some songs for... 28 years. And the next one that's coming, is just one of those. On July 12th, 1967 in Wuppertal... And if you find something right away that looks like a voice, then you can give it back to me straight away."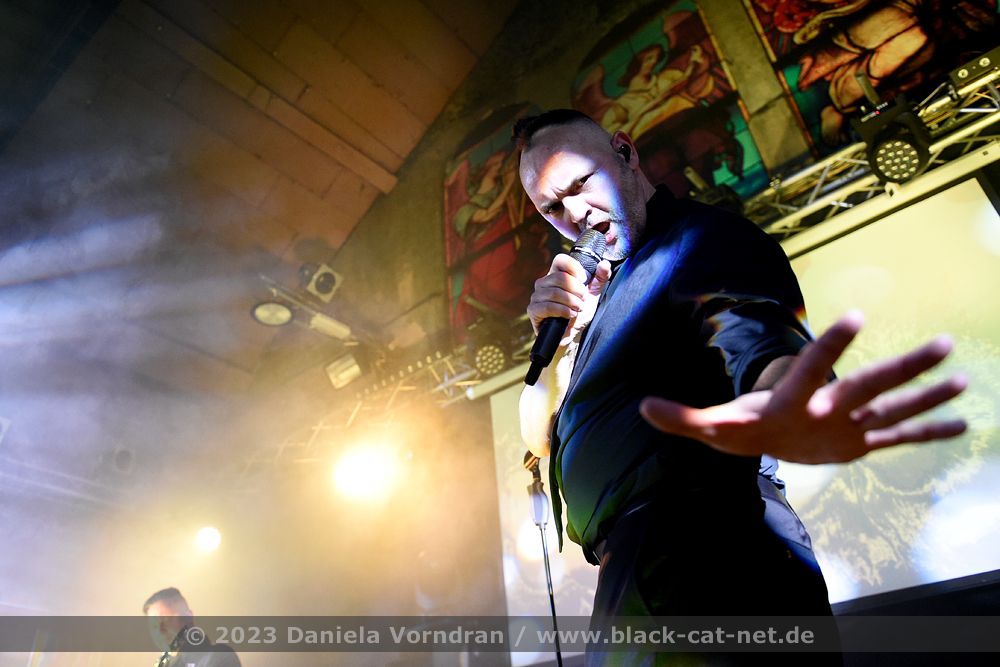 Today, 'Fat Man Dancing' is played for light man Frank Zörner but celebrated from all of us. For the next song, Casi leaves the stage and hands over the mic to Thomas "Thuni" Thun. Kay introduces Thuni, who has been with the band since their first gig in 2013. First as a fan, then as a guest and now as a team member and friend. "Thuni used to sing a song every now and then and now it's coming too". Thuni welcomes us "to the highlight of the evening" and performs 'Bohemian Life' as if he never did anything else. Then he has a surprise for the trio. Actually, only for Casi and Al. As a "brother in crime", he had to initiate Kay into his plan. There is one thing that has been smouldering between Thuni and Casi for years. It's about a specific song that Thuni claims RROYCE has played. Casi says "no, I never did and never will". Kay says "of course" and Al says, as always "pft". "The song that's coming up now is on the 'Patience' album, but it's from the early days and is on the retro block."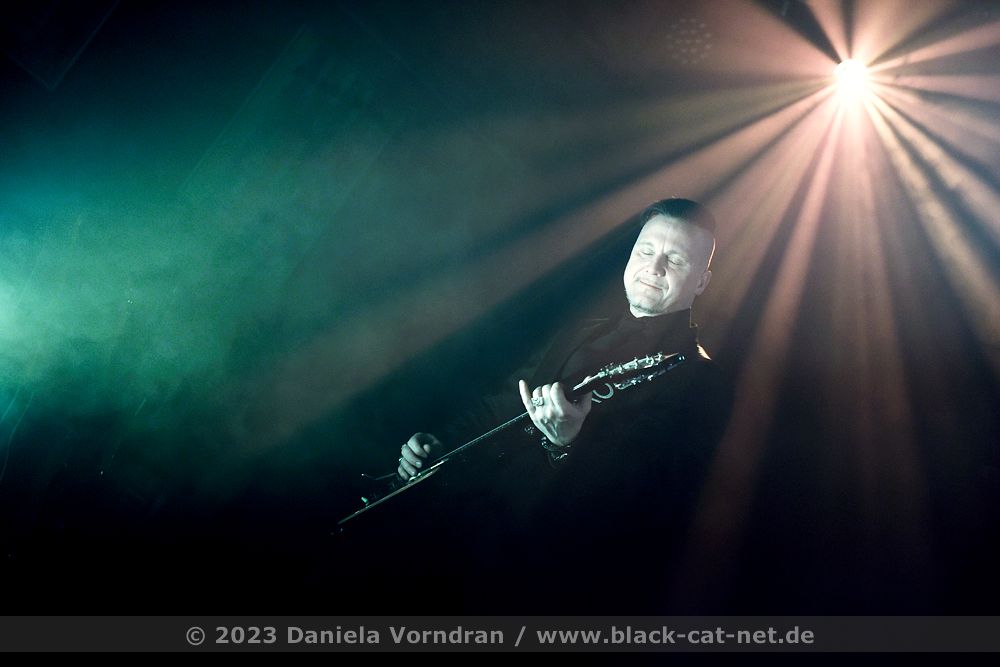 Casi still looks puzzled, but slowly he seems to see the light and as Thuni 'Life Is A Gun' announces, he flees from stage. We celebrate the song and guest singer Thuni all the more. Casi, who has now dared to go back on stage, can only shake his head. The song is kind of embarrassing for him. Kay and Al, on the other hand, celebrate together behind the keyboard and jump up and down. Both of them seem to be having fun. But I wanted to make it short... Just that much, before Thuni leaves the stage, there is also a present for Kay. Casi wishes "the single version with 8 hours 37 minutes". He's not entirely wrong about that. It is a single, albeit 'Das Lied vom Manuel' (MANUEL & PONY, 1979). There is "no concert, no tour where 'Das Lied vom Manuel' isn't even played on the journey... and sung along for half an hour".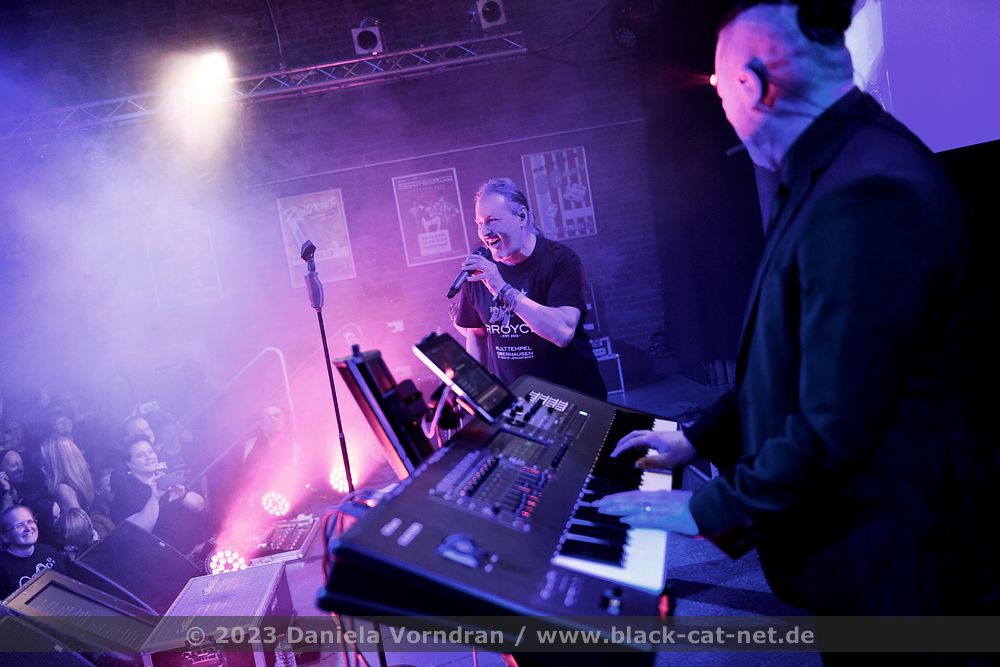 Casi is now taking over again and the actual program continues with 'One, Two, Three, Four', 'Someone Elses Life' and 'Too Little'. But then the sparklers suddenly come on, what obviously doesn't belong there. These "poor man's sparklers" actually "look really cool if you program them properly." But the trio have thought about so much in the last few days but not about "programming the shit to the point". So, the gentlemen don't know when the sparklers are going to start. We'll experience it. Next up is 'Over And Over'. But while Casi is announcing the song, he is interrupted by an impromptu 'Happy Birthday' serenade from the audience. Also today, there is another guest appearance by Anna on 'You Don't Belong Here', which once again causes heavy applause and cheers. This is followed by 'Venom' from the new album 'RROARR', 'Full Speed Half Sight', which we already heard in the intro video and 'I look nicer with you', which Casi announces with the words "We know very well we look much better with you." Incidentally, we think so too. With 'Pyroclastic Flow' it gets a little quieter and look and behold, the sparklers start at the desired time.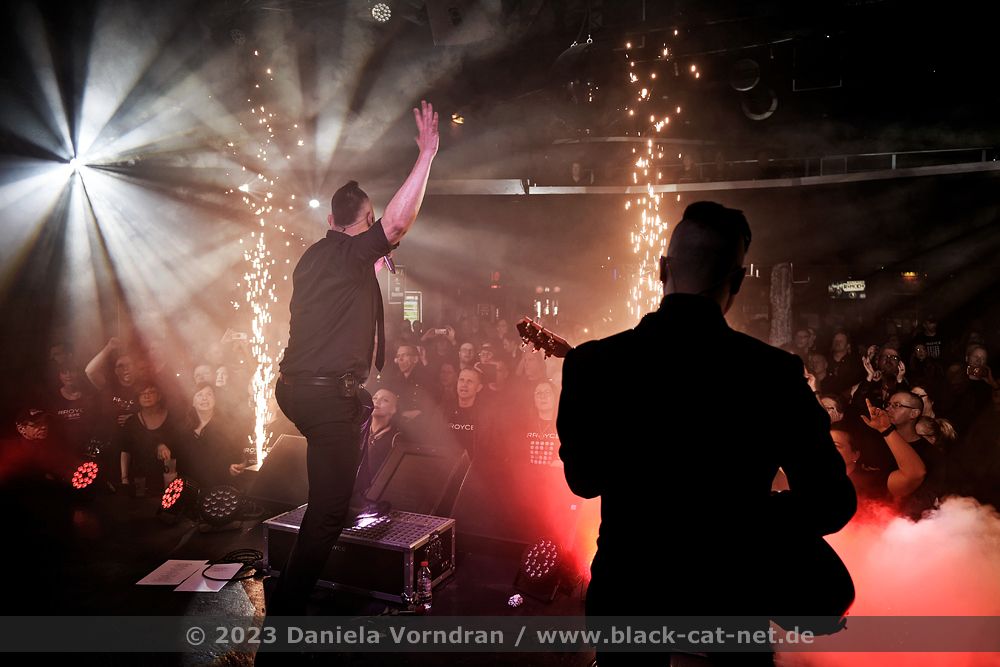 With 'Another', 'Rebuilt.Reborn' and 'Whipping Boy' three more songs follow from the current album. All are celebrated and sung along loudly. And then there is another highlight of the evening and another surprise that Thuni has arranged. To do this, he needed our support. Before the show, he distributed 200 notes to the guests with the inscription "MÄÄÄÄÄÄÄÄH", which we should now hold up during 'Running With The Sheep'. When Casi announces the song, the trio has no idea what they're about to see. "We're going to play the next song now; it has something to do with running." Casi just manages the first line of text "keep on running with the sheep" and then has to stop laughing when he sees the notes in the audience. The action throws the poor man so upset that he collapses to his knees laughing and is initially unable to continue singing.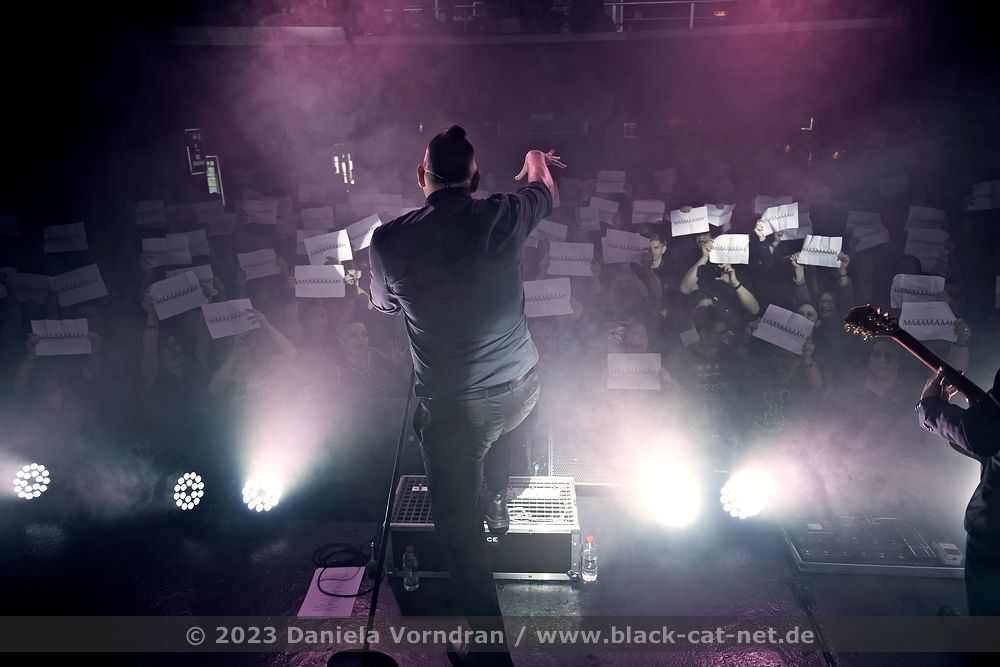 He builds the "MÄÄÄÄÄÄÄÄH" right into the lyrics and about half of the song Casi has recovered. We regularly accompany the refrain with a "MÄÄÄÄÄÄÄÄH". Then Casi leaves the stage and joins us in the audience. "You know what's coming now? ... Now it's getting embarrassing..." For 'Run Run Run, we all take a step back. And then there's the aforementioned run-run-run dance, which isn't "Gothic" at all. And then comes the "last" song of the set, 'Social Media Fake Friend'. Casi seems to be a bit exhausted and his voice doesn't really want to participate anymore. Apart from that, he has "MÄÄÄÄÄÄÄH" on his mind all the time and "has to get out". But it doesn't take long and Casi comes back, followed by Al and Kay. And he´s "in the mood to go a little further".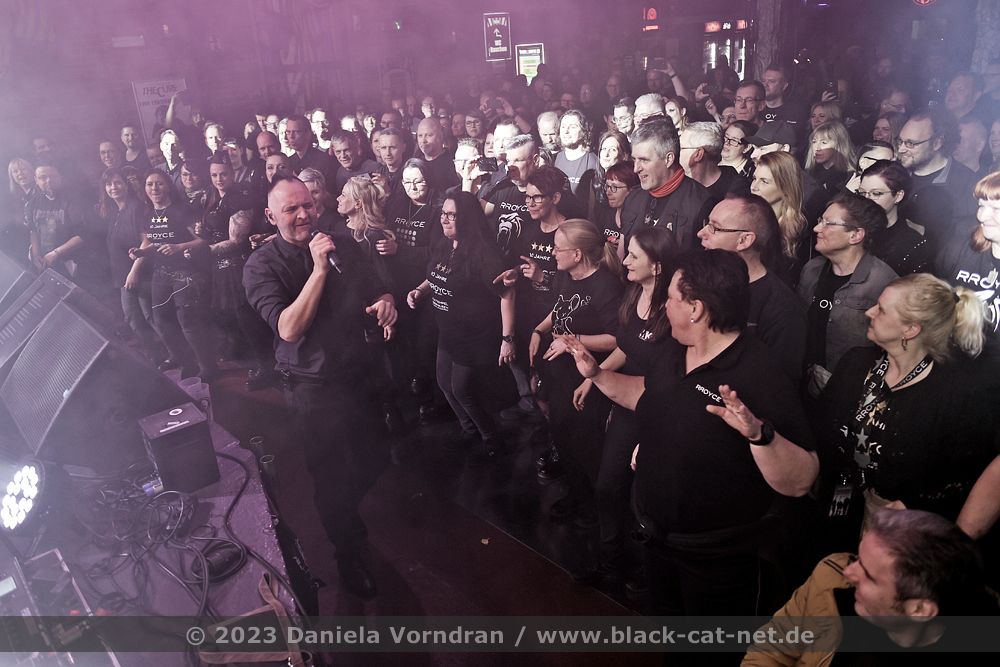 The encore starts with 'Paranoiac SL' and the cult temple literally explodes. Then comes 'My Dearest Enemy' and before we continue with 'Malacoda', Casi asks us to stay a little longer after the show and continue partying together. The gentlemen then meet up for a chat or two with us at the merch and there is also Disco with Oren Amram, who has travelled from Israel. RROYCE say goodbye to the stage well after half past twelve with 'I Like It When You Lie', but not without a "show off photo". For me there's a last surprise at the after-show-party: goths dancing to VNV NATION Disco-Fox. Truly a picture for the gods!
Setlist

01. Principal Of Grace
02. Parallel Worlds
03. Who Needs
04.Thank You I'm Scared
05. (It Smells Like) War
06. Fat Man Dancing
07. Bohemian Life
08. Life Is A Gun
09. One, Two, Three, Four
10. Someone Else's Life
11. Too Little
12. Over And Over
13. You Don't Belong Here
14. Venom
15. Full Speed Half Sight
16. I look Nicer With You
17. Pyroclasic Flow
18. Another
19. Rebuilt.Reborn
20. Whipping Boy
21. Running With The Sheep
22. Run Run Run
23. Social Media Fake Friend
---
24. Paranoiac SL
25. My Dearest Enemy
26. Malacoda
27. I Like It When You Lie
Rating

Music: 10
Performance: 10
Light: 9
Sound: 10
Total: 9.8 / 10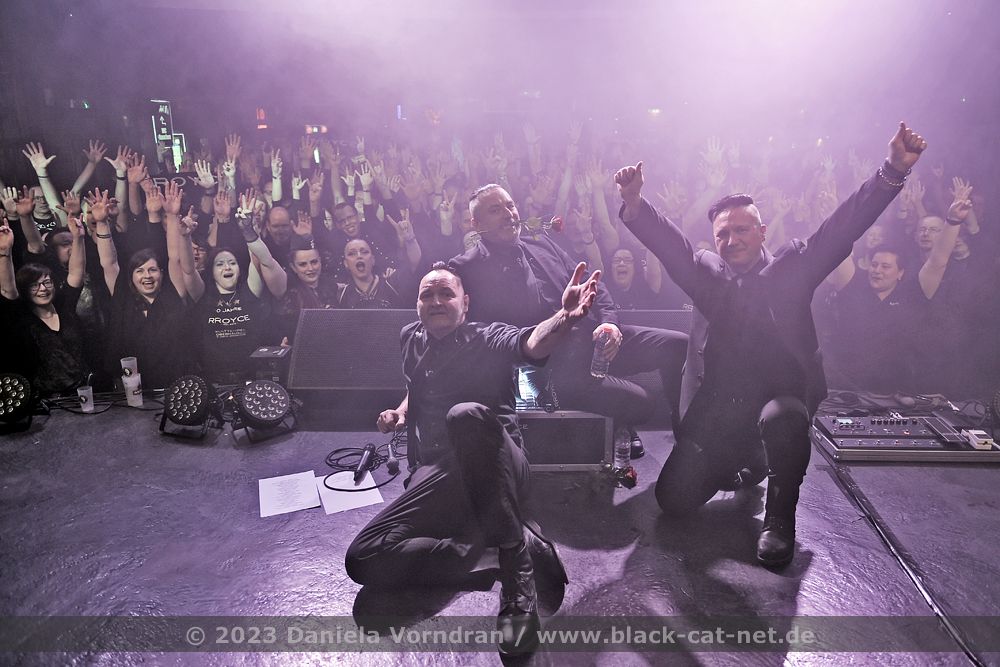 All pictures by Daniela Vorndran (
http://www.vorndranphotography.com
/
http://www.facebook.com/blackcatnet
)