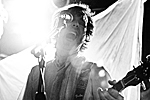 Matrix, Bochum, Germany
3rd November 2007
Pink Turns Blue


This autumn Saturday night, the Matrix in Bochum had a very special concert to offer to old-established fans and new ones: the well-known Indie/Dark Wave formation PINK TURNS BLUE, started in the mid-80ies, was going to appear. The huge Matrix was nearly empty when we arrived, but nevertheless the place in front of the stage was pretty crowded. You could see people of all kinds and ages, ranging from old-school Goths to metal heads and rather "normal" audience. The atmosphere was quite familiar, and it should remain like this during the whole evening.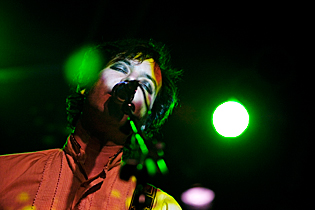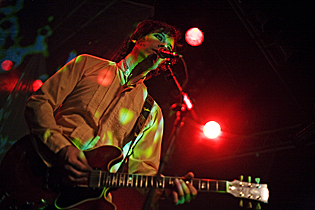 The German band PINK TURNS BLUE has been founded in Köln in the year 1985 as a duo consisting of Thomas Elbern (voc/guitars; also ESCAPE WITH ROMEO)) and Mic Jogwer (voc/bass/keys), supported by some electronics. The band chose their name after the HÜSKER DÜ song 'Pink Turns to Blue'. In 1987, Elbern left the group due to missing success and personal problems with Jogwer; however, the debut 'If Two Worlds Kiss' appeared in the same year via Fun Factory. The following years brought several line-up changes, the release of more albums and an orientation towards the Manchester sound, coming along with the band moving to London. In 1995 the formation spilt up due to musical disorientation. After an appearance at the 2003 Wave Gotik Treffen in Leipzig, Germany, and given the enthusiastic fan reaction, Jogwer and some of his former band mates decided to reunite. This year, their newest album 'Ghost' was released in May.
http://www.pinkturnsblue.de/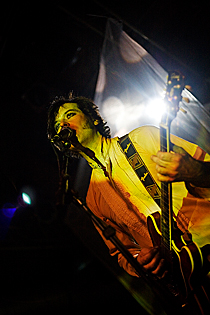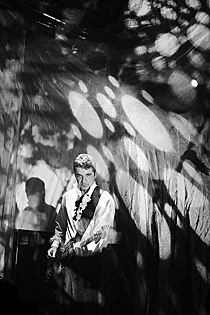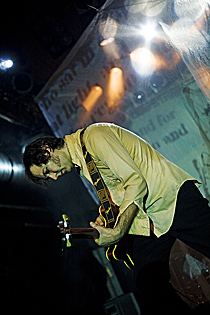 Music

The band's sound can be best described as Indie Rock with strong Dark Wave influences. Their songs are catchy and somehow appear simple, but always without being shallow. One gets the impression, that PINK TURNS BLUE try to set great value on the lyrics, musically supporting them and at the same time creating a relaxed atmosphere, sometimes melancholic, sometimes a little disturbing or sad. Two guitars, a bass and drums provided a full sound on stage, and Brigid Anderson delivered the electronic touch o her keyboard. I very much enjoyed this concert as the songs often reminded me of past days, but nevertheless sounded fresh and could even animate you to dance along.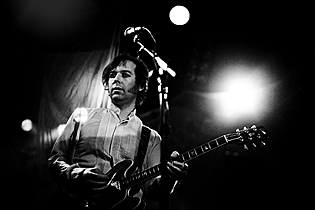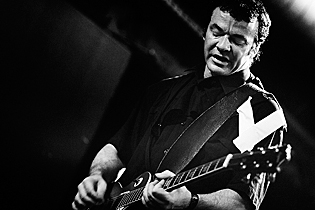 Performance

The Matrix provided a small and almost intimate location for this show. Apparently, many old-established fans had come to see the band, greeting them with frenetic applause. PINK TURNS BLUE had a very nice stage dressing: transparent drapery had been hung up and the drummer and the bassist remained behind them during the whole set. In addition, they had a fantastic light show, casting wonderful, bright colours and strange patterns over the stage and the cloths, creating an almost dream-like atmosphere. The fans clung to Jogwer's lips that sometimes moodily, and then passionately, performed the songs. After two encores, PINK TURNS BLUE left the stage and a satisfied audience.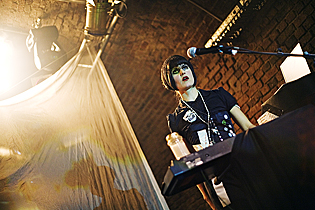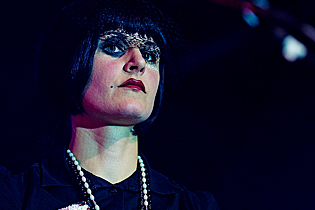 Setlist
01. Can't Be Love
02. The Lost Son
03. Walk Away
04. True Love
05. I Coldly Stare Out
06. Good Times
07. Walking On Both Sides
08. Can Love Survive
09. Underground
10. Dynamite
11. Missing You
12. Last Day on Earth
13. Break It
14. Your Master Is Calling
15. Seven Years
16. Ghosts
17. Wanderers
18. Biding Our Time
19. Touch the Skies
20. Now's the Time
---
21. Michelle
---
22. If Two Worlds Kiss
Rating

Music: 9
Performance: 7
Sound: 8
Light: 8
Total: 8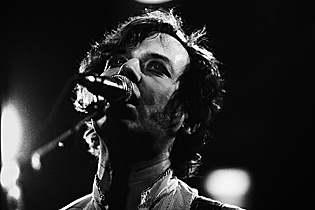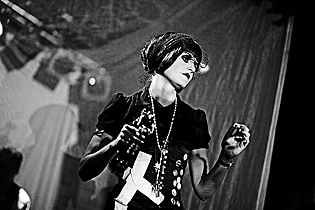 All pictures by Ruth Gräbeldinger
{jos_sb_discuss:17}