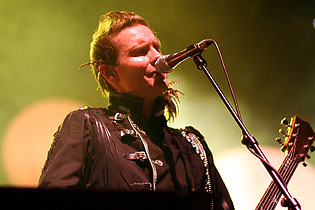 Palladium, Cologne, Germany
11th August 2008
Sigur Rós, Ólafur Arnalds
On 20th June 2008, the Icelandic band SIGUR RÓS released their fifth album 'Með suð í eyrum við spilum endalaust' meaning 'With a buzz in our ears we play endlessly' in English. It was produced by the band and co-produced by production genius Flood and recorded at the Sear Sound Studios in New York, the Assault, Battery- and Abbey Road Studios in London, in a church, the band's own studio in Reykjavik and in Havana, Cuba. While the last SIGUR RÓS release, the critically acclaimed film chronicle of last year's Island tour 'Helma' showed the and on confided territory, the new album marks the first recording of the band outside of island. It's also the first album in the band's career on which the voice of singer Jon Thor Birgisson can be heard in English on one song. The rest is as usual sung in Icelandic. Already since June the band is on tour to present their new album live to the people and on 11th August, they were guests at Cologne's Palladium to enchant the audience with the sounds of 'Með suð í eyrum við spilum endalaust'.
Ólafur Arnalds
SIGUR RÓS were supported by ÓLAFUR ARNALDS, a youngster - just 21 years - also from Iceland. The debut album 'Eulogy for Evolution' takes the listener on a journey, representing different periods in life, from birth to death. The follow-up EP 'Variations of Static' has been released in May 2008 and comes with a free digital copy of the 'Erased Tapes Collection I' compilation to celebrate their 1st anniversary. After the tour with SIGUR RÓS, ÓLAFUR will return to Iceland to record the second full-length album.
http://www.myspace.com/olofarnalds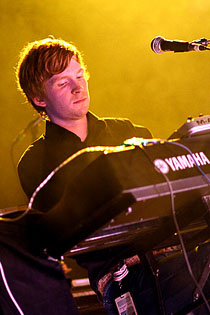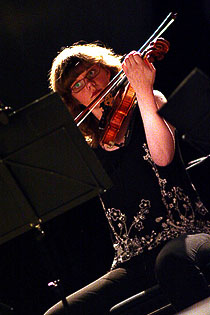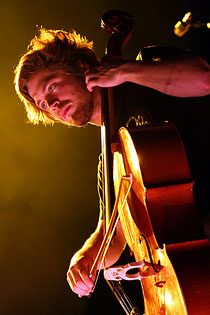 Music & Performance

I haven't heard from the 21 year old youngster before. But thanks to myspace I had the chance to get informed at home before the concert and impressed by the music I heard there I was looking forward the show even more. Right in time at eight p.m. the lights went down and Ólafur welcomed the audience with the words "I have to disappoint you but I'm not SIGUR RÓS" what was rewarded with several laughs from the audience and what made him more likeable in my eyes. What followed now was not for laughing because the music of this you man was anything else than happy. Gentle piano sounds supported by a string quartet plucking your heartstrings were definitely the best musical background to commit suicide. Sporadically, also electronic elements were mixed into the songs being first a bit confusing but then were blended in harmonically and very fitting at the end.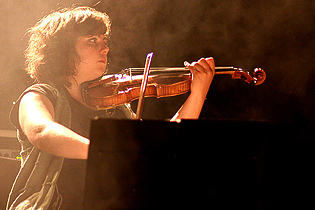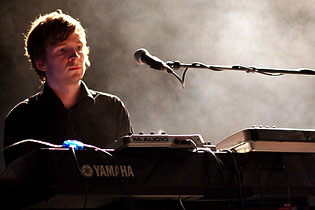 It was a pity that the people around me preferred spending the time talking instead of listening. That troubled the joy in the show a little bit. Anyway, ÓLAFUR ARNALDS earned lots of applause for his performance and once more I realised that the Indie audience is much more enthusiastic as the Gothic one. Mr. Arnalds introduced his song 'Himininn er ađ hrynja' in Icelandic in a speed no one could follow anymore. And he had to laugh about this himself. Furthermore he stated that he knows very well that people did not come to see him on stage. This might be overall right but a bit more self-confidence would suit him better. After much too short 30 minutes of "suicide ballads" I decided to keep an eye on him and it is sure that in future on or another of his albums will find the way into my CD rack.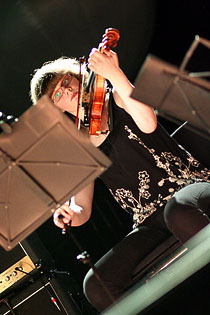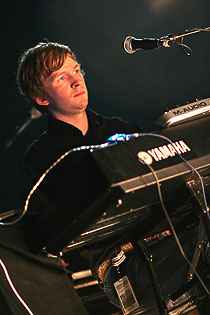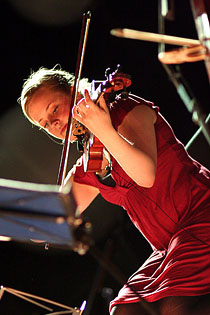 Sigur Rós

The band from Iceland was founded in 1994 and released the first, critically highly acclaimed album 'Von' three years later. Several more albums followed as well as a documentary DVD before the current album 'Með suð í eyrum við spilum endalaust' hit the stores in summer 2008. SIGUR RÓS are Jón Þór "Jónsi" Birgisson (vocals, guitars), Kjartan "Kjarri" Sveinsson (keyboards), Orri Páll Dýrason (drums) and Georg "Goggi" Holm (bass).
http://sigur-ros.co.uk/
/
http://www.sigurros.com/
/
http://www.myspace.com/sigurros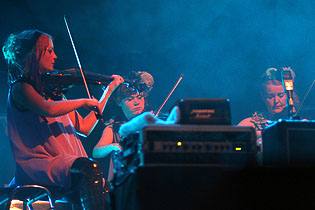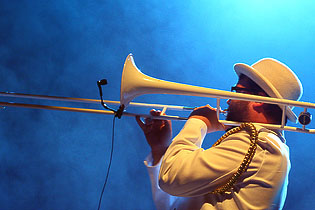 Music & Performance

After a short break the main act SIGUR RÓS started just in time on nine p.m. In the meantime, about 3,000 people gathered in front of the stage not willing to miss that event. SIGUR RÓS, that's namely Jón þór Birgisson (speak: yeown thor birgisson), Kjartan Sveinsson (speak: kyartan sveyn-son), Georg Hólm (speak: ge-OR-CH) and Orri Páll Dýrason (speak: orri pow-ll dee-rah-son). Who's got such strange names also makes extraordinary music. The show started with ' 'Svefn-G-Englar' from the 1999 album ' 'Ágætis Byrjun' when already big white balls were introduced which was hovering above the stage for a while now. They were illuminated from the inside and were glowing sometimes brighter, sometimes lower. More of these white balls were not visible for me because I was standing more in the back of the hall and of course all tall people of the world were standing in front of me. But maybe I am just smaller than the average.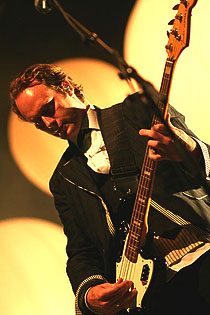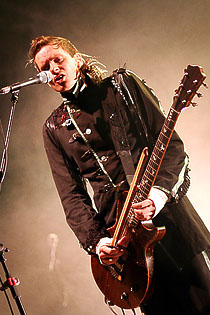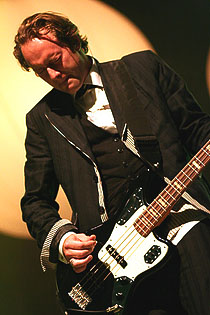 On it went with 'Glosoli' from the year 2005 before we got the first surprises already with song number three. Suddenly, a brass band was marching across the stage welcomed enthusiastically by the audience. Then, 'Við spilum endalaust' followed, a track from the current album 'Með suð í eyrum við spilum endalaust' what means basically 'with a buzz in our ears we play endless'. In the meantime I also ha a buzz in my ears because the high voice of Jón was sticking in my ear canal. Very interesting was him watching treating the guitar with a fiddlestick. Furthermore there was the string quartet on board. In-between there was a confetti rain by which the lady in front of me was drooling over. With 'Festival', now a song was played you could easily pronounce different to all the other songs presented during the evening. It went on with two more new songs, 'Fljótavík' and 'Inní mér syngur vitleysingur', before with 'Hafssól' from the first album 'Von' a song followed where Georg maltreated his bass with a drum stick. Because this song had changed a lot over the years, it was again released in 2005 as a B-side of the 'Hoppípolla'. As last song of the main set, the band chose 'Gobbeldigook' when the audience was asked to clap along (while the artists on stage did the same). The attendees happily followed this request and some more confetti was raining down and the stage - which was only sparely illuminated so far - was glowing in all colours of the rain bow. Here an there people we dancing. This was a dignified finish of the evening.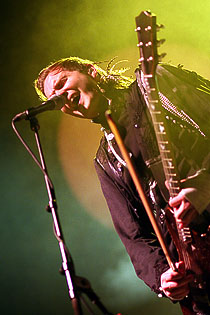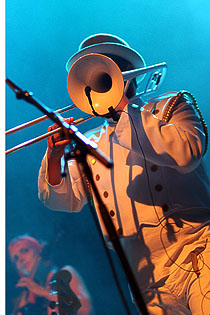 Under thundering applause the band left the stage before the band played 'Popplagið' and the only English tongued song 'All right' as encore. Why did I write so little about the music itself? Because the music of SIGUR RÓS is hard to describe. I only can recommend to anyone out there to listen to their songs and make an own opinion. Definitely this show in Cologne was an absolutely intense experience - visually and acoustically - and we could start our way home happy about the perfect evening.
Setlist

01. Svefn-G-Englar
02. Glosoli
03. Sé Lest
04. Ny Batteri
05. Við spilum endalaust
06. Hoppípolla/ Með Blóðnasir
07. Festival
08. Fljótavík
09. Sæglópur
10. Inní mér syngur vitleysingur
11. Hafssól
12. Gobbeldigook
---
13. Popplagið
---
14. All Alright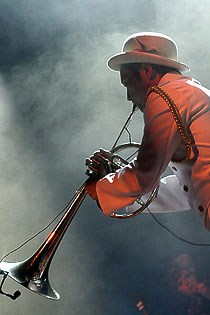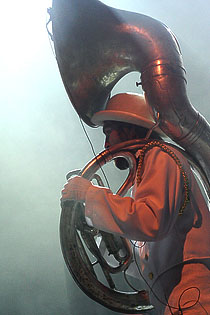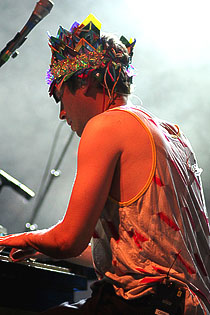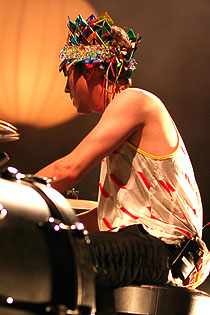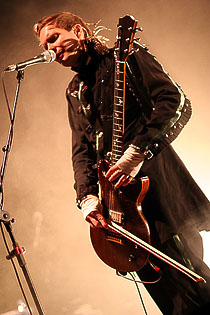 All pictures by Karsten Thurau (
http://musik.terrorverlag.de/
); Written by Terrorverlag, translation and intro by Daniela Vorndran
{jos_sb_discuss:17}