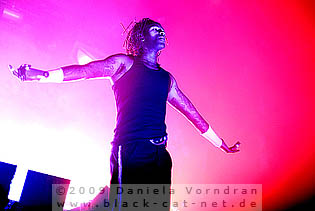 E-Werk, Cologne, Germany
3rd March 2009
The Prodigy, DJ Tanith


When I was arriving at the E-Werk in Cologne, already a long queue of people stood in front of the entrance waiting to get in and that was just a little part of the people that would celebrate a party of a gigantic scale together with the band. But first it was DJ Tanith's turn.



DJ Tanith

German DJ TANITH is considered one of the founders of the modern Techno culture. Ever since 1991 he's either released own discs mainly on vinyl and contributed to many compilations. His first CD release was 'Bronco' (1999) followed by his debut album 'Still' that same year.
http://www.tanith.org/
/
http://www.myspace.com/djtanith
Music & Performance

Frankly, this was for me the most boring support act I've ever seen and something in the faces of many people that evening told me I was not alone with that opinion. DJ TANITH played one of those endless Mixes with beats following other beats and so on incorporating a variety of samples and stuff as well. Indeed, there were some people dancing to it but the majority was just waiting for the main act. Sorry Mr. Tanith, but that was absolutely not up my alley and don't come up to my expectations for a support act. Just my opinion.
Rating

Music: 1
Performance: 0
Sound: 4
Light: 2
Total: 1 / 10
The Prodigy

With such songs like 'Firestarter' or the insane 'Breathe', this British group around Liam Howlett has left indestructible marks in music history and albums like 'Music for the Jilted Generation' (1994) and 'The Fat of the Land' (1997) - which is in the Guinness book of Record as the fastest-selling album in the respective year btw - are considered milestones nowadays. In 1997 and due to extreme controversies revolving around the video clip to 'Smack My Bitch Up', Liam Howlett announced there would be no fourth studio album anymore and in the following 5 years there wasn't any musical life sign of THE PRODIGY until 2002 when the band appeared on many European Festivals and around that time presented a new song called 'Baby's Got A Temper'. The forth album eventually followed in 2004 with 'Always Outnumbered, Never Outgunned' which was torn apart by critics. The new opus 'Invaders Must Die' just came out on 20th February 2009. THE PRODIGY live is Liam Howlett (keys, synths), Keith Flint (vocals), Maxim Reality (vocals / shouts), Rob Holliday (live guitar) and Leo Crabtree (live drums).
http://www.theprodigy.com/
/
http://www.myspace.com/theprodigy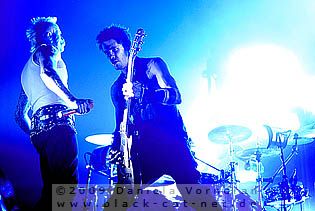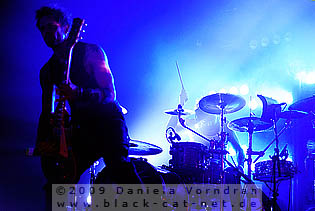 Music & Performance

It really was about time for the British fury to enter the stage, it really was. The last song DJ TANITH played luckily turned out as intro for THE PRODIGY. Liam Howlett took place behind his electronic gadgets and we had also live drums and guitars this evening. But of course everybody was looking for the infernal duo Keith Flint and Maxim Reality. And after first Keith and as the last one the cheers were indescribable but nothing compared to what happened when 'World's on Fire' with brutal break beats hyped up the audience and also Maxim and Keith constantly moving up and down the stage increased the hype even more to point the crowd went mental. After 'Their Law' kicked some balls it was time for one of the most famous songs of this group - 'Breathe'. And it came down on us with intensity only a live experience can create. The people shouted together with Maxim "Psychosomatic Addict Insane", jumped and pogued that it must have been a pleasure for the band to see that from up there.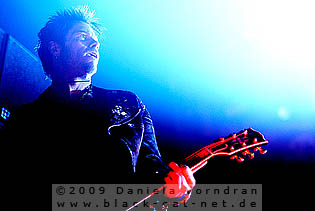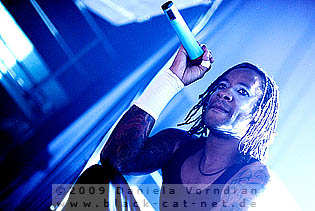 I must say I wasn't freaking out when hearing the new single track 'Omen' on Myspace but live it's a frickin' sonic beast you can't defend yourself against. The strongly hip hop influenced 'Poison' and especially the driving 'Warrior's Dance' with its pitched Techno reminiscent vocal intermezzos kicked the mood into heights you wouldn't believe. One of my all-time favourites from THE PRODIGY was next: 'Firestarter'. So many energy streams reaching the last corners of the venue, incredible! 'Comanche' sent out insane bass waves intermixed with Native American chants before the lads went off stage already to be shouted and screamed back soon afterwards for a quad of combined power including the title track of the all new album 'Invaders Must Die' and most important 'Smack my Bitch Up' when the hall once again was trembling with the bass kicks. It was a lot of bass that night anyway. But before I forget that completely; I truly loved the light show, this flickering inferno the stage was drenched in. Was so great to watch but a nightmare for every photographer that evening!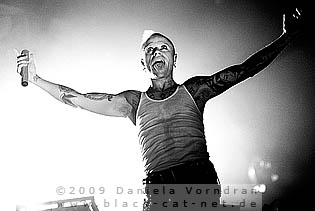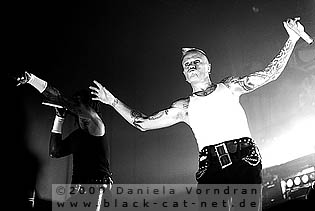 Actually needless to say that I enjoyed the show to the fullest! THE PRODIGY still are a force on stage. If anyone had doubts before that concert, they've been swept away in Cologne definitely.
Setlist

01. Intro
02. World's On Fire
03. Their Law
04. Breathe + Breathe [Dubstep]
05. Omen
06. Poison
07. Warrior's Dance
08. Firestarter
09. Run with the Wolves
10. Voodoo People ['05 Version]
11. The Big Gun Down / Comanche
---
12. Invaders Must Die ['09 Remix]
13. Diesel Power
14. Smack My Bitch Up
---
15. Take Me to the Hospital
Rating

Music: 9
Performance: 9
Sound: 8
Light: 9
Total: 9 / 10