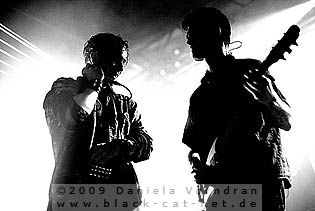 Pulp, Duisburg, Germany
26th March 2009
Project Pitchfork, Deviant UK


Rain and wind are a fatal combination; a combination that killed my umbrella as soon as I opened it after getting out of the cable car and I felt relieved when entering the little lobby of the Pulp, where electro veterans PROJECT PITCHFORK would appear later. Support was the British act DEVIANT UK.



Deviant UK

DEVIANT UK, formed in 2004, is the one man project of Jay Smith who is joined for live performances by BJ Johnson on live keys and maybe other musicians as well. The show at NCN2 was presented by the mentioned duo. The debut album 'Barbed Wire Star' was released in September 2006. Even though the band is quite new, they already had the chance to support VNV NATION during their Dublin show in 2007. In the meantime some more shows have been played and Jay collaborated with Peter Spilles on the IMATEM project and with ROTERSAND on the track 'Mission'. New material is on its way too as the new album 'Very Bad Things' is scheduled for release in 2009.
http://www.myspace.com/deviantuk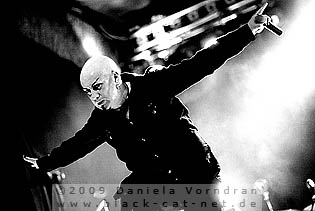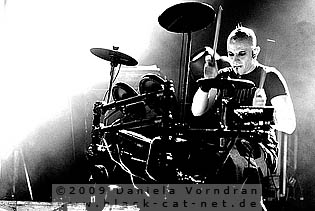 Music & Performance

When we were heading towards the hall where already a good number of people gathered, DEVIANT UK were a few minutes into their set already and pummelling beats flooded every inch of it with their incredible bass echoes. Unbearable without earplugs I may add. Well, as the main act of the evening I have never seen DEVIANT UK on stage before but I read quite a few things "Ego the size of a planet" for instance. What I can say is that Jay Smith was visibly enjoying himself on stage making grimaces, toying around with the microphone stand or posing for photographers while performing as well songs from the current album such as club breakers as 'Access Denied' or 'Raptured Saints' and even a couple of new songs like 'Bad Influence' from the upcoming new album 'Very Bad Things'. Unfortunately he couldn't play his cover version of 'Timekiller' for obvious reasons and the live drummer experienced some "minor" complications with his drum kit what couldn't keep him from playing while stage technicians were fixing the problem. Besides that it was a very entertaining show with lots of passion.
Rating

Music: 7
Performance: 8
Sound: 6
Light: 6
Total: 7 / 10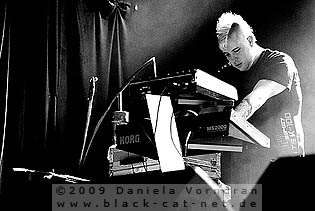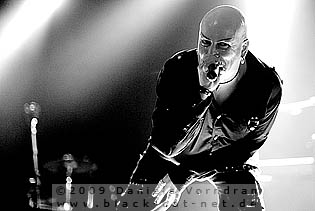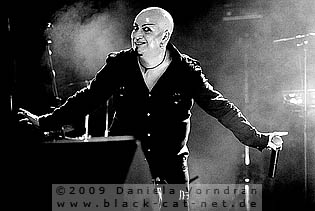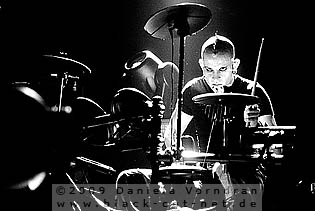 Project Pitchfork

This band is of the leading ones in the alternative electronic music, initially consisting of Peter Spilles and Dirk Scheuber. Later also Jürgen Jansen and live members Achim Färber and Carsten Klatte joined the line-up. The formation wasn't just known for critically-acclaimed albums, successful tours and appearances on every conceivable festival but also for some prominent support acts like RAMMSTEIN or COVENANT. After some very successful years at the beginning of this millennium, the popularity decreased with the more introverted albums 'Inferno' and 'Kaskade' but nothing has changed in East Germany and in Russia, where a tribute to Pitchfork sampler has been created in 2005. In 2009 they eventually came back with a new full-length, titled 'Dream, Tiresias!'
http://www.pitchfork.de/
/
http://www.myspace.com/projectpitchfork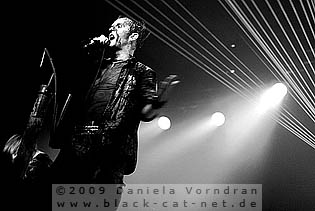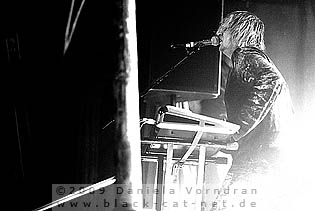 Music & Performance

In the time during the rebuilding break the venue got clearly fuller. Probably with all the people who spent their time differently while DEVIANT UK were playing their set. But now it was time for PROJECT PITCHFORK! The stage all covered in blue light, the band took over the stage one by on with Peter Spilles as the last man while the introduction to the new record 'Dream, Tiresias!' sounded through the venue, subsequently migrating into 'If I Could' even more powerful with Achim Färber and his dynamic live drum accents and the guitar chords of Carsten Klatte who was highly concentrated and a little stiff but unbent as the show went on. With the following three songs 'God Wrote', 'Requiem' and 'Carnival' we went a few years back in time causing excitement in the crowd all over the place. Encouragements to dance were absolutely unnecessary. I saw dancing people around me all the time and many exercising a rather little urge to move. But Peter Spilles excelled even the heaviest movers here and additionally put a passion into his performance that deserves respect.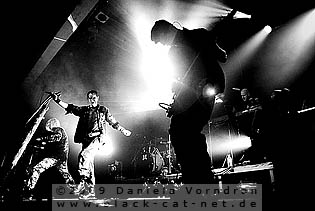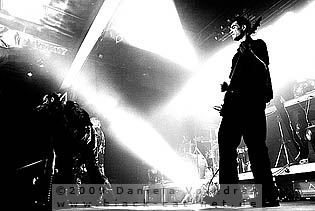 It was this kind of visualizing performance I'm much of a fan of that brought the lyrics contained in 'Nasty Habit', 'Human Crossing' or 'Conjure' to life on stage. But also Dirk Scheuber was constantly rocking on his keys and he and Spilles interacted quite a lot with each other for instance for a little humoristic intermezzo before 'Carrion' hit the spot. 'Alpha Omega' came 'round the corner with a kittenish drum solo for which Achim gained enthusiastic reactions from the audience. 'Lam-'bras' and 'Existence' ended the set but was that already it? Of course not! After heavy and long clapping they came back once more playing four more songs amongst them 'Darkness' and the furious 'Timekilller', an absolute anthem of the band. A worthy closing of the band was delivered with the rocking 'Rescue' for which Peter brought about 20 people from the audience on stage for a big on-stage party on the last song of the evening. I may not be able to compare this performance to other PROJECT PITCHFORK shows for the reasons I stated above but this is one was great and only left big smiles in the crowd. [Comment of the photographer: it was much better as all the latest shows of the band I had seen].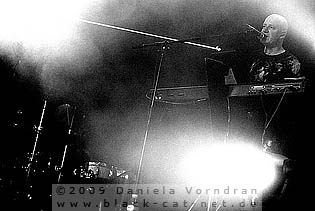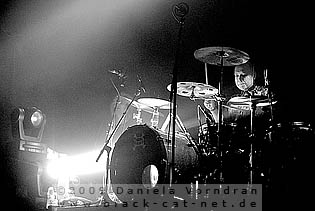 Setlist

01. Intro
02. If I Could
03. God Wrote
04. Requiem
05. Carnival
06. Nasty Habit
07. Revolution Now
08. Human Crossing
09. Conjure
10. Carrion
11. Mine
12. Feel!
13. Alpha Omega
14. Drone State
15. K.N.K.A
16. En Garde
17. Lam-'bras
18. Existence
----
19. Darkness
20. Souls
21. Timekiller
22. Rescue me
Rating

Music: 8
Performance: 8
Sound: 7
Light: 7
Total: 7.4 / 10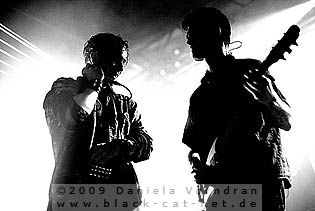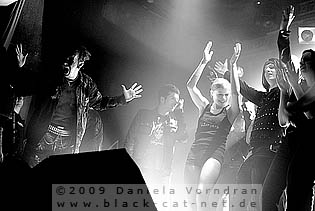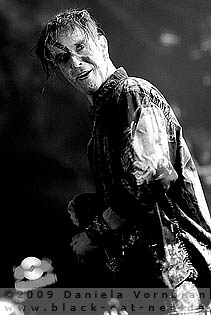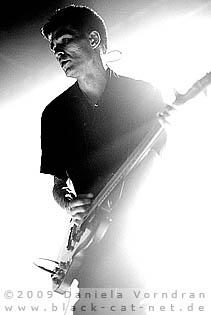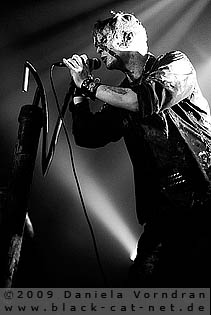 All pictures by Daniela Vorndran (
http://www.vorndranphotography.com/
/
http://www.black-cat-net.de/
/
www.myspace.com/vorndranphotography
)
{jos_sb_discuss:17}