Colos-Saal, Aschaffenburg, Germany
19th October 2009
Peter Murphy, Lettie

When former BAUHAUS vocalist and solo artist PETER MURPHY announced to tour European clubs within the scope of his recent "Secret Cover Tour" in this year's autumn, I got excited about and counted down the weeks until the Aschaffenburg concert should take place. On 19th October 2009, that day had finally come and I went to my favourite music club Colos-Saal again. Just in time, I arrived at the front doors and entered the hall which was pretty empty at that moment. A few attendees, most of them obviously thirty-somethings who were dressed in black, spent their time sitting on the bar stools and having some drinks. Since I wanted to take photos, I preferred a standing room in the first row. It was about 8 pm when supporting act LETTIE came on stage.
Lettie


The London-based singer, songwriter and multi-instrumentalist (piano, guitar, flute, harmonica, zither, keyboards) LETTIE committed herself to minimalist and at the same time varied soundscapes. According to her website, LETTIE is obsessed with films that visually inspire her music which can be regarded as a combination of vintage analogue electronica with acoustic folk. Signed at Outerworld Records, she released her debut album `Age of Solo´ last year which was followed up by its acoustic counterpart `Everyman´. She is presently recording her third album with MIKE MASON (SWALLOW).
http://www.myspace.com/lettiemusic
/
http://www.lettiemusic.com/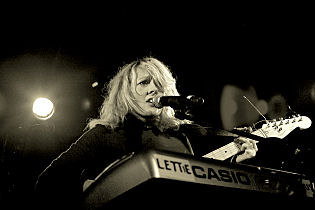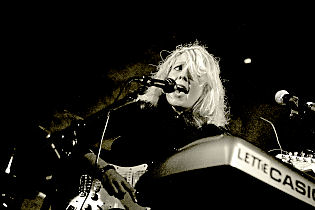 Music & Performance

There was only a small gathering of people in front of the plain stage when the young blonde musician left the merchandise stand to start her performance. Everyone seemed to be curious about what would happen next and I guess that not too many listeners had known LETTIE´s music before. Standing behind a keyboard, she instantly captivated her audience due to her fragile and sweet voice and an expressive one-woman-show which perfectly fitted to the experimental pop melodies she was creating on her own. Later on, she was joined by her producer MIKE MASON. Besides playing several instruments and providing the vocals, LETTIE also presented an inventive show. For example, she was putting on her hood and sunglasses when she intonated the song `Criminal´. Moreover, she grabbed a kind of stylish torch that was rhythmically sending out red light signals. At the end of her way too short set, she received appreciative applause.
Rating

Music: 8
Performance: 8
Sound: 8
Light: 6
Total: 7.7 / 10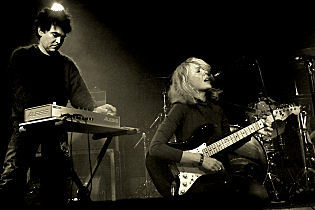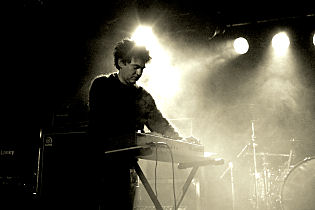 Peter Murphy

Most of us should know the so-called "Godfather of Goth" PETER MURPHY as charismatic front man of BAUHAUS he played with from 1978 till 1983. After the split-up, he founded the band DALIS CAR together with Mick Karn and released one album called `The Waking Hour´ (1983). One year later, he recorded his first solo album `Should the World fail to fall apart´ in collaboration with the former BAUHAUS member Daniel Ash. The prominent cheekbones and his exalted gestures were a source of inspiration for James O´Barr who created the comic book character Eric "The Crow" Draven. Up to now, he has released all in all eight albums. The most recent one of them called `Unshattered´ hit the stores in 2006. This year, he provided some live recordings of `Transmission´, `Instant Karma´ and `Space Oddity´ that are now available on iTunes.
http://www.petermurphy.info
/
http://www.myspace.com/officialpetermurphyspace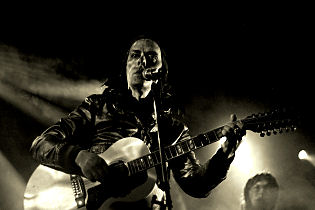 Music & Performance

The crew soon finished the changeover and prepared everything for the appearance of highly anticipated PETER MURPHY and his band that finally entered the stage at 9 pm. The darkened room and the small number of people resulted in a very intimate concert atmosphere that I really appreciated. Nevertheless, it would have been nice if there had been more listeners, as the extraordinary show was somewhat like a must-see and I'm still grateful I've been a part of that evening. Completely dressed in black and with colourful make-up on his face, the lean master slowly walked across the stage with measured steps!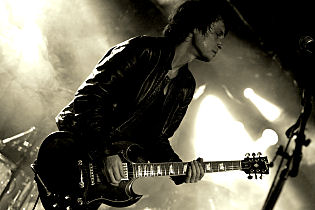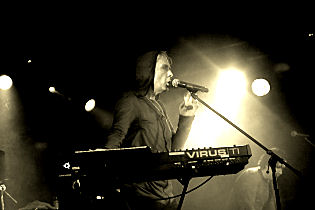 With his attentive glance, he seemed to notice each and every attendee. His set included some cover songs such as `Instant Karma´ (JOHN LENNON), `In every Dream Home a Heartache´ (ROXY MUSIC), `Space Oddity´ (DAVID BOWIE) and `Transmission´ (JOY DIVISION) as well as own stuff and some BAUHAUS classics. That great mixture was presented in a musically appropriate and splendid manner by him and his band members he introduced later on. His dark and sonorous voice coupled with gloomy melodies radiated a special dignity and it was impossible to evade his irresistible charisma.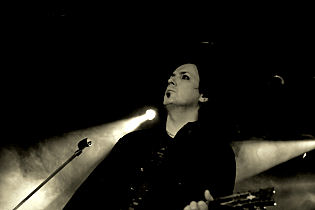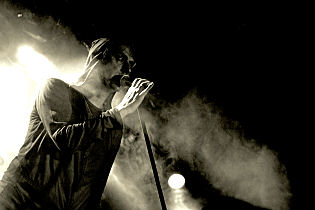 Firstly, he appeared rather restrained and aloof, but in the course of the set he turned out to be a smart, charming and humorous entertainer that obviously enjoyed having some conversations with the audience. Generally, he didn´t miss any opportunity to interact with his listeners. For example, he shook hands with the folks in the first row and applauded the audience for listening attentively. When a woman told PETER MURPHY that he was the best, he answered with a smile that it seemed nearly unbelievable to him as he would have had more money then. Furthermore, he always revealed a lot of details about a song´s history which was very interesting getting to know. To sum up: I witnessed a very special concert atmosphere and left the Colos-Saal perfectly satisfied.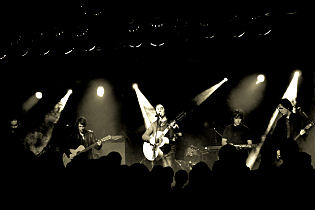 Setlist

01. Things to Remember
02. Velocity Bird
03. Peace to Each
04. Disappearing
05. Memory Go
06. Instant Karma
07. I´ll fall with your Knife
08. In every Dream Home a Heartache
09. Marlene Dietrich´s favourite Poem
10. Time has nothing to do with it
11. Secret Silk Society
12. Too much 21st Century
13. The Prince and old Lady Shade
14. Secret
15. Deep Ocean Vast Sea
16. Uneven and Brittle
---
17. A Strange Kind of Love
18. She´s in Parties
19. Ziggy Stardust
20. Transmission
---
21. Space Oddity
Rating

Music: 9
Performance: 9
Sound: 8
Light: 7
Total: 8.6 / 10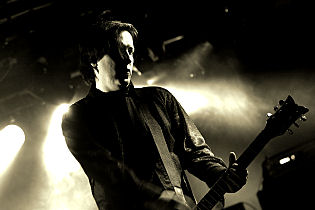 All pictures by Katrin Renner (
http://www.creavision-webdesign.de/
)
{jos_sb_discuss:17}