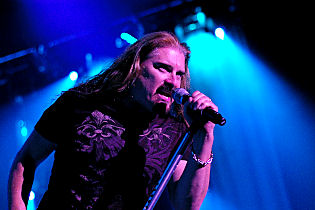 Jahrhunderthalle, Frankfurt am Main, Germany
18th October 2009
Progressive Nation 2009: Dream Theater, Opeth, Bigelf, Unexpect

The spearhead of Progressive Metal had invited to come to the Frankfurt Jahrhunderthalle on 18th October 2009 and many attendees followed the call on that Sunday evening. Freezing and jittering due to arctic temperatures, they queued up in an exemplary manner waiting patiently for the admission which finally ran smoothly. UNEXPECT should be the first act supporting DREAM THEATER followed up by BIGELF and OPETH.
Unexpect

Canadian septet of UNEXPECT describes itself as a mix of black, death, core, symphonic, progressive and melodic metal; classical, operatic, medieval, goth, electro, ambient, psychotic, noise and circus music with an occasional jazzy touch. Up to now, the formation consisting of Syriak (vocals, guitar), Artagoth (vocals, guitar), Leilindel (vocals), ExoD (keys, sampling), ChaotH (9 stringed bass), Borboën (violin) and Landryx (drums) has released the albums `Utopia´ (1999) and `In a Flesh Aquarium´ (2006) plus an EP entitled with `We, Invaders´ (2003). The second full-length release `In a Flesh Aquarium´ has been nominated for "Best Metal Album of the Year" at the Canadian GAMIQ 2007 and at the International Independent Music Awards. Over the years, UNEXPECT toured with bands such as IRON MAIDEN, HAMMERFALL, LORDI, PARADISE LOST and EPICA.
http://www.myspace.com/unexpect
/
http://www.unexpect.com/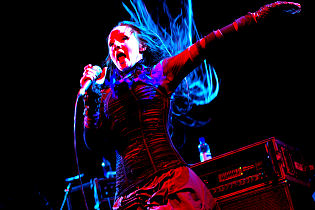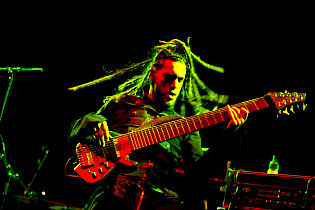 Music & Performance

When the seven-piece was swirling onto the stage, I noticed a lot of big and extremely long hair at first followed up by a confusing variety of sounds merging to a fairytale-like metal style that made me think of elves, trolls and further fantasy creatures. It was sometimes hard to follow a song´s central theme as there were so many details and various melody lines leaving me somehow fascinated and at the same time exhausted. Front woman Leilindel, who looked like a combination of Snow White and pretty witch, was banging her head as if there were no tomorrow while her male colleagues showed the genre-typical expressions and gestures as well. The vocals varied from operatic style to hellish growlings reinforcing the impression of being witnessed a 30-minutes fantasy spectacle not of this world. The crowd´s opinion seemed to be divided: Some listeners applauded rapturously; others only looked confused displaying a big question mark on their faces.
Rating

Music: 6
Performance: 8
Sound: 7
Light: 6
Total: 6.7 / 10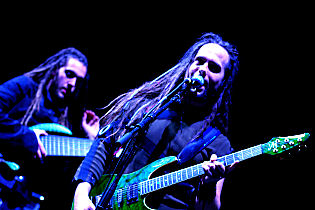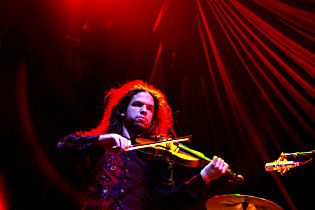 Bigelf

Damon Fox (lead vocals, organ, guitar, keys), Ace Mark (guitar), Duffy Snowhill (bass, guitar) and Steve Frothingham (drums) are BIGELF. The Los Angeles-based quartet plays a kind of retro psychedelic Hard Rock with Pop-influences. Formed in 1991, BIGELF can look back on the releases `Closer to Doom´ (1995), `Money Machine´ (2000), `Goatbridge Palace´ (2001), `Hex´ (2003) and the most recent album `Cheat the Gallows´ (2008).
http://www.myspace.com/bigelf
/
http://www.bigelf.com/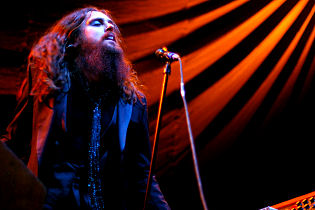 Music & Performance

After the opulent performance of UNEXPECT, retro rockers BIGELF appeared nearly prosaic and down-to-earth. Nevertheless, they also provided rather unusual musical stuff with regard to the evening´s motto "Progressive Nation". Actually, BIGELF was the most unfitting band - which shouldn´t mean that they didn´t play well. Dressed in black, top-hatted vocalist Damon Fox stood between two organs he played simultaneously while he was roaring songs such as `Money, it´s pure evil´ and `The Evils of Rock´n´Roll´ reminding me of BLACK SABBATH stuff. After some pieces, Mike Portnoy was suddenly running across the stage striking poses in front of the drum set. Then Steve Frothingham made room for the acclaimed DREAM THEATER-drummer who even wore a BIGELF-shirt - an additional nice gesture the supporting band seemed to appreciate as much as the listeners. Before BIGELF left, they threw some band shirts to the crowds and praised the audience as the best one while being on tour through Germany.
Rating

Music: 8
Performance: 8
Sound: 8
Light: 7
Total: 7.9 / 10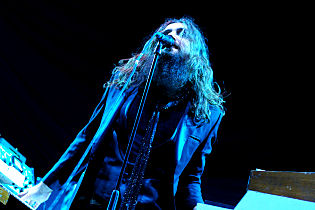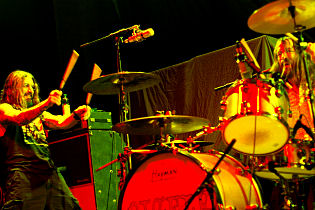 Opeth

The five-piece from Sweden was named after the fictive town of Opet (which is translated with "city of the moon") taken from the book "The Sunbird" by Wilbur Smith. Originally formed as a Death Metal band in 1990, the formation has been through several line-up changes and recently consists of Mikael Åkerfeldt (vocals), Martin Mendez (bass), Per Wiberg (keys), Martin Axenrot (drums) and Fredrik Åkesson (guitars). Meanwhile, their soundscape includes elements of Death Metal, Progressive Metal, Progressive Rock and also contains some Jazz-influences. In 1995, OPETH released its debut record `Orchid´ followed up by all in all eight studio albums. By recording `Deliverance´ (2002) and `Damnation´ (2003), the Swedes made their breakthrough in the USA and became a well-known representative of a complex progressive musical style. Last year, they released the most recent album `Watershed´.
http://www.myspace.com/opeth
/
http://www.opeth.com/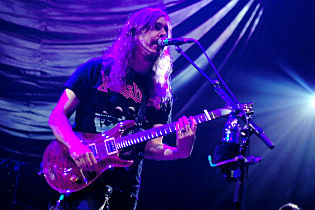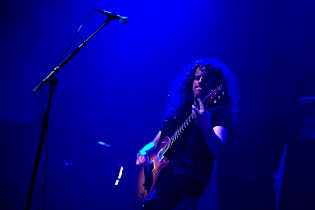 Music & Performance

Besides DREAM THEATER, third support act OPETH had been the most anticipated formation in that concert evening. I noticed a lot of attendees wearing OPETH-shirts. When the Swedes came on stage, it was tighter than before in front of the stage. Scoring with his excellent voice making songs such as `Harlequin Forest´ and `Hex Omega´ becoming real gems, front man and lead singer Mikael Åkerfeldt also impressed the folks due to his dry sense of humour. For example, he said with a wink that later on DREAM THEATER-guitarist John Petrucci would show the crowd all the licks he had taught him before. After OPETH had played some guitar chords referring to the SKID ROW ballad `I remember you´, he joked that the following song `Wreath´ would be the complete opposite to the song the audience had heard before. The soundscape of OPETH was a good preparation for what would follow with the headliners´ appearance: Playful arrangements, exuberant melodies and extensive pieces lasting up to 15 minutes.
Setlist

01. Windowpane
02. The Lotus Eater
03. Harlequin Forest
04. Burden
05. Wreath
06. Hex Omega
Rating

Music: 8
Performance: 7
Sound: 8
Light: 5
Total: 7.3 / 10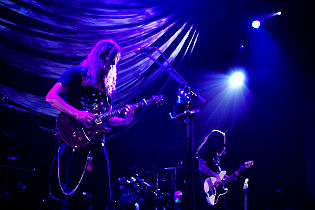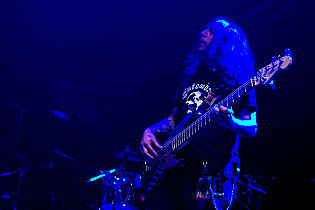 Dream Theater

In 1985, the American Progressive Metal band DREAM THEATER was formed under the name MAJESTY by John Myung (bass), Mike Portnoy (drums) and John Petrucci (guitars) while they attended Berklee College of Music in Boston. The three original members remain today along with James LaBrie (vocals) and Jordan Rudess (keys) who joined the formation after some line-up changes later on. Consisting of trained musicians who all contribute to a particularly sophisticated progressive soundscape, the band made its international breakthrough with the second album `Images and Words´ (1992) including the commercially most successful single `Pull me under´ after the debut entitled with `When Dreams and Day unite´ (1989). Over the years, DREAM THEATER has established an excellent world-wide reputation of being virtuoso live musicians with a knack for extensive solo parts. This year, the recent and meanwhile tenth long-player `Black Clouds & Silver Linings´ hit the stores.
http://www.myspace.com/dreamtheater
/
http://www.dreamtheater.net/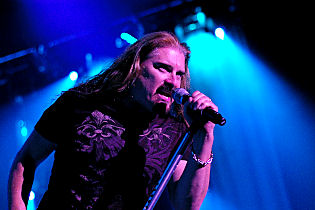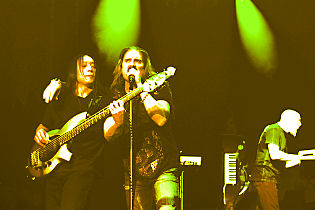 Music & Performance

As the stage design had been pretty plain up to then, a time consuming changeover took place after OPETH had finished. Though the hall wasn´t filled to capacity, more and more attendees arrived who had missed the supporting acts. It was striking how different the listeners were: I noticed obviously long-term fans with tour shirts as well as families and young couples. Furthermore, I experienced again that Metal concerts don´t always imply head banging activities and a drunk audience. Quite the contrary, the crowd turned out to consist of attentive listeners who loved to talk shop about the possible set list and musical details. Finally, the lights went off at about 10 pm and a classical intro resounded through the darkened Jahrhunderthalle followed up by a thunderstorm´s soundscape accompanied by lightning and thunder. I had previously wondered what the white drapes embracing the stage were for. When the curtain went up and revealed the now very detailed stage crowned by an UFO-like huge drum set, I found out that those drapes were intended as a colourful stage frame glowing in all colours of the amazing light show.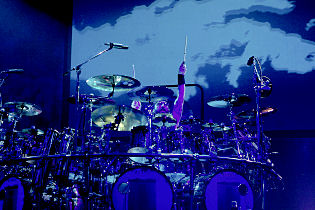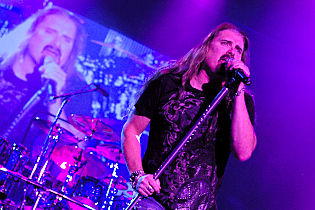 The stage was additionally enhanced by an impressive LED screen displaying all events on stage. The band began to play `A Nightmare to Remember´ and already the first bars were that breathtaking. Lead singer James LaBrie came as the last one and made instantly use of his exceptional voice. Contrary to the grandiose light show, the virtuoso playing and the opulent screen, the performance was rather unpretentious and didn´t feature wild movements. DREAM THEATER focussed on skilfully playing their set including pieces such as `A Rite of Passage´, `Sacrified Sons´ and `As I am´. Jordan Rudess delivered a real masterpiece when he was practising a keyboard solo lasting several minutes and leaving everyone breathless. Naturally, all the songs didn´t last the obligatory five minutes as well. Instead, particularly the farewell song `The Count of Tuscany´ was an artful homage to high-level Progressive Rock and made me understand why this formation is regarded as one of the most talented representatives.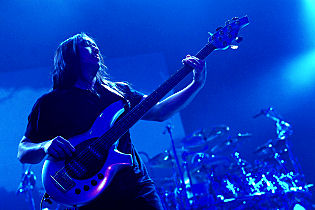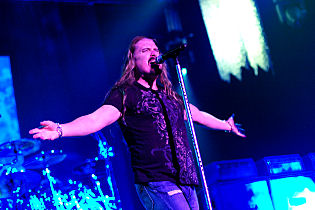 Setlist

01. Intro
02. A Nightmare to Remember
03. A Rite of Passage
04. Keyboard Solo
05. Sacrificed Sons
06. Erotomania
07. Voices
08. Forsaken
09. As I am
---
10. The Count of Tuscany
Rating

Music: 9
Performance: 9
Sound: 8
Light: 10
Total: 9 / 10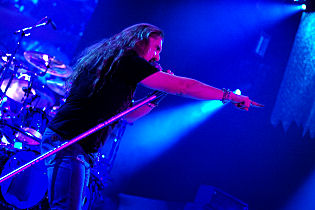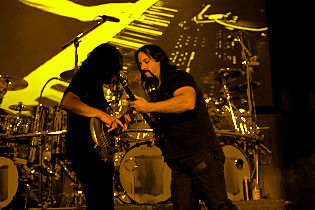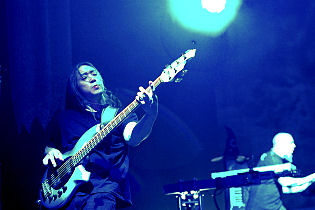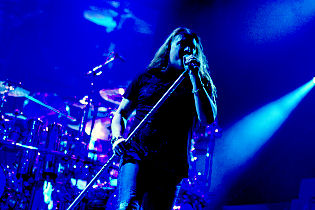 All pictures by Katrin Renner (
http://www.creavision-webdesign.de/
)
{jos_sb_discuss:17}