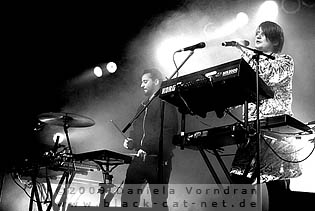 Essigfabrik, Cologne, Germany
2nd November 2009
Röyksopp

Torbjørn Brundtland & Svein Berge aka RÖYSKOPP already got to know each other as children in their hometown Tromse but lost contact for a while. When they met again years later in Bergen again they founded RÖYSKOPP. 'Melody A.M', their first album, was called one of the most fascinating downbeat albums of 2001 and became a million-seller followed by 'The Understanding' gaining ambivalent receptions by music critics. In March 2009, the time for their third album 'Junior' had come. The response to the initial dates supporting the album was overwhelming, so they just had to do some more shows, one of them going down at Cologne's Essigfabrik on 2nd November.
But before we had the pleasure, we needed to bear a monotonous DJ-Set. After what seemed like forever, the table was demounted and taken off stage but would the show finally start now?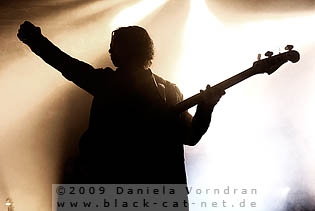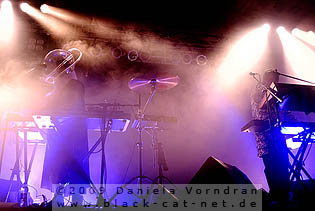 Music & Performance

I was glad it did. All of a sudden it got dark and this is a secure sign that a show is about to start and then, the first spherical sounds came off the speakers serving as intro melody for the duo to enter the stage, one of them wearing a monstrous plastic construction over his head like an astronaut. That way, they performed the first song of the evening, the ambient instrumental 'Röyksopp Forever' with playful bass support. Up next was a song well-known from the current album 'Junior': 'This must be it' which is also the new single. For the track, singer Anneli Drecker wearing an eye mask appeared to deliver very sonorous vocals and agile movements, which we soon could spot in the audience as well, and they wouldn't have to stop for the next song 'Remind Me' either. The jolly 'Happy up Here' followed it up right away and its irresistible groove would make even the laziest person nod with their head.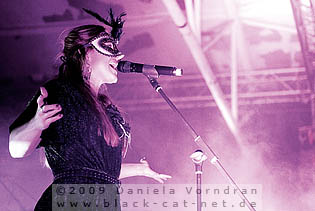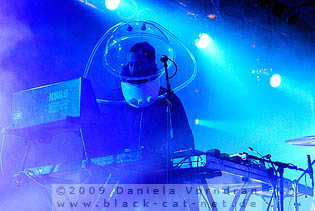 To 'The Girl and the Robot', Anneli re-appeared in a different dress (close to a rapper girl) and easily performed an extensive moonwalk, and the robot couldn't be missing here either impersonated by Svein Berge who had displayed a fair urge to move already on the last track. The duo in general did that to be fair. Contrary to other electronic formations I've seen this far, they had candid and almost childlike fun performing their stuff live. Even if they didn't switch positions or danced like happy little children behind their synths while twiddling the knobs, they've always had a smile on their faces. When Torbjørn introduced an older song by saying "Maybe you remember this rhythm… it goes like this" and shortly played that pattern on the drum pads, the audience cracked up as it was the distinct rhythm of 'Eple', one of the duo's most-loved songs and all of a sudden you only saw dancing people.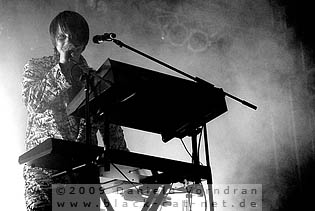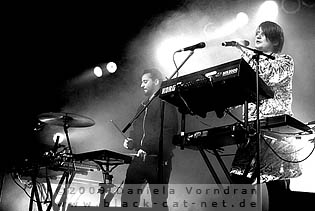 A couple more celebrated songs later, the main set came to its end already, but it would have been suicide not letting some encores follow, one of them being the RÖYKSOPP classic 'Poor Leno' with robot-like vocals by Svein. The fun factor of a RÖYKSOPP show is immense and infectious at the same time. Thus, I can only recommend seeing these guys and the lady live, even if you might have some reservations. It will be well worth your time. I'm already looking forward to seeing them again, whenever that might be.
Rating

Music: 8
Performance: 8
Sound: 8
Light: 8
Total: 8 / 10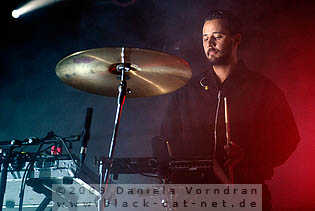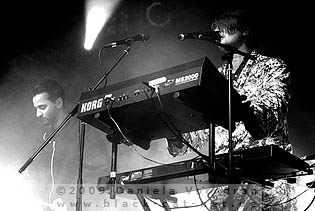 All pictures by Daniela Vorndran (
http://www.vorndranphotography.com/
/
http://www.black-cat-net.de/
/
www.myspace.com/vorndranphotography
)
{jos_sb_discuss:17}