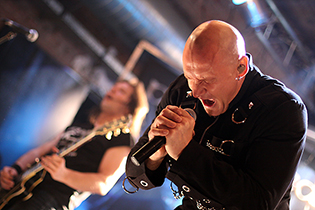 Matrix, Bochum, Germany
8th November 2009
Primal Fear, Brainstorm

When I reached the Matrix club, doors still were closed with not too many people waiting in front of them to get in. This was going to change rapidly just a few moments later. The queue got longer and longer with fans of every age wanting to see these two Metal heavyweights and the mentioned bands had prepared something that would satisfy them all.
Brainstorm
Following plenty of demo releases in the years after their inception, German outfit BRAINSTORM released their self-produced debut album in 1997. Afterwards, the band embarked on their first Europe tour and let their second album 'Unholy' follow just one year later. With every further album, the band gained a bigger popularity in the Metal scene and nowadays is considered one of the most important acts in the Power Metal genre. Their newest album 'Memorial Roots' was released in October. BRAINSTORM is Andy B. Franck (vocals), Thorsten Ihlenfeld (guitar), Milan Loncaric (guitar), Antonio Ieva (bass) and Dieter Bernert (drums).
http://brainstorm-web.nicowobben.com/
/
http://www.myspace.com/officialbrainstorm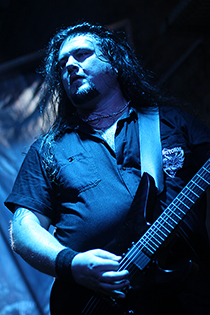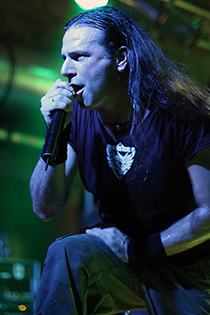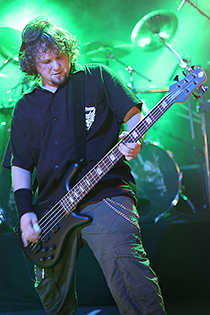 Music & Performance
Actually, there was going to be another band playing before BRAINSTORM. Couldn't figure out much more than that they're wouldn't. Anyway, more time for the guys of BRAINSTORM who were entering the stage and started posing a little right away. Well, at least, the bassist and the two guitarists. Singer Andy would appear as the last one and add his admittedly impressing vocals to the opening track 'Forsake What I Believed' off their newest album 'Memorial Roots'. The second song in the set 'The Leading' already broke the speed limit and had some neat double-bass attacks in stock for the audience. Andy was always eager to deliver an energetic performance, at times showing of with his vocals skills ;), as well as motivating the people to clap along or swing their devil's horns.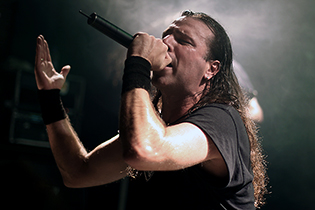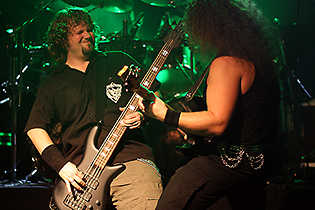 On the other hand, at many points in the set, he left the stage to his band mates to present solos or rock the stage on their own. At all times, they displayed candid joy of playing and I think that's also why the audience never tired of partying with them, may it be to new songs from the new album 'Memorial Roots', which was extensively supported on this gig, or well-known older songs such as 'Shiva's Tears', 'All Those Words' or the set closer 'How Do You Feel'. All in all, it was a nice and funny show with great musicians; even though I have to admit that the music isn't entirely my cup of tea.
Rating
Music: 7
Performance: 8
Sound: 7
Light: 6
Total: 7.2 / 10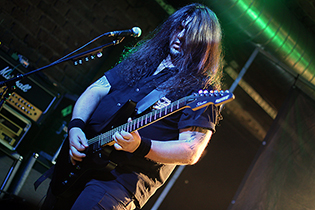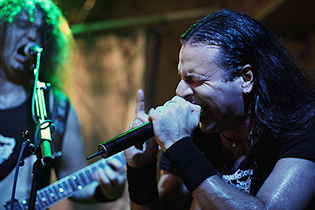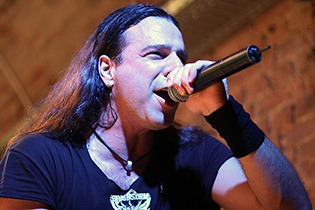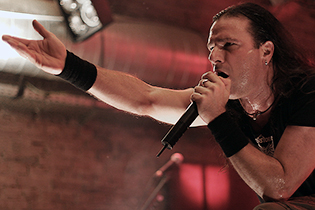 Primal Fear
PRIMAL FEAR was founded in 1997 by two well-known protagonists in the German and international Metal scene. Already with their first demo, the then-young band got a record deal. The first, eponymous album became a big hit and charted on #48 in Germany. Every album that was to follow would continue the victory march of PRIMAL FEAR and gradually expand their fan base to an international scale. Coinciding with this, the band would be touring places spread all over the globe and cement their status as being on of THE Metal sensations. Their most recent album '16.6: (Before The Devil Knows You're Dead) was released in May. PRIMAL FEAR is: Ralf Scheepers (vocals), Mat Sinner (bass, vocals), Magnus Karlsson(guitar), Henny Wolter (guitar) and Randy Black (drums).
http://www.primalfear.de/
/
http://www.myspace.com/primalfearofficial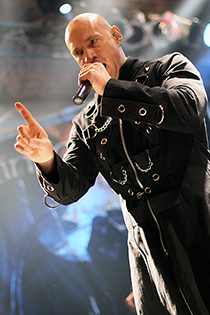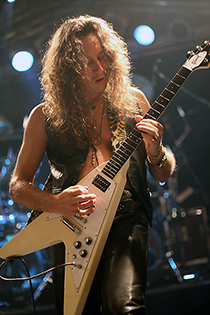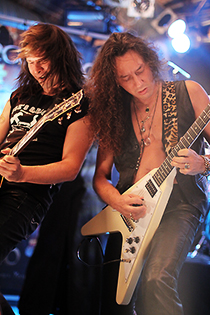 Music & Performance
Now, a tense anticipation spread in the room during the reconstruction break and sound check, for the time of PRIMAL FEAR had almost come. Some time, the lights went dim and the first elegiac sounds of the intro emerged and just like before, the musicians entered the stage without the front man. When Ralf Scheepers finally appeared, wearing a black long coat, he was frenetically welcomed by the audience. Contrary to the sound of BRAINSTORM, the style of PRIMAL FEAR is more influenced by the classic Heavy Metal and the guitar sound was mighty and pervading accordingly.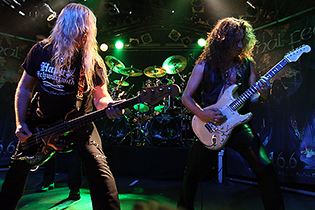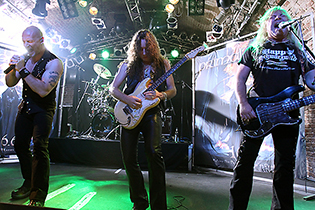 The set began with the axe 'Under The Radar' and everyone around me fell into rapture right away, sang along, or head banged extensively. Other than his singer's colleague of BRAINSTORM, Ralf, who had plenty of brawn, is more a man of gestures and poses. He brings up certain elegance in his movements when performing. Up next were the galloping 'Nuclear Fire' and the title track of the band's recent album '16.6: (Before the Devil knows you're Dead)' with some awesome finger acrobatics by one of the guitarists. Before 'Sign of Fear' would rock the crowd once more, it was time for a guitar battle between Henny and Magnus.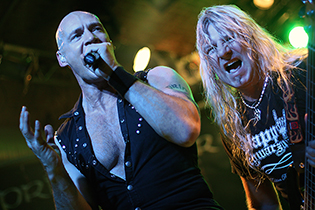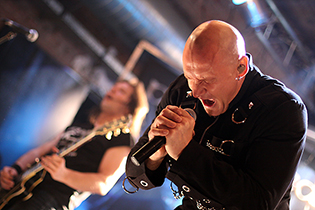 Picture it as the instrumental Metal equivalent of a Rap battle with everyone trying to excel the opponent. Was great to watch and showed what seasoned musicians these guys are. With the powerful statement 'Metal is Forever', the band bid farewell to the audience. But they promised 100 minutes and there was plenty of time left, so the audience clapped them back to get another full package, which also included an acoustic, more balladry track called 'Hands of Time'. It's been a pleasure to watch the guys acting on stage and you've got to hand it to them they're absolute professionals. But it would be a bit of a stretch to say that I'm now a big fan of their style of music.
Rating
Music: 6
Performance: 8
Sound: 7
Light: 7
Total: 6.9 / 10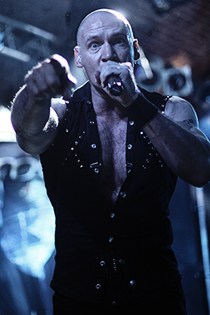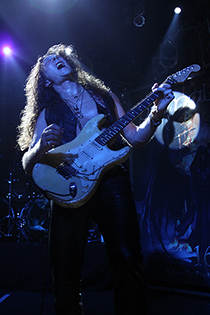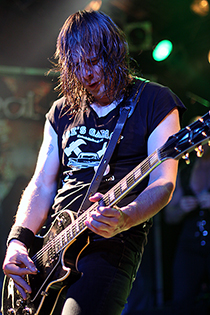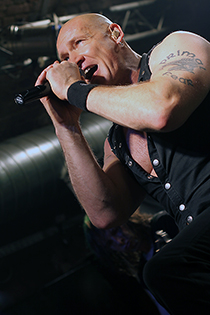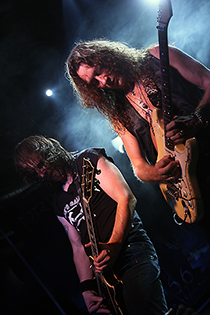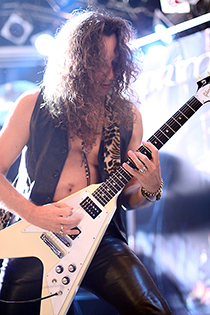 All pictures by Marcus Nathofer
{jos_sb_discuss:17}