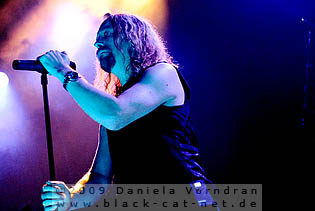 Ringlokschuppen, Bielefeld, Germany
18th November 2009
Paradise Lost, Samael, Ghost Brigade
PARADISE LOST's latest output, the full-length 'Faith Divides Us - Death Unites Us', marked some sort of a return-to-the-roots which was hinted at over the last few albums. Fans of the very early days of the Metal institution have embraced the new album, and the tour in support of 'Faith Divides Us - Death Unites Us' offered a great package for all Metal heads with SAMAEL and GHOST BRIGADE as special guests.
Ghost Brigade

The young band from Finland released their first album, titled 'Guided by Fire' in 2007 on Season Of Mist Records. This year they released their second full-length work called 'Isolation Songs', which was critically acclaimed by most Metal magazines - though some critics might still be searching for the Doom and Death Metal references the info sheet for this album praised so much. GHOST BRIGADE create a very dark, melancholic soundscape which has some parallels to KATATONIA and some Progressive Metal elements with monolithic guitar riffs and a mix of clean and grunted vocals on top. 'Isolation Songs', released this summer, was unfortunately rather ignored by the record-buying public - if there still is one - but if you love melancholic Metal without any clichés it's the album you should buy for the dark, cold winter season. GHOST BRIGADE is Manne Ikonen (vocals, guitar), Tommi Kiviniemi (guitar), Wille Naukkarinen (guitar), Veli-Matti Suihkonen (drums) and Janne Julin (bass).
http://www.ghostbrigade.net/
/
http://www.myspace.com/ghostbrigade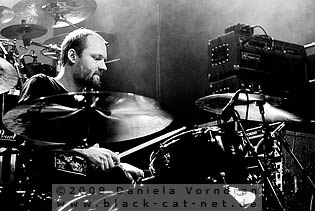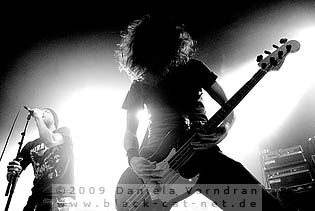 Music & Performance

Thank god we were early enough at the venue! The venue website said the show would start at 20:30 but in fact GHOST BRIGADE had almost finished their set by that time! This is not just a shame, it's outrageous! So, GHOST BRIGADE played to a half-empty venue but the band was unimpressed by these unfortunate circumstances and delivered a near-perfect performance. Sonically GHOST BRIGADE is crossing several genres at the same time but the delivery is urgent and immediate. The Finnish five-piece does not like clichés - they do not even look like a Metal band, hehe - and does not need any. The music meanders from melodic but aggressive Death Metal to contemplative Alternative Rock to sophisticated Progressive Metal to gothic ballad moments, more often than not in one song. Vocalist Ikonen, who looks a bit like Mark Hockings from the British Synth-Pop act Mesh by the way, has an impressive voice which switches from clean crooning to aggressive growls in one moment. Nevertheless he had to leave the stage for '22:22 Nihil', an instrumental track which displayed the skills of his band mates perfectly, and which merged nicely into the final song, 'A Storm Inside'. Both tracks as a package were GHOST BRIGADE's opus magnum tonight, and by the end of their show fortunately more people had already arrived to witness this fine moment in music.
Setlist

01. Hold On Thin Line
02. My Heart Is A Tomb
03. Into The Black Light
04. Lost In A Loop
05. 22:22 Nihil
06. A Storm Inside
Rating

Music: 8
Performance: 9
Sound: 8
Light: 6
Total: 8 / 10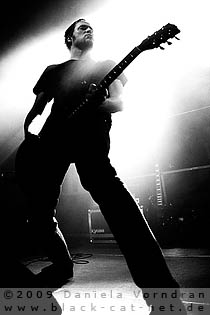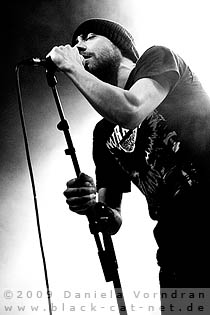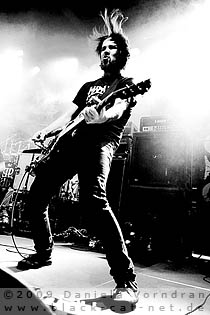 Samael

From Black Metal to synth-driven Industrial Metal to symphonic Rock back to Black Metal. It's hard to describe SAMAEL's musical evolution, and that short sentence probably doesn't do the band justice but might give an idea. SAMAEL, starting out as a Death & Black Metal group in 1987, are surely one of they key innovators of the scene. They released their first album, 'Worship Him', in 1991 followed by 'Blood Ritual' one year later. The lyrics were often about Satanism, Alistair Crowley, Cthulu and occult themes in general. Exactly what you would expect from your favourite Black Metal band! The mid-nineties saw a rapid evolution of SAMAEL's sound which - similar to PARADISE LOST's career - divided the fan base in two camps. Those who moan the good old days of the first few albums, and those who embraced the new, much more electronic and much more varied sound since the album 'Passage'.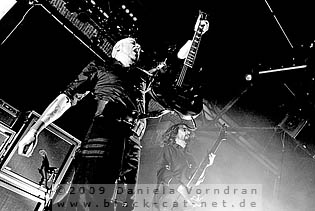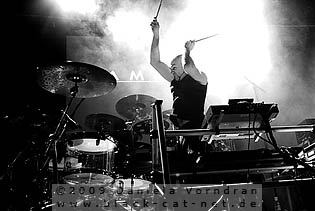 The latest album 'Above' marks a return to the Black Metal roots of SAMAEL, with chain gun-like Metal riffs, double bass drum, a hard-hitting snare and abrasive vocals. Hailing from the small town Sion in Switzerland, the Post-Black Metal band SAMAEL is Vorphalack (vocals, guitar), Makro (guitar), Masmiseîm (bass) and Xytraguptor (drums, keys, programming).
http://www.samael.info/
/
http://www.myspace.com/samael
Music & Performance

SAMAEL is a legend in its own right, so of course the Swiss band was much more than just a support act, which explains the many SAMAEL shirts in the crowd. After a short intro the (electronic) drums kick in and guitar riffs cut through your ears. 'Rain', a classic from 1996's 'Passage' album, starts the show and proves that it has a killer groove live. It sums up nicely what SAMAEL is about - it's full of unrelenting speed and aggression, it has melodic and symphonic parts, and a bouncy, almost Techno-ish groove completed by Xy's percussion to it.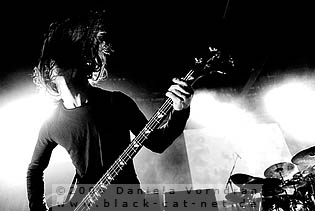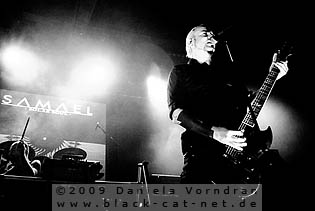 Vocalist Vorph really loves his Rock god poses but also has an absorbing stage presence. SAMAEL present a well-balanced mix with songs from almost all their various periods. 'Solar Soul' and 'Slavocracy' were also in the setlist as well as 'Black Hole' from the new album and even 'Into the Pentagram' from their debut 'Worship Him'. The combination of electronics and drum computers on the one hand and furious (Black) Metal guitars, growling and grunting vocals on the other hand is pretty unique. Their music is - as the title of their second album says - a 'Ceremony of Opposites'. And with this song SAMAEL finished their set in Bielefeld. This is truly a band which is ready to push its own boundaries and who doesn't care too much about expectations. And which are a damn good live band!
Setlist

01. Intro
02. Rain
03. Solar Soul
04. Reign of Light
05. Infra Galaxia
06. Year Zero
07. Western Ground
08. Black Hole
09. Slavocracy
10. Into the Pentagram
11. Ceremony of Opposites
Rating

Music: 8
Performance: 9
Sound: 9
Light: 8
Total: 8.5 / 10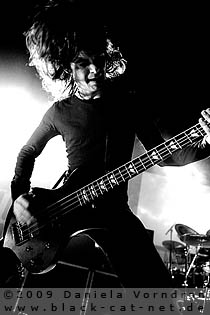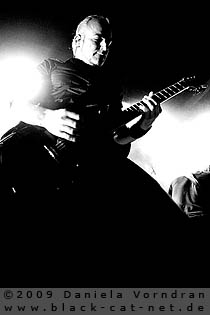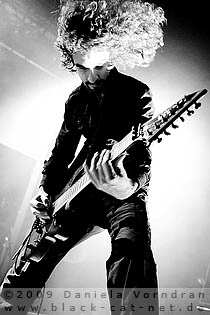 Paradise Lost
The Yorkshire band consists of Nick Holmes, Gregor Mackintosh, Aaron Aedy, Steve Edmondson and Adrian Erlandsson. It's a strange career PARADISE LOST have behind them so far. Starting as a Doom / Death Metal outlet in Yorkshire in the late 1980s, the band soon gathered a cult following and released debut album 'Lost Paradise' in 1990 on Peaceville Records. Just one year later they released their second full-length 'Gothic' which already saw major changes in PARADISE LOST's musical style. Introducing more melodic, symphonic elements and even female vocals, it helped to gave birth to the new genre of Gothic Metal. 1992's 'Shades Of God' album featured the PARADISE LOST anthem 'As I Die', and while a plethora of young bands were influenced by the new Gothic Metal sound, PARADISE LOST moved on to a mainstream-ish Metal sound with clean vocals instead of the typical Doom growls with their fifth album 'Draconian Times', released in 1995 on Music For Nations. But the old PARADISE LOST had to cope with even more radical changes in the band's sound. With 1997's 'One Second', PARADISE LOST threw almost all Metal elements over board and produced some sort of "dark rock" which at times rather sounded like THE SISTERS OF MERCY or even a rockier DEPECHE MODE than their early influences like CELTIC FROST or MORBID ANGEL. The old fans turned their back on the band, especially when PARADISE LOST cemented the synth side of their new side with the album 'Host' in 1999.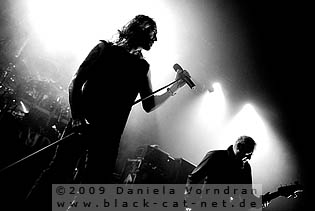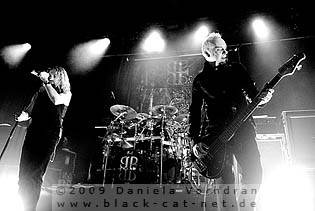 But the Yorkshire band managed to gain loads of new fans with their new sound, and in particular in Germany and Greece they became a chart act. The 21st century has witnessed PARADISE LOST resurrecting their Metal roots by and by, from the album 'Symbol of Life' in 2002 to 'In Requiem' (2007). The latest album, 'Faith Divides Us - Death Unites Us' released in September this year, has been critically acclaimed both by critics and fans and completes the conversion back to Metal and Doom, without abandoning the epic melodies of PARADISE LOST's middle period altogether.
http://www.paradiselost.co.uk/
/
www.myspace.com/paradiselostuk
Music & Performance

In front of a huge PARADISE LOST backdrop with the new logo artwork from the current album, Nick Holmes, Aaron Aedy, Steve Edmondson, and Adrian Erlandsson entered the stage. To the surprise of some, lead guitarist Gregor Mackintosh was absent and replaced by guest musician Milly Evans, who has been the band's guitar technician for many years and who's also member of the band TERRORVISION, so Evans was a fine replacement for Mackintosh. As PARADISE LOST's homepage and some easy-to-overlook posters at the venue revealed, Mackintosh had to stay in England because of serious illness in his family (the thoughts and hearts of the RoD team go out to Greg and his family, of course!). PARADISE LOST started their show with 'The Rise of Denial', one of the highlights from the new album, and the following 'Pity the Sadness' (from the 'Shades of God' album) was a clear statement, that PARADISE LOST does not intend to ignore the very old stuff. And the fans absolutely embraced the old stuff!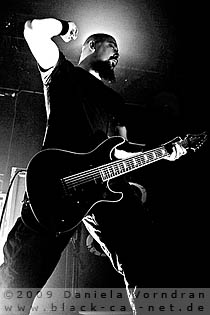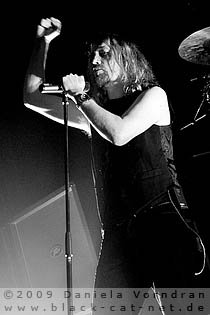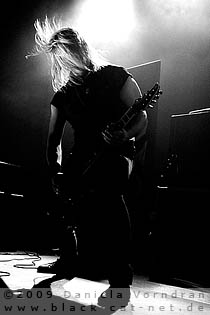 The sound was unfortunately a bit muffled, and in particular Nick Holmes' vocals were not too clear and sometimes drowned in the sound. It took a while until Aedy's guitar was audible at all, so from a technical point of view it wasn't the best start. But the fans loved the mix of "rather new" and "pretty old" in the set of PARADISE LOST. It was clear that the last couple of albums brought back the fans of the first few of albums, and consequently the band focussed on these two eras in their career. The unavoidable 'As I Die' was performed halfway through in the show, but there were also other old gems like the epic 'Enchantment' or 'Forever Failure'. Only five songs from the new album 'Faith Divides Us - Death Unites Us' made it into the setlist, a few more wouldn't have done any harm as the new songs were remarkably well received. PARADISE LOST's middle phase with albums like 'Host' or 'Believe In Nothing' were completely skipped but 'One Second' was another one of those musts, and it didn't fail of course. Wonderful song! The sound problems have been solved up to this; just Holmes' voice was still not present enough in the mix at times. As someone who hasn't seen PARADISE LOST on stage in quite a while I noticed how much Nick Holmes has changed over the last few years. In earlier times he often was pretty introverted and almost ignoring the audience. In Bielefeld, he encouraged the crowd to sing along, he was clapping his hands a lot and I also don't remember him being that communicative.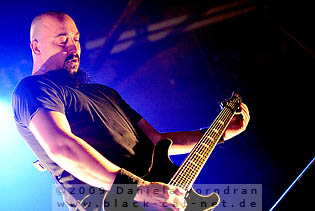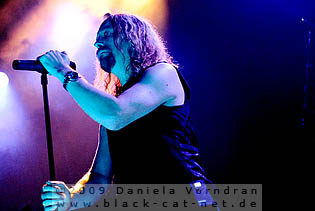 After approx. 60 minutes the main set was already done and finished. PARADISE LOST were never a band known for long sets but this was pretty short indeed. But this is excusable, given the circumstances. After all, Milly Evans had to step in for Greg Mackintosh on short notice, so I guess there was not much time to rehearse too many songs. However, Evans did a great job and that he knows PARADISE LOST's music really well as their long-time guitar tech surely helped a lot. But PARADISE LOST still had some songs up their sleeves and returned for an encore featuring the title track of the new album and the third song from 1995's 'Draconian Times' album, the short but smashing 'The Last Time' whose chorus was chanted by the first few rows at the Ringlokschuppen. PARADISE LOST left the stage again, but only for a few seconds to end their show with the classic 'Say Just Words', a grand finale which got the whole place rocking once more! Despite the technical problems with the sound it was still a quite compelling show, supported by one of the best light shows the band ever had. I think I was one of the few people in the crowd who would have loved to hear some stuff from 'Host' or 'Believe In Nothing', most fans were metal heads loving everything up to 'Draconian Times' and the last two or three albums. And that's exactly what they got!
Setlist

01. The Rise of Denial
02. Pity the Sadness
03. Erased
04. I Remain
05. As I Die
06. The Enemy
07. First Light
08. Enchantment
09. Frailty
10. One Second
11. Forever Failure
12. Requiem
---
13. Faith Divides Us - Death Unites Us
14. The Last Time
---
15. Say Just Words
Rating

Music: 9
Performance: 8
Sound: 7
Light: 9
Total: 8.5 / 10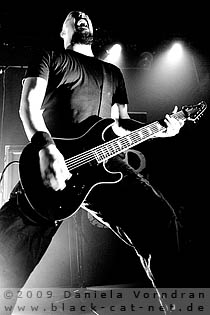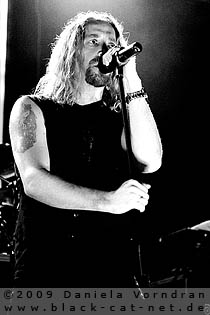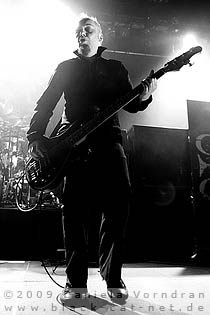 All pictures by Daniela Vorndran (
http://www.vorndranphotography.com/
/
http://www.black-cat-net.de/
/
www.myspace.com/vorndranphotography
)
{jos_sb_discuss:17}