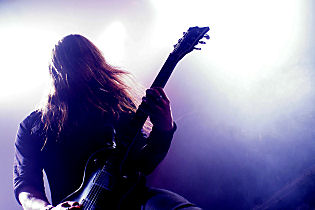 Batschkapp, Frankfurt, Germany
17th December 2009
Finale in Black: Satyricon, Shining, Dark Fortress, Posthum

On this freezing afternoon, I attained Frankfurt during the rush-hour, luckily finding a suitable car park pretty close to the venue, which is located in the inner city. Katrin, who would be taking photos during the concert, was already waiting for me so we found our way to the Batschkapp where we arrived at quarter past five. About an hour before the doors would open, we were the first to queue and somehow made the acquaintance of several rats that were running around the tracks and the whole area.
At half past six the doors opened, so we got our bearings and I bought myself a surprisingly well fitted t-shirt, in general the merchandise prices were adequate (15€ for shirts and 30€ for hoodies). Yet, the small venue only slowly filled with people, presumably because of the cold weather and the early opening.
Posthum

POSTHUM is a black metal band from Norway with atmospheric and a bit progressive ascendancies. They were founded in 2004, released their first demo in 2005 and their self-titled debut record was finally released in 2009, after three years of working. Nowadays, the band consists of Jon (guitar, bass, and vocals), Martin (guitar) and Morten (drums); for their live set, they presumably brought along another bass-player.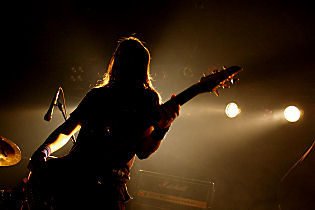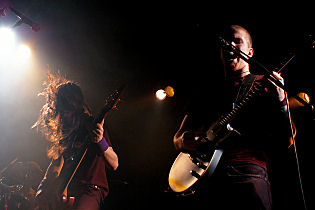 Music & Performance

POSTHUM started their set at around quarter past seven, fifteen minutes before the billed beginning. Due to this, the working day and the cold weather, there were around fifty people when the band began. At first, there was a huge gap between the first row and the back, since most people were still looking for drinks or rather sceptical. It was already at that point that I realised that bringing earplugs was an excellent idea, since the sound remained extremely loud during the evening. Yet, they really put a lot of effort into their performance and at the end of their five song set; the first shaken heads could be seen as well as more people in front of the stage. Musically, they put forward a nice mixture of black metal and rather slow, melodic elements. From their self-titled album, 'Lair Torture' and 'Sacrificed' were played inter alia.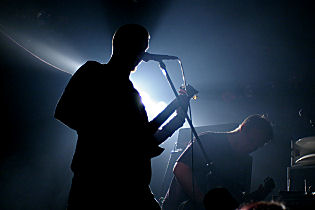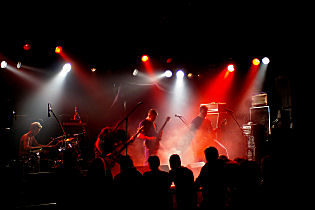 Seeing that they are a rather young band with only one released album, which dropped into this tour as a substitute for NEGURA BUNGET, they really had a chance to make themselves known and used it, although of course opening up an evening is mostly laboured. Still, they are definitely a band to keep track of.
Rating
Music: 7
Performance: 7
Sound: 6
Light: 6
Total: 6.7 / 10
Dark Fortress

DARK FORTRESS is a German black metal band from Landshut, who was formed in 1994. Since 2004, several live gigs were performed. In 2005, a record contract with Century Media Records was signed, where their two latest albums, 'Séance' and 'Eidolon' were released. Their first headlining tour rolled through Europe in 2008, and now they are about to put out their newest record, 'Ylem'.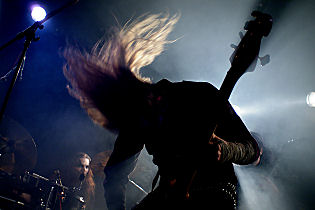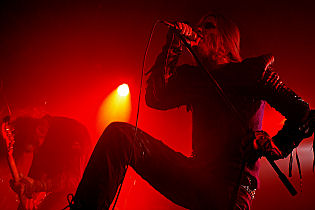 Music & Performance

After a relatively short break, DARK FORTRESS entered the stage, with their faces painted in black and white, as a foretaste for their energetic and dark show. They used their set of around 35 minutes to present songs of their upcoming album, 'Ylem' but also playing well-known songs from earlier records, finishing off their set with 'Baphomet' and 'Cohorror' from their latest record 'Eidolon'. At that time, the Batschkapp was already getting more filled, which could also be seen in the front, where more and more people gathered to watch DARK FORTRESS' show. All in all, they really put up a good show to warm the crowd up, and their interaction with the audience was also pretty congenial despite their evil appearance ("Let's stop with the ballads… Today, we are a bit necro!).
Rating
Music: 8
Performance: 8
Sound: 8
Light: 8
Total: 8 / 10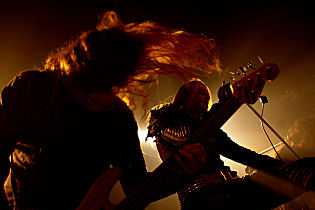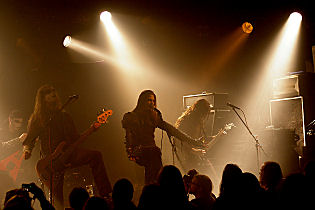 Shining

SHINING is a Swedish black metal who found their beginning in 1996. Their music combines typical black metal with rather slow, doom-orientated elements; due to their usage of suicide-themed motives and their excessive live performances, they are often tagged as suicidal black metal. Their first full-length record was released in 2000, called 'I/ Within Deep Dark Chambers'. All album titles contain a consecutive numbering, and after their latest release, 'VI/ Klagopsalmer', 'VII/ Född förloare' will be promulgated in 2010.
Music & Performance

At around ten minutes before nine o'clock, SHINING entered the stage. At that point, already many fans of the band had gathered in front of the stage, noticeable because of their merchandise- collection or even lots of scars, as homage to Kvaforth's (the singer) self-destructive behaviour. Anyways, it was visible that for many attendees, SHINING remarked the first highlight of the evening.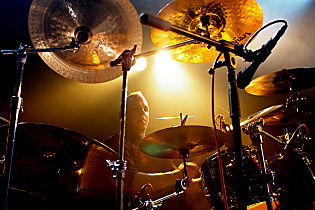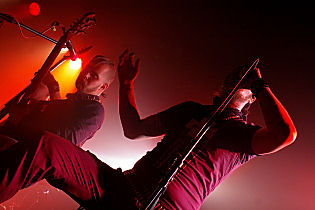 Well, were to start with? This band is known for their strange, yet unique performance: at times including self-destruction on stage, fighting with the audience or splattering around blood. Luckily, they reduced this for a club gig: excessive drinking and smoking was included, as well as stubbing out cigarettes on the singer's chest and making out between Kvaforth and the bass-player. Of course everyone is free to choose what he likes and I am pretty sure that many fans were extremely rapt away. But honestly: to me, the whole show appeared rather ridiculous. Musically, they may not be everyone's cup of tea (due to rather slow parts) but they are surely not in need of distracting the audience from their music. Anyways, during their set of 50 minutes, they presented quite a lot of songs from their upcoming album, one which they claimed of never having played live before. Besides, they also played classics like 'Claws of Perdition' or the famous 'Låt oss ta allt från varandra' and if I am not terribly mistaken, also 'Yttligare ett steg närmare total jävla utfrysning' was presented.
Rating

Music: 8
Performance: 6
Sound: 7
Light: 8
Total: 7.3 / 10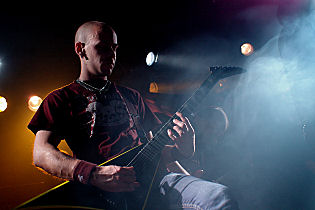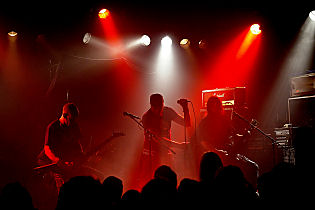 Satyricon

SATYRICON is a Norwegian Black Metal band which was instituted in 1992 and attracted a great deal of attention with their debut record, 'Dark Medieval Times', which combined black metal with flute and acoustic guitar. Their forth record, 'Rebel Extravaganza' drifted away from this medieval spirit, and ever since, the band has developed into a unique direction, playing a self-proclaimed mixture of black metal and rock and roll. SATYRICON's latest album, 'The Age of Nero' was released in 2008, and after their prevailing headlining tour, they have announced a break and a bunch of changes. Satyr (vocals, guitar, bass and keyboard) and Frost (drums) are the two main members, who have been in the band almost ever since the foundation. On live shows, they are accompanied by Steinar Gundersen (guitar), Anders Odden (bass), Guildas Le Pape (guitar) and Jonna Nikula (keyboard).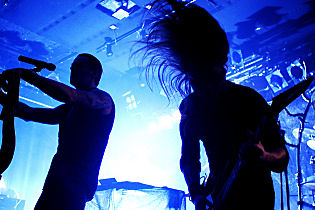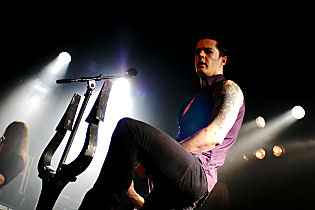 Music & Performance

After a relatively long break, due to the alteration of the stage, SATYRICON entered the stage at around quarter past ten, being cheered and welcomed by the fans. A huge drum set was assembled as well as a desk for the keyboards and an evil stand for Satyr's microphone. SATYRICON had the audience under control from the very beginning - at times Satyr could be watched enjoying the audience, he himself even signified the concert as one of the best of the whole tour and urged the public to make this the best SATYRICON show in Frankfurt ever. Throughout the whole gig, the atmosphere was full of energy, the attendees chanted, head banged and sang along the songs.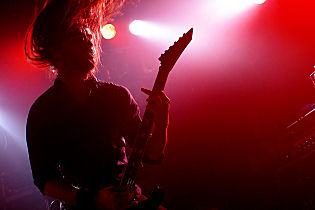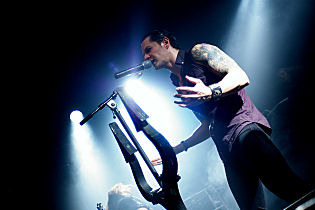 SATYRICON provided a section of songs from their newer releases, so mainly songs from 'Now, Diabolical' and 'The Age of Nero' were played but also elder songs such as 'Mother North' as the very last song or 'Forhekset' from the 'Nemesis Divina' album. Fans of the medieval records were probably disappointed about the lack of those songs, but with the choice of mostly newer tunes, an energetic, self-contained evening was created. Also, singer and a bit Elvis-look-alike Satyr approached to the audience by traversing the photo pit. After around 80 minutes and two encores, the band left the stage irrevocably and left a pleased audience behind, who made themselves on the way through the cold night.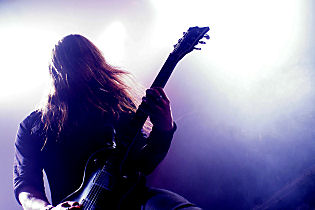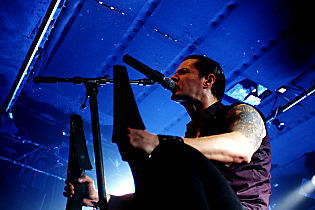 Setlist

01. Repined Bastard Nation
02. Wolfpack
03. Now, Diabolical
04. Forhekset
05. Black Crow on a Tombstone
06. The Rite of Our Cross
07. Commando
08. Supersonic Journey
09. Die by My Hand
10. The Pentagram Burns
---
11. K.I.N.G.
12. Fuel for Hatred
---
13. Mother North
Rating

Music: 10
Sound: 9
Performance: 10
Light: 9
Total: 9.6 / 10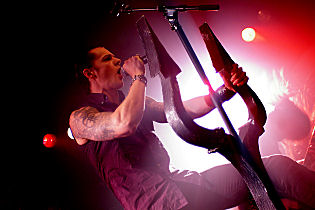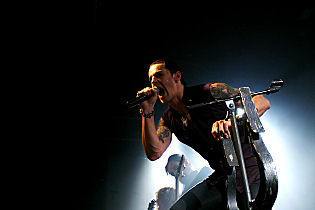 All pictures by Katrin Renner (
http://www.creavision-webdesign.de/
)
{jos_sb_discuss:17}