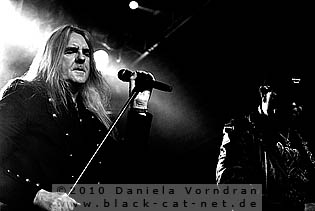 Bochum, Matrix, Germany
24th March 2010
Saxon, Big Ball

Celebration time for SAXON! It was 30 years ago that the band signed to the Carrere record label and released their eponymous debut album. Is there any better way to celebrate this event with the most important people a band have - their fans? So, SAXON are on the road again and were coming as well to Bochum to fill the Matrix with friends who were all hot to have fun with the guys who are never to old to rock!
Big Ball

They sound like Australia but are coming from Germany. BIG BALL is hotter than hell but still cool. If you think AC/DC sucks, then you will think the same about these guys. For all the others: Let us rock! With Dennis Ward (Pink Cream 69) they have the right man for pure rock sound.
http://www.bigballrocks.com/
/
http://www.myspace.com/bigballrocks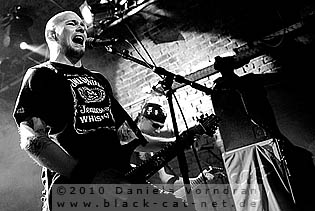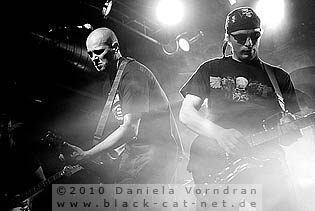 Music & Performance

BIG BALL themselves call their music "AC/DC lifestyle" and that's absolutely what it is. When you hear the front man singing, you hear Brian Johnson. Close your eyes and you think AC/DC are playing new stuff for you. BIG BALL have the chance to present their debut album 'Hotter than Hell' as support for SAXON and they seem to be successful. The face expression of the front man let us know that this way of singing must be strenuous. They kicked off the show with the 'Double Demon'. The audience seems to like the sound, they were rocking and banging. One stupid guy was shouting for SAXON, which was absolutely not fair because BIG BALL were giving their best and everyone had a great time, so everyone was laughing about him. We were asked a few times if we want some Rock'n'Roll - we wanted it and we got it!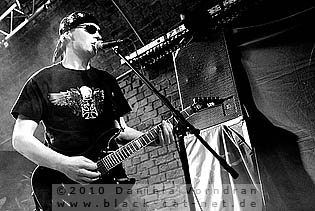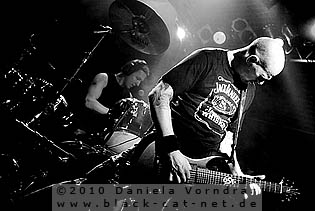 Setlist

01. Double Demon
02. Porno Lisa
03. Killdozer
04. Plugged In
05. Hell Whores & High Heels
06. Free Fire Zone
07. Groove Monster Machine
08. Hotter Than Hell
09. Big Ball Crew
Rating

Music: 8
Performance: 7
Sound: 7
Light: 6
Total: 7.3 / 10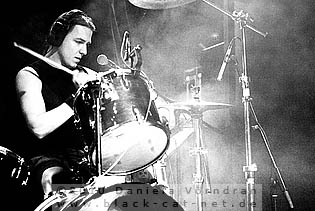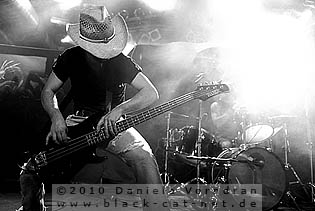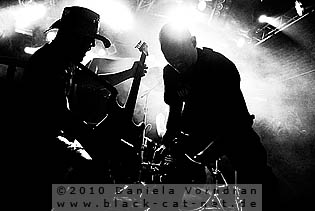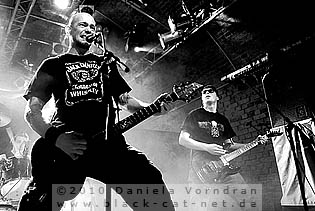 Saxon

Somewhere around South Yorkshire, UK there was a band that started life as SOB during 1976 with founder members Graham Oliver and Steve Dawson. This band joined forces with another local band, COAST, featuring Biff Byford on vocals and Paul Quinn on guitar. The two bands then finalised with a line-up comprising of the then 26 year old Graham 'Oly' Oliver, Steve 'Dobby' Dawson (27), Paul 'Blute' Quinn (26), Pete 'Frank' Gill (27) and Peter 'Biff' Byford (27). The name of the band was SON OF A BITCH. That name was dropped a few years later and the band re-christened themselves SAXON. They were at this time playing the usual rock clubs and concert gigs supporting THE IAN GILLAN BAND and HEAVY METAL KIDS, amongst others, playing all their own material.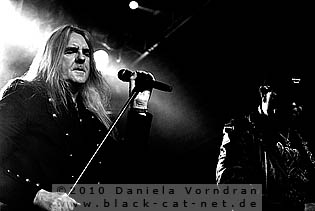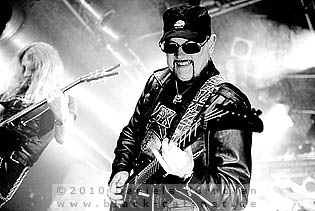 Demo tapes were recorded at Tapestry Studios, with producer John Verity (Ex. Argent singer / guitarist). They hawked these round the usual record companies only to be ignored as the New-wave was at its height at this time. After a few months the band finally gained a favourable reaction from EMI man Peter Hinton. He had come up to Barnsley to see the band play at the town's Civic Hall. He was very impressed and recommended SAXON to Claude Carrere as candidates for his new label on the British scene, Carrere Records. Claude decided to offer them a contract, after hearing the band's demo tapes. The legendary history of a band, the magic of their music, and the depth of their lyrics - all this is part of the fascination that a successful act such as SAXON exudes.
http://www.saxon747.com/
/
http://www.myspace.com/planetsaxon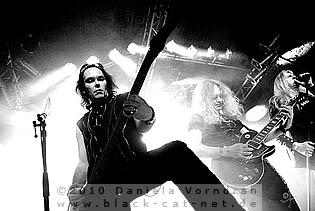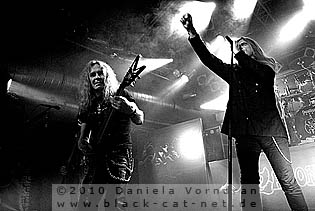 Music & Performance

First of all they sadly forced to announce that Nibbs won't be able to join the guys on this tour! Due to health problems of his wife they have all decided that it will be the best for all if he stays with his wife and family to make sure that she will get well soon. They still wanted to do the tour and were looking really forward to meeting all fans out there. So gladly their friend Yenz Leonhardt (Kingdom Come, Lacrimosa etc.) has jumped in for this part of the tour and will try to replace Nibbs part as best he can, although Nibbs is irreplaceable. Lights went out and we heard METALLICA's 'Seek and Destroy'. I guess we were all in the right mood for finest rock. When SAXON entered the stage they started with 'Battalions of Steel' and their magical energy went directly over to the audience. There was no stop and not one quiet moment until they decided to play 'The Eagle Has Landed'.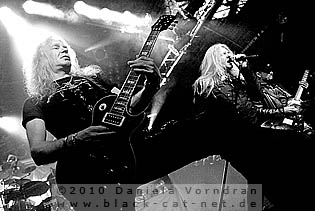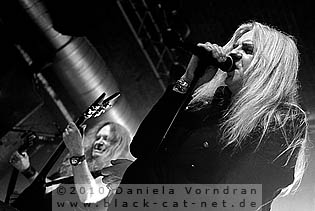 Everyone was singing along with SAXON and the band as well as fans were absolutely one thing. Biff seemed to be very touched when he mentioned their 30th anniversary and looked through the audience and saw different generations celebrating together with the band. The hymn 'Requiem (We Will Remember)' was so rousing and wonderful. Also all the "Saxon" shouting went straight to Biff's heart and they surprised with a medley. 'Denim and Leather' described so well the connection between band and fans. Of course they couldn't play all their highlights in nearly two hours, but they found a great mixture. SAXON proved one more time that they are never too old to rock. They are no broken heroes and they absolutely live to rock!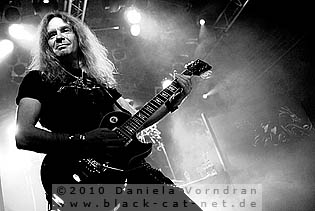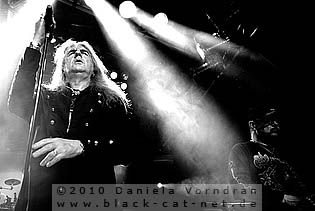 Setlist

01. Battalions of Steel
02. Heavy Metal Thunder
03. Live to Rock
04. Motorcycle Man
05. Requiem (We will remember)
06. Witchfinder General
07. Metalhead
08. The Eagle Has Landed
09. Medley (Warrior / Battle Cry / Sixth Form Girls)
10. To Hell and Back
11. Strong Arm of the Law
12. Broken Heroes
13. 20000 Feet
14. 747 (Strangers in the Night)
15. Princess of the Night
---
16. Guitar Solo
17. Wheels of Steel
---
18. Crusader
19. Denim & Leather
Rating
Music: 9
Performance: 7
Sound: 7
Light: 6
Total: 7.7 / 10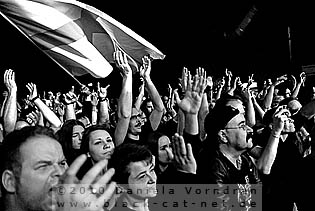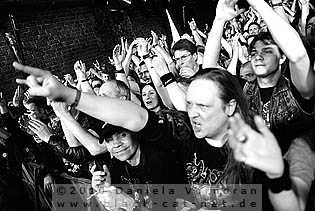 All pictures by Daniela Vorndran (
http://www.vorndranphotography.com/
/
http://www.black-cat-net.de/
/
www.myspace.com/vorndranphotography
)
{jos_sb_discuss:17}