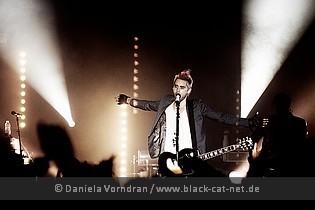 Ringlokschuppen, Bielefeld, Germany
22nd June 2010
30 Seconds to Mars & Carpark North

Seeing the Bielefeld show, after already been to Dortmund the week before, was not really planned. But when I got the call just the evening before, I was quite excited about a new possibility to see this great band again… well, to say already, the concert experience was at the end totally different than I was hoping for… at least when it comes to the evening's headliner. Support act CARPARK NORTH surprised me in a very positive way once more.
Carpark North
In Germany rather unknown, CARPARK NORTH, btw. Existing already for about ten years, are already a platinum status band in their home country Denmark where they have already released 3 CDs, namely the self-titled 'Carpark North' (1999), 'All Things to all People' (2006) and 'Grateful' (2008). In Germany, they are only available as import or MP3 download so far. But finally, the international debut album 'Lost' is set to be released in autumn 2010 also in Germany. CARPARK NORTH is Lau Hojen (vocal, guitars), Soren Balsner (bass, synths) and Morten Thorhauge (drums).
http://carparknorth.com/
/
http://www.myspace.com/carparknorth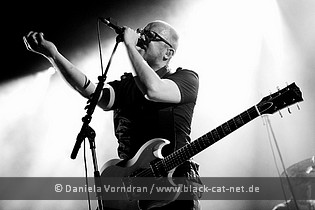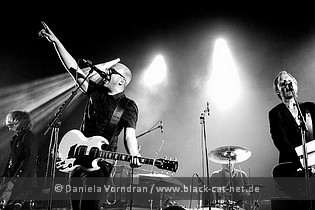 Music & Performance

In their own description, the band sounds like a mix of "the power of AC/DC, the soundscapes of Jean Michel Jarre, the simplicity of Kraftwerk and the melodies of the Beatles and Mozart". To make it a little clearer for you: take the indie flavour of SAYBIA, add a pinch of RÖYKSOPP, some DEPECHE MODE and COLDPLAY, stir it all up and you'll get CARPARK NORTH. In the best manner of fellow countrymen KASHMIR and SAYBIA, Lau, Soren and Morten present some high-class Indie Pop-Rock with catchy gripping melodies, harmonic synth lines presented even more powerful because the trio was extended to a quartet by a second keyboard player, and epic rock with raging guitar riffs. The combination of all musical elements combined with Lau's vocals merged to a concert experience extraordinaire.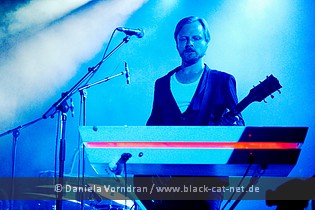 Supported by perfect sound and a decent light show, the four guys on stage had the audience on their hand right from the start making them sing along to songs just as 'Save me from Myself', catchy 'Human', 'Shall we be Grateful' from the latest record or 'Lost (Peace)'. Already convinced by their musical abilities, the 45 minutes lasting show in Bielefeld made one thing sure for me: I cannot wait until the German debut album will be out, I need to get their released CDs right away, and if it is as import. And yes, those guys surely deserve any support they can get, because they are simply brilliant. Long time ago that a support act blew me away like those Danes did!
Rating

Music: 10
Performance: 9
Sound: 8
Light: 8
Total: 9.1 / 10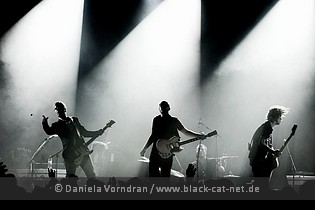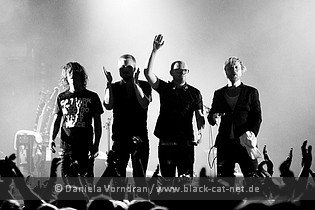 30 Seconds to Mars
Jared Leto, to many known due to his work as actor in various movies such as 'Fight Club' or 'American Psycho', founded 30 SECONDS TO MARS together with his brother Shannon. The self-titled debut album was released in 2002. Even though Leto was already very well-known as artist, the album did not sell too well, but 100,000 copies sold in the US was also not a bad result. Second and my favourite album of the band, 'A Beautiful Lie', saw the light of day in autumn 2005, re-released by EMI in autumn 2007. In the course of the album, the band played hundreds of life show gaining by and by a lot of success. Third album 'This is War' was released end of 2009 involve the band's fans in several ways like different fan covers, choruses recorded by fans or in the video for first single 'Kings & Queens'. Sold-out shows everywhere are evidence of the major success of the band. 30STM is Jared Leto (lead vocals, rhythm guitar, keyboards), Shannon Leto (drums, percussions), Tomislav Miličević (lead guitar, violin, keyboards) and Tim Kelleher (E-bass, synthesizer, keyboards, background vocals).
http://www.30secondstomars.de/
/
http://www.myspace.com/thirtysecondstomars
/
http://thirtysecondstomars.thisisthehive.net/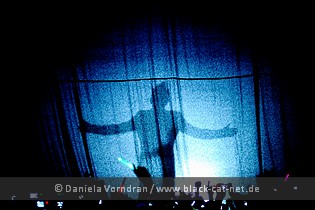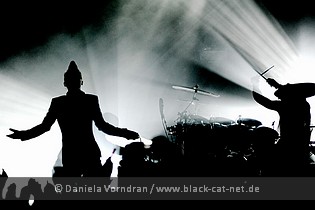 Music & Performance
Also, the show in Bielefeld was sold-out and when I arrived, I long queue was waiting for entrance. After the Leipzig show taking place last week one day after the Dortmund show I visited, people told me how disappointed they were especially with the vocal performance of Jared. Since I was quite excited after the Dortmund concert (Was it just because I was celebrating it in the masses? Or was it, like I am convinced of, really better? Others thought the show was brilliant so as I thought.) I could not really comprehend their statements. So I promised myself to watch the concert from the back, like I did in Düsseldorf earlier the year when I was just blown away by the show, to be really able to judge in an objective way. Maybe I should have made a different decision since I was now disappointed myself. But now let's turn to the show starting the same way like a week before with the band hidden behind a curtain being dropped during the intro 'Escape'. Following three songs, namely 'Night of the Hunter', 'Attack' and 'Vox Populi', I could not really witness since I was struggling taking some decent pictures… from the mixer board! Why the hell is there a pit when you are only allowed during the support band to use it?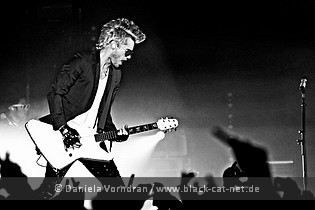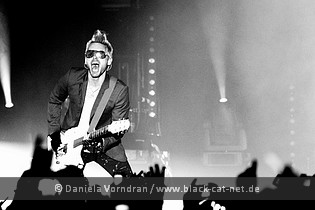 Well, after my "work" was done, I found a decent spot on some steps in the back from where I could see and hear (if there was something to hear *sigh*) perfectly. And so, the disaster began. Maybe all those you people, mostly girls, in the front did not care about the musical quality and just wanted to celebrate, but definitely people farther in the back did. Some really looked shocked and there was not much movement behind the FOH. First downer of the evening - and yes, I have been warned - was 'A Beautiful Lie'. Sometimes Jared mumbled some words into the mic you could not even understand, no single line of the lyrics, sometimes not even a full word, was sung on his own. Instead he held the microphone constantly into the audience to make people sing and go "fucking crazy". Total destruction of such a fantastic song! Also the acoustic bloc was rather short with 'Was it a dream' (well, it was one verse of the song in fact) and 'The Mission' which Jared fucked up commenting just with the words "I am getting old". 'From Yesterday' started also in an acoustic way but soon, when he realized that it won't work, Jared asked the audience if the whole band should join in.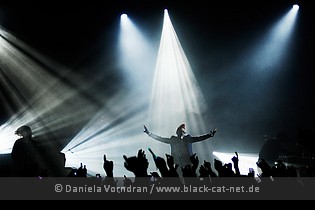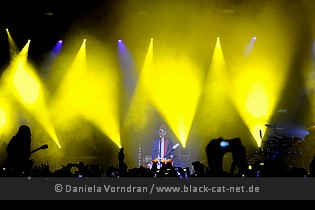 Following 'Closer to the Edge' started as already known with the request to raise the fists and sing along "Oh no no no!" Could work, worked in Dortmund the week before, but did not really in Bielefeld. I guess there was just no room for people to go mental and jump and it was just too hot when being in the crowd. Jared seemed not really happy about the audience's performance and you could feel he was not in best mood either. Following 'The Kill', one of my all-time faves, was played with the whole band this time. And this was the song when people besides me finally decided to leave the show because it just was not worth it staying any longer. I decided waiting still a little longer, but not very much longer… When people were asked if they want to hear 'Hurricane' or 'The Fantasy', first one won the race and with it, in my opinion the best vocal performance of Jared during the evening was presented. But still it was anything else then good and I left the show during this song because I simply love it too much to get my positive feelings I have with this song destroyed by a bad performance. And so, I missed final song 'Kings & Queens' where there obviously also were some problems occurring how I read later after the show.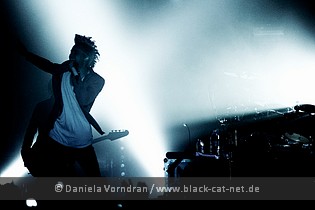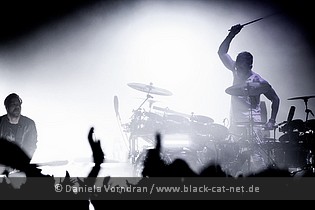 Well, to come to a conclusion: Jared definitely needs to sing more alone; I mean he did not even make it through a whole verse on his own, and practise his singing. Maybe, the band just needs a bit rest. People, who were standing beside me during the show and also left earlier because they were so much disappointed, were sitting outside the venue when I left and when I passed them, I heard something like: "If it goes on like this, people in Oberhausen won't hear anything anymore". Sums up my feelings according the show quite well! It is ok when people are asked to sing on their own during some songs, other bands do it as well, but definitely not during each and every song! The still average musical rating (5) does surely not result out off the presented show in Bielefeld but the high-class CD releases I still have in mind.
Setlist

01. Escape
02. Night of the Hunter
03. Attack
04. Vox Populi
05. Search & Destroy
06. A beautiful Lie
07. This is War
08. 100 Suns
09. L490
10. Was it a Dream (acoustic)
11. The Mission (acoustic)
12. From Yesterday (semi-acoustic with whole band joining in)
13. Closer to the Edge
14. The Kill
15. Hurricane
---
16. Kings & Queens
Rating

Music: 5
Performance: 8
Sound: 8
Light: 8
Total: 6.8 / 10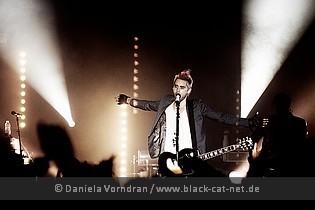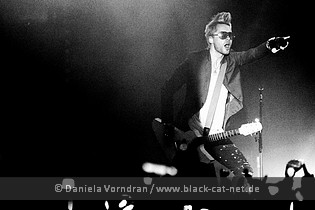 All pictures by Daniela Vorndran (
http://www.vorndranphotography.com/
/
http://www.black-cat-net.de/
/
www.myspace.com/vorndranphotography
)
{jos_sb_discuss:17}