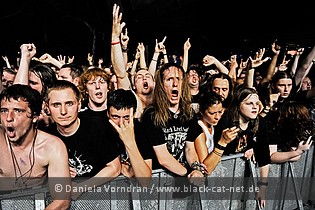 X, Herford, Germany
2nd July 2010
Slayer, The Haunted
When we set out to see SLAYER in Herford, the question bothering us first and foremost was if there actually would be any concert to see. Last time we went to Bochum the show was being cancelled on short notice due to health-related issues of Tom Araya. This time however the show seemed to happen and after us returning from getting fluid refreshment, the doors of the club already had opened.
The Haunted
THE HAUNTED emerged in summer 1996 and released their first, eponymous album in 1998. Afterwards the band embarked on a tour through Europe. Following a few line-up changes, the second album 'The Haunted Made Me Do It' was put out in October 2000. One date of the following tour, particularly in Tokyo, then was recorded and released as live DVD 'The Haunted Caught On Tape'. Beginning of 2003, the band locked themselves up in the studio to record the follow-up 'One Kill Wonder', eventually released in 2003. Up to now THE HAUNTED's discography has grown to six studio albums, as well as a couple other releases. 'Versus', the newest album, was released in 2008. The band recently confirmed they're working on new material. THE HAUNTED is Peter Dolving (lead vocals) Anders Björler (lead guitars), Patrik Jensen (rhythm guitars), Jonas Björler (bass) and Per Möller Jensen (drums, percussion).
http://www.the-haunted.com/
/
http://www.myspace.com/thehaunted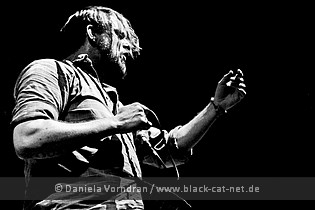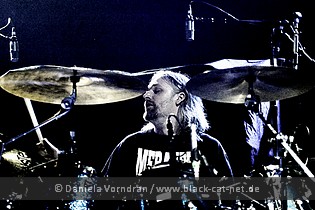 Music & Performance
THE HAUNTED around front screamer and occasionally singer Peter Dolving started darkly threatening with the intro 'Dark Intentions', connecting with the galloping 'Bury Your Dead' that pushed the already dangerously high adrenaline level of everyone attending even more. Turns out that were still restrained compared to what would come later. For the first time, close of the end of 'The Flood', Peter would show his clean voice which at least for me who's normally not into that unrestrained screaming voice was a welcome diversion. Dolving jumped and moved around while performing the vocals a lot and in such a hot club that sooner or later takes its toll. To prevent that he at some point came up with a big pack of crashed ice cubes, hanging on his shoulder or cooling his head or neck. How had I loved to have such a thing as well! Anyway, they laid down quite a powerful show but even though people were going along you knew they're saving powers for the main act.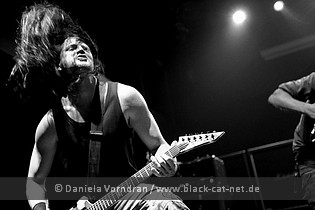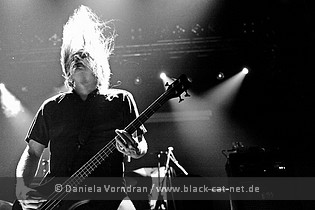 Setlist
01. Dark Intentions
02. Bury Your Dead
03. 99
04. Trespass
05. The Flood
06. The Medication
07. Iron Mask
08. Bloodletting
09. Little Cage
10. D.O.A
11. No Compromise
12. Moronic Colossus
13. The Guilt Trip
Rating
Music: 7
Performance: 7
Sound: 6
Light: 6
Total: 6.7 / 10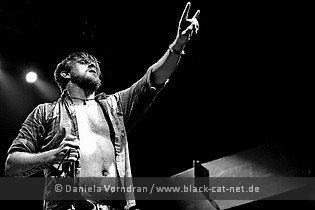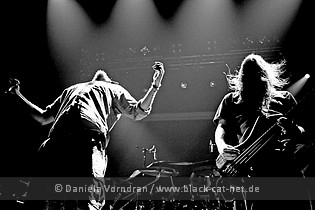 Slayer
The band which was formed in 1981 rose to fame as one of the leaders of the American thrash metal movement with their 1986 release 'Reign in Blood'. SLAYER also has been the subject of controversies throughout their career. The most prominent one being the discussion about possible Nazi sympathies due to the lyrics on 'Angel of Death', though the band has repeatedly stated they do not condone Nazism and supposedly will have to continue to do that. Anyway, this didn't hinder the victory march of the band into the hearts and necks of countless metal heads worldwide, and their newest album 'World Painted Blood', released last November, only brought them deeper into those. SLAYER is Tom Araya (vocals, e-bass), Kerry King & Jeff Hanneman (guitar) and Dave Lombardo (drums).
http://www.slayer.net/
/
http://www.myspace.com/slayer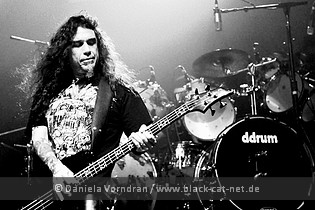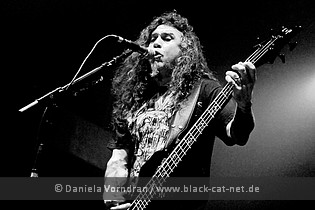 Music & Performance
Even before the concert started, loud choirs calling "Slayer, Slayer Slayer" demanded their heroes to enter the stage just now. When the lights turned red and the first drum beats of the opener 'World Painted Blood' were heard, no barriers could hold anybody back anymore and just picture what happened when the people recognized Tom Araya. He just needed to perform the vocals, swing a bit and watch how the crowd would go crazy and scream the chorus tagline for him. I was amazed by how they still could defy the boiling heat inside this club with like 0% oxygen inside. They'd get their chance to continue like that with following 'Cult ' and 'Disciple', which had their primitive instincts now taking over control completely. The middle of the crowd became a danger zone with a mosh pit partly sending its waves to the farthest rows.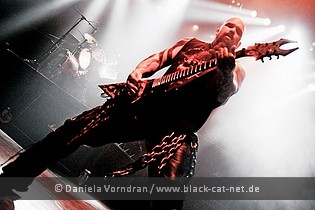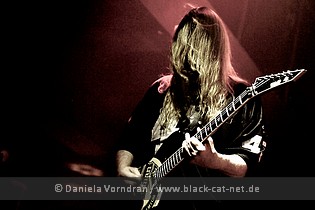 Cult SLAYER material like 'Expendable Youth', 'Mandatory Suicide', moreover 'Seasons in the Abyss' made sure no wish was left unfulfilled that evening. Everything presented with superior instrumental proficiency this also was something for technical freaks if there were any within this boiling atmosphere. Much to my and others surprise, SLAYER left the stage already after a good hour on stage, but were demanded back of course. Those little songs they were going to play, namely 'South of Heaven' and 'Angel of Death' made the crowning event and even though there was a demand for more no one came back and when the lights turned on even the last one knew it was over. We were all soaking wet; our clothes sticking to your skin and all we wanted was a shower… best right away. But we're also excited about a great show even though way too short for my taste.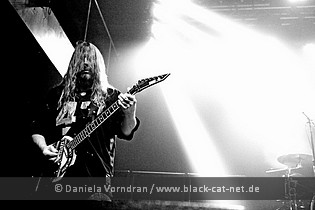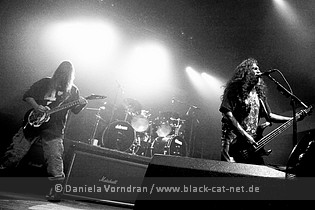 Setlist
01. World Painted Blood
02. Hate Worldwide
03. Cult
04. Disciple
05. Expendable Youth
06. War Ensemble
07. Jihad
08. Beauty Through Order
09. Payback
10. Seasons in the Abyss
11. Hell Awaits
12. Mandatory Suicide
13. Chemical Warfare
14. Raining Blood
15. Aggressive Perfector
---
16. South of Heaven
17. Angel of Death
Rating
Music: 8
Performance: 8
Sound: 7
Light: 7
Total: 7.7 / 10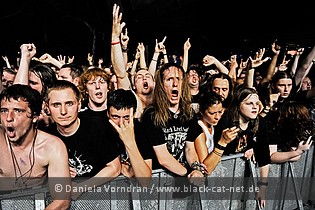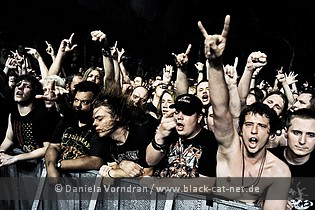 All pictures by Daniela Vorndran (
http://www.vorndranphotography.com/
/
http://www.black-cat-net.de/
/
www.myspace.com/vorndranphotography
)
{jos_sb_discuss:17}