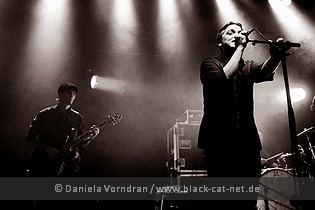 Kulturfabrik, Krefeld, Germany
23rd September 2010
Peter Heppner & Band, Melotron

Back in February was when we've seen PETER HEPPNER and his band playing last in Duisburg and it was no question we'd be attending this show as well. It's always worth a trip. Turns out it was more worth the trip than we could've imagined.



Melotron
MELOTRON is a renowned Synth Pop trio from Germany which was formed in 1996 and is known for their beautiful catchy songs with German lyrics regardless of which they've a still growing international following. Over the years they released six albums; the current album called 'Propaganda' and was out in February 2007.A new yet untitled album is currently in the works. MELOTRON are Andy Krüger (vocals, composition) and Kai 'Hilde' Hildebrand (keyboard, programming).
http://www.melotron.com/
/
http://www.myspace.com/melotronmusic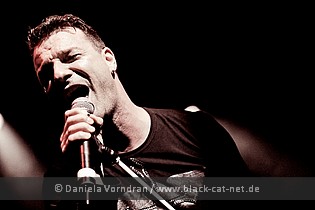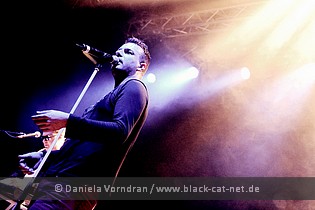 Music & Performance
The clock struck for MELOTRON first who had a replacement for the keyboard today replacing Edgar who couldn't make it this time. Setting off with 'Brüder'; Andy came up on stage, dressed in black and red to start chanting while Kay Hildebrand was stroking the guitar's strings with a stick, creating a weird sound. Next up was 'Die Arroganz der Liebe', seeing Andy putting up a little dance with the microphone stand while moving backwards. Time for something in English for a change with 'Stucked in the Mirror', being not a bad example of a song. The calm 'Welt Du Bist So Still' followed as the next one before the RIO REISER cover of 'Menschenfresser' had in stock for us a few real drum beats by Kay. Another English song 'Your Love Is Calling Me' ended the short set, meeting with an audience mildly excited as far as I could see.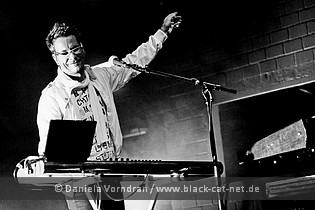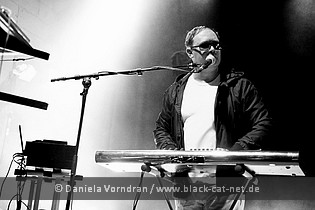 Setlist
01. Brüder
02. Arroganz der Liebe
03. Stucked in a Mirror
04. Welt Du Bist So Still
05. Menschenfresser
06. Your Love Is Calling Me
Rating
Music: 6
Performance: 5
Sound: 7
Light: 6
Total: 5.9 / 10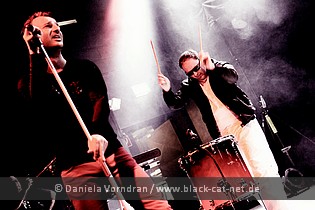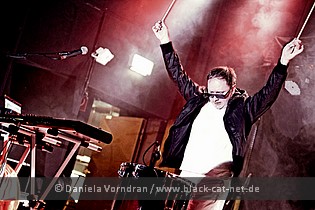 Peter Heppner
In September 2008, PETER HEPPNER finally released his long-awaited solo debut, aptly titled 'Solo', containing electronic gems, ranging from softly melancholic to even danceable stuff, always with the lyrical depth the fans know and love this man for. After having played a couple dates in 2009 already, PETER HEPPNER and his band return for more in 2010, playing a program not only comprising songs of the 'Solo' album, but also featuring songs out of collaborations he did for instance with SCHILLER or PAUL VAN DYK. The live-line-up is composing of Peter Heppner (vocals), Lothar Manteufel (keys), Carsten Klatte (guitar), Dirk Riegener (keys) and Achim Färber (drums).
http://www.peter-heppner.com/
/
http://www.myspace.com/peterheppner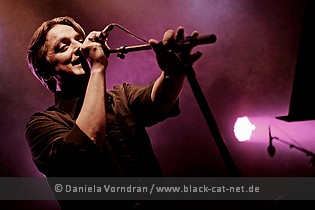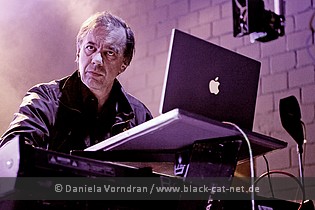 Music & Performance

By the time the performance of PETER HEPPNER and his band was due, you noticed a considerably increased attendance count in the venue. Not packed, but well-crowded. Then, the introduction to 'I Hate You' started the show and the band members walked in one by one, getting a warm welcome. Of course the biggest one given was for Peter and his sketch book and soon everyone was banned to their places watching in awe. With the beginning of 'Alleinesein', the first screams could be heard and dances were started. So you can bring an audience into action without moving too much, just with good songs and vocals. On following 'No Matter What It Takes', I especially liked the classical flavour given by Dirk Riegener on piano. The next song was the one starting it all for me: 'Die Flut', a deeply haunting piece of music to swathe in its surges. Carsten Klatte delivered some backing vocals for the track here. Equal in its moody build was the following; also German voiced 'Künstliche Welten'.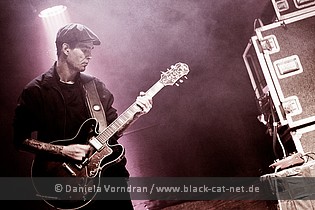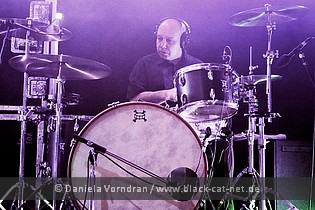 The set afterwards returned back to the solo album with showcases of 'Being Me' and 'Whatever' and I was still waiting for the turning point to make them all crack up and sing loudly. I guess that one was lastly reached with 'Kein Zurück', having the audience singing louder than ever before and the so far loudest applause followed afterwards. The loudness factor would increase, sadly also due to some who must have felt the urge to talk loudly and were close to destroying the mood. Gladly, the silence broke eventually at some point. Besides WOLFSHEIM tracks and songs from his 'Solo' album, Peter loved to incorporate some of the material he did in conjunction with other artists like 'Wir Sind Wir' or 'Dream of You'. The longer the set proceeded, the bigger the excitement got with the audience, and it was obvious neither of the guys on stage had expected that kind of euphoria. But it only drove them all to give more with even more joy, and it brought them back after 'Das Geht Vorbei' had closed the regular set.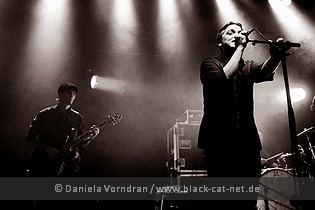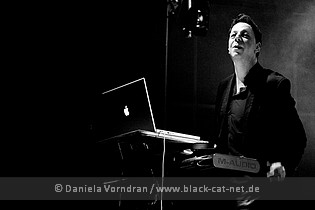 A new track 'God Smoked' started the encore and 'Leben… I Feel You' took over calmly. What? You're saying goodbye already? No way, you could do at least one more. So we clapped and clapped and clapped until the band returned for the second time for the uber hit 'The Sparrows and the Nightingales'. What a celebration that was and if I compare it to the show in Duisburg in February, it had a mood raised a tenfold. Peter felt inclined to say "I think we'll come back here more often." So will we if you're playing.


Setlist
01. I Hate You
02. Alleinesein
03. No Matter What It Takes
04. Die Flut
05. Künstliche Welten
06. Being Me
07. Wherever
08. Kein Zurück
09. Wir Sind Wir
10. Easy
11. Suddenly
12. Vorbei
13. Vielleicht
14. Once in a Lifetime
15. Dream of You
16. Wundervoll
17. Das Geht Vorbei
---
18. God Smoked
19. Leben..I Feel You
---
20. The Sparrows and the Nightingales
Rating
Music: 9
Performance: 9
Sound: 9
Light: 8
Total: 8.7 / 10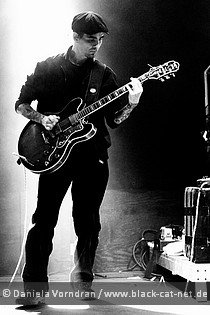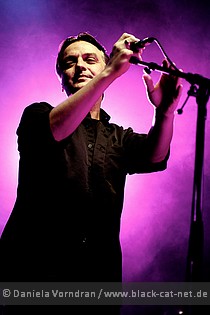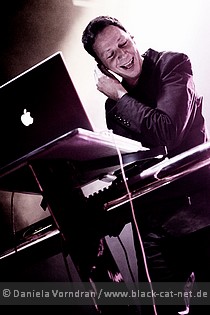 All pictures by Daniela Vorndran (
http://www.vorndranphotography.com/
/
http://www.black-cat-net.de/
/
www.myspace.com/vorndranphotography
)
{jos_sb_discuss:17}