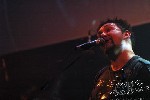 Paradiso, Amsterdam The Netherlands
April 6th 2006
Therapy?, Heideroosjes and The Apers

The evening started off a the wrong foot: while trying to reach Paradiso, Amsterdam we got stuck in a traffic jam and got lost in Amsterdam when trying to find a place to park our car. Because of all the break ups in the road we couldn't get to the one we wanted, so after a long search we finally got a place to dump the car, but we had already missed the first act, 'The Apers'. Too bad….
The Apers

The Apers started back in 1996 as a three piece in the suburbs of Rotterdam, the Netherlands. Kevin and Marien met in highschool, Ivo lived in a town nearby. They started gigging around the Netherlands. In 2000 Jerry Hormone joined the band on second guitar. But after 5 years, he decided to leave, so Kelvin Centerfold took over his place. The Apers have done more than 600 shows, rocking in countries like the Netherlands, USA, Belgium, Germany, Switzerland, Austria, Slovenia, Italy, France, Spain, England, Scotland, Ireland, Slovakia and Norway.


Heideroosjes


The Heideroosjes ('Heather') are formed while all members are still at high school. In those early days their repertoire mainly consists of songs in English. After releasing their debut album 'Noisy Fairytales' they made few differents albums and played a lot of big gigs and festivals.

Music
After The Apers had finished their show, it was time for The Heideroosjes to blast the audience. A Dutch punk band which has had some great hits here. Such as 'Hooligan' which is a song about a hooligan promoting his dam club. Besides the fun lyrics they also have some serious songs, for instance about life in Bosnia. Marco (vocals) spits out his lyrics, he knows what he is singing and clearly presents his message to the audience. They ridiculed about George Bush, which was very well taken by the audience. Because the lyrics are mostly in Dutch they are easy to understand, and to sing along to.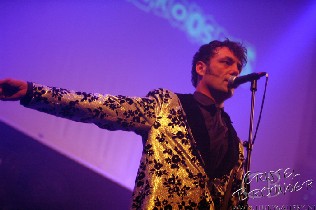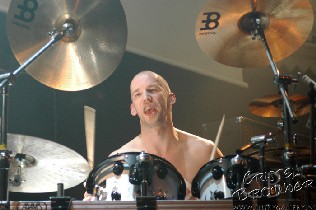 Performance

The Heideroosjes are known as one of Holland's loudest and most sensational punk bands. When the first sounds of the first song burst into the venue, the audience had already gone wild. Jumping people, crowdsurfers, and stagedivers claimed this show to be theirs and The Heideroosjes were fine with that. Even when this guy jumped on stage to make a picture with his idol Marco, there wasn't any problem at all.

Rating
Music 7
Performance 7
Sound 7
Light 6
Total 7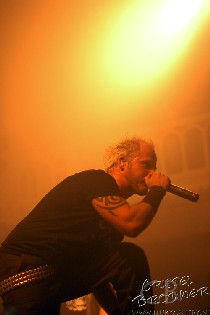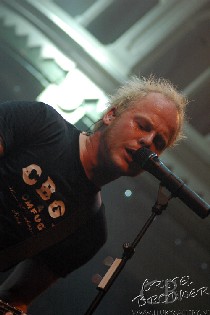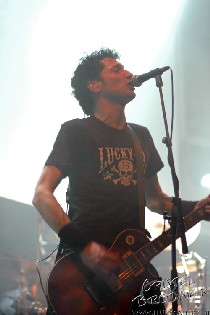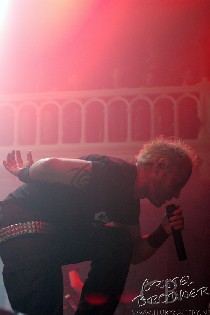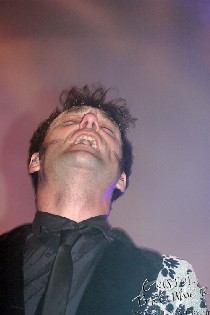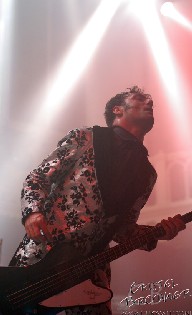 Therapy?

Northern Ireland, 1989. Andy Cairns from Ballyclare and Fyfe Ewing from Larne meet at a gig of local bands. A mutual taste in music and attitude drives them to decide to start a band. Their influences include Big Black, Sonic Youth, Rapeman, Hüsker Dü, Butthole Surfers, The Undertones, That Petrol Emotion, Captain Beefheart, Motörhead, Mudhoney, early Metallica, Fugazi, The Stooges, Loop, Funkadelic, Can, Belgian New Beat, Trance, Techno, Hip Hop (Public Enemy) and Jazz (John Zorn).
They decide on the name Therapy?-it's short and easy to remember. Needing a bass player to complete the line up they recruit Fyfe's school buddy Michael McKeegan on bass. Michael, an energetic and enthusiastic metal fan, is influenced by the same music as the boys but also adds to the party: Voivod, Carcass, Napalm Death, Black Sabbath and various Grindcore, Black, Speed and Doom Metal. Early January in 1996 Andy gets a phone call from co-founder Fyfe to tell him he was leaving the band, stating he would "go mad" if he carried on. Early march, after many auditions, Graham Hopkins from Ireland joins the band. At the same time Andy and Michael ask Martin McCarrick to join the band full time, he accept.
A strong sense of déjà vu was around the band at the start of 2002. No drummer, no record deal. Taking some much needed time off the band spent a while in their respective homes getting their heads together and beginning to write new material. By the end of autumn they had also found a new home, a worldwide deal with Spitfire Records. Neil Cooper has proved himself to be an exceptional drummer and now rock on!
http://www.therapyquestionmark.co.uk
Music

The audience was already warmed up by Heideroosjes when Therapy? entered the stage. At the first notes of 'Potato Junkie' the crowd already got jumpy. When this song was followed by their hit 'Stories' the ambiance was at it's top and it stayed that way the rest of the evening. The setlist was very various: the played songs from their second album 'Pleasure Death' till their latest 'One Cure fits all'. A strange fact was that Therapy? didn't play their biggest hit 'Diane', a song which a lot of people were waiting for (read that later on a couple of forums too). The sound in Paradiso was, as always in this beautiful church, very good. All instruments were miced out very well, so it was a clear sound.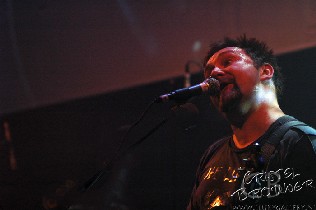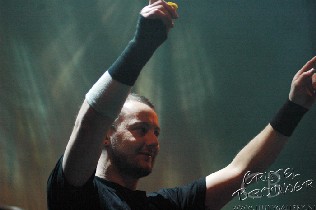 Performance
When setting just one foot on stage, the band was already received as heroes. You could see that Therapy? felt immediately at home in this little church of Rock and Roll and gave the audience their very best. Andy (vocals, guitars) was joking around, making funny faces, but also gave the crowd a couple of serious messages, for instants about the situation in America and Bush right now (Yes, Bush was not very popular this evening). Half way the gig the Heideroosjes joined in for 2 songs, which was hilarious. During the show there was a large video screen hanging as a backdrop above the podium, which showed us a lot of different images. Looked great! The lightshow of Therapy? was a little sober and there was used a lot of purple and pink. It didn't give the show that extra touch, that a lightshow can do.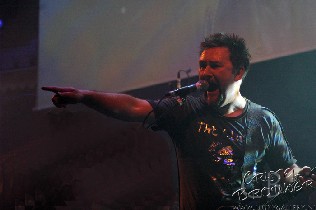 Setlist
01. Potato Junkie
02. Stories
03. Rain hit concrete
04. Rust
05. Kill Me
06. Rock your Monkeys
07. Polar Bear
08. Die Laughing
09. Teethgrinder
10. Sprung
11. Knives
12. Screamager
13. Nowhere
14. Walked Through
15. Isolation
16. Play On
Rating

Music 7
Performance 7
Sound 7
Light 6
Total 7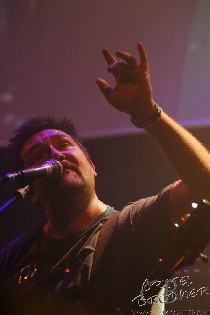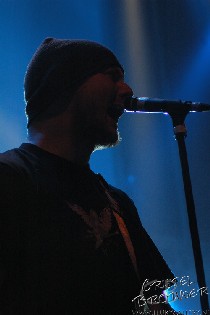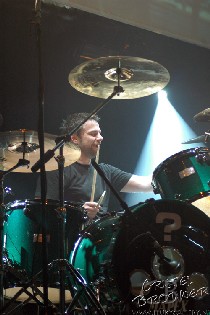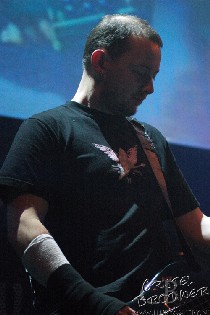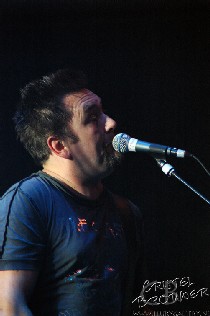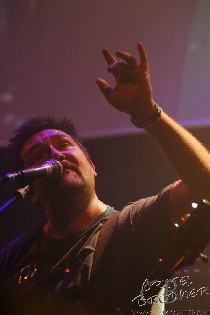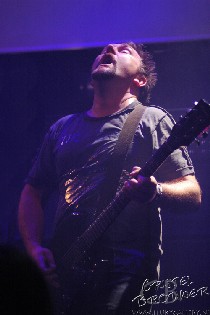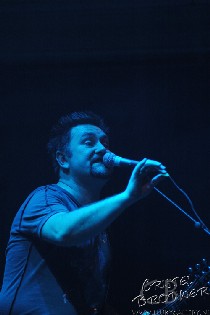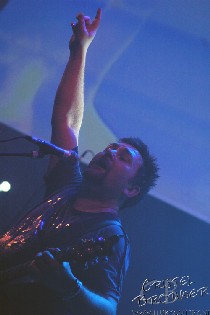 More pictures can be found at
www.llukygallery.nl
{jos_sb_discuss:17}
See also (all categories):