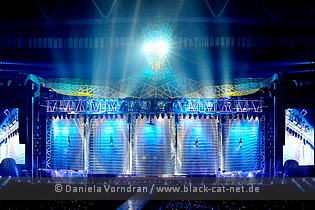 Esprit Arena, Düsseldorf, Germany
25th July 2011
Take That, Pet Shop Boys

Back for good! Finally, TAKE THAT are reunited on one stage and were celebrating a big party in the sold-out arena in Düsseldorf in front of more than 45,000 fans who have also grown up. No screaming teenagers anymore but women around 30, some of them brought their boyfriends / husbands to the show. Support were no one less than the PET SHOP BOYS.



Pet Shop Boys

PET SHOP BOYS are a British electronic dance music duo, consisting of Neil Tennant, who provides main vocals, keyboards and occasionally guitar, and Chris Lowe on keyboards and occasionally backing vocals. The band has sold close to 100 million records worldwide. Since 1986, they have had 42 Top 30 singles and 22 Top 10 hits in the UK, including four Number Ones: 'West End Girls', 'It's a Sin', 'Always on My Mind' and 'Heart'. At the 2009 Brit Awards, PET SHOP BOYS received an award for Outstanding Contribution to Music presented to them by Brandon Flowers. The duo's latest album, entitled 'Yes' (continuing the tradition of single word titles) was released on 23 March 2009. http://www.petshopboys.co.uk/ / http://www.myspace.com/petshopboys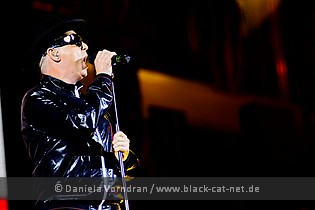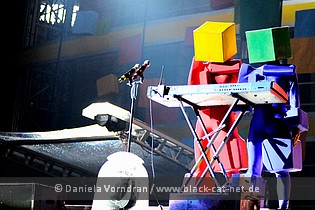 Music & Performance
Last time, I saw PET SHOP BOYS in my home town on their headliner tour in 2009 in front of about 3,000 people. What a change to see them now in such a big arena! At around 19.15, a "nutty professor" walking down the catwalk to the platform in the middle of the arena, pressed some knobs and the words "Please welcome the Pet Shop Boys" appeared on the screen. Under big screams, Neil and Chris entered the stage, accompanied by two "cubed" musicians at the keys, to start their show with 'Heart'. Of course, big video animations, just as known from their last own tour, and dancers were supporting all songs. The TAKE THAT support show was just a greatest hits collection. 'Go West', 'Always on my mind', 'Suburbia' or 'It's a Sin', no big hit was missed. With 'West End Girls', the show ended under big applause.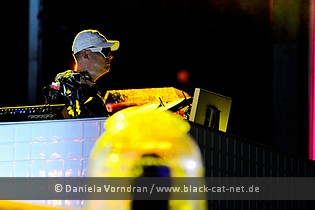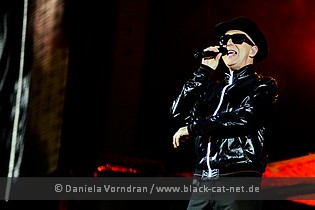 Setlist
01. Heart
02. Love Etc.
03. Go West (Village People cover)
04. Together
05. Always on My Mind (Brenda Lee cover)
06. Left to My Own Devices
07. Suburbia
08. Se A Vida É (That's The Way Life Is)
09. It's A Sin
10. West End Girls

Rating
Music: 8
Performance: 8
Sound: 8
Light: 7
Total: 7.8 / 10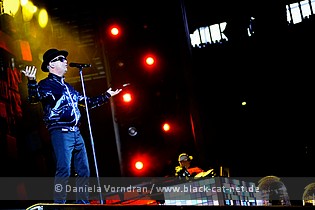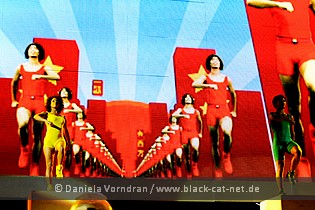 Take That

Up to that point in 1996 when TAKE THAT broke up and hundreds of thousands of teenagers lost their idols and nearly their minds, they've been the most famous representatives when it comes to boy groups. For years many of their fans had hopes they'd come back soon, but as times is fading so does hope. Because of that the reunion that took place around 2005 came like a bombshell and even without Robbie Williams a song like 'Patience' climbed up the hit lists. But in July of 2010 Williams announced he'd re-join the band. For most fans this must have been a long dream coming true at the time. Their first reunited effort is the album 'Progress' that has been released in November of 2010. TAKE THAT IS Gary Barlow, Howard Donald, Jason Orange, Mark Owen and Robbie Williams. http://www.takethat.com / http://www.facebook.com/takethat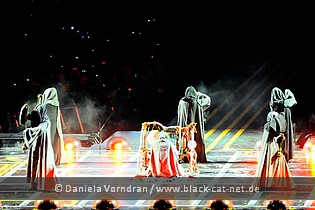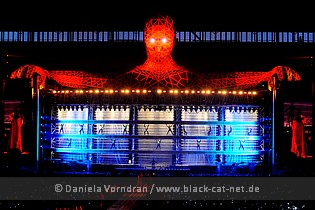 Music & Performance
Already at 3pm, the gates to the arena opened to let the fans in. There were people speaking any language you can think of, some were coming from far away, some were even camping the night at the gates to be in front row for the show. Still it seems, the band did not lose any of its attraction, just drawing in no teenagers anymore but women in their twenties and thirties. Men attending the show were just the minority. Even though the fans were grown up, they were loud, really loud! On high volume, they screamed and sang along with the band, the mood was simply amazing. And so was the stage! This one was immense! Highlight was surely the giant robot, looking a bit like Spiderman, being placed on top of stage, grasping it more or less. The band itself was appearing everywhere on stage, on a gallery on this huge construction, in elevators bringing them down, on the catwalk or even on a crane over the heads of the audience. But that were not the only show elements. There was a waterfall on stage, there were pyrotechnics and there were a lot of dancers and performers supporting the show as wirewalkers, living chessmen or fantasy creatures. And last but not least there was the band to deliver the music!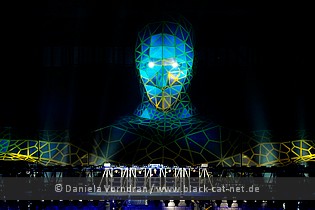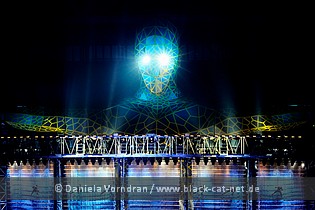 Speaking of the music, the show was more or less divided into three parts. In first one, TAKE THAT performed as a four-piece songs from the time when Robbie was no member of the band. 'Rule The World', 'Patience' or 'Shine' were still received a bit reluctant, but then, when Robbie Williams entered the stage for his solo part, hell broke lose. With 'Let Me Entertain You' and 'Rock DJ' he turned up speed. The he delivered three calmer songs with 'Come Undone', 'Feel', which must have been a pleasure for the fans since Robbie was flying on a crane over the audience and shaking hands, and touching 'Angels'. With a big bang, he disappeared from stage and now it was finally time for TAKE THAT to appear as reunited five-piece with 'The Flood'. The five men impressed with 'Back for good', 'Pretty Things' or 'Pray'. Also a little acoustic section belonged to the show consisting of 'A Million Love Songs', 'Babe' and 'Everything Changes'. The main set ended with 'Never Forget'. But the show would not have been a real show without encores. And so, an amazing show night ended with '' Relight My Fire' and 'Eight Letters' and released thousands of excited fans. TAKE THAT are really back for good!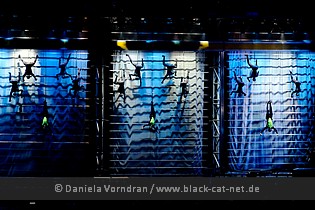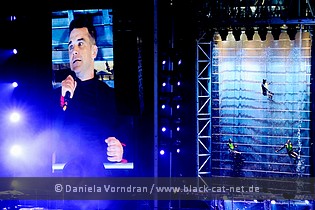 Setlist
-Take That 4-piece-
01. Rule The World
02. Greatest Day
03. Hold Up A Light
04. Patience
05. Shine
- Robbie Williams Solo -
06. Let Me Entertain You (Robbie Williams song)
07. Rock DJ (Robbie Williams song)
08. Come Undone (Robbie Williams song)
09. Feel (Robbie Williams song)
10. Angels (Robbie Williams song)
- Take That 5-piece -
11. The Flood
12. SOS
13. Underground Machine
14. Kidz (incl. "Rudebox")
15. Pretty Things
16. A Million Love Songs / Babe / Everything Changes (Acoustic)
17. Back For Good
18. Pray
19. Love Love
20. Never Forget
---
21. No Regrets (Robbie Williams song) (short version as intro for Relight…)
22. Relight My Fire
23. Eight Letters

Rating
Music: 9
Performance: 10
Sound: 9
Light: 10
Total: 9.6 / 10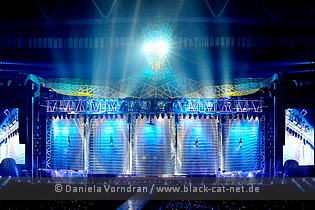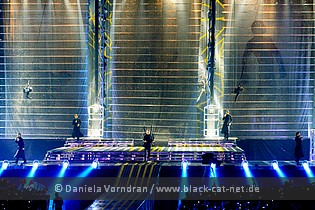 All pictures by Daniela Vorndran (http://www.vorndranphotography.com / http://www.black-cat-net.de/ / www.myspace.com/vorndranphotography / www.facebook.com/blackcatnet)