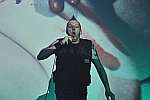 Backstage Werk, Munich, Germany
4th August 2011
Suicide Commando & In Strict Confidence

For the 17th time this year, the Free & Easy festival took place at the Backstage: During two weeks nothing but concerts, parties, films and a lot more on the Backstage area and everything for free! Last Thursday two quite special bands performed there…



In Strict Confidence

IN STRICT CONFIDENCE (ISC) is a German electronic band which was founded in 1989/1990 under the name SEAL OF SECRECY. Their third album 'Love Kills', which was published in 2001 under the new label Bloodline, reached for the first time place one of the German Alternative Charts and became the most successful album in the annual evaluation after THE CURE. On the 25th March 2011 the band published the EP 'Set Me Free'. www.instrictconfidence.de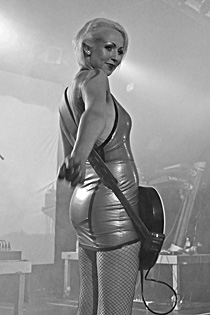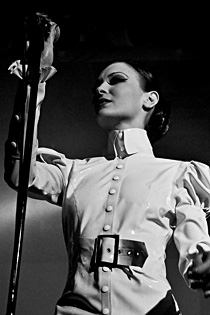 Music & Performance
Instead of 8:00 PM it was 8:30 PM as the band entered the stage of the well filled Backstage Werk, despite the big heat inside. The mood was great from the very beginning. ISC played newer as well as older songs and of course songs like 'Forbidden Fruit' and 'Zauberschloss' were included into the setlist. Also the performance of Nina de Lianin was worth seeing and quite a lot of people might have asked themselves how she could stand the show in the varnish dress with the heat. Same thoughts might occur about singer Dennis Ostermann who appeared with quite warm looking cap. Unfortunately, after one hour everything was already over.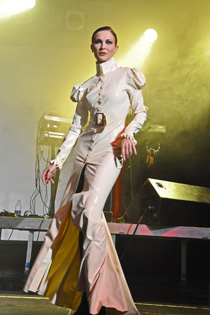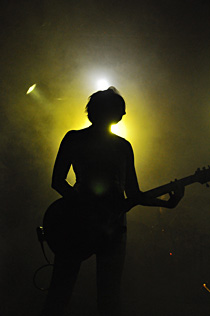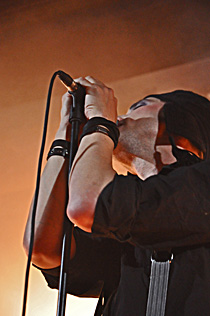 Setlist
01. My Despair
02. Promised Land
03. Seven Lives
04. This Is All
05. Forbidden Fruit
06. Set Me Free
07. Away From Here
08. Silver Bullets
09. Closing Eyes
10. Herzattacke
11. Zauberschloß
12. Engelsstaub

Rating
Music: 7
Performance: 8
Sound: 7
Light: 7
Total: 7.3 / 10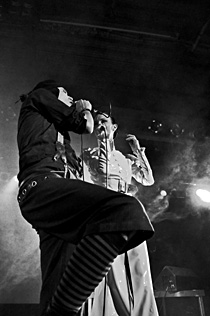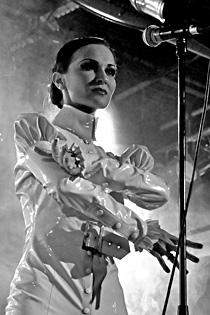 Suicide Commando

SUICIDE COMMANDO is the music project of the Belgian Johan van Roy. He started to experiment with electronic music in 1986. In the beginning, the project was assigned stylistically first to the Electro Industrial sphere what changed from the end of the 1990s and developed more in the direction of Aggrotech. Most lyrics are about death, murder and similar subjects. In 2010, the latest album 'Implements Of Hell' appeared. www.suicidecommando.be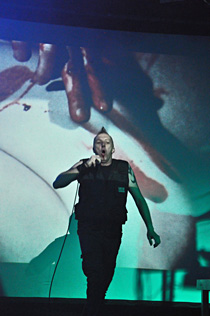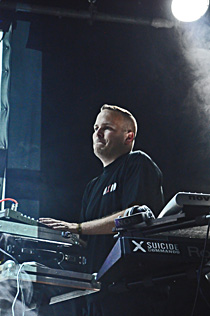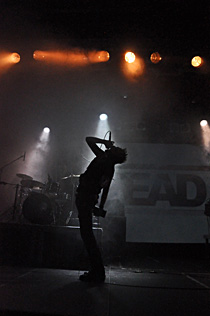 Music & Performance
After the rebuilding break, which most spectators used for cooling down and getting some fresh air, the band and singer Johan van Roy appeared on stage at 10:00 PM. From the first song, SUICIDE COMMANDO had won the fans with their hard sound and nearly the complete audience in the hall danced together until the end along to their hits like 'Die Motherfucker Die' or 'Hellraiser'. During the whole show, Johan van Roy raved across the stage like a dervish, every now and then water bottles or the microphone stand also flew through the area. Also the appearance of SUICIDE COMMANDO was over after one hour and a few additions.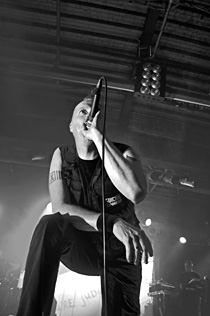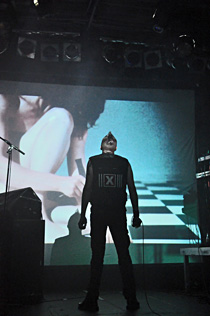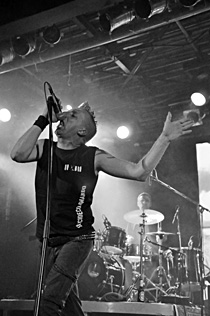 Setlist
01. Intro + severed head
02. Hate me
03. Death cures all pain
04. Dein Herz, meine Gier
05. God is in the rain [clubmix]
06. Cause of death: suicide [remix]
07. Time [2011 re:wind]
08. The perils of indifference
09. Love breeds suicide
10. Die motherfucker die
11. Bind, torture, kill [2010]

Rating
Music: 8
Performance: 7
Sound: 8
Light: 7
Total: 7.5 / 10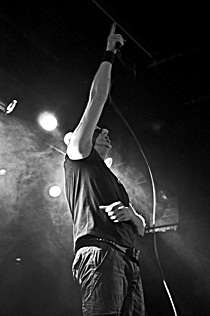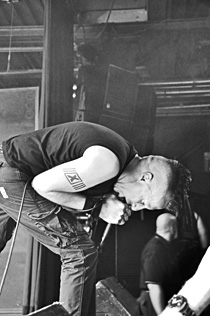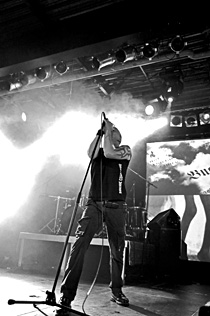 All in all, we can say that it was an exceedingly successful concert evening with great shows, great bands and an audience in an extremely good mood…

All pictures by Erika Knepper (This email address is being protected from spambots. You need JavaScript enabled to view it., www.facebook.com/erikaknepper)