Interview with

Riccardo Sabetti (vocals, bass, guitars) from Spiral 69

The history of Spiral69 begins in 1992, when Riccardo Sabetti, returning from a concert by THE CURE, decides that will do the musician in life: a sudden decision and sudden that changes his entire life. Now, 20 years later, we took the chance to ask Riccardo a few questions about past works and the upcoming album.


Reflections of Darkness [RoD]: Your music is so emotional and personal. How you write the texts? You need special mood, something that impressed you? You should feel yourself good or bed? How it goes. And besides how you accept the critics.
Riccardo: My lyrics are all born from my real-life situations, from my personal stories, I can not write about things that are not true... Most of the time, I have a block that does not allow me to write for a long time. Then suddenly, something breaks this deadlock, and start throwing up everything I had in my head... I use a lot more time to arrange the instrumental parts of the songs because when I get unlock, the lyrics come out very naturally! Of course, I accept the critics, but only on the front "technical". I do not think it is possible to judge the thoughts and emotions of a person.

RoD: I can listen your music without breaks but too songs are very special for me. There are 'You' and 'Berlin'. Can you tell a little bit more about these songs? I like very much you foto shooting "Lost in Berlin" it's a really good illustration to this song.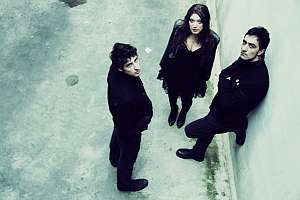 Riccardo: Thanks. These two songs are very important to me. 'You', it's a track that I wrote many years ago, and tells of my destructive relationship. But then over time, constructive, with my dad. is a song, difficult to interpret. In fact, recently, we're playing it very rarely in live. 'Berlin' is my personal tribute to a city that I love and I feel a bit like a second home. It was written in December 2008. December 22 in the morning to be exact. I was there on vacation, and during a walk in the Marx-Engels-Forum I sat on a bench and threw up the entire lyrics. When I returned to Rome, I composed the music... The photo shoot was done by a multi-faceted artist Roman. Miss Mary Stuart, she is a fantastic photographer, and also a very good singer. She also participated in the choirs of our next single, 'Dirty'.

RoD: Do you believe in god? Because for example we can listen in 'Love is for loser': "This God will never give you a chance…". This song opens to many questions.
Riccardo: I believe in God, in Christ, but I have a bad relationship with the Church. I actually detest every clerical form. Regarding 'Love is for Loser', the sense is that the absolute love often does not pay. When you love... at the end you always get hurt... and you can't bring back anything of good. I mean, worrying about the world around us, our neighbours, the horrible things that happen every day. Love is a way to be most often hit and injured, because we lower our defences. And I think God doesn't love everyone, otherwise we could not explain many injustices.

RoD: On many picture you are in T-short with cover from JOY DIVISION album 'Unknown Pleasures'. I am not sure but you have this cover as tattoo. What means this band for you and a specially this album?
Riccardo: No, as tattoo not yet ;) JOY DIVISION are deeply in my music. The strength of their songs is an emotional source of inspiration, yet never reached by any other in my opinion. 'Unknown Pleasure' is the perfect album, musically, the lyrics... An example of how music can be serious and fundamental in the growth of a person, so as to influence the way I see things.

RoD: Back to the question about tattoos, how many you have? And when you have done your first one.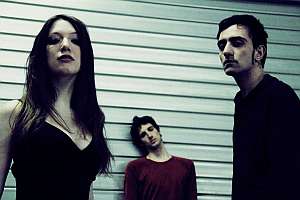 Riccardo: Until now I have thirteen tattoo, the first I did on my eighteenth birthday... the last ten days ago, Simon H. Salvatori did it! Is a pin up cop...

RoD: You play on your lives cover on DEPECHE MODE 'Home'. Why this song?
Riccardo: Generally we play cover only when we are in Rome... 'Home' was the perfect song at the time of my life. I was just walked into a dark period, and that gig was in a club of friends, with many friends present... it was just like being at home.

RoD: As I see, you like to make covers – BRONSKY BEAT 'Small town boy', NEW ORDER 'Ceremony', DEPECHE MODE 'Home' or NINE INCH NAILS 'Closer'. What means all this bands for you? And which bands influenced your music at all?
Riccardo: I like to reinterpret songs from artists that I love. Is a way to make a tribute, and make mine, songs that mean a lot to me.

RoD: This year you have played first time on Wave Gotik Treffen in Leipzig you impression about your show and festival.
Riccardo: It was my third time at WGT. In the past I have participated two times with my old band, THE ARGINE. But this time with SPIRAL69 has been really special. Everything was perfect; the stage was amazing, the perfect organization and the audience on fire! We played for over an hour, the audience greeted us in a big way. On many blogs, to live our WGT is one of the three best live at this year's festival. Hope it's true, and hope to return again next year to present our new album...

RoD: You have played as support band for SHE WANTS REVENGE and PLACEBO is it hard to be support band? Was it a good experience for you?
Riccardo: Yes, it is hard... but it's f*#*ing great! With SHE WANTS REVENGE was more quiet, in fact, we can say that our live liked most of them. With, PLACEBO, had to withstand the impact of a super stage, and an ocean of people in front of us just waiting for their favourite band. But we managed well here too... And then, I think, do the support band is the best way to get to know by the people.

RoD: As I see you like to work together with other bands. You have made amazing single 'Fake love' with SPIRITUAL FRONT. And as I know, it's planed a work together with ORE. Tell a little bit more about this.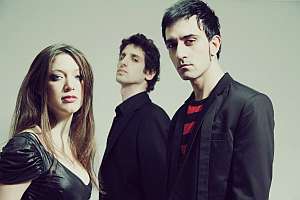 Riccardo: Has already been published just recently, the remastered version of the EP 'Four', which includes in addition to his original tracks, remixes and different versions reinterpreted by other artists. To close this reissues, I have a version of 'The Future Was Today' that has met with great critical acclaim. I am very happy about this collaboration, and surely there will be others in the future with Tomas.

RoD: With which other bands you want to work together?
Riccardo: IAMX, Peter Hook, Shirley Manson...

RoD: You are working now with new EP. Can you tell us more about this and release date? In teaser 'All The Ghosts In My Eyes' is no date only month - September. Is it possible that on 'Children of the Night' we could buy a new EP?
Riccardo: Unfortunately no, the job is much more than expected, and probably the publication postponed to January... and it may not be an EP but a real album. Everything is still running but I think everything is ready for January.

RoD: You are working on this album together with Steve Hewitt (Placebo/L.A.R.). How do you known each other and decided to do something together?
Riccardo: We touring in 2010 as support band for the L.A.R. Italian tour and then we meet. We became very good friends. Steve is a wonderful person and a great artist. The collaboration came about by chance, for two years we have written as good friends, wondering just how we were and if things go well. Then last September I sent him some demos of new songs. He has been loved and wanted to produce! On the record, in addition to artistic production, has also played drums on some tracks. We are very proud of this work, and it will be a surprise to those who follow us by a bit of time. There is a strong stylistic evolution of sound and melody in music than in the past, maybe it's more catchy, but still very melancholic at times and rough in others. It will be an album really "suicide Pop" with strong influences from electro and synth pop. Something halfway between THE CURE, NIN and DEPECHE MODE.

RoD: You have always so amazing videos. I am not original - my favourite is 'Best Porno' with Simone. And who is author of ideas for your video? And do you plan some new video releases to your new EP?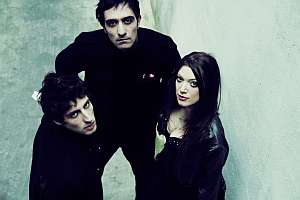 Riccardo: Paola Rotasso is the director of almost all of our videos. We are good friends, and work shoulder to shoulder to the creation of ideas for our video. The cinema and the visual arts are that I love, and I love to follow the creative process and technical. Soon we will publish a free live online video of five tracks, shot in Rome and also directed by Paola. While September 5, will begin filming 'Dirty', the first single of the new album. We are very excited about this!

RoD: Riccardo, as I know you are working as a DJ too. Which kind of music you like to play?
Riccardo: I Like to spin Rock, Wave and Electro… basically I love having fun.

RoD: How you imagine your perfect listener?
Riccardo: Our listeners are very transversal. You can find inveterate follower of the new wave scene, to the indie audience. We did very different things over the years, and it is difficult to label us a kind. We have produced folk songs as 'Berlin', electro as 'The girl who dances Alone in the Disco', new wave as 'Kissing Juda' or pop as 'Erase'. The line connecting all of our work is the strong emotionality present in all tracks.

RoD: What do you expected from your show in Kiev on September 22 (Spiral69 will play as a Special guest on Festival Children of the Night, Kiev Ukraine)? As I know it will be you first show in ex-USSR countries.
Riccardo: I'm sure will be a great gig. I'm damn happy to play them! We will do our best to make our show unforgettable both for us and for the audience.

Written by Daria Szegeda (Ukrainian Gothic Portal www.gothic.com.ua)
The Russian version of the article is available at http://www.gothic.com.ua/Interviews/spiral69_interview2012.html