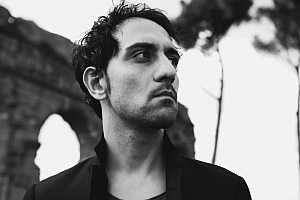 Interview with

Riccardo Sabetti (Vocals, Bass, Guitars, Synthesizers) of Spiral69

Leaving the omphalos in 2007, the spiral grew relentlessly, conquering distances with two highly acclaimed albums so far (2009/2011), tireless touring through Europe (highlighted by appearances at the mandatory Wave Gotik Treffen and the Children of Night Fest in Kiev) and collaborations with names like THE SPIRITUAL FRONT, TYING TIFFANY or even LOU REED (who choose one of their songs for the soundtrack of his debut movie 'Red Shirley'). The latest album, 'Ghosts In My Eyes', was released in April 2013. The album release was reason enough for us to ask frontman Riccardo a few questions…


Reflections of Darkness (RoD): Your new album is finally released. Work on it has taken more time as planned. I know that a planned released date was changed a few times. What are you feeling now, after the work is done and fans can listen to it?
Riccardo Sabetti (Riccardo):Until now, the reactions of the audience are great, the magazine industry and journalists talk about it very well. We cannot complain... and we can ensure that we have not yet started with the intensive promotion of the album. Maybe we will take at least another six months before we can begin to draw conclusions.

RoD: Tell us about your new label. Are you happy with it and like to work with them?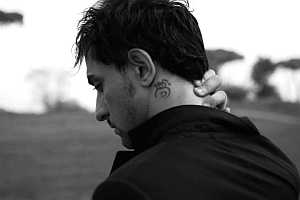 Riccardo: They are a "ghost" label… they work for us just to distribute the album. In the end we are a totally independent reality. These days it's almost completely useless to have a label. The result does not change if you do not have a big budget to promote yourself alone in the indie industry.

RoD: I have seen many advertising and reviews of your album and interviews in German alternative Magazines, for example Orkus. You are very oriented on this country. What do you like in Germany? Have you think to write a song in German? Or maybe to work together with some German Bands?
Riccardo: Over the years, we realized that our sound is very popular in Germany and in the East... so we are aiming to create for ourselves a good following them. And then I think Germany is my second home feeling, I feel at home there. I would love to collaborate with German bands. For writing texts in German I see it's still hard, but I promised myself to learn German (and Russian) sooner or later!

RoD: I liked very much your last remix on NIN. Do you like to make remixes? Can we expect something new in next time? Have you thought about some experiments? For example to make remixes for bands which work in complete different music style as EBM or industrial?
Riccardo: I love doing remixes. I enjoy it a lot, and in the case of 'Heresy' of NIN was truly an honour to celebrate my love for the band of Trent Reznor! At the moment I have no plans for new remix... but they are already working on new material for SPIRAL69.

RoD: How it happened that 'Fake Love' is a part of a new album? This song was already released as separate single feat. Simone Salvatori (SPIRITUAL FRONT). Why did you decided to give a second live to this song?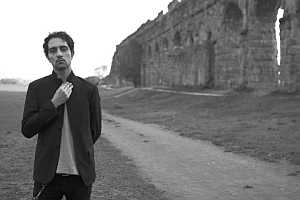 Riccardo: 'Fake Love' is a song written long time ago, which in my opinion, has never had the right visibility and artistic production (for initial problems of budget). I think it's one of my best songs, and I wanted so much reinterpret it as I had always imagined!

RoD: I will not asking why for your second video you have choose 'No Heart'. I know that it's one of your favourites. But what means this song to you? And who was the author of idea for this Video?
Riccardo: This song is my goodbye to some important people in my life, people who have left good memories and others who have hurt me, but still important. The idea is, as always, by Paola Rotasso. She always manages to interpret well the mood of our tracks.

RoD: Please, tell a little bit about my favourite song 'Low Suicide'. How it was born?
Riccardo: Written in a few hours, during the Italian tour with Steve Hewitt on drums we held last November... 'Low Suicide' sings impotence that controls us in front of a person we love but that it continues to destroy and hurt us.

RoD: I have discussed with many people your new album. One of the opinions was: "Yes, new album is really SPIRAL69 style, yes, sound is perfect, but new songs have loosed something, they don't make you feel so deep as for example 'Erase me' or 'Cover me'". What do you think about this? From my side, I can tell that I accept this album as a whole thing – it's a history in music. You have grown and we can feel it in your music and lives. Thank you that you tell in your songs the things that I feel, and for which I can't found words.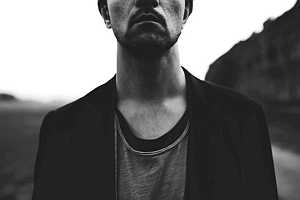 Riccardo: Thank you for this beautiful words. Speaking of 'Ghosts in my Eyes' I can only say it is an album that is surely easier and more catchy than the first two, but a further nuance of our sound spectrum, so it's easy to rediscover our typical sound and mood. I think for the first few months of 2014 we will release something that will put all of our fans agree!

RoD: What work on this album has given personally you? Are you satisfied with result? Was it difficult to work with Steve Hewitt? Do you plan to work together in future?
Riccardo: It took me almost two years of my life on the production of this album, working on it even in very difficult times, humanly it was a good test, and on some tracks the emotional fatigue in my voice can be felt. With Steve it was all really great, definitely we will work together again in the future.

RoD: I was a little bit disappointed that in 'Please' video were no parts from your show in Kiev. Why? Are you liked your show in Ukraine? Will you come back?
Riccardo: We loved the show so much in Kiev! There are no images in the video of the concert because we did not have the technical material qualitatively valid! We hope to return this year in Kiev! Fantastic city and amazing audience!

RoD: How you imagine your perfect listener?
Riccardo: Really do not know, I met fans really different in their style and their way of being… Our listeners are transversal like our music!

RoD: Your plans for nearest future?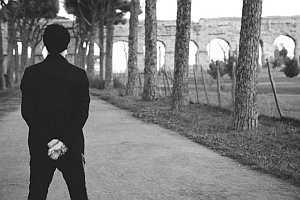 Riccardo: We are reorganizing the live set, the next concerts will be much more "aggressive" and emotional... We're included songs from the first album in the setlist and re arranged many songs. In the fall we leave for a tour abroad starting from Moscow on October 5th! Meanwhile, we will be back in the studio...

RoD: And on the end a few words to you fans, which are reading this now.
Riccardo: Thanks to those who continue to follow us, anyone who has started now and who finds himself in our music.

Written by Daria Szegeda (Ukrainian Gothic Portal www.gothic.com.ua) / The Russian version of the article is available at this place!
Photography by Paola Rotasso