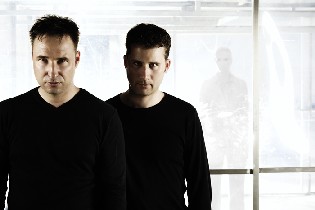 Interview with

Frank Spinath and Martin Vorbrodt of SEABOUND

With their debut "No Sleep Demon" German band SEABOUND conquered the hearts of many electroheads all over the world. After "Beyond Flatline", now the third studio album "Double-Crosser" has been released. With the current release, the band surely will conquer several new fans. Frank and Martin took some time to answer some questions about the album "Double-Crosser", touring plans, the relation to their fans as well as some private matters. Besides that, Frank gave some information about his second project EDGE OF DAWN. The interview was held in German and afterwards translated into English.



Album

Your new album "Double-Crosser" was released in the end of October. Could you first say a few words about the album?
Frank: We worked about two and a half year to finish the album. "Double-Crosser" is finally our third regular studio album after "No Sleep Demon" (2001) and "Beyond Flatline" (2004) and I can say that I am proud of how we developed in that time and with those three albums. Thematically "Double-Crosser" deals with deception and self-deception. This topic is picked up from very different perspectives in the songs: sometimes from the point of view of the beguiled and hurt person, sometimes from the point of view of the active deceiver. It is important for me to throw light on the phenomenon from different angles because I believe that all involved persons – offender and victim – play their very own roles and interpersonal dramas need always at least two takers. Musically, "Double-Crosser" starts with the - for SEABOUND characteristic - elements like two-dimensional electronic sound layers and a mix of softer and more pushing compositions and develops those components consequently further. I think that we now reached certain musical brand recognition which represents us and we identify with.

How did you record the album?
Martin: A new SEABOUND song first emerges as a pure instrumental track in my studio. When the song is ready despite the vocals, I send it to Frank who comes up with the lyrics. Frank records the vocal parts and then he sends them over to me via Internet. Then I include the vocals into the song and do the mix at last. Over the time, we perfected this kind of distribution of tasks and so we can work together with one song without being together in the studio.

How does your typical studio day look like? With what equipment are you working?
Martin: There is no typical studio day. When I have the time I turn on the instruments and start. I use the computer as mixer board and hard disc recording system. As sound generator I use "real" instruments – hardware synthesizer – as well as virtual instruments (i.e. software sampler). For "Double-Crosser" I worked a lot with synthesizers by Access, Alesis, Korg and Yamaha as well as with plug-ins by Native Instruments.


Frank, you are a very busy man (professor for psychology). Lately you could even be seen in TV to the topic of twin research. How does the work as a musician fit in?
Frank: My interest for the human psyche and stories mainly dealing with depths, aspirations and fantasies is a major topic of SEABOUND lyrics. This has a certain connection to my professional interest for the question why human beings are as they are and how differences between humans can be explained. Another parallel accomplishes due to the fact that diagnostic belongs to my specialist areas. This is a methodical area in which tests to measure human qualities and skills are developed and used. There you are also very fast confronted with the phenomenon of human deception and lies. Some people simply try to present themselves a little bit better than they are; others extend the attempt of deception much more. As a psychological diagnostician I naturally deal with smaller and bigger "double-crossers".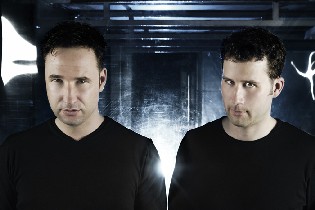 How do you relax in-between the work?
Martin: Strictly spoken not at all. When we work on an album there are nearly no rest periods. The production of an album can be really exhausting if you have – like we – a "real" job besides that. This is also the reason why we cannot release an album every year.
Frank: Somehow the change between the different worlds (the official professional world and the in-official world as a musician) is like recreation; nearly as if you always have a possibility to escape into another truth. For a certain time now, I record my vocals at the university, typically of course at night when all others have left the building.

Which influences did you have during the development of the new album? All in all, it includes several very calm songs and also some Ambient influences can be heard. Martin, in earlier interviews one could read that you only have a fistful of CDs at home. Is it still like that? Where do you get the ideas fro your songs from? How is the sound to a song developed?
Martin: It is a myth that I only have a fistful of CDs – it is not that bad. Musically I am still affected by the eighties, even if you cannot sound that out of every SEABOUND track. That's why many of the SEABOUND songs follow classic song structures. The ideas for new SEABOUND songs literally always arise spontaneously when I am sitting at the instruments. My biggest source of inspiration is not other bands but the unlimited sound possibilities a synthesizer offers you.

The lyrics of your songs always have a deeper meaning. Also this time you attach high importance to it. Frank, you are writing the lyrics. What do your songs deal with? When I read lines as "'Cause if we fail I'd rather see you cold than live without me" ("Scorch the Ground") or "There was so much I wanted you to know, worlds I wanted you to see. Now there's only me" ("Doubleplusungood") I get the impression that the songs are full of desperation, anger and even hate.
Frank: You are right. "Double-Crosser" turned out as a dark album according the emotions behind chant and lyrics. This is expressed in the fact that I moved out of the safe surrounding of a more hold back chant vocal-wise. I probably would not have imagined two years ago recording a song like "Breathe" and even releasing it because it allows deeper views into my own world of emotions as I would have been ready to admit at that time. On the other side with "Double-Crosser" the time for me has come when I had to decide to make authentic music or no music at all. This decision was relatively easy for me.

Frank, how do you write the lyrics? Do you have spontaneous ideas or do you sot down with the thoughts "Now I have to write a song"?
Frank: I collect impressions and thoughts in a rather unsorted file of ideas. When the time has come that I want to write some lyrics, I often use certain fragments out off this file. If a coherent framework is found I often search for expressive pictures that phrase something very good for me; like i.e. the picture in "Breathe" when ivy grows over the heart and climbs along at it. Sometimes I use much more time in searching such pictures than I thought, but then again I cannot stop until I have found the (for me) perfect picture.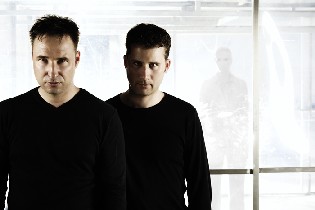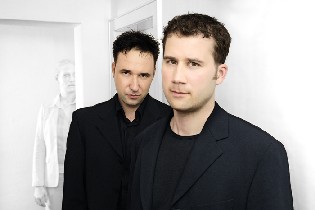 Which meaning does writing have for you? Many see it as kind of therapy. How about you?
Frank: Writing is a valve for me and I enjoy it a lot that in collaboration with Martin something very new evokes from different moods and starts to run a life of its own. I would not call it a therapy because it may happen that I for example linger much longer in a (sad) mood and again pass through something experienced because I try to transfer it into a SEABOUND song as authentic as possible. But so, probably the feeling of pride is explained which I described earlier. I would not have it if I mainly would sing songs where someone else had written the lyrics for me.

Recording an album always means a lot of work. What do you think of people who prefer downloading the ready album instead of buying it?
Martin: Guess what! It is very frustrating for you as a musician to know that from ten people listening to your music maybe two or three have bought the album legally and paid for it. We have to suffer in the same way like all other musicians within and outside the scene. In the end, illegal downloads lead to the point that musicians are only able to create less music and that labels go bankrupt bit by bit.
How do you induce people to order? Is the release of a limited version with bonus CD one reason for it?
Martin: I don't know if it really works. We mainly made this limited edition because we once wanted to have a SEABOUND album in a noble digipack standing in our shelves. ;)

Topic bonus CD. You have several mixes from some other bands there. First there is the COVENANT remix of "The Promise". You're not working with COVENANT for the first time. Additionally, Eskil Simonsson added the finishing touches to two more songs of the album. How did you get around to working together and which importance does this collaboration with COVENANT (in fact one of my favorite bands) have for you?
Martin: Eskil offered the collaboration himself. We know him since we have produced our single "Travelling" with him. He had heard the song "Scorch the Ground" in the original version (from the "Septic VI" compilation) for the first time in a club and immediately asked the DJ from whom the song was. Afterwards he contacted us and offered his help for the production. Besides his remix he also mixed the album versions of "Scorch the Ground" and did the vocal mix of "Castaway".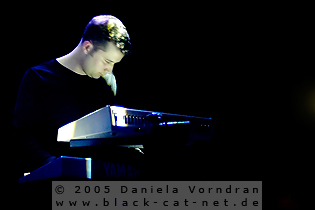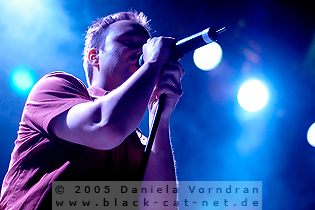 Besides the COVENANT mix there are also mixes by ROTERSAND and TANKT. How did it come to those collaborations?
Frank: TANKT positively attracted my attention some time ago when I got a hold of their CD "Strip off the Guilt". Their last CD "Club Life" contained the instrumental song "Chasing Phoenix" and I had the impulsive idea of writing lyrics for it and record it. TANKT loved the idea of releasing that version and so, the bonus CD seemed to be the suitable place for this undertaking. With ROTERSAND we have amicable contacts for a while and when Krischan told us that he liked "Scorch the Ground" very much we immediately asked him for a remix.

There's also another remix of "Poisonous Friend" on the bonus CD. Why another mix of this song?
Frank: Olaf Wollschläger had finished the now released version during the production of the "Poisonous friend" EP in the year 2004 for us. We always found the more hymn-like character of this remix always felicitous, but at that time we did not want to overload the EP because there yet were four very strong versions on it. Forasmuch we decided then to introduce this remix to the audience when the right time has come. It is in some measure some kind of bridge between "Beyond Flatline" and "Double-Crosser".

Tour
Usually a new album is also presented live on stage. How about your plans?
Martin: We hope to perform some shows in the beginning of 2007.
Frank: Maybe we even manage to come up with a small tour. This would be something I personally fancy doing that very much.

You were supposed to / wanted to go touring with COVENANT in the USA during this autumn. Why those plans did come to nothing?
Martin: Because the American booking agency worked very sloppy. Instead of booking the tour as it was agreed with our management (which also is the COVENANT management) nothing happened. Unfortunately it took a while until our management realized it. The booking agent got fired and the tour had to be booked completely new from a new agency. This was affiliated with a lot of work and time and so, the originally aimed period could not be hold. Due to professional commitments we could not join the tour in a later period.

How do you relax when being on tour? How does a usual touring day look like?
Martin: When you're on the road with a night liner and when you have a good crew, it is rather relaxing for us on tour. Despite the hour for sound check and the show itself at the evening we are free the rest of the day and can do what we want. For us, touring is like vacation!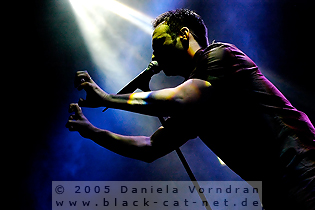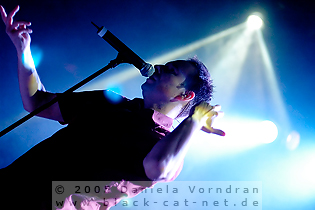 Promotion and Fans
A new album always means that you need to do promotion for it. How is it for you? Do you like that? Is it fun or rather annoying duty?
Martin: The only thing we do in that matter is giving interviews. If it is fun or annoying duty always depends on the individual case. ;)

What question in an interview is it that each of you cannot stand hearing anymore?
Martin: Everything that deals with the pretended contrariness of the SEABOUND characters. The topic was discussed ad nauseam within the first SEABOUND years by music journalists because probably they had no better ideas… ;)

How is your relationship to your fans? You also have a MySpace site. Do you contact your fans there directly? Do you take some time for your fans after the concerts?
Martin: Of course we always try to take our time for the concert visitors. Because that's basically the only way we can contact our fans directly despite e-mails. Especially interesting is listening to the opinions of old SEABOUND fans according the new material. But of course we are also happy about feedback from "greenhorns".
Edge of Dawn
Frank, as if you would not have enough work you have a second musical project besides SEABOUND. Within EDGE OF DAWN you lend your voice to the compositions of Mario Schumacher. I found the EP "The Flight [Lux]" exceptionally good. How do your further plans look like? When is your first full-time album supposed to be released?
Frank: Mario and I are intensively working on the first EDGE OF DAWN album which is supposed to be released at the beginning of the coming year. It will be called "Enjoy the Fall" and all I can give away so far is that it will be much diversified. Besides that we could win some very interesting artists – i.e. FORMA TADRE - to remix some songs just during the development of the album. The result of this collaboration will be even released this year on the label compilation "Dependence 2" planned for end of November.

Do you have tour ambitions too?
Frank: That depends very much on how much time will be left besides SEABOUND and my daily job because I am luckily more flexible time-wise during the semester breaks than in many other professions. However, the available time contingent is some when worn out – even with little sleep. When the general conditions are right, I can very well imagine EDGE OF DAWN live in stage.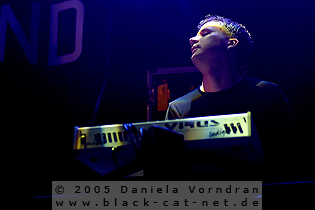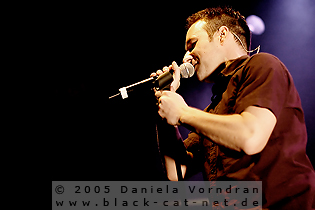 Private matters

Now we talked a lot about your work (in what matter ever). Do you find recreation in-between all that work? What are you doing in your spare time – if you have any?
Frank: I find certain recreation in the possibility of changing between two different fields of activity. For relaxation, I go jogging or listening to CDs with the sound of the rushing sea – that rather works always with me! (laughs)

What is important for you in your life?
Frank: I find it important to live intensively and in the awareness that there are no guarantees that we can make up for something suspended sometime. I think barely nothing is sadder than people who forget to enjoy the moment regardless of all the useful future planning.
Frank, some time ago you told me that you might change back to your home Bielefeld from the University in Saarbrücken. How did these plans end?
Frank: After long negotiations with both universities I decided to stay in Saarbrücken.

Back again to the music, which band do you like listening to?
Frank: Lately, I often listen to I AM X or THE KNIFE. Besides that, also CDs by MONSTRUM SEPSIS (a very recommendable project of one of the STROMKERN members) and COIL find its way to my CD player more often during the last time.


And now maybe some closing words to our readers?
Frank: Thank you very much for your interest in SEABOUND. We hope that you like "Double-Crosser" and that you maybe like to come to one of our future live shows.

Frank, Martin, thank you very much for answering our questions so unhesitating.


Promo photography by Roman Kasperski. Live pictures by Daniela Vorndran
{jos_sb_discuss:21}