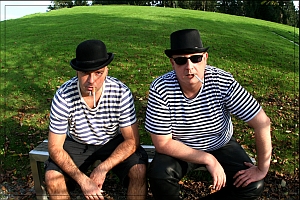 Interview with
David Avalost (Mr. Sato) & Xor Logic from SADOSATO

Today we follow up to introduce you the bands that will be playing on Dark Munich Festival 2015 and present you Interview with Austrian Band SADOSATO.
Reflections of Darkness [RoD]
: How could you describe in general the music of SADOSATO? Are there any bands, who once influenced you and helped shaping your own style?
Sadosato
: We often say, that our music style is in-between "No School-EBM" and Electro-trash, influenced by many, many bands in this genre and by many years of listening to electronic music. In addition, senseless, as well as funny lyrics or songs like 'Fickificki' but also we sing about important issues such as mental illness or racism. Attentive listeners often notice it only after the second time of listening, and then one recognizes the insanely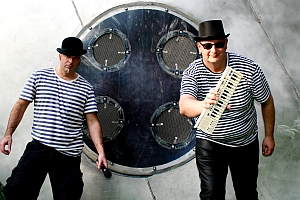 profound statements and stories in songs such as 'sexuell verwahrlost', 'Borderlinemädchen' or electronic anti-racism anthem 'Kongomädchen'. Thus behind SADOSATO there's much more than it may seem at first due to our Punch and Judy show; similar outfits can be seen.
RoD
: One question about old school EBM. In your opinion, in which conditions is this genre now?
Sadosato
: Ha Ha…it is not dead yet! We think that, right now, some new, promising Old-school projects arise. We would say the genre shows firm signs of life again and again… and again.
RoD
: Your live performances always come with a great drive. Does your mood depend on the audience?
Sadosato
: Many thanks. We always try to play our shows with a great drive and energy which our songs are full of, but if the audience is taking this drive we get this energy back from the audience to the stage and this feedback enhanced of course our energy… so the short answer is "yes".
RoD
: You have changed your line-up. Have this influenced your live performance?
Sadosato
: No! We say: New line-up - "fresh" ideas…
RoD
: Your last works, LP 'Electronic Body Mörder' and EP 'Electronic Body Mädchen', were released in 2013. Are you working on new songs? When do you plan to release a new album?
Sadosato
: As a matter of fact, we are actually working on a new album. The release date is planned in the late 2015… if all is running properly.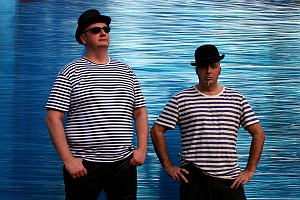 RoD
: A little bit about BDSM - Will you see 'Fifty Shades of Grey'? Or is it better to make your movie 'Fifty Shades of Striped'?
Sadosato
: We haven't been at the premiere, no. But we want to spend time to write a song, almost about this special topic for the next album.
RoD
: You plan a performance on Dark Munich Festival. What do you expect from this festival? In particular, from the audience? Will you prepare some surprises for your fans?
Sadosato
: We expect that we can have fun with the audience. We know, that the audience would be there to see many great bands, so we try to leave our imprint in their minds also… As a small "surprise" we plan to play a new song from the upcoming album… totally unknown to all …and other "performance" things are in preparation, but they will not be revealed until…
RoD
: And in the end a few words to our readers.
Sadosato
: We love to party, we love to entertain, and we are really looking forward to DMF and the people there. Come, and party with us!
Dark Munich Festival (30th April to 3rd May 2015):
http://d-m-f.me/
Written by Viola Noir & Daria Tessa (Ukrainian Gothic Portal). The Russian version of the article is available
HERE
!