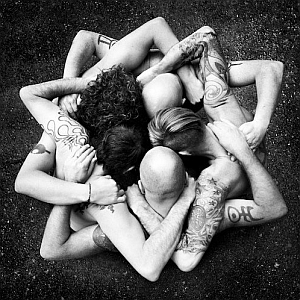 Interview with
Kim Ljung (bass, vocals, songwriting) and Noralf Ronthi (drums) from Seigmen

Almost two decades after their last record 'Radiowaves' in 1997, the Norwegian Alternative Rock band SEIGMEN is celebrating their "comeback" with 'Enola'. Following the release were a few celebrated shows in Norway. Those two facts are a good reason to ask the band a few questions about the album, touring and future plans…
Reflections of Darkness [RoD]
: Hei! First of all, thank you for taking your time and answering our questions. We are delighted to talk with you and our readers are as excited as I am to hear new music from you.
Kim
:
Sure. We are just so embarrassed and really sorry it took ages to do this.
RoD
: You've been gone for quite a while, some of your members successfully pursued careers with bands like ZEROMANCER. What ignited the fire to get back together and write new music for SEIGMEN?
Kim
:
Well this happened back in 2012. We suddenly felt the need to have some new material for a few festivals we were about to do. Then I sat down in my studio and felt this wave of inspiration. I had some words written and started off with an old riff from 1994 that we never ended up using for the total album. It was sort of this great relief. Instantly I knew how to crack to code. In a few weeks' time I had demos for like eight songs. I was both excited and quite nervous when we hit it off in the rehearsal studio the first time. It went really well though. Nothing at all to worry about. We were all very much on the same frequency.
RoD
: How was the media's reaction to the news of your "comeback"? Have you been very busy recently?
Kim
:
Remember it is eighteen years ago SEIGMEN released a studio album. A lot of people don't care for SEIGMEN. A lot of people have no clue who we are. Then there are a bunch of people who have awaited this for so many years. In Norway, SEIGMEN stick out from the masses. We do something that no one else does. Therefore there are plenty of opinions of us. Some good, some really bad. We don't care. We do our thing. Now we are on top of the national album chart. You just have to believe. Don't ever doubt yourself when you feel you are doing what you really love doing!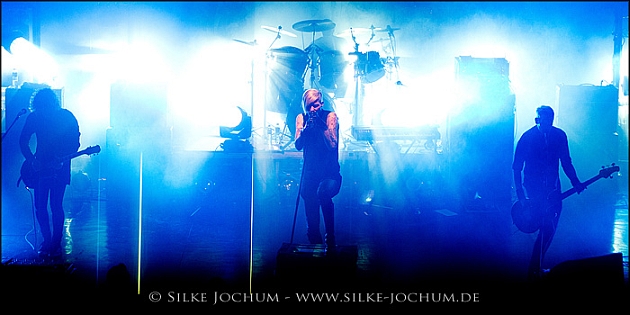 RoD
: I imagine that life as a musician can be very stressful at times, how do you cope with the weight that are put on your shoulders? Any special rituals?
Noralf
:
Loads of coffee before the gig. If you focus on pressure from the outside, you will get more nerves, so we focus more on what we rehearsed on. And shoulder down and having fun on stage. Suck in the vibe of the audience.
Kim
:
Yeah like I said... You need that tunnel vision. Don't focus on everybody else. It's easier actually when you are a band. We are five people pulling in one direction. It's much harder being on you own I think. It can be compared to athletes I guess. That same type of focus and the way of saving up energy for that one performance.
RoD
: Now a lot has happened since the release of your last record... especially the emerging power of the internet which makes information and data much easier accessible has transformed the music scene significantly with illegal downloads or crowd-funding platforms like Pledge. What are your opinions on the power of the internet?
Noralf
:
First of all, what´s the point of illegal downloading when you basically get legal sites thrown after you online. Still, there will never be anything as satisfactory as owning your own copy of the album. Vinyl has still its own organic sound and you can´t download that.
Kim
:
I'm old-school. I love a real double vinyl or a proper CD-digipack. Of course I have my own iTunes library but streaming... I dunno. It's a lot more easier accessible for people. So for the general listener it is great. And for a lot of artists nowadays it is a super method of promoting yourself. As well as production. Everything is just easier, and cheaper. However personally I prefer the old way. Cause that is what I have grown up with. The physical stuff that you actually hold in your own hands. I prefer vintage things. Instruments, furniture, design... almost whatever it is... I feel there is more soul to it when it's old.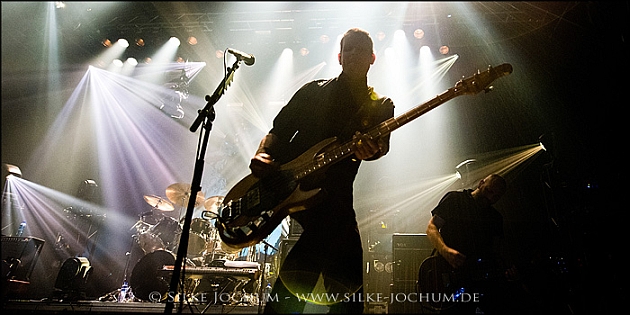 RoD
: Music technology has also developed quite a lot in the last few decades. Will you be using the same instruments you used on the last record or are you going with the flow of time and also experimenting with new technologies?
Noralf
:
On 'Enola' there are no programmed instruments. So I think we´ve gone the opposite way on this one. 'Radiowaves' was more so based on ideas developed by both analogue and programming / sequences.
Kim
:
Yeah that is right. We actually recorded this album in the studio where we recorded our first albums. We used a 24 track analogue tape recorder for the drums, bass and some guitars. When we filled that tape then we transferred it digitally and finished it off on regular hard-disc recording. A very cool way of working since it pushes you to make judgements right there and then. Not letting you have a variety of options later on. I love that. Really old fashion... it keeps you on your toes. Focus and determination is the keywords. The only keyboards used on 'Enola' are two of my vintage string synths. One from the late 70's. And one from the early 80's. The Arp Omni and Roland string 09 They sound fantastic!
RoD
: Are there any new artists you really enjoy listening to?
Noralf
:
Sandra Kolstad (N). Jen Gloeckner (US). And off course check out Dunderbeist (N).
Kim
:
None that I can think of right now. I love the old stuff, remember!
RoD
: Excuse my terrible Norwegian, but 'Hva vi elsker' means something like 'What we love', right? Why did you choose this song as your first single? Did you think a sort of love statement would be good for a restart? (It's an excellent, very soulful song by the way, congrats!)
Kim
:
Well it's a play of words. The Norwegian national anthem is called 'Ja vi elsker'. I didn't think off it instantly when fiddling around with the words for the chorus. But when I discovered it, I thought it was a nice idea. There are a few other hints to the anthem in the lyric as well. I understood when writing 'Hva vi elsker' that it needed to be the opener for the album. Later on we found out it was the perfect single as well since the song has all the right ingredients a SEIGMEN song should have.
RoD
: What is the song about? Given that not all of your fans are fluent in Norwegian, we are curious to know!
Kim
:
I rarely tell people what the songs are about. SEIGMEN is a lot about getting pictures in your head when listening to the music. I don't like changing those images by telling everyone about what's personal to me. Plus the reason being that I have discovered that people like to interpret the lyrics the way they want. The case being the same for Alex who sings these songs. He never asks me for my opinion. He needs to find his own personal meaning of the song to really present it for the listener in an honest way.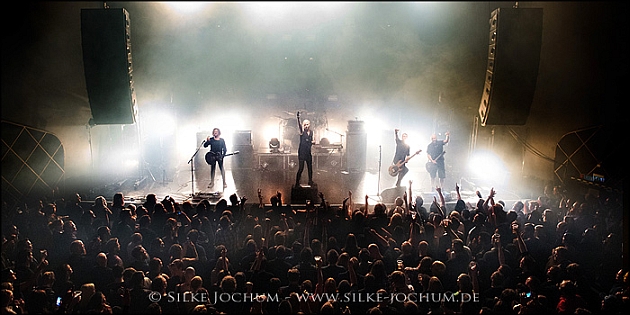 RoD
: In contrast to ZEROMANCER, where lyrics are sung in English, Alex sings primarily in Norwegian for SEIGMEN. Does this have a particular significance? What is the relationship to your mother tongue?
Kim
:
Norwegian is much more limited than English. However I feel you can get a lot more personal with your own language. But it's hard. I actually thought I had nothing more to give with my mother tongue until I did the last album with LJUNGBLUT, which were also in Norwegian. That was an eye-opener for me. Then I understood I'm not finished at all. Still I feel I have a lot more to give.
Noralf
:
I think it´s harder to write good songs in Norwegian , most lyrics often turns out to be crap, but then there are the few that makes it, some of them just brilliant. When it comes to English, it´s harder to make lyrics that sound unique.
RoD
: Especially in Norway, you had quite a lot of success. Could you give us an insight into Norway's contemporary music scene and where you think the reason for your success came from?
Kim
:
Norway is quite the ordinary. Following the trends of especially UK, and sometimes the US. The subgenres of industrial and dark wave music are small and not very much respected. Our success goes back to the days were we ruled the kingdom for a few years as the biggest rock-act. But we were seen as an alternative band making it big. We were recognized for our live performances and this legacy has kind of stayed on. So my belief is: if you do it your way and you do it 100% and not giving in at all...you will win by being original and true to your own ideas and high standards.
RoD
: As a German living in a heavily industrialised region, Norway has always appeared to be the haven of outdoor life, of breath-taking nature in form of fjords and majestic mountains. Of course you have cities just like Germany but I would still claim that nature is still a much more dominant force than here. Does this surrounding have any influence on you?
Kim
:
Of course, I would say. It is impossible to ignore. Especially when you travel around the country. You get blown away every time. You won't find one of my lyrics not having any links to nature. Simple as that.
Noralf
:
Norwegian nature has more differences and diversity, than most Norwegians know about. This is where I want to go on my own vacation. And actually forget music for a few days.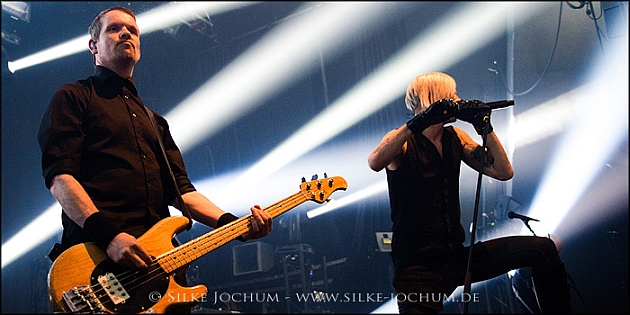 RoD
: You have been performing shows primarily in Norway. Is this because you define yourself as a Norwegian band or is it because you do not get a lot of requests from abroad?
Noralf
:
It´s actually only now that for instance Germans have discovered SEIGMEN. Many of the ZEROMANCER fans have also been following SEIGMEN these last few years. Some of them even learned Norwegian language. So hopefully there will be concerts outside Norway.
Kim
:
I mean we have fans everywhere. They travel around the globe to see us. In my mind they will have to continue doing this. SEIGMEN is truly Norwegian. Very different from ZEROMANCER. We belong here. It makes it even more special for our fans abroad. It makes it much more of a huge journey coming to see SEIGMEN. Not just to see a band, but to discover our culture as well.
RoD
: On the cover of your new record 'Enola' all of you are hugging each other bare-chested, creating a form that resembles a star or lotus flower. It invokes a feeling of brotherhood. Was that the intention behind the photo? Are you happy to be united again?
Kim
:
The idea is how we team up before every show. We do it with ZEROMANCER as well. But with SEIGMEN it is a little different since we are the same five people who formed the band back in the days. We are following the musketeer rule. One for all – all for one. That unique photo shows it off in a perfect matter.
Noralf
:
I love being with these guys. There is a unique chemistry. And friendship.
RoD
: What exactly does 'Enola' mean? I have tried to look for definitions but didn't really find any useful one.
Kim
:
It has several meanings for me. It means alone backwards. In Norwegian, Alene. The word we end every show with in the song 'Hjernen er alene'. 'Enola' is also a wordplay on Eno. One of my favourite artists. Brian Eno. His albums, 'Pearl', 'Ambient 2' and 'Apollo' are simply masterpieces. LA is my favourite city. My son is called Neo. The one. I also have a great fascination for the second world war. Hence, 'Enola Gay'. The American aircraft who dropped the A-bomb over Hiroshima. I was there once. Very moving.
RoD
: You probably get this question a lot these days, but what exactly can your fans expect from the new record and do you have any more plans for SEIGMEN? You are on a small club tour and play some Norwegian festivals in summer, too. Are there chances you'll play abroad with 'Enola'?
Noralf
:
I´ve learned to say: "Never say never".
Kim
:
We will play some songs now on the first leg of the tour. The second leg and a few festivals we might play some other songs from the album. I doubt we'll travel outside of Norway... however... I agree with Noralf. You never know, do you!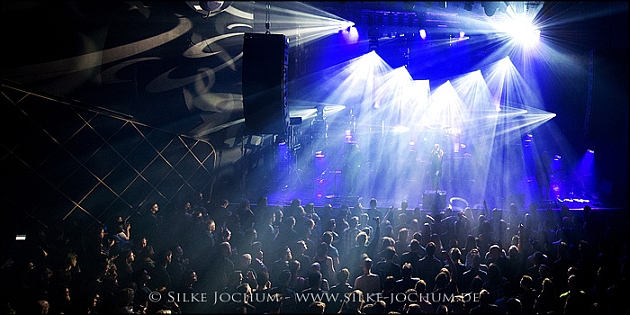 RoD
: Considering that I talked so much about your relationship to Norway, what do you love about your home country the most and what would you recommend every visitor to see and experience?
Noralf
:
There are a diversity of things. Depending on what you want to see and experience. Nature of the north and the west coast. The fjords. The mountains.

Kim
:
I love the space here. And the peacefulness. The winters are usually very nice. Actually I love all four seasons. Check out Bergen, Trondheim and Tromsø. Forget about Oslo… or maybe stay there for a night or two only to see the important sights. Go up north. Go west. Learn some Norwegian. Save up some money ;)
RoD
: Thank you for taking your time to answer our questions. We wish you all the best with 'Enola' and we hope to see you soon in Germany!
Thanxxx. Remember we love Germany! A lot!!!

Live pictures by Silke Jochum. Full gallery is online at
http://silke-jochum.de/2015/04/seigmen-2015-oslo/