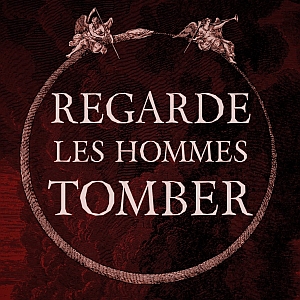 Interview with
Regarde Les Hommes Tomber

Regarde Les Hommes Tomber is a French post-black-metal band, which combined elements of doom and sludge in their conceptual work. The debut full-length album released in March 2013, and in September this year will be released the second album of this band. About the new album, the continuation of the story of the fall of sinful men in hell and modern post-black-metal - all of this in the interview.
Reflections of Darkness [RoD]
: You have a very interesting name for your band. Where does it come from? For The Major Arcana Tarot interpreting of 16th trump "Tower" is a line "a man and a woman in a blinding flash of truth fell from the tower of". Did you mean this? Why precisely this concept?
Regarde Les Hommes Tomber [RLHT]
:
Regarde Les Hommes Tomber is a name that sums up the following idea: The fall and the distress of the sinful men, denied by god. In that way, we deal with biblical mythology (Abel, Lilith, the city of Sodom, etc…), but without any religious message. This concept is a fascinating one, and also very actual.
RoD
: Design and cover art of your debut album is excellent. Who designed it?
RLHT
:
Fortifem (Paris) did. The band was very satisfied by their work, that was obvious to call them for the second album. Their creations highlight perfectly the intensity we want to show in our music.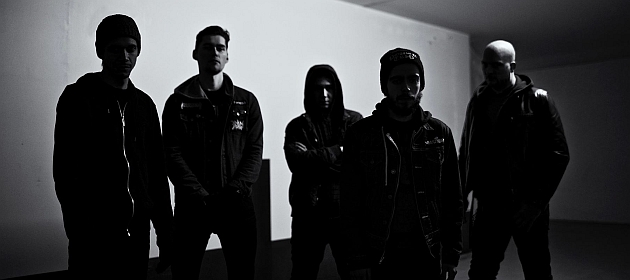 RoD
: Your new album comes out in September (upcoming full length entitled 'Exile' which will be available September 19th.) - whether it will continue the idea of the debut release? Or will it be a fundamentally new work?
RLHT
:
We maintain the concept of the fall, but in another way : rejected by god, men are banished an shall go into Exile. This disc describes their wandering, and the temptation that they can have for the Devil in that context.
RoD
: Will be the edition on vinyl? tape?
RLHT
:
Of course, this recording will be available on CD, vinyl and tape. Our label will also release a Collector LP Box Set (200 units), including the LP, a back patch, an A2 poster, a 32x32cm silkscreen, a T-shirt, etc…
RoD
: Why did you choose the label Les Acteurs de l'Ombre Productions?
RLHT
:
Actually the label chose the band! They saw a gig in 2012 and made a proposal.
RoD
: Which other releases of bands working with Les Acteurs de l'Ombre Productions you can mention?
RLHT
:
Each member of Regarde Les Hommes Tomber loves the work of The Great Old Ones, they play great music (inspired by H.P Lovecraft). The work of Moonreich, Déluge and Maïeutiste is also remarkable.
RoD
: What do you think of nowadays post-black-metal in France?
RLHT
:
This genre gathers various listeners, who don't always have the same musical tastes. There is a great variety in the audience, some people come from Post-Hardcore, others from Pure Black Metal… We appreciate it.
RoD
: I express my thanks to Les Acteurs de l'Ombre Productions for the help in the organization of this interview.
Written by Viola Noir (Ukrainian Gothic Portal). The Russian version of the article is available
HERE
.