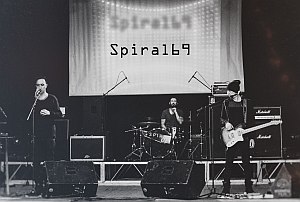 Interview with
Andrea Freda (drums) from Spiral69 & Spiritual Front

Not so long ago, Italian band SPIRAL69 released their album 'Second Chance' and within their current tour visited Russia with two shows. Another successful Italian formation SPIRITUAL FRONT is only going to come to Russia this summer with a couple of concerts. In the meantime we had a chance to ask a few tricky questions to a musician who is a talented drummer playing in both bands and a sort of connecting link between them. So seat back and enjoy reading!
Reflections of Darkness [RoD]
: How did you meet Riccardo and decided to join SPIRAL69? Do you remember you first live show with the band?
Andrea
:
Yes I remember. We met near a gas station. He called me as first he asked Simone Salvatori from SPIRITUAL FRONT for my phone number. So Riccardo asked if I wanted to join him in his band SPIRAL69. The first show together took place a few weeks later in Rome.
RoD
: You released a lot of albums and played numerous shows. What is the biggest achievement of the band by now and you as a musician in your opinion?
Andrea
:
I played so many gigs in my life. Sometimes I try to count, but it's really difficult, probably, about 1,000 shows. I played in front of no one and also in front of 250,000 people. But I think that my most exciting live experience was at the Paredes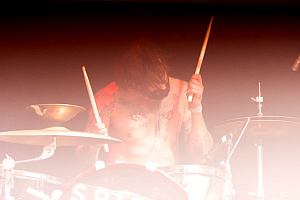 de Coura Festival where I played in front of thousands of people during my birthday and I shared the stage with bands like DEUS but especially THE MARS VOLTA (definitely one of my favourite bands ever). And after the show Cedric Bixler Zavala, the singer of THE MARS VOLTA came to me to talk about our show and how much he enjoyed it.
RoD
: For how long have you been playing drums?
Andrea
:
I beat the drums for the first time when I was 15, but I started to beat everything and played any kind of instruments after I started to walk.
RoD
: What can you say about the current situation in the darkwave scene in Europe and in Italy in particular?
Andrea
:
There's no real scene in Europe. You can find it in Germany, but anyway I prefer not to not talk about "scene". I play music. Music may be cool or not. The rest are just words ruining the art of music.
RoD
: What or who inspired you to become a drummer?
Andrea
:
I just decided probably in my mum's belly ;)
RoD
: What are your impressions after the Russian concerts this year? Do fans in Russia differ a lot from those in other countries?
Andrea
:
Gigs were great. They always are. We love Russian fans. The characteristic of Russian fans is that they are curious. They just want to enjoy music. They are passionate. They are hungry and always looking for something that surprises them.
RoD
: Did you have time to do some sightseeing in Moscow and St. Petersburg?
Andrea
:
Not this time :(
RoD
: Can you describe the main idea of SPIRAL69 with one sentence?
Andrea
:
Tsunami mood.
RoD
: Have you ever faced such thing as creative crisis?
Andrea
:
No, every experience becomes an inspiration to create.
RoD
: Your new album is called 'Second Chance'. Did you always receive a second chance when you were wishing it most of all? And do you believe that one second chance can save everything?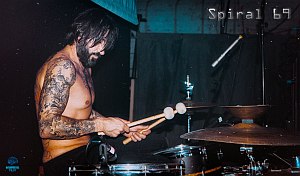 Andrea
:
Usually no. By the way the second one often ruins everything.
RoD
:
What is your favourite track on the new album and why?
Andrea
:
'Your Halo' and 'Goodbye' because I enjoy playing them live.
RoD
: The album receives only positive reviews. Do you agree with them? Did 'Second Chance' turn out to be as good as you wanted?
Andrea
:
We tried to implement with the new album what we are during gigs.
RoD
: You play in several projects. Isn't it complicated? How do you find time for everything?
Andrea
:
No at all. It's my life and I try to do my best to manage everything. I've never had problems. Gigs are always organized well in advance.
RoD
: What is the most memorable show of SPIRAL69 you've ever played?
Andrea
:
Last Wave Gotik Treffen.
RoD
: And somewhat personal question. Why did you change your style?
Andrea
:
I just wanted to become like Keanu Reeves. Ahahhaha. Joking. I always had a beard and long hair, when I was 16, 23, 33 years old. It is a cyclical experience, when my hair grows long it shows how little I care of the way I look. And it corresponds to a period when I want to escape somewhere far in the world.
RoD
: What music do you personally prefer to listen to?
Andrea
:
To answer this question you should spend a day with me. By the way it changes with my mood.
RoD
: What are SPIRAL69 plans for this year?
Andrea
:
Tour, tour and rock and tour.
RoD
: Thanks a lot for you time. In closing please say a few words to our readers.
Andrea
:
First of all I'd like to thank all supporters, followers for your kindness. It's so important and it's a primary need for me as it gives me a continuous stimulus for new works. I hope to return as soon as possible with SPIRAL69 and we are just working on a possibility to come back to Russian before the end of the year. As for SPIRITUAL FRONT, we'll be in Russian again in June. We're so excited and we would like to bring some new creations as a gift for Russian fans. We've already finished the new album, but we still don't know when it will be out. I love you so much, thank you again and please don't stop to be so lovable for us.
All photos by Aleksey Sokolov and Anatoly Klimansky