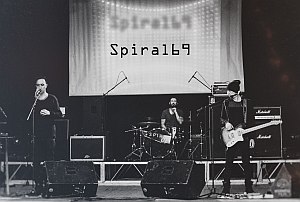 Interview with
Riccardo Sabetti (vocals, bass, synths) and Enzo Russo (guitar) from Spiral69

After the interview with Andrea Freda we couldn't help but talk about music, concerts, future plans and tattoos with the other two members of SPIRAL69. Spoiler: it's long but interesting. Just check the article out and have fun!
Reflections of Darkness [RoD]
: I guess you are always asked this question, but this time it's for people, who didn't read previous interviews or forgot or listened to the band for the first time: Why SPIRAL69? What does the name mean?
Riccardo Sabetti [RS]
:
It's the name of an old German hard movie, a really bad movie, very trashy. I liked the contrast of the dirty name with the acoustic and romantic atmosphere of our first album.
RoD
: Enzo, how did you meet Riccardo and decided to join SPIRAL69? Do you remember your first live show with the band?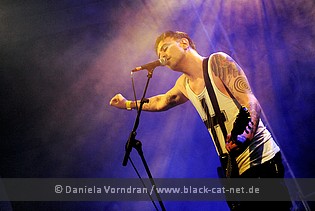 Enzo Russo [ER]
:
I met Riccardo in Naples in 2004, I was a guitarist of PIXEL and he was a singer. The band broke up and Riccardo moved to Rome. That day I was on the beach and he called me: "Riccardo: Ciao Enzo, help me, I recorded an album, we have some gigs, I need a guitarist... In three days!!!! Me: ok". The first show was very different from the latest, I played an acoustic guitar and the concert took place in Rome. It was perfect!
RoD
: You released a lot of albums and played numerous shows. What is the biggest achievement of the band by now and you as a musician in your opinion?
RS
:
We have achieved everything ourselves, without any help of an external label, recommendations or else. Everything that we have gathered, we have gained alone, with our own strength.
ER
:
We've been playing concerts for 8 years and this is the most important thing for us.
RoD
: Your lyrics are all in English. It makes easier to understand everything. But have you ever thought or tried to write lyrics in Italian?
RS
:
Of course, for my previous band the lyrics were in Italian. I chose English because I preferred to be able to express myself to a wider audience. And the sound of English language in my opinion is perfect for our music.
RoD
: Ok, Enzo a question to you. Why did you decide to become a musician?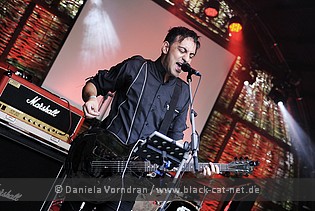 ER
:
I didn't decide. On a Sunday in 1987, my father told me that a friend had an acoustic guitar which he didn't use. I went to his house and took the guitar. It was the beginning of the end!
RoD
: What can you say about the current situation in the Darkwave scene in Europe and in Italy in particular?
RS
:
The situation is very complicated. There is not a "real" dark wave scene, there's a huge search of stereotypes in this type of music and not a real openness to what the artists who are part of it may want to express. Many bands always reproduce the same thing, or at least the same sounds, topics, and also that secure and a family atmosphere among the representatives of this music genre. In Italy the scene does not exist in the way to attract the audience, but we really have many very valid artists.
ER
:
Yes, in Italy it almost doesn't exist. It is defined as underground music. In Germany there is a dark wave scene.
RoD
: When you just started the band was it easy for you to find your own style?
RS
:
No, but simply because that I don't think there is a specific style. I like changes, changing the sound and moving between various musical styles. It will be always like this.
RoD
: Riccardo is a singer and has a record label. Then what about you, Enzo? Is music your only occupation?
ER
:
Yes, I'm a producer and a musician. I have a recording studio, a record label and I play with other bands in Italy.
RoD
: What are your impressions after the Russian concerts this year? Do fans in Russia differ a lot from those in other countries?
RS
:
Russians fans are amazing! Concerts there are always a big party and a big thrill. If I could, I would play in Russia once a month.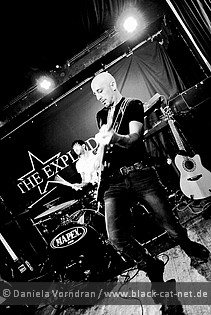 ER
:
I love to play in Russia. Russian fans are so excited and attentive. I love them.
RoD
: Did you have time to do some sightseeing in Moscow and St. Petersburg?
RS
:
Unfortunately not this time, but in the past we have visited these wonderful cities many times.
ER
:
Yes of course, I did.
It was the third time I came to Moscow and the second to St. Petersburg. We have a lot of friends there and they have shown us the cities.
RoD
: Can you describe the main idea of SPIRAL69 with one sentence?
RS
:
Emotions.
ER
:
Rock'n'Roll.
RoD
: Have you ever faced such thing as creative crisis?
RS
:
Very often, but fortunately, these crises do not last long. The biggest problem is the desire to be able to do more than what our popularity grants us right now.
ER
:
No, when I feel like composing songs, I do it, if I don't feel like composing, I don't.
RoD
: Your new album is called 'Second Chance'. What did this song become the title track? Did you always receive a second chance when you were wishing it most of all? And do you believe that one second chance can save everything?
RS
:
The song talks about my mother, recounts of the days spent in bed before she died and all the things she wanted to do, but life denied her forever. I believe that everyone deserves a second chance, and that unfortunately does not always come. But I also think the second chances rarely sort things out.

ER
:
I'm very lucky and when I wanted, I had my second chance. But not always the second chance saved everything.
RoD
: What is your favourite track on the new album and why?
ER
:
I love to play 'Goodbye' and 'Colors and Grey' because they are the essence of what I am now. 'Second Chance' for the energy it gives off when we play it live.
RoD
: You haven't change the line-up since 'Ghost in My Eyes' but only 'Second Chance' was released by SPIRAL69 as a band, not a solo project of Riccardo Sabetti. Why did this segue take such a long time?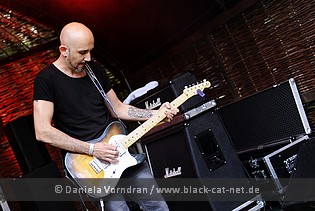 RS
:
We went through a long period of concerts and a common life together as a band to become a real band. I think it was the best thing to evolve into a single nucleus. After so many years it was now inevitable together to become what we are. In parallel I decided to start a solo project called POLAROIDS which I would devote to electronic music in a deeper way.
RoD
: 'Second Chance' receives only positive reviews. Do you agree with them? Did the album turn out to be as good as you wanted?
RS
:
I'm sure it's the best work we done in 8 years, so I share fully the reviews that are coming out these days. I hope the public also understand the beauty of this album with its emotionality and its depth.
ER
:
'Second Chance' is our best album.
RoD
: You are going to release a video for 'Colors and Grey'. Why did you decide to make this song the second single? What should we expect from the video clip?
RS
:
I think it is one of the most significant songs on the album, it reveals the whole Sound of SPIRAL69 "story", the video will be something different from we've done so far. The video will be done almost entirely in computer graphics, not so dark as our previous work. And maybe it will be even more accessible to everyone. Many artists treat an idea of doing a pop song or mainstream like a bad thing, but I personally think there is nothing more beautiful than to be able to communicate with a wider audience with a sophisticated pop song with the content.
RoD
: One of the most heartfelt songs on the album 'No Mercy' is recorded in cooperation with MIMOSA. How did the idea of this duet come to you? What was it like to work on this song?
RS
:
I think a few years ago I met MIMOSA at her first appearance live with OUNA band, I was struck by her voice and her expressiveness. I always had in mind an idea of working with her, but there was never an opportunity until I did not write 'No Mercy'. For me it was clear and obvious that it would be a great to make this duet The result is wonderful.
RoD
: Are there any other duets/ cooperations planned?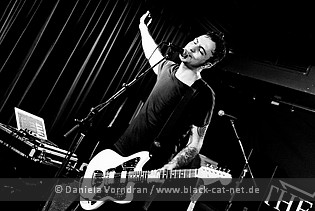 RS
:
Not now, but I'd like to do something with SOLAR FAKE, I love their latest album.
RoD
: Enzo, you're the only band member who doesn't live in Rome. In this case how do you write music and rehearse? Do you conduct online sessions.
ER
:
We don't need to rehearse, we are SPIRAL69!! Joking, for the rehearsal we meet in Rome, I live in Naples, it's no far, it's an hour by train. To compose music we use shared folders on the internet, 10 minutes and we all have a new song in our computers!
RoD
: What is the most memorable show of SPIRAL69 you've ever played?
ER
:
Warsaw. MEMORABLE!!! But I can't say why!
RoD
: You have less tattoos than the other guys. Are you going to catch up with them?
ER
:
I'm going to cover my arms, but that day Riccardo and Andrea will be fully covered!
RoD
: What music do you personally prefer to listen to?
ER
:
All the good music.
RoD
: You have a record label. With SPIRAL69 it's obvious, but are there any other bands in your roster?
RS
:
Yes, I'm working with a band that plays rock. It's called VATYCANS and I am considering some other few projects in this period. At the same time I was involved in producing the solo album of Enzo.
RoD
: What are SPIRAL69 plans for this year?
RS
:
Play as many concerts, as possible and also promote our music to as many people as possible.
ER
:
Live, live, live, gigs, concerts, live.
RoD
: Thanks you. And finally, please say a few words to our readers.
RS
:
Thanks to you! Listen to 'Second Chance' and come and see us live!
ER
:
I only want to say thank you all for the love that we feel when we meet you around the world. Without you, SPIRAL69 would not make any sense to exist.