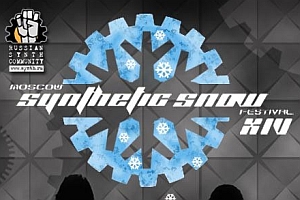 Interview with
Torben Wendt (vocals) from Diorama, Janosch Moldau, Stars Crusaders and Jonas Olofsson from Vanguard
On December 10, Moscow will host the fourteenth international festival of alternative music "Moscow Synthetic Snow Festival". Besides the local bands, the Russian capital will bring together groups from Germany, Belgium, Italy and the United Kingdom. This event is a real feast of dark music for all the fans of the synth-pop, electronic industrial music and related genres. Good tradition to come together on the international festival is a good opportunity to get to know each other better. In prior of the upcoming event we chatted with some bands of the Synthetic festival and talked about Russia, the Russian fans and the plans of the groups to come back with concert.
Questions to Diorama

Reflections of Darkness [RoD]
: When have you visit Russia last time? How was it?
Torben Wendt [Torben]
:
In April 2013 we played two shows in St. Petersburg and Moscow. It was exciting. Travelling to Russia has always been exciting and mind-changing.
RoD
: What kind of emotions do you feel while playing for the Russian audience?
Torben
:
We feel privileged.
RoD
: Some bands suppose that the Russian fans are crazy. Do you think the same?
Torben
:
I've only met a few people in my life that I would consider crazy. None of them was a Russian fan.
RoD
: Will you be happy to come back here?
Torben
:
We're counting the days.
Questions to Janosch Moldau

RoD
: Do you know any Russian singers or bands?
Janosch Moldau [Janosch]
:
Yes we do know the band BERAIN, they opened up for SOLAR FAKE in 2014 with a smooth and dreamy live set at da:da club St. Petersburg. It's a bit sad that we do not know more Russian bands. I guess you do have tons of cool bands in your country...
RoD
: What do you think about Russia in general?
Janosch
:
We think overall very positive about Russia. We like the atmosphere and the people of this country… For us, it always has been very important to be open-minded, instead of being narrow minded and focus only on the European music scene.
RoD
: What do you expect from this festival in Moscow?
Janosch
:
To be honest, we do expect a lot from this festival! For us it's the 3rd time to enter the stage in Russia and the last years were fantastic. For the first time with MESH at Moscow Hall in 2013, we did not had any expectations at all. In fact, you did teach us with all your love for electronic pop music, that we should expect a lot from the shows in Russia.
RoD
: Will you be happy to come back here?
Janosch
:
Yes of course. We would be very happy not to play only St. Petersburg and Moscow. We would love to play also Novosibirsk and Yekaterinburg. Let's see…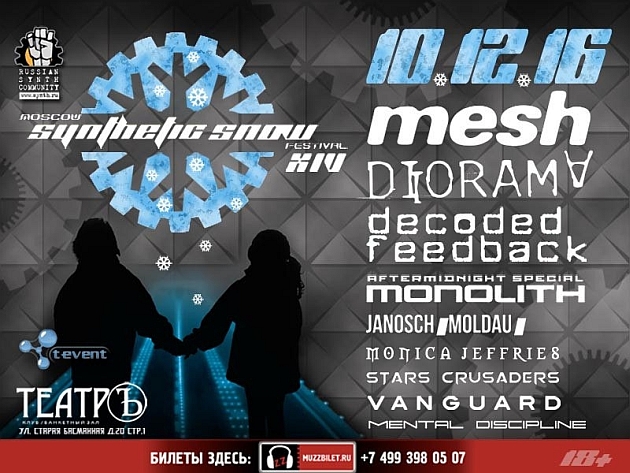 Questions to Stars Crusaders

RoD
: Have you ever been in Russia?
Stars Crusaders
:
As STARS CRUSADERS we've been in St. Petersburg in 2014 for a special party at Walpurgis Night at the MOD Club. At that time we were working on the first album, it was an amazing experience. St. Petersburg and Russia in general is such a great place where playing electronic music and have fun, we met great people and friends so we hope to come back soon.
RoD
: It's said that Italians and Russians have similar character, what do you think about it?
Stars Crusaders
:
Italians as the Russians like to enjoy life and have fun. There is nothing better than spending a night with friends maybe drinking a good vodka.
RoD
: Do you know any Russians singers or bands?
Stars Crusaders
:
In St. Petersburg we share the stage with good local bands, I remember PARADIGM OF LIFE, good guys and of course we know MENTAL DISCIPLINE.
RoD
: What do you expect from this festival in Moscow?
Stars Crusaders
:
We are so excited to be part of the Synthetic Snow Festival. We're going to play for the first time live some songs of the new album 'Welcome to Hydra'. We are sure it will be great fun.
Questions to Vanguard

RoD
: Is the festival your first visit to Russia? What do you think about the Russian audience?
Jonas Olofsson [Jonas]
:
This is our second visit to Russia, we played in Yekaterinburg a few years ago as well. The Russian audience then was great and from what we have seen so far the Russian audience seems to be very energetic and supportive for bands playing there.
RoD
: What do you feel before meeting with the Russian fans?
Jonas
:
We are really looking forward to play in Russia, we have wanted to come back since the last time we were there. So we very are excited to return and perform and meet some good people again. We only have positive feelings when going to Moscow to meet Russian fans and people attending the festival.
RoD
: Are you planning to visit Russia again?
Jonas
:
We would like to come back to Russia again! At the moment no plans are made for this but we would love to return soon again and do more gigs.
RoD
: What do you expect from this festival in Moscow?
Jonas
:
The festival has a very strong line-up so are expecting a lot of good concerts and a lot of people visiting the festival. We know this is a recurrent event every year and we hope to meet a lot of people and to contribute to make this festival a great event.
See also (all categories):