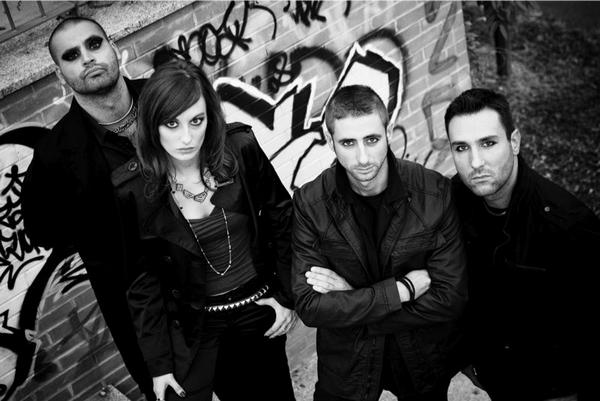 Interview with
Emiliano Sicilia (guitars), Pamela Manzo (vocals) and Enrico Cassano (bass) of Regradless of me

In June 2007, guitarist and composer Emiliano Sicilia started REGARDLESS OF ME. The band presents an experimental kind of Metal - Trip Hop - Progressive music which reminds one of the typical feelings of Massive Attack, Portishead, Dream Theater, Katatonia and Muse. That's what's the band biography is telling us. In the following interview you get more details from the band itself.
Reflections of Darkness (RoD)
: The name of the band REGARDLESS OF ME is interesting to say the least and sounds as if there is a story behind it. Where did the name come from and what is the story?
Pamela
:
The name is born thinking of the fact that things sometimes happen regardless of our control. So it's useless trying to trust some institutions like religion or mass media that often give people something that people don't need, but can simply find inside themselves. We believe that everyone has the instruments to face this world and obstacles of life, without loosing reason and consciousness.
RoD
: Can you briefly summarize how the band formed and what you do in REGARDLESS OF ME?
Pamela
:
I met Emiliano Sicilia, guitarist and composer of the band, three years ago, and wanted me to collaborate in his first solo album 'Devotion, Materialize' as lead and back vocalist. He already knew Enrico Cassano (bassist) and Fulvio Torresani (drummer) 'cause they have been friends for years. In his opinion my voice was fit to be in this kind of band... and effectively... was right! All seems to melt perfectly when we play together, sound, voices and hearts.
RoD
: Your lyrics are infused with heavy detail and raw emotion. What is it that normally gives you inspiration when writing lyrics and is there a concept behind the music you create?
Emiliano
:
I'm normally influenced by my world's vision. The name of the band is the reason, the truth that gives me the inspiration. I think that lyrics are really important like music, 'cause people want to see a story behind music.
RoD
: Your new album 'The World Within' is coming out; how has the reactions been thus far? What can fans expect when they listen to your music?
Enrico
:
The reaction has been great! The press and the Internet world have embraced our music far beyond our expectations. Almost every review of the album has been fantastic. Also the response from the audience at our live performances is always overwhelming and we seem to attract new fans at every gig! The fans can expect a mixture of many musical genres that represent our main influences: from the Goth metal of bands like Katatonia to the Prog metal of Dream Theater, from the experimental side of Pink Floyd and Porcupine Tree to the trip hop of Massive Attack. Obviously, we try to add a personal touch to every song. There's a strong melodic feel, greatly expressed by the amazing voice of Pamela, throughout all the album.
RoD
: How do you think you will affect the music scene you are part of? What are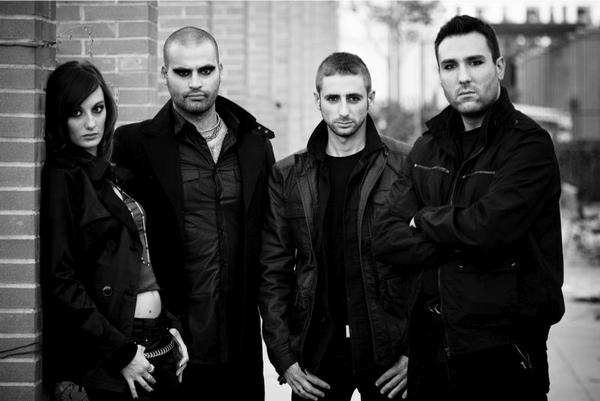 your thoughts on the growing popularity in it as well?
Enrico
:
I think we really could contribute to enlarge the potentialities of the genre we are often associated with, the Goth metal. I believe we could reach a big audience, from the metal maniac to the mainstream rock lover. The key is always the melody: it comes at the first place in our songs, even if the structure and the sound may be very heavy as in the Opener City of Glass. We'd like to bring our music to the ears of as many people as possible, even to those who are not familiar with the genre. The growing popularity of metal in general is a great thing and it feels good to see so many bands giving new blood to it. Maybe it's just another trend but as long as these are the results we should all be very proud as metal fans. There will always be an audience for heavy rock anyway.

RoD
: What is the craziest thing you've done?
Enrico
:
Nothing so crazy to mention really. We're just four regular guys who love music and take it very seriously. Of course we like to have fun but our focus is on the music. That's our main concern.
RoD
: Many of your songs are so hard and intense that I am sure they translate well into a live setting taking on a whole new life in front of a live audience. How does it make you feel when the emotion and power that you envisioned in the recording studio, come to life while playing in front of a crowd?
Pamela
:
It's a great explosion. Every word I speak, every note I listen it's a huge emotion. My target is to make people feel what I sing; sometimes I look my public into the eyes. I don't want to sing, I want to communicate our feelings and thoughts with energy.
RoD
: What are the upcoming plans for REGARDLESS OF ME?
Pamela
:
We have planned some gigs even in Switzerland and in Belgium for the first days of 2010. We want to make us known in other countries too. I can't wait anymore for the moment we play together next time.
RoD
: How has MySpace and the internet impacted your band and do you think downloading helps or hinders the artists?
Enrico
:
MySpace has been our main weapon in the first place. We have had a really surprising response there, being approached by thousands who really appreciate our music. I think that's one of the reasons why Locomotive signed us. Without MySpace it would have been very difficult to be noticed by as many people as we did, that's for sure. Speaking of the downloading issue I think that's a real problem. Bands have surely less opportunities than in the past because of it. In the past a label would invest more and for a longer period of time on a band the label believed in. Now, as the state of economy is constantly getting worse especially in the music business, if a band doesn't sell with the first release it becomes difficult to even reach the goal of a second album. On the other hand free downloading helps to be heard by a larger audience that maybe would not buy the album anyway. So, in a sense, that could be a good occasion to encourage the listener to support the band if he likes the product and to attend at the gigs when the band is in town.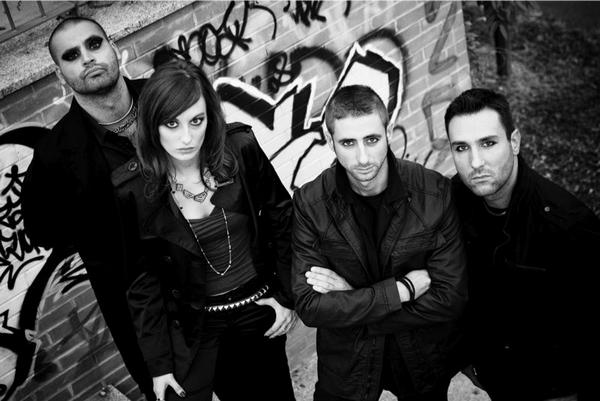 RoD
: What is the toughest lesson you ever learned in the studio and on the stage?
Enrico
:
Well, speaking for me the lesson I learned in the studio is that you really have to be patient and humble with the people you're working with. The work in the studio tend to be frustrating and boring at times but you have always to keep clear in mind what's your goal, that is to realize the best album you can. So you have to pay attention to every detail of your performance and to those of the people involved. Maybe at the end you'll be proud as we are of 'The World Within'. Speaking of the gigs, the main lesson I've learned is that you always have to give a hundred per cent of yourself in every performance, no matter how tired or low-spirited you may be before you walk on stage. You do it for the fans that are there to listen to your music, for the people who don't know you yet and you want to involve and for your own pleasure and satisfaction, 'cause playing live has always been my favourite part of the job.
RoD
: What is one message you'd like your fans to understand from your music?
Enrico
:
Thanks for the question. The main concept of the album is really important for us, and it evolves during the listening. It expresses Emiliano's world view since he's the author of all the lyrics of the album. It's a view that we all fully embrace: the only thing we should believe in is the human being, because the answers we try to find aren't in television, politics or religion, but they are only inside us. Unfortunately the majority of people is blind and live only an illusion.
RoD
: Every band has its musical influences. What are some of the other bands and artists that have greatly influenced you guys and your music?
Pamela
: Our music can't be restricted in a unique kind of music. There is no question our music reminds Lacuna Coil, Within Temptation, Evanescence... but every of us has a story, has his influences and gives a different feature of meaning and mood to every track we recorded in studio and when we play live. My favourite bands are Depeche Mode, Muse, Placebo, Metallica, Linkin Park, Green Day....but I also like more melodic kind of music.
RoD
: What's your reaction when/if a fan told you a very meaningful statement such as "Your music changed my life"? Has this ever happened to you?
Pamela
:
Not yet in these terms... but a very similar thing happened to me when a boy told me: "You are the best singer I've ever heard..." this changed my life! It gave me the right strength to go on and improve my skills.
RoD
: All of that passion that you play with must be tough on you physically. How do you prepare for the physical demands of a tour?
Enrico
:
We're all very fit! :-) Seriously, we practice a lot and we do as many rehearsals as possible, and we do it constantly. So, on stage we play effortless and we address our energies to create a connection with the audience. The passion we put into it and the reaction of the fans help us to face the gigs without any trouble. Playing live is the part we all enjoy the most and we're grateful to do it. We'd really like to play as much as possible!
RoD
: Anything else you'd like to add?
Pamela
: Thank you guys for the interview... I hope you'll like our music and to see you soon in one or more of our next gigs!
{jos_sb_discuss:21}