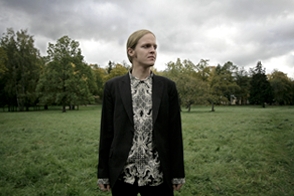 Interview with

Mauno Meesit from Sinine

When you think of Estonia, the dominating image is that of melancholic, misty landscapes, untouched and romantically dark, breathing peace and loneliness. This country is the home ground of SININE. As the release info says, "the band's music is honest, unaffected and straightforward, without any stereotypical clichés, and of a touching beauty. Stylistically, SININE's sound wavers between pop, dark wave and metal, combining electronic music with acoustic instruments - a mixture of incredible homogeneity, conclusion and sophistication that shows clearly all the work that has gone into this record. SININE have spared neither time nor love for detail in the creation of this musical pearl, and that can be felt in every tone and nuance floating out of the loudspeakers."
We already had the chance to listen to SININE's debut album 'Butterflies' to be released on 18th September 2009 through Accession Records where the band currently got signed. And of course, we now have a lot of questions regarding the band, how they got signed to Accession and of course about the most important thing, the band's music and the debut album.
Reflections of Darkness (RoD)
: You've recently signed to Accession Records what was quite a surprise for us because the label did not sign any new artist for quite a while. How that signing did come about? I read you've already shared stages with DIARY OF DREAMS. Was that the actual beginning of the story that led to the signing eventually?
Mauno
:
Yes, recently we were the opening act for DIARY OF DREAMS in Riga, Latvia. Actually this concert had nothing to do with the record deal. It was spring 2008 when about 65 labels all over the world received my promo CDs. I always thought that Accession would be the best of the best label for SININE and I was more than surprised and happy when I received a mail from Adrian Hates, who wrote that he is amazed by my music and can't get my CD out of his player. I had a few decent offers from other labels as well, but my choice was already made. Then we had long negotiations and there were several delays with different schedules but finally we signed the contract and now there is only few weeks left before the album will be out. So I can say that I live my dream! It was a great and pleasant surprise for me and Adrian when we heard that we can share a stage and meet in Latvia. Of course the Latvian concert organizer who invited us to perform with DIARY OF DREAMS had no clue that I and Adrian already knew each other. In this kind of moments in your life you always think that it is really just a great coincidence…
RoD
: How is it to work with Accession?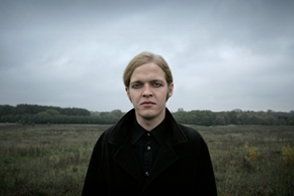 Mauno
:
This far I can say that everything is just wonderful! I see that they are really working hard for us. And of course it is enjoyable to work together with such nice and experienced people and honour to be on the same label with such great artists and bands.
RoD
: How and when did you start making music? How did your musical career develop?
Mauno
:
It all started in year 1998 when I made my first "guitar" that had only one string hehe! I was really much into metal, grunge and different rock music back then and of course I wanted to form my own band and play guitar like every other teenager. A year later I got my first electric guitar and I already played my first concert with my band. I think you can imagine how bad it all sounded, but it was more than fun and enjoyable these days to make some noise that even sounded almost like music, hehe. As time went by I started to make and listen to more serious music and also my bands developed a lot. I played guitar in two bands and started to sing in one as well. With one of these bands we performed quite a lot and even managed to make some noticeable buzz in local metal scene. I also did some fun and crazy experimental projects with my art school mates. But I think it was all still more about doing band than really making music. It was 2003 when things completely changed for me and I wanted to work alone with my new and personal song ideas. This was the beginning of SININE.
RoD
: What made you seek for new ways of making more personal music in the first place? Was it a special experience or event?
Mauno
:
I think it was more like thousands of experiences that together brought this big inspiration wave on me and made me realize that this is not about just writing one song. I lived trough extremely big emotions and contrasts of happiness and sadness these days and at the end I had nothing left but my acoustic guitar, my head full of enormous emotions and visions and I knew that I had to write all this into my songs. I remember how the first melodies and harmonies came to me. The melodies had an exact recognisable face of certain places, people, situations and atmospheres from my own life. It was very touching and special experience for me because before I was like any other band youngster, trying to sound like his favourite artists and writing music that just has to be as catchy and cool as possible. But all of a sudden it was all gone and I had only my own visions in my head and those new melodies that carried a real life and this special energy inside. There was a big universe behind the songs now and it was not just music anymore. I knew that with my new music I wanted to experiment with many new sounds and possibilities besides using typical rock band instruments that were familiar to me before. I wanted to use all the possibilities of sound and music to express myself and the enormous visions that I had and I was very interested in using possibilities that electronic music and synthesizers can offer.
RoD
: In your language, the word "Sinine" you chose for your band's name means "blue". In the English language this word can also mean "sad" or "melancholic". Is that an ambiguity you wanted for the band's name or do you have a special connection to the colour itself?
Mauno
:
First of all blue is one of my favourite colours; it may be both, fresh and cold as well as warm and deep. And I think "Sinine" is one of the most beautiful words in Estonian language and I thought that it is nice to name my honest musical project with a name that is something different from the regular English names. For me, that other English meaning behind "blue" is not connected with "Sinine". I have no intention to create something especially sad and dark although you can find those feelings and moods in my music among others. I like to connect the meaning behind SININE with a thought of giving symbols to 3 colours: blue, yellow and green. When you mix blue colour with yellow you get green. In symbols you can describe it as mixing profoundness and autumn with sun and joy. So it creates warmth and positive energy. Everything is always connected. This is just like life itself, like earth, like people, like seasons.
RoD
: In SININE you're working together with two other members. How did you meet Andre and Liisa and what did they contribute to the album?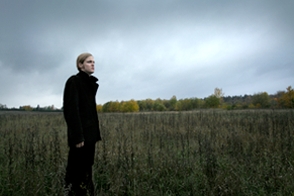 Mauno
:
I had the album completed before I put together the band for SININE. But Liisa helped me to record cellos and acoustic guitars in studio for example. Andre also gave me some good advice with several things. And we have shared each others new sound pieces for years with him to get some fresh comments and honest criticism although I am usually my own worst critic, hehe. It was years ago when I saw Liisa's piano improvisations when she jammed with some jazz groups in one theatre jazz cafe where one of my good friends, Sten Tigane, was a sound engineer… and me and my friends met there regularly back then.

Actually now, Sten is also our sound engineer and part of the SININE family. But yes, we had many common friends with Liisa and soon we got to know each other very well. I was amazed by her piano playing and she was the first person who came into my mind when I thought about finding a keyboard player for SININE. Liisa is pretty known in Estonian free-jazz, classical and also electronic music scene as a pianist. She has studied piano playing for all her life and just graduated music academy as a composer. She has been writing music for some short films and theatre plays. She is also an amateur actress, is giving piano improvisation lessons to musicians etc. So what can I say, a true piano artist and life artist! Always busy and full of energy and shine.

I also knew Andre for years before I formed the band and we have lived thru some crazy times together. I think we first got to know each other when we met at one of our friend's birthday party and started to talk about film music and our crazy musical visions, hehe. Andre has played guitar in most of the biggest acts in Estonian metal scene for more than 10 years but right now SININE is his only band. He is also a really talented songwriter and is creating his own weird music full of the craziest country, trip hop, mixed with modern metal and horror movie kind of sounds. He is probably the calmest and most constructive person in SININE but can be the craziest guy at the same time! So I have known Liisa and Andre for years and I am glad that my band mates are also some of my best friends. In future I will definitely add Andre and Liisa already in arranging process and can't wait to do this.
RoD
: As we are talking about 'Butterflies', there were several more musicians involved delivering different elements like violins etc. How did you get in touch with those musicians and how did you work with them on the album?
Mauno
:
I met Elo Masing at one interesting event and heard that she is playing violin. So when the time was ready to record the violin parts then she was the first person I contacted and she was very interested in collaboration and liked my music. At this time, Elo was studying violin in France but fortunately she was in Estonia just in the right time and we managed to get everything recorded very well. Later I heard that Elo and Liisa are also good friends and I didn't know that before, what a little world! Maarit Kangron, who played all the beautiful cello parts in the studio, studied together with Liisa in Estonian Music Academy and was also interested in collaboration and I felt that she had just the right touch that I was searching for. Actually, before working with Elo and Maarit all the violin and cello parts were already finished with samplers and they sounded just great but I thought that I can add even more life and depth in the sound with real instruments. And I am absolutely happy with the results.

I also recorded some guest vocalists. Mari-Liis Jakobson who sung the additional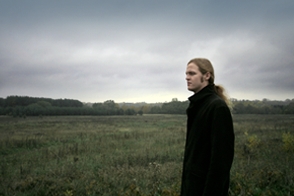 vocals in the song 'Loner' has been one of my closest friends for years and she was also a singer in one of my bands before I started with SININE. Mari-Liis Rebane who sung vocals in 'Tonight' and 'Empty Me Of Emptiness' has been strongly connected with SININE since the beginning and has helped me with several things as a close friend of mine. We have been jamming and singing together for years and she also was on stage with SININE during our last show and we plan to make some nice collaboration also in future. Anders Melts who did additional vocals in the beginning of 'Our Green' is again one of my best friends who has supported and inspired me in many things. He is the mastermind and a vocalist behind the great Estonian band FORGOTTEN SUNRISE and he has organized pretty much everything what has happened in Estonian dark electronic music scene. I am happy that I have these wonderful musicians on 'Butterflies' album and I am sure that I will make some interesting collaborations with guest musicians also in future.

RoD
: The cover of the album shows a blue leaf lying on cold ground. There must be a deeper meaning to it than the obvious connection to the band name. Could you tell us a bit more about why you chose this motif to be the listeners first image, before they've even heard a single note? And who created the overall album artwork?
Mauno
:
The story behind 'Butterflies' album is strongly connected with autumn as well as with the end of one summer. I believe that maple leaf is a good symbol for autumn and the thought of something and someone going away. The blue colour of the leaf is reflecting profoundness and the inner energy. The cover image is enough speaking itself to reflect the mood and character of my music and at the same time it is minimalistic and not too connected with any certain style or genre, just like my music. All SININE's artwork is done by me. For booklet I created an illustration for every song. Some illustrations are my photos made with an old film camera; some are collages of painted textures and different photos. There are many details, links and symbols of places, times and people that are connected to my songs. But first of all every illustration is describing the same atmosphere, feeling or place that the songs is about or connected with. So you can try to go into this room, world and story when you are listening to the song and watching its illustration.
RoD
: Back to the music on the album. 'Butterflies' is a concept album. Some of its key points can be read already on your MySpace for instance, but could you elaborate a little further on the overall album concept, maybe reveal some more details?
Mauno
:
'Butterflies' tells you a big story when you listen to this album from beginning to the end. All the songs are in certain order and connected with each other. There are many links to discover between the songs. And I can tell you that everything you can hear on this album is from real life. All the lyrics, melodies, rooms and atmospheres created in songs are expressing real life and the narrative behind this album is talking about colourful times of one man. And this man is me. It is all about these times as whole that I had back then. I was studying in art academy and had really special people, places, experiences and life around me. And I still have, hehe, time of extreme contrasts of beauty and awfulness, everything and nothing. I can't say this album is especially dedicated to somebody or something though there is one main character besides me. It is more about reflecting life, thoughts, feelings that one can have in very colourful times, told through one main story line.
RoD
: The album's completion took you about five years. Did you just want everything to be a 100% perfect or was there anything that was crucial for the process to come along, but did take more time to realize it musically.
Mauno
:
When I started with SININE in autumn 2003 it first took some time before I knew how to use synthesizers and samplers, how to record vocals etc. I knew that this album must be a proper work of art in every possible way to mark this important and beautiful time of my life. You can make compromises for the others but you can't make compromises for yourself. It was clear from the start that I will not make any demo CDs with SININE with poor quality recordings etc. You can make something so big and deep only once and it has to be made in a best way. There were also some delays which were connected to people who helped me with certain things and many times I saw that I still have to make everything by myself to get things done in a proper way and of course it also means time for learning when you are doing something that is new for you.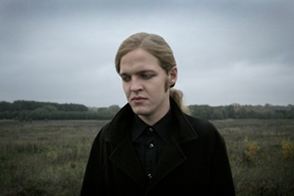 When I worked with my songs then, there was always one question: How can I express this feeling, memories, emotion with sound and melodies, so it would really feel like life itself, that it would touch you and blow you away and put you in this raging reality that I had. It was a real experiment for me and since I already had those melodies that sounded like life itself, then I also had to put these in sounds and arrangements, so it really would tell the story in most expressive way. I spent endless hours just choosing sounds that would regenerate and describe those feelings that I wanted to express. For one of my songs I also recorded a hundred year old music box and sampled it, to give the song some kind of touch of time. There are lots of these kinds of details in the songs that you can't really hear much but they all have their meaning. Arranging these songs that I had mostly composed on acoustic guitar was also quite big work because it is always difficult when you have no limits or frames and you have only the feelings guiding you.

But of course it was also very interesting. It wasn't rare that I couldn't really decide whether to make it a rock, trance, acoustic, ambient or trip hop song for example. Usually I ended up with just mixing the elements together to create the sound and structure that satisfied me. After I was ready with the song arrangements I found the right studios where I recorded the acoustic string instruments. All the vocals I recorded at home, to have the ability to record it all exactly with the right mood and exactly as I wanted to. After that I had an opportunity to mix my music together with one of the best Estonian pop producers Lauri Laagus. And finally, Christoph Stickel, who has mastered several wonderful CDs that I like, did the mastering work in Munich, Germany. So I can say that I had my album ready in the best way after working five years on it. And I had the honour to work with the best people to realize my visions.

RoD
: Let's take now a little deeper look into the tracks of the album. The opening track carries the name 'Inglid'. What's the meaning of this word? Why did you choose this fragile tune to be the first track of the record?
Mauno
:
'Inglid' means "angels" in Estonian language. It describes one night when I was with my friends in one old building in Tallinn Old Town and discovered the floors that were not restored and renovated yet. We drank wine and smoked cigarettes there and had some really pleasant time in those dark rooms. I had not slept for about 30 hours then because of one concert and academy exams etc. And that's why I had this crazy and hazy feeling like I almost saw and felt some strange things. My friends went downstairs and I thought that I will stay there for few more moments. When I started to go downstairs there was one dark room between the two floors and I think I saw the most beautiful silhouettes of some girls there in this darkness. They reminded me one close person and also angels at the same time. I looked elsewhere for a moment and looked back and they were still there. It was so dark there and I was in this hazy condition anyway so I really couldn't say if it was real or I imagined that but it was very touching and beautiful experience. And one melody that I later found reminded and regenerated this same feeling of this experience and I formed this song 'Inglid' from that. Actually, first I thought that it will be a song with vocals but then I realized that violin can actually sing this melody even better. So it is really not just an intro of the album but a song with its certain meaning behind it. I also liked the idea of sampling the orchestra tuning sounds at the beginning of my album, because the album is just like a symphony in a way. So it was a nice and logical step to put this song at the beginning of this album. To introduce the theme and to take the listener into this blessing feeling that is behind the whole album after all.
RoD
: One song at the album that impresses me very much and got stuck into my ears is 'The End'. It was a big surprise for me to listen to this one. There are so many contrasts in it, i.e. there is a stark contrast between the respective passages on 'The End'. On one side the serene and sad and on the other side there are these monumental outbursts with flashes of rage inside, those metal-like growls that beat you down. Is the song based on such a heavy experience that it sends you through an emotional rollercoaster like that? And what's also interesting to know… the voices within the song sound very different. Did you sing it all on your own or were the "growls" taken over by someone else?
Mauno
:
I am glad you felt that. 'The End' was the first song that I wrote for SININE and this song is dealing with the things for what I actually created SININE after all. There is enormously lot of energy behind this song. So I can say that every end is a new beginning, isn't it? With 'The End' and its dynamic arrangements and sounds I tried to capture the uncontrollable enormous power of life and its contrasts of cruelty and also beauty. All the vocals in this song are done by me. I had not used this kind of "growl" vocal technique before and it is very possible that I will never use something like that again in any other songs but this song just needed this to express certain emotions.
RoD
: The whole album is more on the serene, dreamy side. Stuff you would listen to at home. There is just one exception, 'Empty me of Emptiness'. Can you tell us a little more about this song? Why this nearly danceable tune on the album?
Mauno
:
It is the only song on the album that has some little bitter-angry note in it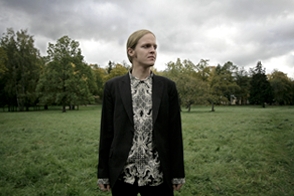 but at the end it is not really an angry or accusing song. If you read the lyrics again then maybe you will understand better what I mean. I thought that this song and theme behind it need something more strong and powerful and I have always liked this kind of dense bass lines that you usually might hear in future pop, EBM or Goa trance for example. But there are also those dreamy and atmospheric parts that are telling the other side of the story. I am sure that there will be some more danceable songs from SININE in future as well. And at the same time this song is actually in a way the last song before the conclusion and ending track 'Hello' because the next song 'This Girl' is the only track that is not connected with the rest of the songs and concept on this album. So it describes the feeling that you might have when you are strong again after some hard experiences and you have not reached the point yet where you will find your peace again.
RoD
: The album closer is 'Hello'. The name would imply to put it as opening song onto the album. Why did you put it to the end? Furthermore it has quite some experimental stuff going on between the intimacies of the other acoustic instruments. What's the hidden agenda behind breaking the almost meditative calmness of the song with such passages?
Mauno
:
I like this little contradiction in this name. As I said - every end can be a new beginning. This song is actually like a summary of the whole 'Butterflies' story. It will tell you about all the things and periods and will bring you thru different conditions and times again and will show you that you must go through the darkness before you find your blessing light and peace again.
RoD
: Lyrics seem to have an important role in your songs. Where do you take the ideas for them from?
Mauno
:
Ideas come from life itself. Sometimes I write down some lines that come into my mind and are meaningful enough to link those with themes behind my songs.
RoD
: What's very interesting towards the end, how does the overall process of creating your songs look like? What's coming first, lyrics or music? How do you start writing your songs and how to they develop until the end result?
Mauno
:
I can say that most of my song ideas are born when I play the guitar or keyboard and hum some melodies on that. And sometimes it happens that a melody or harmony absolutely blows me away and I have the feeling that I could sing it forever and I know exactly what this melody is telling about. So if something like this happens then I know that this will be my next song. I haven't used any ideas that don't have that special energy inside. Writing lyrics has usually been the last part for me. I usually know right from the start what the song is about and later I just search for the right words to describe the theme. That's why my lyrics can seem to be pretty simple at first. I just mark my hundreds of thoughts with a few words and symbols and that is enough for me, music and sounds will do the rest of talking.
RoD
: Is anything planned concerning a live performance of the material in the near future and if so, what the audience can expect?
Mauno
:
We definitely will play a few album release concerts in Estonia and I really hope that we will also have many chances to play in other countries, too. In times like these we can't expect too much but let's see. I know that lots of people from Germany, Poland, US and other countries are waiting for our concerts and I really hope to meet them on tour as soon as possible! I think that when you come to our concert then you can expect something expressive, atmospheric and powerful.
RoD
: We're already at the end. If you have any message for our readers or something to add you're welcome to do that now!
Mauno
:
First I want to thank you for these wonderful questions! I am glad that you found a connection with my music and are searching for the meanings behind my songs and album. And thank YOU for reading this! Come to a journey to my musical world of Butterflies album!
RoD
: Thanks a lot for all your time to answer our questions. We think that 'Butterflies' is one of the very best albums that came across our way for a long time. And a suggestion for all our readers: go and buy this album. It is all worth it! Sound examples are available on SININE's MySpace site:
http://www.myspace.com/sininemusic
{jos_sb_discuss:21}